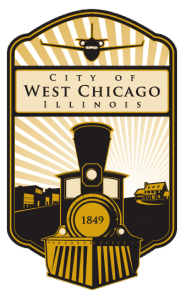 Construction Newsletter
June 21, 2017
This newsletter is to inform you that construction for the 2017 Contractual Street Striping Program is tentatively scheduled to begin on Monday, June 26, 2017. The 2017 Contractual Street Striping Program consists of refreshing worn pavement markings with new thermoplastic pavement markings on Atlantic Drive between Hawthorne Lane and North Avenue, Hawthorne Lane between Pilsen Road and Arbor Avenue, and Technology Boulevard between Fabyan Parkway and Roosevelt Road.
Construction activities for this project are limited to the hours between 7:00 AM and 6:00 PM Monday through Friday and between 8:00 AM and 4:30 PM on Saturday. All streets will remain open to traffic during construction operations.  Expect only minor delays immediately following pavement marking activities while the material dries.
As the work progresses, the City will update you on the project's status. Please visit www.westchicago.org periodically for the latest construction news update.  If you should have any questions regarding the 2017 Contractual Street Striping Program, please contact:
Kevin VanDeWoestyne, P.E.
Project Manager, Thomas Engineering Group, LLC
(630) 293-2255 ext. 524
kevinv@thomas-engineering.com
For your safety and the safety of the workers, please obey all traffic control signs and flagging operations during the construction process. Thank you in advance for your cooperation and patience during construction.
Si necesita una versión en Español de este documento favor de ponerse en contacto con Valeria Lopez al (630) 293-2200 ext. 170.