Friday, May 19, 2017
12:00 – 2:00 p.m.
Gallery 200  –  103 West Washington Street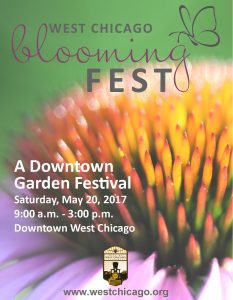 Join the City of West Chicago and Mayor Ruben Pineda in welcoming Scott Mackay, radio host from 95.9 The River. The community is invited to come out and be a part of the audience for the live broadcast at Gallery 200, 103 W. Washington Street on May 19, 2017 from 12:00 – 2:00 p.m. to promote Blooming Fest, West Chicago's beloved garden festival, which will occur on Main Street the following day, May 20, 2017 from 9:00 a.m. – 3:00 p.m.
"It's a great opportunity to show West Chicago pride and demonstrate the enthusiasm and liveliness of our City", said Marketing and Communications Coordinator Rosemary Mackey. "It will be a ton of fun and since Friday is National Pizza Party Day, the City will serve pizza to those in attendance. The live remote will provide great exposure for our signature downtown festival, Blooming Fest.
A Chance to Meet Some of the Artists of Artéculture
Visual artist Lewis Achenbach and jazz musician Juan Pastor of Chinchano will also be on hand promoting their appearance that night at a preview for Artéculture, the multi-media art component of Blooming Fest.  The audience will get a chance to learn more about the exhilarating sensory encounter that combines jazz music and art into one extraordinary experience and a personal invitation from the artists to their full length performance later that evening from 6:00 – 9:00 p.m.
Achenbach is a well-known artist in the Chicago community as well as in DuPage County. In addition to his regular art shows in the area, he has contributed to the local community by volunteering on the West Chicago Cultural Arts Commission, leading art workshops for children and guest teaching art classes at nearby elementary schools. He also founded and produces Jazz Occurrence. Jazz Occurrence, as he describes it on his website, "is a documentary in progress, combining concert footage, painting performance, audience reaction, musician interviews and animations."
Juan Pastor is well-know in Chicago jazz circles as an accomplished jazz percussionist. Fusing modern jazz with the deeply soulful folk rhythms of his native Peru, he has created an electrifying and unique sound with his exciting band Chinchano. Featuring pianist Stu Mindeman and bassist Patrick Mulcahy, the ensemble is rhythmically driven by Juan's drums and percussion, often employing the Peruvian cajon. Performing original music composed by all three musicians, the trio explores a rich variety of South American styles, equally certain to move the listener's soul, emotions, and body. A sample of the music that those attending Artéculture can look forward to may be found at https://chinchano.bandcamp.com.
Other artists and installations will round out the creative experience which awaits visitors to downtown West Chicago on Friday and Saturday. A recap of the downtown events happening on May 19 – 20, 2017 follow:
Live Remote with Scott MacKay of 95.9 The River (meet and greet artists of Artéculture)
Gallery 200 – 103 West Washington Street
Friday, May 19, 2017
12:00 – 2:00 p.m. 
Artéculture Preview Night (feauturing Jazz Occurrence & Chinchano)
Gallery 200 – 103 West Washington Street
Friday, May 19, 2017
6:00 – 9:00 p.m.
Blooming Fest & Artéculture
Main Street & Gallery 200 – 103 West Washington Street
Saturday, May 20, 2017
9:00 a.m. – 3:00 p.m.