Mayor to lead citizens in walk on September 23, 2017 to fight heart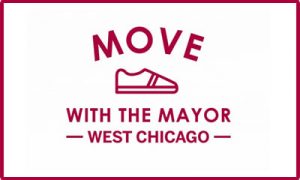 What:
In partnership with the National Forum for Heart Disease & Stroke Prevention, Mayor Ruben Pineda will host West Chicago's second annual Move with the Mayor Challenge walk. Mayor Pineda will join local residents and school children on a 30-minute walk to fight the nation's leading cause of death — heart disease.
Who:
Mayor Pineda, school children, and other West Chicago residents (all are invited!) Youth who participate in 3 out of 4 Move with the Mayor walks in the month of September will be eligible for a random drawing to win a free bicycle and helmet at the World Heart Day Celebration on Friday, September 29, 2017. (The winner must be present at the Celebration to receive their prize.)
When:
Saturday, September 23, 2017 – 8:00 – 8:30 a.m. Registration, Warm-ups & Stretching with Jessi Bass of Rhythm N Motion/ 9:00 a.m. Walk
Where:
The event will begin and end at Reed-Keppler Park, 201 W. National Street (an interactive map of this route may be found at www.westchicago.org under Maps.)
Why:
Heart disease is the leading cause of death in our nation. Yet surveys show many people are unaware that heart disease kills more people than all types of cancer combined. "Too many people don't realize that heart disease is America's No. 1 cause of death," said John Clymer, executive director of the National Forum for Heart Disease & Stroke Prevention. "It's a silent epidemic that is killing hundreds of thousands of Americans every year. But this doesn't have to happen. Deaths from heart disease are preventable. That's why we're trying to spread the word and get people moving."
Research has found walking as little as 30 minutes a day can significantly cut the risk of heart disease. The walk is part of a campaign developed by the City and the National Forum for Heart Disease & Stroke Prevention to encourage residents to walk with the Mayor for 30 minutes every Saturday from now until World Heart Day, September 29, 2017.
Show West Chicago spirit by tracking steps or other activities that get you moving all month on the online Activity Tracker found on the City's website under Special Events/Move with the Mayor. Results will be tallied for the 11 participating cities across the country and the National Forum will announce the winning community on World Heart Day, September 29, 2017.
Those contributing to the event include: Healthy West Chicago, Community School District 33, the American Heart Association, Kindred Coffee, Republic Bank, the West Chicago Park District, Supermercado Tampico, WeGo Together for Kids, the Bass Family, and People Made Visible.
For more information on all of September's weekly walks, click here.
About the National Forum for Heart Disease & Stroke Prevention
The National Forum for Heart Disease & Stroke Prevention brings together the most dynamic and diverse organizations in cardiovascular health, providing a forum and outlet for organizations to amplify their voices. Our members currently represent more than 80 national and international organizations from the public and private healthcare organizations, as well as faith, advocacy, academic, and policy settings. The National Forum is a tax-exempt, independent non-profit, 501(c)(3), voluntary health organization.