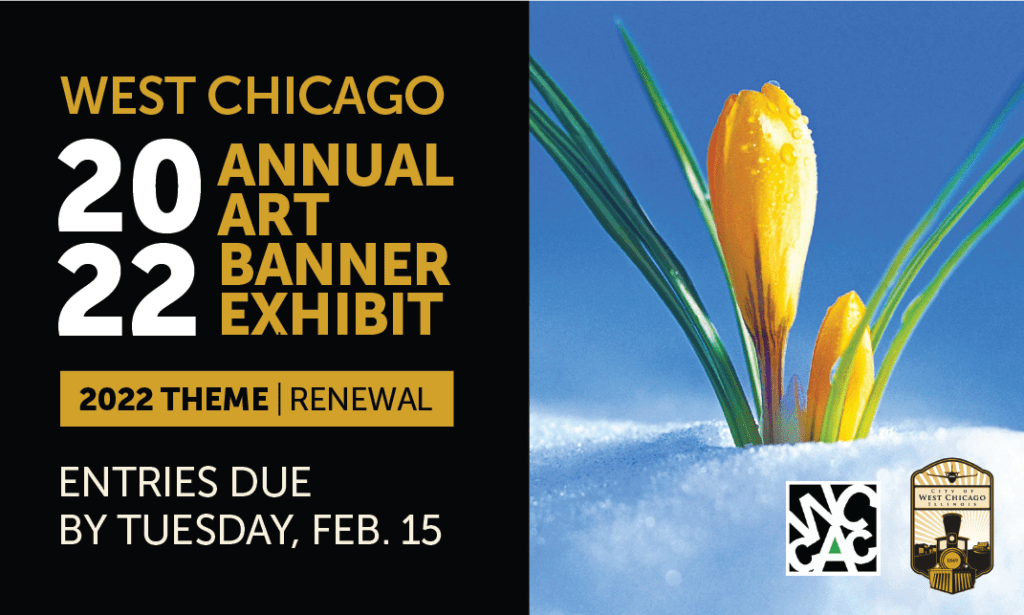 The City of West Chicago's Cultural Arts Commission (WCCAC) is accepting artwork submissions for it's annual Art Banner Exhibit through Tuesday, Feb. 15. This year's theme for artwork is, Renewal. All artists in the surrounding areas are highly encouraged to submit artwork to this one-of-a-kind community art exhibit.
The City of West Chicago's art banner exhibit is a unique event that annually draws attention from artists from all across DuPage County and beyond. Artwork inspired by the yearly theme is displayed on large banners and then installed on light poles throughout downtown West Chicago from May through September as part of this special exhibit.
All submitted artwork is judged by a special independent juror, who is announced in February, with the winning art works being chosen to be part of the City's exhibit.
This year's theme was chosen by the Cultural Arts Commission to highlight the unprecedented times faced due to the pandemic as the Commission wanted to embrace a theme that represented a positive hopeful outlook for the future.
"The Commission felt this year's theme would resonate with artists and those who will visit downtown to enjoy the display," said Cultural Arts Liaison Daniel Peck. "The theme is broad enough for a wide range of interpretations which should produce an exciting collection of curated art for the juried exhibit."
All types of media are welcome for the exhibit, as long as it relates to the annual theme. Photos of 3-dimensional artwork are accepted and highly encouraged. All entries must be original and created within two years of entry date.
Selected artists will receive credit on both the banner and in printed materials related to the exhibit.
How to Submit Art for West Chicago's Annual Art Banner Exhibit
Entries can be comprised of up to (3) JPEG images. Digital images must be submitted at a minimum of (h)42″ x (w)30″ at 72 dpi (2160 x 3024 pixels). All files should be numbered and named with the artist's last name and first name. (Ex.; 01Lastname_Firstname.jpg) and submitted via the online portal. Applicants must submit a brief statement about their inspiration for inclusion in publicity materials.
All entries must be received by Tuesday, Feb. 15, 2022.
By submitting artwork for consideration, the artist must acknowledge and agree to the terms of the City's standard Photographic Waiver by checking a box on the submission form, which gives the City permission to identify the artist and use the image in its publicity efforts.
Agreement for Transfer/Licensing of Photographic Image and to Indemnify and Hold Harmless – .pdf 12 kb
Acuerdo de Transferencia/Licendia De Imagen Fotografica Y De Indemnifcar y Mantener Inofensivo – .pdf 67 kb
Judging & Exhibition/Reception
Judging of submissions will be based on JPEG files only. JPEG files submitted must represent actual work. An Independent Juror (to be announced) not affiliated with the City of West Chicago or the West Chicago Cultural Arts Commission will select the winning art works anonymously. The WCCAC reserves the right to refuse to exhibit any work it deems unacceptable due to significant departure from JPEG representation or inappropriate content.
The exhibition runs from May through September. During the course of the exhibit, the general public will be invited to vote for an artist/banner to receive the People's Choice Award. The winner of the People's Choice Award will receive their banner free of charge. All other banners may be sold, with the artist receiving the first right of refusal, and proceeds will be used for future art programming.