Opening Reception
Friday, May 3, 2019
6:00 – 9:00 p.m.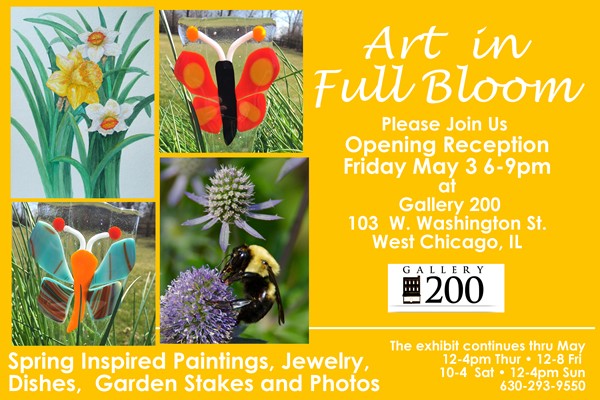 The arrival of spring brings the blossoming of art to Gallery 200, 103 W. Washington Street, during the month of May.
Eleven Gallery artists will show nature's awakening, beauty in flowers and butterflies, garden art and more, through a wide variety of media. Spring-inspired artwork from the following artists will definitely cure any residual cabin-fever of the long winter of 2018/2019:
First Star Art
Laurie Parker
Judith Horsley
Marita Valdizan
Kathi Kuchler
Margaret Bucholz
Sue Tripp
Marge Hall
Britta Renwick
Heide Morris
Shari Hohl
The Opening Reception for Art in Full Bloom will take place on Friday, May 3, 2019 from 6:00 – 9:00 p.m. The public is invited to enjoy refreshments and meet the artists at the Opening Reception. There will also be activities and refreshments during the West Chicago Blooming Fest on May 18, 2019. The exhibit will also run during regular opening hours of Gallery 200 during the entire month of May.