City Hall
475 Main Street
West Chicago, Illinois 60185
Through November
Artist and former resident Liz Weibler remains active in the West Chicago art scene, even from as far away as a small Arizona mining town. This past May, she submitted a work from her diverse collection of original art to the West Chicago Cultural Arts Commission's community exhibit, Artéculture, which was held at Kindred Coffee Roasters.
The well attended event featured many wonderful pieces from local and regional artists. The exhibit included an opportunity for the public to vote for their favorite artwork in a People's Choice Award and Cityscape, by Liz Weibler, was chosen. As a result of her selection, she was offered the opportunity of a solo exhibit of her work at City Hall. Distance didn't stop her from saying yes. She recruited her father, Philip Weibler, himself an accomplished photographer, to gather paintings dispersed throughout the family and hang the exhibit for her.
The result is a vibrant display of color and texture on the walls that flank City Council Chambers. The exhibit will remain for the next coming weeks and the public is invited to enjoy viewing it during regular business hours, Monday – Friday from 8:00 a.m. – 4:30 p.m.
When asked to provide an artist statement of her work and brief biography, Ms. Weibler provided the following:
I was born into a bustling family of four brothers and two sisters, and raised in West Chicago. I was blessed with a father who not only ran commuter trains but who also carried his camera every day. He would often take me into the city with him, always pointing out the stunning architectural features of buildings downtown. I am inspired by architecture still.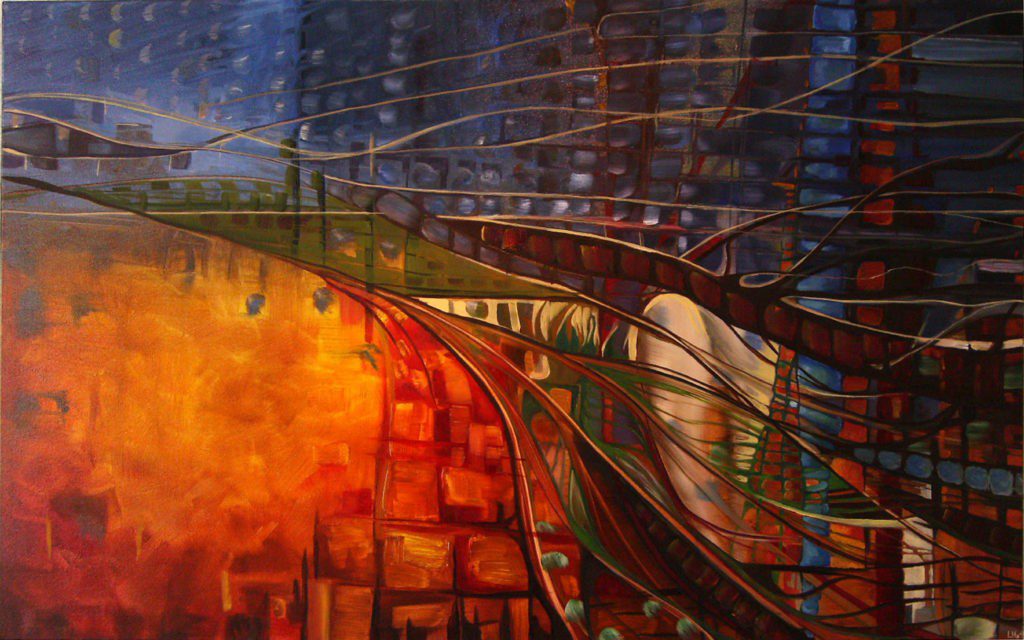 I began taking classes at The School of the Art Institute of Chicago when I was in High School at WCCHS, and continued there as an undergraduate student. I was anxious to get out of the Midwest and find myself as an artist, so I headed west. I earned a living making costumes and painting as a scenic artist for theater companies from coast to coast. Many summers were spent in Spring Green, Wisconsin, working for American Players Theatre.

After many adventures I found myself in the small mining town of Miami, Arizona, in 2008. "Cityscape" was the first painting I created. I had just spent 2 years in New York City and the energy there inspired the colors and movement in the piece. The original painting is water- soluble oil on canvas, which I began using while in New York. I continue to work with these oils as they lend themselves nicely to mixed media works.

Tucson, Arizona has been my second home since 1999. The abundant sunshine keeps me working in my studio year round, but I still make time for long visits with my family in We-Go! I am honored to show my work here at City Hall.