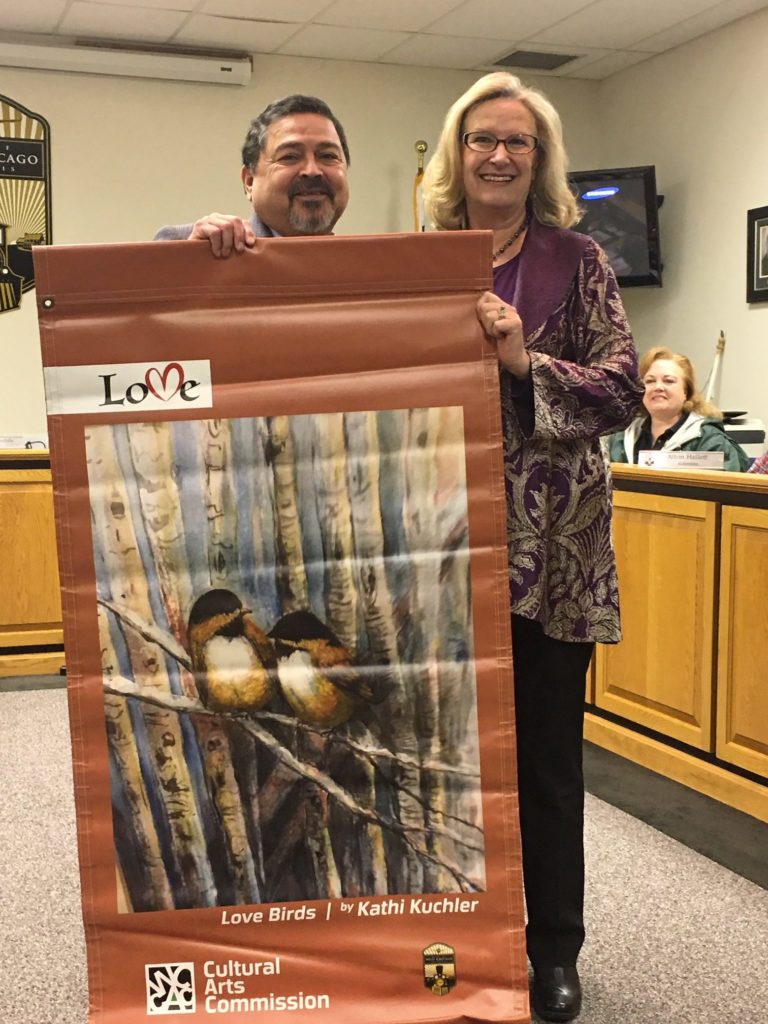 Spring has come early to West Chicago's City Hall at 475 Main Street through a display of fine art by Kathi Kuchler, a Gallery 200 member artist and People's Choice Award winner of the 2019 Art Banner Exhibit.
The collection of botanical watercolor paintings adds a touch of hope that warmer days, sunnier skies, and colorful flowers bursting forth from thawing earth is around the corner. "As beautiful as winter can be, Kathi's exhibit at City Hall is a welcome reminder of what's ahead", said Cultural Arts Liaison Rosemary Mackey.
Included in the collection of the current display is Kuchler's award-winning work, Love Birds, which garnered the most votes from the public of the 21 art banners that hung on Main Street from May through September in 2019. She was honored at a City Council meeting in December, where Mayor Ruben Pineda presented her with the banner on which Love Birds was transferred.
Now, those visiting City Hall may view the original work, which is among the many other compelling paintings of nature's bounty. "We are delighted to host this exhibit of Kathi's work. It has transformed the walls of City Hall into a botanical art gallery that everyone can enjoy when visiting," said Mayor Pineda.
Kucher is an accomplished artist who started painting at the age of 14 in oils before turning to watercolors. She received her certification as Botanical Watercolorist and Illustrator in 2015 through the Morton Arboretum in Lisle. "It was in my classes at the Arboretum that I started drawing with pen and ink and colored pencils", said Kucher. "I also started working in water soluble oils and love enlarging flowers on large canvasses."
Additionally, Kuchler has made jewelry using miniature prints of her paintings in cabochon pendants which she embellishes with vintage-like charms, and has discovered a love for creating upcycled silk scarves with wool felting. These may be found at Gallery 200, 103 West Washington Street.
Kuchler is also a regular at art shows and displays including those at Natures Artist Guild, DuPage Art League, Norris Cultural Arts Center, St. Charles Arts Council, Fine Line Art Center and Gallery, Batavia Public Library, Greater Geneva Studio Tour, West Chicago Public Library, Water Street Studio, and the Fermilab Employees' Art Show.
The current exhibit may be viewed at City Hall during regular business hours, Monday through Friday, 8:00 a.m. – 4:30 p.m. For more information about the art of Kathi Kuchler, visit https://www.kathikreations.com/.