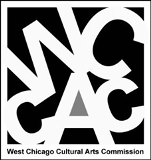 West Chicago's Cultural Arts Commission will be on-hand for the annual Trunk-or-Treat at the West Chicago Public Library on Saturday, October 30 from 1:00 – 3:00 p.m. to see what kids have to say about art in their community. Commission members recently realized that surveys taken previously for the creation of a Public Art Master Plan didn't include some of the younger members of the community, and that needed to be remedied.
The challenge was in creating a survey method that would appeal to the children, and the downtown Trunk-or-Treat at the Library presented a great opportunity considering the hundreds of kids that attend the event every year.
Representatives of the Commission will be distributing Halloween candy and asking children to "vote" with the empty wrapper on one of several boards displaying various types of public art. The hands-on exercise will result in a unique art display, as well as provide feedback to the Commission on what type of art children favor. Commission members also hope by reusing the wrapper to create art, the children will learn the concept of renewal, making something new from something old, which is the theme of the 2022 Art Banner Exhibit.
The West Chicago Cultural Arts Commission (WCCAC) was established by the City of in January 1993 with the mission of enriching the lives of all residents through the active support of cultural arts activities in the City. The Commission sponsors public art programs, workshops, art exhibits, community art projects, and other special events. It also supports the popular downtown art destination, Gallery 200, and maintains a thriving local artist network.