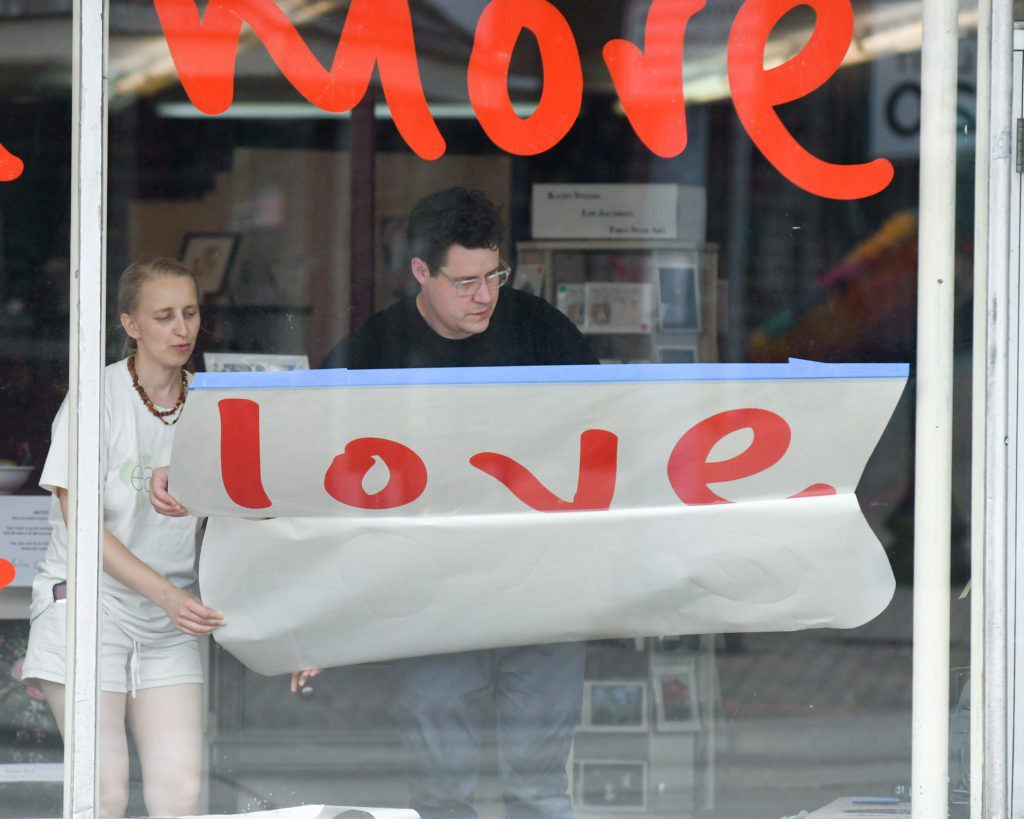 Location:
West Chicago Public Library
118 West Washington Street
loveevenmore Dedication Program - .pdf 880kb
"loveevenmore" is the message of West Chicago's newest piece of public art and the community is embracing it.
The commissioned piece, a distinctive 9' steel sculpture that contains a simple but compelling message to loveevenmore was created by renowned Chicago-based artist Matthew Hoffman.
"This beautiful work of art conveys a timeless message that is especially needed in our world today. It challenges and inspires us to keep an open heart and mind.  It provides the community with a work of art that is visually striking and unique, and one that represents the values of our community," said West Chicago Mayor Ruben Pineda.
The Commission's idea to approach the Board of the Library Trustees about locating the sculpture on the front lawn was made after much discussion about a public location to which people frequently congregate, one that would provide great curbside visibility, and one that lends itself to the concept of the power of the written word.
"The Library is pleased to have Matthew Hoffman's loveevenmore sculpture placed on Library property," said Executive Director Ben Weseloh. "This thought provoking phrase in artistic form placed in a highly visible location has the potential to make community residents reflect on what the world, and specifically West Chicago, could be if we would all love even more.  The Library is excited to be a part of this project."
Positive feedback on the City's social media channels such as, "Words to live by! Cool addition to our town", "I love it!", and "We need more of this!!!" indicate the 9' metal artwork by Matthew Hoffman has resonated with the community.
To view an album of photos from the August 8th dedication, visit the City's Facebook page and search photos. Also, watch a brief video clip of the loveevenmore unveiling.
About the Artist: Matthew Hoffman
Hoffman's message art has struck a chord with people globally. He began the You Are Beautiful movement in Chicago in 2003 and it has grown into a worldwide phenomenon. It all began in 2003 when he printed 100 stickers that simply stated, You Are Beautiful, and placed them at various Chicago locations. He created a website where people could order their own stickers. Reaction was extremely positive, with people sending him photos of his stickers showing up in locations throughout the country – and then the world.
According to Hoffman, the impact of the You Are Beautiful campaign has been astounding, with his stickers showing up in places as remote as Antarctica.  He is featured in a video created by Oprah Winfrey's Network (OWN) which documents the project for SuperSoul Sundays, and he has done large-scale public installations for the City of Chicago, Rose Fitzgerald Kennedy Greenway Conservancy, Albright Knox Gallery, as well as for companies like Apple, Facebook, and Zappos.