Location:
West Chicago Public Library
118 West Washington Street
Sesquicentennial Mural Brochure - .pdf 4.4MB
About the Artist
Thomas D. Mahady was born in Nyack, New York, and raised in Stamford, Conneticut. He earned his bachelor's degree in Fine Arts from South Hampton College and completed his final internship with Roy Lichtenstein. Tom continued his education with a Masters in Fine Arts from Hunter College in New York City.
Tom's fine mural work can also be viewed at the St. Charles Municipal Center, the Glen Ellyn Brewery and the McChes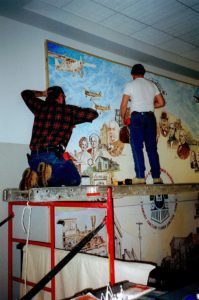 ney and Miller Grocery Store in Glen Ellyn, and the Villa Verona Restaurant in Geneva on Hamilton. His diverse works include oil portraits, landscapes, equestrian renderings in colored pencil, pen and ink and pastels.
Solo exhibits include the University of Illinois, Beverly Arts Center, Aurora College, Elaine Benson Gallery (Long Island), Campbell House Art Gallery, Owls Head Airport (Main) and Vox Populi (NYC) Tom has also participated in group shows at Harbor Square Gallery (Camden, ME), Visner Gallery (NYC), Westbeth Gallery (NYC), John Hancock Building (Chicago), Fermilab (Batavia), Cornelious Gallery New York and Gallery 129 ½ West State Street, Geneva, IL.