Online Haiku Submission Form – English
Online Haiku Submission Form – Spanish
Poets and community members alike are invited to submit their own positive haiku in a language of their choosing. The West Chicago Cultural Arts Commission (WCCAC) will screen each submission to ensure variety, originality, and quality.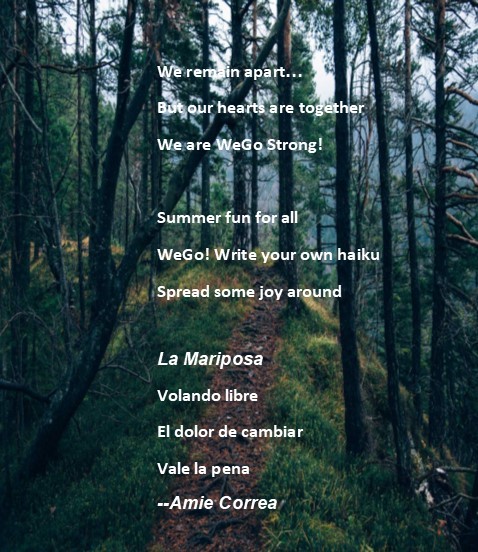 All poems will have to follow the standard 5-7-5 syllable haiku* format. The WCCAC will print the selected haiku onto 18"X24" double-sided yard signs. The goal is to obtain 84 haiku signs to be displayed publicly across the city, approximately 12 in each ward.
Submissions are due by June 9, 2020.
Both private residents and public companies will have the opportunity to pre-register to be considered for publicly hosting a poem; the WCCAC will, in collaboration with the City, select the best-suited sites and create a simple map to be posted on the City website.
Online Haiku Host Registration Form – English
Online Haiku Host Registration Form – Spanish
The WCCAC seeks to shine a light on the poet within each of us and hopes to recapture the spirit of 2019's butterfly display while recognizing the community's fatigue, uncertainty, and need for positivity during our current Shelter at Home status. Residents will be able to see haiku in their own ward while on daily strolls to get out of the house or travel beyond their own neighborhood to see them all.
Watch for the WCCAC's online calls for photo promotions, a scavenger hunt, favorite haiku, etc. to increase the fun over the course of the summer! This is when West Chicago shines. Show us your community pride.
*What is a haiku? A haiku in English is an English language poem written in the Japanese poetry style known as haiku. The degree to which haiku in English resembles classic Japanese haiku varies, but many of these poems draw on short, concise wording and a reference to nature.
We remain apart…
But our hearts are together
We are WeGo Strong!
La Mariposa
Volando libre
El dolor de cambiar
Vale la pena
–Amie Correa
Summer fun for all
WeGo! Write your own haiku
Spread some joy around