Calling all artists.
Submissions now being accepted online.
Deadline: February 1, 2020.
Home, there's no place like it, and the West Chicago Cultural Arts Commission (WCCAC) hopes the chosen theme evokes emotion and inspires creative expression for the concept, physical structure and/or larger community in which the artist feels a sense of belonging.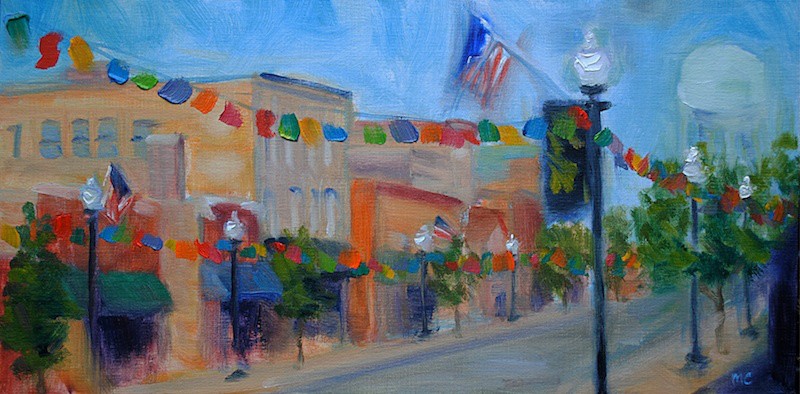 "Home is the place where the heart resides, or longs to reside," said Rosemary Mackey, WCCAC Staff Liaison. "Home is a set place for some, or a journey for others. Either way, our home contributes to who we are, and the Commission is eager to see how this theme resonates with area artists."
All media are welcome, with no limitation to technique or subject matter, as long as it relates to the theme. Each selected design will be reproduced, at the Commission's expense, on (h) 60 x (w) 30″vinyl street banners. Artists selected will receive credit on both the banner and in printed materials related to the exhibit. Additionally, they may submit a brief statement about their inspiration for inclusion in publicity materials.
Banners will hang on Main Street and West Washington Street in downtown West Chicago from May – September 2020.
A reception honoring the chosen artists will take place during the City's annual Blooming Fest in May 2020. The original artwork selected for the Banner Exhibit may also be featured in a City Museum exhibit which will run May – August, 2020, giving the artwork greater exposure.
Banner Specifications
Banners measure: (h) 60" x (w) 30" with text, image field measuring approximately: (h) 42" x (w) 30". Before submitting, applicants should make sure that the art work is reproducible at the specified dimensions and at an adequate resolution, as no exceptions to these specifications will be made, in order to ensure the quality and integrity of the entire exhibit.
The WCCAC will work with artists to obtain proper file sizes for reproduction once juried into the exhibit. However, all submissions should reflect the size specifications in order to be considered.
Submission Specifications
An entry is comprised of up to 3 JPEG images at 72 dpi measuring (h) 7" x (w) 5". All files should be numbered and named with the artist's last name and first name. Ex.: 01Lastname_Firstname.jpg and submitted via an online form. All entries must be original and created within two years of entry date. Entries must be received by February 1, 2020.
Judging
Judging of submissions will be based on JPEG files only. JPEG files submitted must represent actual work. Submitted and accepted artwork will not be used for any other purpose. An Independent Juror (to be announced) not affiliated with the City of West Chicago or the West Chicago Cultural Arts Commission will select the winning art works anonymously. The WCCAC reserves the right to refuse to exhibit any work it deems unacceptable due to significant departure from JPEG representation or inappropriate content.
Exhibition/Reception
The exhibition runs from May – September 2020. A reception honoring the selected artists will take place during the annual Blooming Fest in May 2020. At this time, the general public will be invited to vote for an artist/banner to receive the People's Choice Award. The winner of the People's Choice Award will receive their banner free of charge. All other banners may be sold, with the artist receiving the first right of refusal, and proceeds will be used for future art programming.
Required Waiver for Participation
By submitting artwork for consideration, the artist acknowledges and agrees to the terms of the City's standard Photographic Waiver, which gives the City permission to use its image for publicity purposes.