During the COVID-19 stay-at-home order, our community once again shines in adhering to this in positive and sharing ways. I am sharing some of which I know. If you have other examples let me know.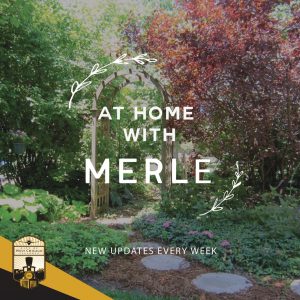 "Reading gives us someplace to go when we have to stay where we are." With the library closed, it is difficult to bring new books into one's life. There are various online type of books, but holding a book in one's hand or reading to a child is an experience many enjoy and prefer. Persons with neighborhood Little Free Libraries are keeping them filled with books for children and adults, while others fill them with books they have read – a treasure of reading adventures. There is one located at the West Chicago Police Department, 325 Spencer Street. West Chicago Elementary School District 33 is compiling a list of locations of the Little Libraries, persons should send their address to steinbrecherg@wego33.org. Sidewalk libraries are at Indian Knoll School, ON645 Indian Knoll Road, and WeGo Preschool, 300 East Forest Avenue. Walking to the libraries is a great way to get some exercise for your brain and body. To create a little library in our condo/apartment complex, Gallery at Gateway Center, we set up a table in the inside lobby. Here residents can trade books, magazines and jigsaw puzzles. (www.merleburl.com)
Both Community High School District 94 and West Chicago Elementary School District 33 provide free meals during Spring Break and will continue to do so until further notice. Illinois Central School buses deliver to the various locations. Preparing the meals for high school students is Quest Food Management Services. In addition to the food distribution site at West Chicago Community High School, five locations have been added. These are Riverwood Apartments, parking lot off Lorlyn Drive; Timber Lake Apartments, near main entrance; Main Park Apartments, near main entrance; Towne and Country Apartments, near main entrance; and Aspen Ridge Apartments, near main entrance. District 33 distribution locations remain the same, plus the addition of the five apartment complexes. Preparing the meals for District 33 is Aramark, who has been serving more than 1,300 breakfasts and lunches every day. The WeGo Together Community Market located at Leman Middle School, was open the last two Tuesdays supporting more than 115 families each week. This means more than 500 individuals accessed food and other household supplies. (www.merleburl.com)
During the first two weeks of the closure, both school districts have kept in touch with students and their families through the internet. District 33 has posted information, messages on its Facebook page, https://www.facebook.com/wegoD33/ and on #ILSchoolsStepUp #theD33effect, plus on the individual Facebook pages of the elementary schools. The high school also has maintained communication through its Facebook page https://www.facebook.com/WCCHS/, which include messages from the Superintendent, Dr, Moses Cheng, and Principal, Dr, Will Dwyer, plus spirit videos from the teachers.
Churches also are using the internet and Facebook pages for members of their congregations. These include the Sunday worship services, and others held during the week, plus Bible verses and uplifting messages. At First United Methodist Church of West Chicago members Roberta Kent and Lana Runyan are keeping the visits to the homebound on track during the social distancing via phone calls and email. Linda Stoynoff and others are currently making face masks for fire departments, nursing homes, police departments and hospitals. To make these masks, they are in need of narrow elastic, 1/2″ or smaller or any packages of double wide double fold bias tape any color. To arrange for pick up, email lstoynoff1@att.net or Judi Horsley judithhorsley@comcast.net.
Businesses, though struggling, also are doing acts of kindness. As a non-essential business, Floral Market closed until further notice. However, on Tuesday, March 17, owner Jamie Frost and her twins took the fresh flower remains in the cooler and made 20 arrangements. They delivered these to West Chicago Terrace and staff distributed the arrangements to the guests residing at the nursing home. Recently Starbucks delivered breakfast to the West Chicago Police Department. The police officers started their day with sandwiches, fruit and coffee.
On its Facebook page https://www.facebook.com/FriendsoftheWestChicagoCityMuseum/, Friends of West Chicago City Museum are keeping the history of the community through Train Tuesdays and other historic facts and photographs. Featured thus far is the CN&W Roundhouse and West Chicago Door and Sash Company. It really is a great way to learn some of the history of our town. (www.merleburl.com)
Individuals, of course, are carrying out acts of kindness. One person was working in her yard as was her neighbor, who is in construction. He asked if her family needed anything to which she replied, that she wished she had some N95 masks. He said this was not a problem and gave her eight. These were donated to local nurses and police. Others have been the recipient of a piece of chocolate cake, a casserole dish or container of soup, delivered by friends. This is a double bonus as both can wave to each other when it is delivered and put at the door.
Residents on blocks in neighborhoods are doing physical activities. One block is exercising together on the street daily. Their photograph with an accompanying story was on the front page of Friday, March 27, issue of the "Daily Herald" and featured on ABC News. Another block is going the route of block dancing. The families dance to different songs for a short time. This gives everyone the opportunity to go outside and see others on the block at a safe distance.
There are weekly Social Distancing Safe Community Events. These involve placing a designated cutout on windows on Tuesdays, Light Up Wednesdays and Saturday a Sing-A-Long. Of course, persons can do their own variations. If one does not know the cut out theme for the day, any will do as persons walking will see it. In my complex, we are putting pictures on our doors, a theme for a full week. Residents can see these as they walk in the halls, go for mail or place garbage in designated areas (we have recycling) and it brings a feeling of unity. For the Sing-A-long, one can select their own song. I find I do not know the songs selected, cannot read a note of music and do not have a melodic voice or anything close to it. Thus if you have the same problems or others, belt out your favorites, outside or in the house. I prefer inside as I do not want to panic my neighbors with the sounds of my screechy voice. After all, participating one way or another is demonstrating community togetherness. (www.merleburl.com)
One word can make a difference in our outlook. Do not consider it as being stuck in your home, but as being safe in your home. This brings up comfortable and positive feelings. (www.merleburl.com)
AROUND AND ABOUT
The official date For Census 2020 is Wednesday, April 1. Persons who have not submitted the census information should do so now. It is fast and easy, and so very important.
The US Constitution mandates that everyone in the country is counted every 10 years. The first Census was in 1790. The reasons it is important that everyone be counted include redistricting, fair representation and the distribution of $675 billion in federal funds. Business, community leaders and local government use the Census data to create jobs, ensure public safety preparedness and support community initiatives.
All households, not individuals, have received informational letters. The purpose of the Census is to gather statistical information. Information on individuals is not shared or released. For the first time, persons can respond online. It is easy and fast. The Census form is available in English and 12 additional languages. Videos and guides to the form are available in 59 languages. (www.merleburl.com)
There are several upcoming Social Distancing Safe Community Events. One is Let There Be Lights Wednesday, April 1. Persons put a luminary or candle outside their front door to show support for doctors, nurses and medical professionals. Picturing Fire Marshal Joe Buenrostro shaking his head for safety reasons, I suggest using a flashlight in a paper bag or a battery operated candle. Friday, April 3, is Bear Hunt, where persons put a stuffed bear in their window. At 7:00 p.m. Saturday, April 4, is the sing-a-long; the song is TBA. Everyday is Chalk Your Walk, where persons can brighten driveways or sidewalks. These events occur weekly with different themes.
Since City Hall is closed because of COVID-19, attendance at the City Council meeting at 7:00 a.m. Monday, April 6, 2020, is limited. Attending the City Council meeting in person will be Mayor Ruben Pineda, the City Attorney and City Administrator Michael Guttman. City Clerk Nancy Smith and Aldermen will be attending remotely through the Zoom application/program. The public will be able to conference in to listen via Zoom.us, but any comments/questions that people have will need to be sent in written form by 4:00 p.m. the day of the meeting. The agenda is up 24 hours prior to the meeting, usually it is posted on City website by Friday afternoons.
The City free leaf pickup takes place during the week of Monday, April 6, through Friday, April 10, 2020, on regularly scheduled garbage pick up days. Leaves must be in "Kraft" bags. Stickers are not required. No other yard waste is to be mixed with the leaves.
Yard waste collection begins Monday, April 6, and ends Saturday, November 29, 22020, on regularly scheduled garbage pick up days. It must be placed in a "Kraft" yard waste bag with a Universal sticker attached or in 95-gallon yard waste cart.
Healthy West Chicago offers two virtual yoga classes in the month of April 2020. To register visit Gentle Virtual Yoga Class or email Carly Smitherman or carlys@healthywestchicago.org.
Registration confirmation email will provide instructions on how to join the class.
Gentle Beginner Yoga is at noon Wednesday, April 8. This 30-minute online yoga class is designed for those who are new to yoga, but all levels are welcome. It focuses on releasing tension, connecting with the breath and helping gain strength, flexibility and a centering of the mind. To accommodate all levels of students, the class will hold yoga postures with slight variations. All persons need is a mat or even a rug is okay, Comfortable clothes recommended.
Intermediate Yoga is at 5:00 p.m.Wednesday, April 15. This 30-minute online yoga class is targeted to those who have practiced yoga before. The class will connect to the breath during an active full body warm up and then move into a few strength-building yoga postures, targeting back and core muscles. Class finishes with relaxing stretches for hamstrings, hips and shoulders. (www.merleburl.com)
Blooming Fest, scheduled for Saturday, May 16, 2020, is cancelled.
Sincere sympathy is expressed to the family of Daniel Merrick Schuyler, who passed away at the age of 89 Wednesday, March 25, 2020.
Firefighter/paramedic Nick Bulleri celebrated his fifth year with the West Chicago Fire Protection District.
Walgreens now offers select products at its pharmacy drive-thrus in order to help customers obtain essential products during the COVID-19 pandemic. More than 60 products are currently available for purchase comprised of household essentials chosen to support the needs of customers and communities during the pandemic. The additional products include cleaning supplies and sanitizers, select over the counter products such as cough/cold, pain/fever and immunity support, select grocery items, infant formula/adult nutrition, medical supplies, first aid and paper goods. Customers may confirm product availability at the pharmacy drive-thru window. Availability and quantity restrictions apply.
West Chicago resident and member of 4th Point Band, Matt Ellis recently released a new lyric video, "Try Hard." It can be viewed at https://www.youtube.com/watch?v=dJXlS5XvNn8.
Last week, I listed restaurants open for take out, drive-thru or delivery. Names to add to the list are 59 North Oasis Cafe, Domino's Pizza, Dragon II, Happy Dog, Jimmy John's, Los Girasoles, Pizza Hut and Taqueria el Resobado. The City has compiled a list of restaurants, which includes addresses, telephone numbers and types of services offered. The list can be found at https://westchicago.org/wp-content/uploads/2020/03/Covid-19-Operating-Restaurant-List-032320.pdf/. It is advisable to call the restaurants for updates. Persons can also support these restaurants by purchasing a gift card that can be used when this pandemic ordeal is over.
Nicolette Stefan is the new Special Events Coordinator for the City of West Chicago. Not only does she have an extensive background in event planning, but also speaks three languages, English, Polish and Spanish. Stefan has a Bachelor's degree in Spanish and Communication from the University of Illinois, Urbana-Champaign. Her outside interests include baking, traveling, volunteer work and reading, currently serving as president of a book club. Another interest coming to the forefront is the inspiration to be a great gardener. Stefan said, "I am looking forward to organizing the great events that the City of West Chicago has to offer and getting to know the community." (www.merleburl.com)
"Fore" might be a common shout as golf courses at Prairie Landing Golf Course, 2325 Longest Drive, and St. Andrews Golf and Country Club, 2241 Route 59, are now open. Conditions for opening during the COVID-19 stay-at-home include the clubhouse being closed and only online or telephone scheduling and payment of tee times is allowed, food and beverage service cannot be provided, and use of carts is not allowed, walking only. Driving ranges are closed; golfers and course staff must observe social distancing guidelines. The telephone number for Prairie Landing is (630) 208-7600, online scheduling is https://go.teeitup.com/11563. The telephone number for St. Andrews is (630) 231-3100, online scheduling is https://www.standrewsgc.com/teetimes/.
Due to lack of business during the COVID-19 Shelter In Place order, Olde North Pancake House, 27W751 North Avenue, is no longer able to continue curbed delivery service and closes its door until further notice. The owner said, "In our 47 years history we have never experienced anything like this. I hope to see all of our customers back when this is over."
For those out on the road Tuesday, March 24, 2020, and who saw the traffic cones on West Washington Street, it was not the beginning of road construction. Rob Flatter, City Director of Public Works, said, "It is only AT&T doing some structure adjustments." Although the weather is nice and with COVID-19 "Stay at Home" restrictions, little traffic, which would make ideal conditions tor the project, "it is still extremely early in the construction season for us, no asphalt plants open yet and very few open concrete plants"
After two workers tested positive for COVID-19 at Jel Sert Company, manufacturing operations were suspended for four days for deep cleaning. This included the manufacturing area, bathrooms and other common spaces. Employees were paid for the four days. Another employee tested positive Friday, March 27, 2020. As a manufacturer of medical foods and Defense Department contracted items, Jel Sert has been deemed an essential business and allowed to remain open during the state's stay-at-home order. In a company-issued statement, it was said, "As a pharmaceutical-grade facility, our factory has always adhered to the strictest safety protocols." It further stated, "From the first emergence of this pandemic, our primary focus has been to ensure the health and safety of our employees, our community"…"We are working around the clock to monitor the situation and add any additional protocols that may be needed to ensure the safety of our workers and to keep operation in our manufacturing facility running during these trying times." The distribution side of the business continued operating.
A West Chicago couple, Chris and Caeli Santa Maria, are stranded in Delhi, India after picking up their adoptive daughter, Elli. They are eager to get home as they have two children waiting for them. The couple started the adoption journey 18 months ago. They arrived in India March 1, 2020; a seven-day lockdown followed. Now a 21-day lockdown is in effect. Communication with the family in Illinois continues through Facetime. Answers as to when they can come "home," are hard to come by, and all they can do is wait.
Saturday, March 28, 2020, Frank Rosas, 29, of 747 Lincoln Avenue, was charged with two counts of First Degree Murder for killing his roommate, 56-year-old Jose Alonso-Lopez. DuPage County State's Attorney Robert B. Berlin and West Chicago Chief of Police Michael Uplegger announced that bond has been set at $1 million.
The West Chicago Police report stated, "On March 22, 2020, at approximately 4 p.m., Rosas entered the West Chicago Police Department and allegedly reported to the officer on duty that he had killed his roommate. Officers immediately went to the residence shared by Rosas and Alonso-Lopez and found the victim, deceased, lying face up on his bed, wrapped in a blanket with his feet exposed. Officers also found large amounts of blood on the mattress and floor surrounding the bed. Officers also found a steak knife in a garbage can outside the defendant's car with apparent blood on the handle. It is alleged that during the evening of March 21, Frank Rosas viciously murdered his roommate Jose Alonso-Lopez by stabbing him more than thirty times."
Berlin said. "This was a senseless loss of life and I offer my sincerest condolences to the family and friends of Mr. Alonso-Lopez as they grieve their loss. I would like to thank the West Chicago Police Department for their work on this sad case. "
"This was a brutal crime and our thoughts are with the victim's family as they cope with the loss of a loved one," Uplegger said. "I want to thank the men and women of the West Chicago Police Department for their outstanding work on this case. Due to their diligent efforts, we were able to provide some comfort to the family in that the offender will be held accountable for his actions."
Rosas' next court appearance is scheduled for Monday, April 27, 2020, for arraignment in front of Judge Alex McGimpsey. Since his arrest Rosas had been in the hospital for treatment to an injury he sustained during the alleged murder of Alonso-Lopez.
Mayor Ruben Pineda issued a Declaration of Emergency due to COVID-19 Monday, March 30, 2020, which is effective for seven days per State Statute and City Code. As the President has extended the social distancing to Monday, April 30, City Council would need to extend the Declaration per a Resolution at its Monday, April 6, 2020 meeting. The Declaration gives the organization more flexibility than during normal times, by either suspending certain provisions of the City Code without a formal vote of the City Council such as waiving competitive bidding, altering work schedules, temporarily ending the addition of late fees and water terminations for failure to timely bill or allowing the senior managers to more expeditiously make personnel and spending decisions on their own. It also allows for the recovery of any extraordinary costs associated with the Emergency. Finally, it formalizes the Liquor Commissioner's determination that restaurants may sell packaged beer and wine for consumption off-premises. Persons can read the full declaration on the City's website, www.westchicago.org or on my pictorial website, www.merleburl.com.
My email address is merleburl@earthlink.net.