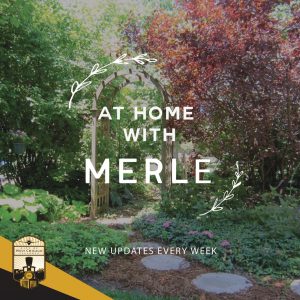 The aims we have had created a blooming Spring. The weather is perfect for walking and there are so many flowers, shrubs and trees in bloom. The forsythias are full with yellow blooms, the pussy willows are perfect and the magnolias are bountiful in colorful flowers. Whether looking sideways, downward or upward, a rainbow of colors appear before our eyes. All of this puts a little more bounce in our steps. Enjoy!!
At the last City Council meeting Monday, April 3, 2021, Mayor Ruben Pineda said 11,000 vaccination shots have been given at various clinic sites in our town. The vaccinations have opened up more venues for enjoyment. Yet it is important to wear your masks and keep a social distance.
AROUND AND ABOUT
Although Blooming Fest 2021 was cancelled, the City of West Chicago offers some garden related classes and activities for West Chicago residents. The three classes are Honey Bee 101, DIY Succulent Terrarium, and Butterfly and Bird Gardening 101 and class size is limited. They take place Saturday, May 15, 2021, at the ARC Center, 201 West National Street. The times for the classes are morning or early afternoon and are listed on the registration forms which can be found on https://westchicago.org/news/34829/. Registration opens at 11:00 a.m. Thursday, April 15. Persons registering will be notified via email with confirmation or wait list status. All participants receive flower packet seeds donated by Ball Horticultural Company,
Bill Whitney, owner of City Bee Savers, is the presenter of Honey Bee 101 class. He talks about bees struggling to survive, what is causing this struggle and what people can do to help save the bees. The class is for persons age eight and up. Participants receive local raw honey.
DIY Succulent Terrarium is geared for teens and older. Melanie Grotto of We Grow Dreams Greenhouse and Garden Center demonstrates how o make the terrarium and each participant take home the terrariums they made.
Presenting Butterfly & Bird Gardening 101 is Jim Kleinwacter of The Conservation Foundation. He gives plant recommendations and advice, plus coming to do a yard assessment of one's site, if needed. Participants receive a native landscaping guide, a butterfly guide and a milkweed plant for monarch butterflies. (www.merleburl.com)
With easing of COVID-10 pandemic restrictions, West Chicago Park District is offering more indoor activities and events. A three week two-hour class, "Value in Landscape," Is at 6:00 p.m. Wednesdays, starting April 28 and ending May 5, 2021, at the ARC Center, 201 West National Street. There is a free trial for the Fitness enter from Thursday, April 15, through Friday, April 30, 2021. Early Bird special for summer camps ends Friday, April 20. Turtle Splash Water Park is scheduled to open Sunday, June 13, 2021. For more information on programs, visit the district's website www.we-goparks.org. (www.merleburl.com)
"Art in Full Bloom" is the exhibit for the months of April and May at Gallery 200, 103 West Washington Street. Hours are from 2:00 to 6:00 p.m. Fridays and from 10:00 a.m. to 2:00 p.m. Saturdays.
The spectrum of artwork on display includes paintings, photography, glass work and jewelry. Each is so unique. Participating artists are Margaret Bucholz, Judi Horsley, Lou Jacobson, Patty Koenigsaecker, Donna "Blue" Kubica, Kathi Kuchler, Laurie Parker, Britta Renwick, Rita Skarha, Kathy Stepaniuk, Sue Tripp and Marita Valdizan. (www.merleburl.com)
"Virtual Chair Yoga" is the West Chicago Public Library program at 3:00 p.m. Monday, April 19, 2021. Susan from Dancing Cranes demonstrates the benefits of yoga without getting down on the floor. In an hour of Chair Yoga, persons breathe more deeply; stretch, strengthen and move their body; relieve stress and relax. Tor register visit wcpld.info, under event calendar. (www.merleburl.com)
Healthy West Chicago hosts a free virtual family cooking class, "Veggie Pizza with Wheat Baked Crust," at 6:00 p.m. Wednesday, April 21, 2021, via Zoom. Chef Maria gives tips on eating healthy, saving time in the kitchen and involving children in food preparation, plus demonstrates how to make the featured recipe. Recipe ingredients are provided to the first 25 registered participants. The day to pick up supplies at the West Chicago Public Library will be communicated to those who registered first.
To register visit https://us02web.zoom.us/webinar/register/WN_Mamhi_MST06jStLBLxlzCg.(www.merleburl.com)
"Our Wild Neighbors" is the West Chicago Public Library program at 7:00 p.m. Thursday, April 22, 2021, via Zoom. Laura Winnie for the DuPage County Animal Services gives a presentation on how people can share space with wildlife. To make a reservation, visit wcpld.info, under event calendar. (www.merleburl.com)
The West Chicago Garden Club meeting is at 7:00 p.m. Thursday, April 22, 2021, via Zoom. The speaker is from the University of Illinois Extension.
Maggie Capettini, former education director at West Chicago City Museum, gives a Virtual demonstration of plein air panting and history of plein air painting. The Warrenville Historical Museum and Art Gallery program is at 7:00 p.m. Thursday, April 22, 2021. After the presentation, there is a question and answer period. To register, visit www.facebook.com/warrenvillehistorical/?rf=1081323441974378 or https://www.eventbrite.com/e/plein-air-demonstration-presentation-tickets-148212267883?aff=erelpanelorg. (www.merleburl.com)
The West Chicago Public Library program "Invite Nature to Your Yard" is at 7:00 p.m. Wednesday, April 28, 2021, via Zoom. Jim Kleinwachter from the Conservation Foundation discusses a variety of techniques for transforming wards, including the use of rain barrels, rain gardens, and the selection and use of native plants to solve yard problems. The improvements can help reduce water run-off, increase wildlife habitat and improve the soil. The benefits of improving the environment include reducing water use, creating more areas for birds and butterflies, reducing chemical use, less lawn mowing and controlling invasive species. To make a reservation, visit wcpld.info, under event calendar.
The West Chicago Gettin' Crafty program is "Wired Rings." The two-hour program is at 6:00 p.m. Thursday, April 29, 2021, via Zoom. Wired Lotus demonstrates how to make a beautiful ring, using pure copper metal wire to create a ring shank and then swirled for a focal point of interest. The wires are coiled to lock-in the focal swirl and the ring shank. The class is limited to 25 patrons. Upon registration persons receive an email telling when to pick up the kit containing all the materials needed for the ring and the link to the Zoom meeting. To register, visit wcpld.info, under event calendar. (www.merleburl.com)
Through its scholarship program, West Chicago Lions Club offers two $1,500 scholarships to a graduating senior for post high school education in the area of human services including teaching, social work, doctors, nurses, physician assistants, and mental health clinicians. The scholarships will be awarded to the institution of higher education to assist with the cost of tuition, books and materials.
Graduating seniors who attend West Chicago Community High School or any other West Chicago resident defined as one who resides within the of Community High School District 94 boundaries, regardless of school attended, are eligible to submit an application. Judging is based on high school grade point average, participation in community and school activities, intent to enroll in a post-high school education leading to employment in the human service areas that include teaching, nursing, other health careers such as counseling and social services, an essay describing one's accomplishments and service, as well as why one have chosen the intended field, and strength of character as evidenced by two letters of recommendation.
Applications forms are available in the counseling offices of each of the high schools. A completed application with the essay, a list of school and community activities, two letters of recommendation and an official copy of the applicant's transcript should be mailed to West Chicago Lions Club, 1879 North Neltnor Boulevard, Suite 254, West Chicago, IL 60185, and be postmarked by May 1, 2021. The incomplete applications will not be considered. The West Chicago Lions Club Scholarship Committee, who will notify applicants of their decision by mail.
The Annual Young Artists and Authors Showcase, sponsored by Sister Cities International, gives youth worldwide the opportunity to express their vision for a more unified, peaceful world through original art and literature. The 2021 theme is "United in Hope." To be eligible students must be between the ages of 13 and 18 years of age and must be affiliated with a dues-paying member of Sister Cities International or an international community partnered with a dues-paying member. Submissions and a completed application are due by 11:59 p.m. Eastern Daylight Time Saturday, May 1. For more information on eligibility requirements and content guidelines, visit the YAAS webpage https://sistercities.org/yaas/. Forst, second and third place winners receive awards. Sister Cities International aims to promote peace through mutual respect, understanding, and cooperation — one individual, one community at a time. Indeed, the younger generation is capable of dreaming of a human existence that is even more dynamic, more advanced, and more resilient than ever before.
Hawthorne's Backyard Bar & Grill, 1200 West Hawthorne Lane, hosts its annual Backyard Golf Outing, Saturday, May 8, 2021. The shotgun start is at 8:30 a.m. at Prairie Landing Golf Club, 2325 Longest Drive. The $125 charge includes golf, cart, driving range, food at the course, followed by the pig roast at the restaurant. There is a $10,000 hole in one prize. The name of the winning team is engraved on the annual golf outing plaque. Visit Hawthorne's to register. (www.merleburl.com)
Gardenworks Project holds its annual Seedlings Sale. Since Blooming Fest was cancelled this year, all orders must be placed on line for pickup from 9:00 a.m. to 3:00 p.m. Saturday, May 15, 2021, at the Resource Center, 103 West Washington Street. The seedlings are from Possibility Place Nursery, which specializes in cultivating and selling plant species indigenous to Northern Illinois. To order plants, visit https://www.gardenworksproject.org/shoutm_campaign=march_2021&utm_medium=email&utm_source=gardenworksproject. The deadline for ordering is Monday, May 10.
Gardenworks Project celebrates its Tenth Anniversary this year. In this time period, the organization has built more than 500 raised garden beds, planted thousands of seedlings and helped establish more than 17 community gardens.
The Mexican Cultural Center DuPage is accepting applications for its Annual Miss Mexican Heritage Program. The winner is announced at the pageant held in September. The queen receives a $1,000 scholarship and first and second runners up receive $500 and $250 scholarship respectively. Requirements for entrants include residency in DuPage County, bilingual in English and Spanish, female between the ages of 17 and 22 enrolled in school, good academic standing and having one parent of Mexican ethnicity. The deadline is Saturday, May 29, 2021.For an application, visit https://www.facebook.com/MexicanCulturalCenterDuPage/. For further information email missmexicanheritage@gmail.com. The MMH program runs from June through September. During this time participants are required to attend workshops that include professional development, modeling/dancing class, volunteering and social events. Winners continue for a consecutive year. (www.merleburl.com)
There is a vacancy on the West Chicago Public Library District Board of Trustees. The term shall be filled until the next regular library election. April 2023. Persons interested need to submit a letter of interest by May 7, 2021, It can be mailed to Nancy Conradt, President, Board of Library Trustees, West Chicago Public Library District, 118 W. Washington Street, West Chicago, IL 60185 or email libraryboard@wcpld.info. For further information call the Library director Benjamin R. Weseloh at (630) 231-1552. Extension 112.
Support our local businesses.
The Slice Spot, 960 Roosevelt Road, doors are open for business. Hours are 11:00 a.m. to 10:00 p.m. Wednesday through Friday, and from 3:00 to 10 p.m. Saturday and Sunday. Telephone number is (630) 473-0322 and website is www.theslicespot.com. Facebook page is https://www.facebook.com/TheSliceSpot/?ref=py_c&__xts__. The restaurant serves a large variety of pizza by the slice or 16" and 20 "pie. At this time, patrons can order for take out, delivery or dine on the patio that has six tables. Owners are Joe and Keila Smith, who are the parents of a three-year-old daughter. The Smiths previously owned Orno's Slice Spot in Glen Ellyn. (www.merleburl.com)
The DuPage County Health Department developed a dashboard to provide information on the total number of people, in DuPage County, who have tested positive for COVID-19. In addition, the dashboard includes a map which shows the distribution of reported cases by municipality and is updated at 4:00 p.m. daily. DuPage County's "COVID-19 Dashboard" is a one-stop-shop for all the information it offers including a town-by-town breakdown of cases. A It is important to remember to follow the social distancing order, wear masks and wash hands.
A COVID-19 testing site is open from 8:30 a.m. to 12:30 p.m. Tuesdays and Thursdays in a VNA Health Care Mobile at St. Andrew Lutheran Church, 155 North Prince Crossing Road. There is no charge. Appointments are required and may be made at (630) 892-4355 or (847) 717-6455.
To keep residents aware of community COVID-19 updates, the City has posted West Chicago's COVID-19 COMMUNICATIONS CENTER on its website, www.westchicago.org. It is located on the upper left-hand side in red. Clicking on this, residents can see the latest information.
Sincere sympathy is extended to the family of Alice Rios, who at the age of 77 passed away Monday, April 5, 2021.
Deepest sympathy is expressed to the family of Christian Perez, who at the age of 26 passed away Sunday, April 4, 2021.
Sincere sympathy is extended to the family of Betty J. (McNaughton) Ford, who at the age of 91 passed away Thursday, April 1, 2021.Betty
Sincere sympathy is extended to the family of Paul K. Hanson, who at the age of 84 passed away Sunday, April 4, 2021.
Three Wheaton Academy girls basketball players and one boys basketball player were selected to the All-Metro Suburban Red Conference team. Kelly Bickhart, Jerilyn Blackmon, and Brooke Hermes were selected on the girls side while Jack Oswald represented the boys program. Blackmon was also named conference MVP for her performance on the court this past season. (www.merleburl.com)
The Illinois Directors of Student Activities recognized Jim Holtrop, Wheaton Academy Activity Director, as an Outstanding Activity Director. (www.merleburl.com)
College of DuPage's Homeland Security Training Institute has added a new state-of-the-art de-escalation simulator to its training tools. COD is the only higher education institution in the nation to procure such equipment. Similar to the Vir-Tra training simulator COD has used since 2015, the new de-escalation simulator transports COD students, law enforcement and security personnel into live-action filmed scenarios. Consisting of four rooms connected by hallways, the simulator allows participants to engage in de-escalation techniques by reacting to more than 1,000 different scenarios, such as active-shooter situations to mental health crises.
Students, teachers and artists are enjoying and learning through Chicago Partnerships for the Arts. CAPE is the new co-application for West Chicago Elementary School District 33's Twenty-first Century. Community Learning Centers grant funds this after school programming at Currier, Gary, and Pioneer elementary schools and Leman Middle School. Each school has classes for students and a parent art class as well. Together, CAPE and District 33 bring staff and local teaching artists together to offer a comprehensive arts-integrated program for students and their families.
CAPE partners teachers with artists to co-create and co-teach arts integrated projects with their students. All CAPE teacher/artist partners start their classes with an inquiry question which students investigate through research and art making. Students in the CAPE After School program are Artist/Researchers who develop confidence in and ownership of their own learning and art making. The CAPE After School program has a focus on literacy, STEM, and social-emotional learning through the arts. teaching artists together to offer a comprehensive arts-integrated program for students and their families. (www.merleburl.com)
With a charitable donation from the not-for-profit organization Vested Interest in K9s, Inc., K9 Thor of the West Chicago Fire Protection District received a bullet and stab protective vest. Robin Berkley of Carmichael, California, sponsored Thor's vest, which was embroidered with the sentiment," This gift of protection provided by Vested Interest in K9s, Inc."
Vested Interest in K9s, Inc., established in 2009, is a 501(c)(3) charity whose mission is to provide bullet and stab protective vests and other assistance to dogs of law enforcement and related agencies throughout the United States. This potentially lifesaving body is U.S. made, custom fitted, and NIJ certified. Since its inception, Vested Interest in K9s, Inc. has provided more than 4,247 vests to K9s in all 50 states at a value of $6.9 million, made possible by both private and corporate donations. The organization accepts tax-deductible contributions in any amount, while a single donation of $960 will sponsor one vest. Each vest has a value of $1,744 to $2,283, weighs an average of 4-5 lb., and comes with a five-year warranty. Donations may be made at www.vik9s.org. For further information, call (508) 824-6978. (www.merleburl.com)
Mary Ellen Daneels, former Social Studies teacher at West Chicago Community High School, authored a blog post on IllinoisCivics.org featuring WCCHS American Government teachers and their students facilitation of the virtual candidate forum service learning project created and executed by the students. (www.merleburl.com)
Voter turn out for the Consolidated Election Tuesday, April 6, 2021, as it has been in the past. In DuPage County, it was about 15 percent and in City of West Chicago it was about 10 percent.
In the City of Wes Chicago, the only two races were for aldermen in Wards 1 and 3. Incumbent Lori Chassee was the victor in Ward 1 and Christine Dettman was the winner in Ward 3. Election results for the other offices were Ruben Pineda for Mayor, Nancy Smith for City Clerk, Heather Brown for Ward 2 Alderman, Sandy Dimas for Ward 4 Alderman, Chris Swiatek for Ward 5 Alderman, Jeanne Short for Ward 6 Alderman and John Jakabcsin for Ward 7 Alderman.
In the West Chicago Public Library District, there were three four-year positions open for the Board of Trustees; there were two candidates. Diane Kelsey and Frank Fokta, who were elected
West Chicago Park District had one four-year unexpired term and one two-year unexpired term open for the Board of Commissioners. Teresa Carreno is the winner for the two-year unexpired term There was no candidate for the unexpired four-year term. Courtney Voelz won as a write-in candidate.
In West Chicago Elementary School District 33, there were four four-year seats open for the Board of Education. The victors were Chad McLean, Felicia Gills, Morgan Banasiak and Sandra Garcia.
In Community High School District 94, there were four four-year positions and one two-year unexpired position open for the Board of Education. Winners were Rich Nagel, Gary Saake and Katherine Doremus and Jovany Zuniga. The winner of the two-year seat is Penny Munoz; there was no competition.
In Benjamin School District 25, there were four four-year terms open. Winners were Jack Buscemi, Vince Engstrom, Dennis Peterson and Eric Rogers; there was no completion.
In St. Charles School District 303, there were three four-year seats open. Winners were Heidi J. Fairgrieves, Carolyn Walbel and Edward J. McNally.
In School District U-46, there were three seats open for four-year terms. Winners were Dawn Martin, Veronica Noland, Melissa Owens.
There were three seats open for the six-year terms College of DuPage Board of Education. Winners were Florence Appel, Heide Holan and Don Potocany.
In Wayne Township, the offices open were for Supervisor, Clerk, Assessor, Highway Commissioner and four Trustees. Winning the race for supervisor was Randy Ramey-R, and for Clerk was Brandi Fike Ramundo-R, for Assessor was Michael E. Musson-R and had no completion. The winner for Highway Commissioner was Martin McManamon-D. Trustee winners are Paul Hempel-R,,William "Bump" Waghorne-R,, Mark Hoyer-R, and Jackie Hayden-R.
In Winfield Township, the offices open were for Supervisor, Clerk, Assessor, Highway Commissioner and four Trustees, Winner for Supervisor was Nicole Prater-R. With to competition, the winner for Clerk was Michael W. Guglielmi-R, for Assessor was Mark Malay-R and for Highway Commissioner was John S. Dusza-R. Winners for Trustee were Barbara C. Bernacki Alekna-R, Donald R. Voelz-R, Judith M. Lukas-D, and Shawn Patrick Hacker.
There were three seats available for DuPage County Regional Board of School Trustees. Winners were John Gardner Huff, Marilyn A. Menconi and Paula McGowen.
In the Friday, April 9, 2021, football games, West Chicago Community High School lost to Bartlett High School with a score of 43-11 and Wheaton Academy beat Hinsdale High School with a score of 30-0.
At the Monday, April 12, 2021, meeting, the City Council denied the request of Wheaton Academy for a fireworks display after each performance of its musical that is taking place fromThursday, May 27, through Saturday, May 29, 2021. The item summary explains the application was reviewed by the Police, the Public Works and Community Development departments as well as the Park District and West Chicago Fire Protection District. The WCFPD felt it was best to not sign off at this time due to the potential of a large gathering taking place and in the interest and of the health and safety of the community and the District's personnel. Since the WCFPS did not sign off and their presence at the event and their approval of a Firework Permit would be needed, approval was not granted by the Council.
Also approved was to waive the Competitive Bidding Process for the purchase of Fall Protection Equipment for all City Sanitary Sewer Lift Stations from USA Blue Book for the price of $51,233.38. Per the Item Summary "Fall protections is an assembly of components intended to protect the user against falls from height… This fall arrest system includes body harness for each employee, self-retracting, energy absorbing lifelines, anchor base mounted at each sanitary lift station and anchor post for each sanitary lift station…. this will allow up to three employees to be secure at one time."
My email address is merleburl@earthlink.net.