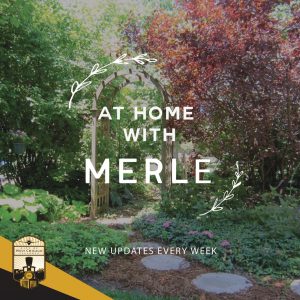 Easter was different for the majority, attending virtual church services and staying home without family gatherings for the meal. Some managed to continue with family traditions and others may have started new ones. This was necessary as it is so important that we maintain the physical separation required by the stay-at-home order. As of 4:00 p.m. Monday, April 14, 2020, there are 44 COVID-19 cases in West Chicago. In the 50 to 80+ age group, there are 18; in the 20 to 59 age group, there are 26. The percentage for females is 59 percent; the percentage for males is 40 percent. When shopping, only one member of the family needs to go into the store. Stores have signs posted and it is the responsibility of everyone to follow the rules. Taking walks in neighborhoods and parks is good, but social interaction must be limited to members in one's household. By abiding to the restrictions, the sooner we can meet socially in person.(www.merleburl.com)
AROUND AND ABOUT
With dine-ins banned at bars and restaurants due to COVID-19, some offer drive-thru, curb pick up or delivery. Some offer specials during this time. Persons can also support these eating establishments with the purchase of gift certificates to be used after the ban is cancelled. For up-to-date information, it is best to call the restaurants or visit their websites and/or Facebook pages.
Augustino's Rock & Roll Deli at 300 E. North Avenue, and the one on Schmale Road in Carol Stream have a special offer for Dine Away Hunger Day, April 15, 2020. Ten percent of the sales are donated to People's Resource Center (PRC). Both locations feature carry out, phone orders and call ahead pick-ups. The West Chicago location also has a drive thru. PRC is open during the COVID-19 epidemic, providing food boxes and emergency financial services. (www.merleburl.com)
Hawthorne's Backyard Bar & Grill, 1200 West Hawthorne Lane, has a Drive-up Pig Roast Parade from noon to 5:00 p.m. Sundays, April 19 and 26, 2020. Menu is pulled pork sandwich, half slab ribs, full slab ribs and side of sweet corn and country potatoes. Persons enter the parking lot and order from their cars. For more information visit https://www.facebook.com/HawthornesBackyard/ or call (630) 203-6700. (www.merleburl.com)
American Legion Post 300, 123 Main Street, currently is only having the Fish Fry from 4:00 to 8:00 p.m. Fridays. Take out meals on other nights are cancelled for now.
Healthy West Chicago stresses the importance of healthy eating. Assisting in advice and cooking, while at the same time following the COVID-19 stay-at-home order is the Stay Home with Cooking Matters sessions at 2:00 p.m. Thursdays in April on the CookingMatters website, https://www.facebook.com/cookingmatters.national/. The classes discuss shopping, cooking different recipes and using substitutes which are in the home, having children help in the kitchen. (www.merleburl.com)
GardenWorks Project has a Spring Seedling Presale. There is a large, but limited selection of vegetable seedlings, available for pick up from 9:00 a.m. to 3:00 p.m. Saturday, May 16, 2020, at the Resource Center, 103 West Washington Street. The cost for each seedling is $3. To order, visit http://www.gardenworksproject.org/shop.
It is time to get counted—in the 2020 Census. The official date was Wednesday, April 1, 2020. Households can do the census online, mail the paper questionnaires, if one was received, or call (844) 330-2020. The census form is available in English and 12 additional languages. Videos and guides to the form are available in 59 languages. May through July, census workers will visit households that have not replied. The US Constitution mandates that everyone in the country is counted every 10 years. The reasons it is important that everyone be counted include redistricting, fair representation and the distribution of $675 billion in federal funds. Business, community leaders and local government use the census data to create jobs, ensure public safety preparedness and support community initiatives. As of April 7, 2020 West Chicago's participation rate is 51 percents; the state average is 50 percent. (www.merleburl.com)
Understanding the need to provide food to healthcare workers, the Community and Wider Missions Committee of First United Methodist Church of West Chicago has committed to funding meals for the staff of the Neonatal Intensive Care Unit and the Pediatric Intensive Care Unit at Central DuPage Hospital once a week for the month of April. Forty meals, at an approximate cost of $400, were prepared by Entree Kitchen, whose owner is West Chicago resident Diane Beaulieu. Lisa Marie Vogt, secretary at the Church and Member services at Western DuPage Chamber of Commerce, is coordinating the program and assisting with delivery of the meals. Other businesses to be used for preparing the meals include Hawthorne's Backyard Bar & Grill and Chamber member My Chef Catering. (www.merleburl.com)
Healthcare providers are no longer permitted to use the hospital cafeteria nor are they permitted to bring food from home. Their duties of caring for the patients to not give them the time to leave to pick up food. The contact person for individuals, businesses or organization interested in donating meals to this cause or for more information is Ann Marie Bianchi, Program Coordinator Government and Community Affairs at Northwestern Medicine and Western DuPage Chamber of Commerce board member. Her telephone number is (630) 933-1955 and her email is AnnMarie.Bianchi@nm.org. Bianchi said, "We're grateful for the donations from the community to our healthcare heroes. Thank you for the countless words of encouragement and donations benefitting those fighting COVID-19. Learn more and donate: https://bit.ly/3e7aedi." (www.merleburl.com)
To keep residents aware of community COVID-19 updates, the City of West Chicago has posted West Chicago's COVID-19 COMMUNICATIONS CENTER on its website. It contains local, county, state, and federal resources for residents and businesses, including Messages from Mayor Pineda and the COVID-19 dashboard from DuPage County which contains up to date information about cases in West Chicago and all DuPage communities.
To help prevent employees in the Groot Industries Material Recovery Facility from getting COVID-10, the company requests households who have the virus, flu-like symptoms or colds to bag their recycling items and throw them in with garbage. Also masks, gloves or other medical protective items should not be recycled. On another but related note, persons using disposable gloves when out, remember to put in a bag to take home for disposal and not throw on the ground.
West Chicago Community High School seeks nominations for the 2020 Distinguished Alumni Award. The purpose of the program is to recognize West Chicago Community High School graduates whose accomplishments serve as an inspiration for current students to dream and achieve.
Nomination deadline is Friday, May 1, 2020. The nominee must be a graduate of the high school for at least 10 years prior to the nomination, be distinguished by accomplishments in academics, the arts, athletics, business, community service, the environment, human rights, justice, medicine, research or science that reflect outstanding ability and dedication which contributes to the betterment of the community. Also the nominee must be available by telephone, email or in-person interview by the selection committee, willing to participate in the Distinguished Alumni Award Ceremony, willing to submit a photograph and available to interact with WCCHS students in a forum, seminar or assembly.
To submit a nomination, visit www.d94.org/distinguishedalumni. For further information call Sherry Bowne at (630) 890-9716.
In May 2019, the West Chicago City Museum, 132 Main Street, opened its exhibit, "Home," with artist interpretations about the idea of home tied to aspects of West Chicago's local history. The exhibit explored what it means to call a place "home" and the feelings it embodies. To learn more about the exhibit, visit http://www.wegohistory.com/home-exhibit. The closing date was May 2020. However, with COVID-19 and the stay-at-home order, persons are at home almost 24/7, with the exception of those employed in essential occupations and places of work. Museum Director/Curator Sara Phalen said, "We are asking you to share your stories about how your notion of 'home' has changed through our shelter in place. Feel free to provide us your contact information or leave your entry anonymously. If you or your children have created any art about your home during our time in shelter in place, feel free to upload it as well." Persons can drop their stories in the mailbox at the Museum or email to wegohistory@gmail.com. (www.merleburl.com)
Sincere sympathy is extended to the family of Richard A. Miller, who passed away at the age of 90 Friday, April 3, 2020.
Deepest sympathy is expressed to the family of Louise H. (Streil) Gustafson, who passed at the age of 84 passed away Saturday, April 4, 2020.
Sincere sympathy is extended to the family of Debbie Loftin, who at the age of 66 passed away, Friday, April 10, 2020.
Congratulations to Battalion Chief Wade Johnson on his 21st year with the West Chicago Fire Protection District.
John and Joanne Klingberg celebrated their 69th Wedding Anniversary Tuesday, April 14, 2020.
The DuPage County Health Department developed a dashboard to provide information on the total number of people, in DuPage County, who have tested positive for COVID-19. In addition, the dashboard includes a map which shows the distribution of reported cases by municipality and is updated at 4:00 p.m. daily. DuPage County's "COVID-19 Dashboard" is a one-stop-shop for all the information it offers including a town-by-town breakdown of cases.
West Chicago Police Department held a coloring activity, not a contest, for youths via email. Receiving many entries, selection of winners was by a random drawing. Winners were Scarlet, age 4, preschool student of West Chicago Elementary School District 33; Levi, age 4, preschool student at West Chicago Park District Keppler Academy; Axcel, age 6, student at Pioneer Elementary School; Daijanae, age 7, student at Gary Elementary School; Diana, age 13, student at Leman Middle School; and Diego, age 15, student at West Chicago Community High School. (www.merleburl.com)
To make certain all students can participate in Remote Learning, West Chicago Elementary School District 33 distributed Chromebook and/or iPads to those that did not have access to the Internet at home. Parents picked up the devices at the different schools. (www.merleburl.com)
The April exhibit by West Chicago Community High School art students at Gallery 200 was cancelled due to COVID-19. ESL 2 students in the class of Mark Poulterer worked on a photo display for not only Gallery 200, but also Wyndermere Senior Living Center and WCCHS. The students took photographs and framed them, plus wrote paragraphs that symbolize life changes as they have all moved from other countries to the United States. It is now a virtual exhibit. To view, visit https://prezi.com/view/xN1OWiQpNSp6fLwm2aGs/. (www.merleburl.com)
The West Chicago Parks Department has tried to bring some normalcy back to people by having a place for them to walk and enjoy nature while social distancing. Because of the virus and concerns with people gathering, both dog parks and the skate park are closed. The district put up signs stating the skate park was closed, and called the police to have them get the people out. All these measures were unsuccessful; the district now has put sand on the skate park itself. The sand will be removed during a slow time when the district crew has the time to open after the stay in place order is lifted. Although the entry to the dog park is chained, the chains have been cut several times.
During the COVID-19 social distancing, the West Chicago Parks Department is still fully functioning and only doing the necessary tasks while the parks remain open. The staff has been taking necessary precautions such as using one truck per person, taking lunches and breaks in separate locations, and performing a disinfectant cleaning multiple times per week throughout the shop and within the vehicles. The mindset of working together, but staying apart was something no staff member questioned as the severity of this pandemic is understood. Slow and steady has become a new way of working due to the continuous cleaning and social distancing needed to continue the work required for spring in the parks.
Legends Exterior and & Construction Company, 33W239 West Roosevelt Road in West Chicago, helped meet a need at Advocate Christ Medical Center in Oaklawn after boxes of face shields and masks were stolen from the porch of a surgeon Wednesday, April 1, 2020. Dr. Jane Lee wanted these items tp bring to work. Watching the story of the theft on NBC 5, Dr. Svetlana Zats, a colleague of Dr. Lee, thought of a way to help. She knew Liberty Exterior had a 3D printer and reached out to them for help. The Legends staff printed a total of 36 face shields, which is enough to cover the whole COVID-19 intensive care unit at the hospital, according to Dr. Lee. The full story from NBC Chicago can be seen at https://bit.ly/2V9dNH7. Legend Exteriors & Construction, Inc.,incorporated in 2006, is a general contractor specializing in both commercial and residential, which includes roofing, siding, gutters, windows, trim work and painting. (www.merleburl.com)
At the Monday, April 6, 2020, meeting, City Council approved an amendment to the Zoning Code relating to design standards and review. According to the item review, it clarifies the City's intent to prohibit painting and staining of brick to both new and existing commercial buildings.
Also approved was the purchase of a 2020 Ford 4WD truck Chassis for the amount of $144,615 from Equipment, Inc.of Manteno.
There was a resolution to approve the final development plan for Greco DeRosa Investment group, 2595 Enterprise Drive in the DuPage Business Center.  The building, 295,641 square feet, is designed to host up to four tenants, which may include a division of Greco & Sons, a national distributor of food products.
Council approved a contract for professional services related to the 2020 Parkway Tree Planting Program to Acres Group in Plainfield for the amount of $41,112.
Also receiving approval was a contract with Althoff Industries, Inc in Crystal Lake for the amount of $23,818 for the replacement of the HVAC Control System at the City's Water Treatment Plant.
Council approved the continuation of the Declaration of a Local Disaster Emergency to the City of West Chicago due to the COVID-19 Pandemic.
For the last several weeks, some are having trouble locating the link to my blog on the City's website, www.westchicago.org, under NEWS. It still is there, but persons may have to click on more news.
My email address is merleburl@earthlink.net.