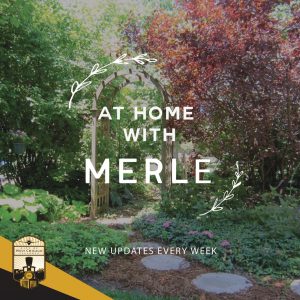 During this time, a little bit of kindness goes a long way, and it certainly is demonstrated in our community.
Kamila Cakes Ricos pasteles caseros baked special cakes and cupcakes for families in Room 110 at Educare West DuPage. Since the preschool is not in session due to COVID-19, teachers Nina Biondo, Arlene Valdez, Araceli Resendiz and Rosa Garcia delivered the treats, maintaining the distant separation. (www.merleburl.com)
Firefighters noticed a totally tattered flag in front of one house. The man who lives there was too ill to replace it. The West Chicago Fire Fighter Association IAFF Local 3970 noticed this and purchased a new one and put it up. Both the man and his wife were very happy. Involved in this were Lt. Michael J. Meyers, Firefighters Jason Morrow, Noel Repisak and Chris Fennel were involved in this endeavor. (www.merleburl.com)
Some members of the West Chicago Garden Club continue their commitment to the Kruse House Gardens, starting with the spring clean up. They piled the large amounts of branches and debris at the end of the Kruse House Museum driveway, where Chuck Strayve Landscaping hauled it away at no charge.
Showing appreciation, several businesses have donated food to members of West Chicago Fire Protection District. Rosati's Pizza dropped off  lunch at Station 6. Pallas Painting in West Chicago teamed up with Caliendo's Pizza and delivered pizza to Stations 5, 6 and 7, plus the night crew at West Chicago Police Department.
During the COVID-19 stay-at-home order, some students at Wheaton Academy are involved in service initiatives. One is "Hope for Hospitals" led by senior Hannah Young. Part of the project involves students writing letters of encouragement to staff at their local hospitals. She said, "I had the idea a couple weeks ago to get a whole bunch of people to send letters, verses, drawings, really whatever they wanted, to local hospitals. My dad is a nurse who is currently working at Delnor Hospital but also works closely with his partners at CDH. I know some people watch the news and hear about the stress healthcare workers are currently going through, but having it in my own home adds a whole new perspective. Although we don't have tens of thousands of cases in our area like New York, our local hospitals are still under lots of stress and pressure as they continue to see more and more cases everyday. Nurses, doctors, surgeons, and leaders are having to learn new procedures, step into new roles, and work all day long. Although they are trained to handle medical crises, this is beyond what they have ever encountered."
Using supplies from her grandmother's button box, and from Missy Day and her mother Shirley Matejovsky-Havlik, West Chicago resident Roxanne Matejovsky-Hamlin made more than 100 headbands. She sent these to Central DuPage Hospital. Hamlin said, "Such a fun project, warms my heart to see them wearing these. Thank you to all the healthcare workers and all continuing to work during this." (www.merleburl.com)
We Go Together for Kids, in partnership with volunteers from Wheaton Bible Church, provided 83 families with home deliveries of care packages filled with essential supplies like diapers, toilet paper, feminine hygiene products, hand sanitizer, and first-aid kits. WeGo Together and Wheaton Bible Church will be working alongside West Chicago Elementary School District 33 to continue providing weekly deliveries to families impacted by COVID-19. (www.merleburl.com)
The COVID-19 stay-at-home order involves social (physical) distancing, but it does not mean persons must stay indoors. Persons can stay safe while going outdoors. (www.merleburl.com)
AROUND AND ABOUT
Social Distancing Community events for this week include putting flowers on doors and windows Friday and Saturday, April 24 and 25, 2020. (www.merleburl.com)
Hawthorne's Backyard Bar & Grill, 1200 West Hawthorne Lane, has a Drive-up Pig Roast Parade from noon to 5:00 p.m. Sunday, 26, 2020. Menu is pulled pork sandwich, half slab ribs, full slab ribs and side of sweet corn and country potatoes. Persons enter the parking lot and order from their cars. For more information visit https://www.facebook.com/HawthornesBackyard/ or call (630) 293-6700.
With the COVID-19 stay-at-home order, greenhouses and garden centers only offer curbside service through Thursday, April 30, 2020; there may be a change in policy after this date.
Meyers Landscaping, 27W067 North Avenue, offers delivery and curbside pick up. There is no walk-in traffic without an appointment. Persons arriving in the parking lot, call (630) 293-4800 and one of the staff comes to the car. Appointments are set up for the selection of in-stock trees or shrubs for Meyers Landscaping to deliver and plant, for delivery only or to take home. Persons must wear a mask and gloves and maintain a six-foot distance from others.
We Grow Dreams Greenhouse & Garden Center, 1055 West Washington Street, is closed for the traditional retail shopping, but are filling orders for early season pansies, sold only by the flat at $19.99. To discuss availability of colors, to place orders and arrange for a pick up time, call either Linda or Marina at (630) 293-0100.
At the Thursday, April 9, 2020, meeting, the West Chicago Elementary School District 33 Board of Education accepted the resignation of Brenda Vishanoff as president and member of the board. Appointed as president was Chad McLean, as vice president was Rita Balgeman, and as secretary was Tom Doyle.
Vishanoff's resignation leaves a vacancy on the board for a 12-month unexpired term. Applications are being accepted for this position, which is not paid. Requirements include being a United States citizen, at least 18 years of age, a resident of District 33 for at least one year, a registered voter and not hold another incompatible public office position .
Persons interested should fill out an online application at http://www.wego33.org/protected/ArticleView.aspx?iid=6G0GU0B&dasi=4GBP0, which are to be submitted by 4:00 p.m. Friday, May 1. For further information email Board President, Chad McLean at mcleanc@wego33.org or Board Secretary, Alyson Robbins at robbinsa@wego33.org,
The Community Collection Event (Amnesty week) scheduled to begin Monday, May 4, 2020, is postponed, to be rescheduled for a future date, not known at this time.
West Chicago Lions Club is hosting a Blood Drive by Versiti Blood Center, formerly Heartland Blood Centers. It takes place from 10:00 a.m. to 2:30 p.m. Saturday, May 16, 2020, at West Chicago Social Club, 920 East Roosevelt Road. Appointments are preferred and can be made at https://donate.illinois.versiti.org/donor/schedules/drive_schedule/5584653.
In May 2019, the West Chicago City Museum, 132 Main Street, opened its exhibit, "Home," with artist interpretations about the idea of home tied to aspects of West Chicago's local history. The exhibit explored what it means to call a place "home" and the feelings it embodied. To learn more about the exhibit, visit http://www.wegohistory.com/home-exhibit. The closing date was May 2020. However, with COVID-19 and the stay-at-home order, persons are at home almost 24/7, with the exception of those employed in essential occupations and places of work. Museum Director/Curator Sara Phalen said, "We are asking you to share your stories about how your notion of 'home' has changed through our shelter in place. Feel free to provide us your contact information or leave your entry anonymously. If you or your children have created any art about your home during our time in shelter in place, feel free to upload it as well." Persons can drop their stories in the mailbox at the Museum or email to wegohistory@gmail.com.
Due to COVID-19 pandemic, College of DuPage postponed the Frida Kahlo Art exhibit scheduled for June through August 2020. The opening now is scheduled from June 5, to September 6, 2021. The exhibit, on loan from Mexico's Museo Dolores Olmededo in Xochimilco, was to be the rare collection, featuring sketches and paintings spanning Kahlo's career and highlighting themes of identity, politics, sexuality and death. The exhibit was expected to bring 150,000 visitors and more than $8 million in tourism dollars to the area. Since this is the case Galley 200 and People Made Visible will postpone its "Frida Inspired" exhibit, showcasing works of art inspired by the artist scheduled for June 2020.
During the COVID-19 separation order, patrons with a library card from the West Chicago Public Library can partake of several digital programs. One way involves helping a local business by enjoying a cup of coffee or tea and/or muffin, several lunch choices with pick up or delivery from Kindred Coffee Roasters at 148 West Washington Street and savoring it as one reads some of the thousands of books available to checkout electronically through the Libby and Axis 360 apps.
Another way is finding out your about your family ancestry and working on a family tree project with children. Access ancestry.com at this site, swanlibraries.net/ancest/. I have been working on a family history project and find Ancestry to be a good source. I should warn you that once you start learning about family history, it is like eating peanuts— just one more. (www.merleburl.com)
Persons without a library card, now can get a digital card at https://swanlibraries.net/patron-registration-form/?library=wcd for a 90-day period. Persons cannot place holds on physical materials or checkout physical materials without being upgraded to a full access card by library staff. (www.merleburl.com)
It is time to get counted—in the 2020 Census. The official date was Wednesday, April 1, 2020. Households can do the census online, mail the paper questionnaires, if one was received, or call (844) 330-2020. The census form is available in English and 12 additional languages. Business, community leaders and local government  use the census data to create jobs, ensure public safety preparedness and support community initiatives. As of April 7, West Chicago's participation rate is 51 percents; the state average is 50 percent. (www.merleburl.com)
During this time of uncertainty, GardenWorks Project seeks donations to meet its goals and educate persons on growing a garden through video instruction and information on its website. gardenworksproject.org. The fundraising goal is $5,000. In 2020, GWP plans to build 105 gardens, provide a Spanish and English Garden to Table Nutrition Handbook for every new client, introduce a new children's gardening handbook for each child, support four community gardens, plant more than 3,000 seedlings to increase the local food system and build four community gardens for the region. The GardenWorks Project fights hunger in Chicago's west suburbs by building home vegetable gardens for families reliant on emergency food assistance. By providing families facing food insecurity with the supplies and education to grow a food garden, households receive a nutritional supplement and an empowerment tool to last a lifetime. (www.merleburl.com)
Sincere sympathy is extended to the family of Santos Junior Granados, who at the age of 27 passed away Thursday, April 9, 2020.
Deepest sympathy is expressed to the family of Robert Bowie, who at the age of 85 passed away Thursday, April 16, 2020.
The DuPage County Health Department developed a dashboard to provide information on the total number of people, in DuPage County, who have tested positive for COVID-19. In addition, the dashboard includes a map which shows the distribution of reported cases by municipality and is updated at 4:00 p.m. daily. DuPage County's "COVID-19 Dashboard" is a one-stop-shop for all the information it offers including a town-by-town breakdown of cases.
Lieutenant/Paramedic Jason Day recently celebrated his 21st year with the West Chicago Fire Protection District.
Joe Pisano recently was named the new principal at Evergreen Middle School in Benjamin School District 25. He replaces Laura Pfanenstiel, who retires June 30, 2020. Pisano has been with Forest Park School District 91 for 11 years, recently serving as principal for five years. He received his Bachelor's degree in Education from Dominican University in River Forest and his Master's degree in Educational Leadership and Administration from Concordia University in Chicago. (www.merleburl.com)
West Chicago Community High School joined with other high schools in #LightsForTheFight & @IHSA_IL., activity. The Memorial Stadium lights were on from 8:00 to 8:20 p.m. Friday, April 17, 2020  to demonstrate support for the 2020 Senior Wildcat Athletes, First Responders and Health Care Workers.
Persons were wondering why the flags were at half staff Saturday, April 18, 2020. Illinois joined the states who lowered their flags for the victims of COVID-19. This is in remembrance of "All who have perished from COVID-19 in the Land of Lincoln," read Governor JB Pritzker's statement. As of early April 18, Illinois had 27,575 cases and 1,134 deaths. Flags are also flying half-staff in Illinois April 17 through sunset April 19 in memory of Hampton Police Chief Terry Engle, who died in a car crash on April 11.He was responding to a 911 call.
The announcement by Governor JB Pritzker that schools would remain closed for the remainder of the academic year was not a complete surprise, but it was met with understanding and a tinge of sadness, especially by the senior class of 2020 and their parents. So many final high school experiences, such as taking part in the final drama production, musical concerts, competitions, sports and more, are not occurring for these students. Both Dr. Moses Cheng, Superintendent Community High School District 94, and Dr. Will Dwyer, Principal West Chicago Community High School, sent messages to parents and students.
Dr. Chen said, The reality of the closure "is both sad and sobering. We have been truly appreciative of yours and your student's understanding and cooperation during these unprecedented times. Please know that the profound disappointment of not being able to traditionally finish the school year, of unfulfilled milestones, and of unsaid goodbyes is not lost on us. Personally, I can sympathize with the torrent of emotions that come with the Governor's decision since I have a daughter who will not have a graduation ceremony from her Master's program in Speech Pathology in May and will not be able to receive her license in the summer."
"If there are any takeaways for me during this unique time, it is that the WeGo Community is strong and goes beyond the bricks and mortar of the school walls. The WeGo Community is found in the relationships that have been forged and deepened by our commitment to learn, live, and lead in all circumstances and at all times. I am proud of our faculty and staff for their innovation and perseverance in maintaining continuity of instruction, and I am proud of our students for their resilience and flexibility during this new normal."
Dr. Dwyer said, "We are saddened by the Governor's announcement that schools will be closed for the remainder of the year, as we truly miss the face-to-face interaction with our students, the laughter ringing in the hallways, and the Wildcat spirit that brings it all together. It is our students and staff that make our school such a wonderful place. We will continue Remote Learning through May with classes concluding for Seniors on May 14 and all other students on May 21. Our teachers are working hard to make meaningful lessons for our students"
"Seniors, I know this has been a particularly difficult year for you; this certainly was not the way you had envisioned the last quarter of your senior year. Due to the Governor's latest Executive Order, Prom, Honors Night and Graduation cannot be held in their traditional form. We are looking at alternatives but Prom will be extremely difficult to reschedule based on state guidance for large gatherings and social distancing. We are however working on a virtual method to recognize and acknowledge the achievements and commencement of our seniors. More information will follow once we have finalized the details." (www.merleburl.com)
Jim Zay, District 6 DuPage County Board member, was elected chairman of DuPage County Republicans. (www.merleburl.com)
For those wanting to catch a glimpse of West Chicago history, Friends of West Chicago City Museum post Train Tuesdays each week, https://www.facebook.com/FriendsoftheWestChicagoCityMuseum/. The one for April 14, 2020, was an image from 1952 of a track cleaner on the C&NW tracks just south on Washington Street. (www.merleburl.com)
My email address is merleburl@earthlink.net.