During the COVID-19 pandemic, the community demonstrates kindness and thoughtfulness in many ways.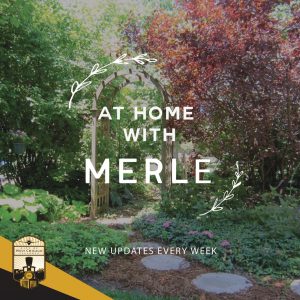 West Chicago Community High School Science Department recently donated 2,000 nitrile gloves, two cases of Dawn antibacterial dish soap, one case of Method Brand antibacterial disinfectant and 120 used goggles that were due to be recycled to the staff at West Chicago Terrace Long Term Nursing Home, 928 Joliet Street. (www.merleburl.com)
Acts of kindness can be surprising to the recipient. One West Chicago resident met a man in a very tough financial situation, but the resident was unable to post a request for supplies at that time. Then the resident received a direct emergency request for baby products. While dropping off the supplies, he was told they received a surplus of items and since they did not have an additional freezer and refrigerator to store more items, these would spoil. Asked if he knew anyone who could use these items, the resident remembered the man and took the items to him, completely surprising him. The resident also gave him several big bags of disinfectant supplies from his reserve, which he keeps on hand to help a group, which includes a social worker, when they have emergency requests. The man's initial request was for work. The resident also started a fund to raise money to purchase an extra refrigerator and freezer for the group. The resident said, "So many people gave stuff randomly that when it all adds up, it really does make a difference, a MIRACULOUS DIFFERENCE. To all the people giving what they can, keep doing it. It all makes a difference."
The acts of kindness goes beyond our shores. Many of the Chinese parents of youths attending Wheaton Academy gather daily to pray. When the reports of COVID-19 began to surface in the United States, they teamed up with a larger group of WA families in China to purchase and send 10,000 masks for distribution to the host families and school families. After distributing the masks among the WA families, the Academy donated the additional masks to the elderly residents at Windsor Park Manor in Carol Stream. (www.merleburl.com)
The students at Wheaton Academy gave in other ways to the residents of Windsor Park Manor. They created a YouTube playlist of musical performances, a total of nearly 50 videos. In coordination with the instrumental classes, students had the opportunity to record a solo or ensemble to share online; the playlist is broadcast on a rotation basis to the residents. Also students emailed letters and notes to the residents. These are posted and are in a binder for residents to read. (www.merleburl.com)
We Go Together For Kids donated 3,000 masks to West Chicago Fire Protection District and West Chicago Police Department. (www.merleburl.com)
Through an initiative of the DuPage Mutual Aid and Solidarity Network, the Northern Illinois Food Bank Mobile Food Pantry was at St. Andrew Lutheran Church Saturday, April 25, 2020. In addition to St. Andrew Church, Casa DuPage Workers Center Wheaton and Panaderia Parra (Parra's Bakery) West Chicago sponsored the event, which supplied food boxes and a turkey for 250 families. When these boxes were gone, then a little more than 50 families received boxes of food from the church pantry. Assisting were 25 volunteers for St. Andrew Lutheran Church, other local churches and Immigrant Solidarity DuPage. Reverend Josh Ebner, pastor at St. Andrew, said, "We have been doing regular distributions as a part Mutual Support Network with ISD. We have been seeing hundreds of people come through given the great need as this crisis continues. We welcome any donations of food and money for this program. Food can be brought to Saint Andrew Lutheran Church at 155 N. Prince Crossing Road. Monetary donations can be made by check to St. Andrew Lutheran Church, earmarked for emergency food assistance." (www.merleburl.com)
AROUND AND ABOUT
Governor JB Pritzker extended the State's stay-at-home order with modifications until May 30, 2020. The modified order strengthened the State's social distancing requirements while allowing residents additional flexibility and provide measured relief to non-essential businesses. Starting May 1, 2020 everyone is required to wear face coverings or masks in a public place where they cannot maintain a six-foot social distance. Face coverings are required in public indoor spaces such as stores. This applies to all individuals over the age of two who are able to medically tolerate a face covering or a mask.
As part of the stay-at-home extension, Pritzker allowed animal grooming operations to resume along with greenhouses, gardening centers and nurseries. Now new and veteran gardeners can enjoy searching for the perfect plants at We Grow Dreams Greenhouse and Garden Center, 1055 West Washington Street, and Meyers Landscaping, 27W967 North Avenue. (www.merleburl.com)
Retail stores can reopen to fulfill telephone and online orders through curbside pickup and delivery even if they are not designated as essential businesses. I recommend persons check the websites or Facebooks pages of the businesses or call to see if they are going to be open with these services.
State parks are reopening in phases. Fishing and boating in groups of no more than two people is permitted.
Golf courses are reopening under strict safety guidelines provided by the Illinois Department of Commerce and Economic Opportunity. Restrictions on golf include walking only, standard tee time intervals of approximately10 minutes, all payments made on online and no access to clubhouses or driving ranges..The telephone number for Prairie Landing is (630) 208-7600, online scheduling is https://go.teeitup.com/11563. The telephone number for St. Andrews is (630) 231-3100, online scheduling is https://www.standrewsgc.com/teetimes/. (www.merleburl.com)
With the resignation of Brenda Vishanoff's resignation, there is a vacancy on the West Chicago elementary School District 33 Board of Education for a 12-month unexpired term. Applications are being accepted for this position, which is not paid. Requirements include being a United States citizen, at least 18 years of age, a resident of District 33 for at least one year, a registered voter and not hold another incompatible public office position .
Persons interested should fill out an online application at http://www.wego33.org/protected/ArticleView.aspx?iid=6G0GU0B&dasi=4GBP0, which are to be submitted by 4:00 p.m. Friday, May 1. For further information email Board President, Chad McLean at mcleanc@wego33.org or Board Secretary, Alyson Robbins at robbinsa@wego33.org.
Due to popular demand, Hawthorne's. Backyard Bar & Grill, 1200 West Hawthorne Lane, hosts a Parking Lot Pig Roast Parade again from noon to 4:00 p.m. Sunday, May 3, 2020, with more staff, more streamlined, and even more food.
The Community Collection Event (Amnesty week) scheduled to begin Monday, May 4, 2020, is postponed, to be rescheduled for a future date, not known at this time.
McDonald Restaurants are helping to support first responders and healthcare workers. Through Tuesday, May 5, 2020, first responders and healthcare workers in the US will be able to receive a free "Thank You Meal" day or night, via carry out and drive thru at participating McDonald locations by simply showing a work badge. At breakfast, individuals can choose from: an Egg McMuffin®, Chicken McGriddles® or Bacon, Egg and Cheese Biscuit with any size soft drink, tea or hot coffee and a Hash Brown; and for lunch and dinner: a Double Cheeseburger, 6-Piece McNuggets® or a Filet-O-Fish® with any size soft drink, tea or hot coffee and small fries. (www.merleburl.com)
Through an initiative of the DuPage Mutual Aid and Solidarity Network, the Northern Illinois Food Bank Mobile Food Pantry will be at St. Andrew Lutheran Church, 155 North Prince Crossing Road, at 4:00 p.m. Monday, May 4, 2020. In addition to St. Andrew Church, Casa DuPage Workers Center Wheaton and Panaderia Parra (Parra's Bakery) West Chicago sponsor the event.
The League of Women Voters of Wheaton partners with the Wheaton Public Library for its Livingroom Conversation—virtually. The meeting is at 7:00 p.m. Monday, May 4, 2020. The second one is scheduled for 2:00 p.m. Friday, May 8. The topic is "The 2020 Election: Concerns and Aspirations." Items to be discussed include identifying trustworthy sources of information, the role of outside influences on the political process and the safety of the voting systems. To "attend" email Bari Ericson at ce@wheatonlibrary.org for more information. Enter your email address for instructions and connection details. Registration ends 15 minutes before the start time of the program.
The goal of Livingroom Conversations is to bring local citizens together to discuss topics of mutual interest from multiple perspectives. League of Women Voters of Wheaton includes West Chicago, Warrenville, Winfield, Wheaton and Carol Stream. The League of Women Voters is a non-partisan organization that does not support or oppose any political party or candidate, but whose purpose is to promote political responsibility through informed and active participation of citizens in government.(www.merleburl.com)
For Mother's Day, families often dine at a restaurant for a special brunch. With the COVID-19 stay-at-home order, this cannot happen this year. Hawthorne's Backyard Bar & Grill is offering a Mother's Day Brunch for curbside pick up between 10:00 a.m. and 2:00 p.m. Sunday, May 10, 2020. To see the menu, visit https://www.facebook.com/HawthornesBackyard/. Reservations ar due by Thursday, May 7, and may be made by email to ou@hawthornesbackyard.com or follow instructions at the website https://www.hawthornesbackyard.com/copy-of-events. Other restaurants may be having Mother's Day specials, check their websites, Facebook pages or call.
West Chicago Lions Club and West Chicago Social Club sponsors a Blood Drive by Versiti Blood Center, formerly Heartland Blood Centers. It takes place from 10:00 a.m. to 2:30 p.m. Saturday, May 16, 2020, at West Chicago Social Club, 920 East Roosevelt Road. Appointments are preferred and can be made at https://donate.illinois.versiti.org/donor/schedules/drive_schedule/5584653. By setting an appointment in advance, this will help to control the number of people at the site at a given time. If several donors arrive at the same time, measures are in place to handle them on a one-on-one basis to limit social contact. Versiti is monitoring and abiding by putting safety guidelines in place, and working closely with all blood drive hosts to ensure donor safety. Lions Club newest incoming member Michael Libery, owner of the WC Social Club, "donated the space and time to accomplish this important mission," said club president Dan Czuba.
West Chicago Park District reminds persons to follow social distancing guidelines when visiting parks. In order to prevent COVID-19 from spreading, and in the effort to keep groups of 10 or more from congregating, specific park amenities such as all playgrounds, dog parks and skate park are closed until further notice.
At this time, the District has set a tentative date of Monday, June 1, 2020, for the opening of the ARC Center. Turtle Splash Water Park, Zone 250 and the Treehouse playground structure are to remain closed through the summer. The Summer Program guide will not be mailed to residents as information within the guide could be inaccurate or out of date. The virtual program guide launches Friday, May 1, on the park district website www.we-goparks.org and will be updated as information becomes available. (www.merleburl.com)
It is time to get counted—in the 2020 Census. The official date was Wednesday, April 1. Households can do the census online, mail the paper questionnaires, if one was received, or call (844) 330-2020. The census form is available in English and 12 additional languages. Business, community leaders and local government use the census data to create jobs, ensure public safety preparedness and support community initiatives. Best of all, you can complete the census within the confines of your home, adhering to the COVID-19 stay-at-home order. (www.merleburl.com)
As a side note, the Census Bureau has received emergency approval from Office of Management and Budget to email/text an online survey link to 13.8 million homes over 12 weeks to measure employment, spending, food/housing security, education disruptions, physical/mental wellbeing during COVID-19 pandemic. There are approximately 128 million households in the US, so this is just a small sample. It has nothing to do with the Census 2020.
DuPage County Fair, scheduled from Wednesday, July 22 through Sunday, July 26, 2020, is cancelled, the first time since the fairgrounds were established in 1955. The history for the DuPage County Fair dates back 178 years
To continue the support of those who first stepped forward to support the first responders, Western DuPage Chamber, along with Wist Chicago Community Center, have set up a GoFundMe site to collect donations for the front line workers in its communities of West Chicago, Winfield and Warrenville. One hundred percent of the funds will be used to purchase meals, groceries and gift cards from local restaurants, caterers and grocery stores. Meals will be delivered to care facilities, hospitals and first responder facilities. To donate, visit https://www.gofundme.com/f/7jtrd-a-cause-i-care-about-needs-help?teamInvite=p5fXoAxwQAPWuuztr2dnDVOOYHYTACxjNBGCUjDLxccm0OD5DsLTK907o4axCldi&fbclid=IwAR2U3V4xlYLdOnvAyyAicSKIq9ffvEqYwaxLYMttS_VUoormKLuCbPTm3kI/. Dave Sabathne, Chamber CEO/President, and Lisa Marie Vogt, Chamber Members Leader are the organizers of the fundraiser. (www.merleburl.com)
The DuPage County Health Department developed a dashboard to provide information on the total number of people, in DuPage County, who have tested positive for COVID-19. In addition, the dashboard includes a map which shows the distribution of reported cases by municipality and is updated at 4:00 p.m. daily. DuPage County's "COVID-19 Dashboard" is a one-stop-shop for all the information it offers including a town-by-town breakdown of cases. As of 4:30 p.m. Monday, April 27, 2020, the total cases in West Chicago is 141; 32 are 60 years and up; 102 are 59 years and under. Percentages are 51 for women-66 cases, and 46 for men-66 cases, and 4 for unknown sex-2 cases.
Dr. Nelly E. Lee passed away at the age of 84 Tuesday, April 21, 2020. I normally do not include part of an obituary, but Nelly was known to many in West Chicago as she not only was a veterinarian, but a woman in that profession, not common when she started. "She had a love of animals that led her to the University of Illinois where she was the first woman in the veterinary medicine program. She joked about being a "token female" in the program, however, she proved herself to be a very caring, nurturing doctor who was known for spending plenty of time with her patients and never rushing through her work. It was more than work for Nelly, it was her life. Her veterinary career spanned over nearly 50 years."
Sincere sympathy is extended to the family of Edward Warren Reeve, who at the age of 82 passed away Wednesday, April 15, 2020.
Deepest sympathy is expressed to the family of Miguel Montoya Pena, who at the age of 77 passed away, Wednesday, April 8, 2020.
Sincere sympathy is extended to the family of Larry Fallin, who passed away Wednesday, April 22, 2020.
Deepest sympathy is expressed to the family of Israel Sanchez, who at the age of 84 passed away Friday, April 17, 2020.
Sincere sympathy is extended to the family of Joseph E, Carnes, Jr., who at the age of 72 passed away, Sunday, April 19, 2020.
During this time, Neighborhood Food Pantries is serving more people than usual. Food donations are appreciated, but the organization can make a dollar go far. Every dollar donated provides 24 pounds of food, almost 20 meals, to families in its neighborhoods. Persons wanting to make a donation to the Neighborhood Food Pantries located at 123 Fremont Street should make the check payable to Neighborhood Food Pantries, writing West Chicago Location in notation, and mailing to 123 Fremont Street, West Chicago, IL 60185.
Steven Demma, a senior at West Chicago Community High School, is the Student of the Month for March 2020. He has been on Honor Roll nearly every semester. He is a three-time state qualifier; twice for Chess, and once for LifeSmarts. In addition, Demma earned All-Conference honors for Chess. He is currently enrolled in AP Calculus BC, and has a cumulative weighted grade point average of 4.191.
Demma serves as a Student Assistant, a Student Ambassador, and is a member of the Math and LifeSmarts teams. He also serves as a mentor for ROAR and Snowball. Demma is a member of Anime Club, Book Club, Creative Writing Club, Interact Club and is on the Tech Crew.
Outside of school, Demma earned the rank of Eagle Scout. He has volunteered with Winfield Good Old Days, and at Feed My Starving Children.
After graduation, Demma plans to major in Mathematics at Illinois State University in Normal. (www.merleburl.com)
With the COVID-19 stay-at-home order extended to May 30, 2020, the graduation ceremony for Wheaton Academy seniors is now tentatively scheduled for Sunday, June 27. Wanting to recognize the students now, faculty and staff delivered yard signs stating "Home of a Resilient Senior" to all its senior students. (www.merleburl.com)
At the Thursday, April 23, 2020, meeting, West Chicago Elementary School District 33 Board of Education selected Brenda Vishanoff as the next assistant principal of preschool and Zac Minelli as the new assistant principal of at Indian Knoll Elementary School.
Vishanoff served on the District 33 board for 12 years. She has a Bachelor's degree in Music Education from Johns Hopkins University, a Master's degree in Horn performance from Northwestern University, and a Master's degree in Educational Administration from Aurora University. Brenda recently earned her Doctorate in Educational Leadership from Northern Illinois University. Vishanoff previously was employed at Wheaton Academy for approximately 14 years. She and her husband Robert have lived in West Chicago for 24 years, have three children, plus are currently the host family for two international youth.
Minelli spent the five years of his educational career as a special education teacher at Greenbrook Elementary School in Hanover Park. Minelli received his Bachelor's degree in Special Education from Illinois State University and graduates in May with a Master's degree in Principal Preparation from Concordia University. (www.merleburl.com)
At the Monday, April 20, 2020, meeting, City Council approved the resolution authorizing the execution of a settlement agreement and mutual releases in connection with Schramm Construction Corporation v.s. City of West Chicago. In the project for water well house #12, designed and built, plus the installation of water well pump and motor, the City engaged the engineering services of Stand Associates, Inc. and general contractor Schramm Construction Company. During the construction, a dispute arose concerning the water well pump and motor preventing completion of the project by Schramm, resulting in breach of contract claims being filed by many parties. The City was required to engage services of another company: the project is completed. Settlement provided City full compensation of all the City's costs, consultant fees and attorney's fees related to the litigation and an additional sum in the amount of $100,392.92 for liquidated charges.
It was a win-win situation for everyone involved. Wanting to do something special for its customers and the community, Hawthorne's Backyard Bar & Grill hosted a Pig Roast Parade Sundays, April 19 and 26, 2020. And the customers and the community wanted to support Hawthorne's, which gives back to the community in so many way. On both days, cars were lined up and people waited in line patiently for a long time. The first Sunday, not expecting such a large turn out, the restaurant ran out of food; the second Sunday, everyone was served. Blue skies and warm weather was the frosting on the cake for the event, people had the opportunity to go out, have a good time and still maintain the proper social distancing required during the COVID-19 pandemic. (www.merleburl.com)
My email address is merleburl@earthlink.net.