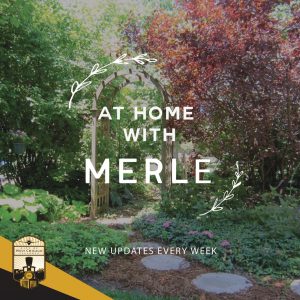 Today, April 28, 2021, is National Blueberry Pie Day. It is not one of my very favorites, but it is good. In fact, I find most pies delicious, especially lemon meringue. I never did master making the filling. I used my mother's recipe-"just use enough cornstarch until it is the right consistency" Dave and I either drank the pie or could not even cut it. Of course, my crusts were never very good either. Oh well, pies still are my favorite dessert, just not making them.
.AROUND AND ABOUT
In addition to its regular menu items, American Legion Post 300, 123 Main Street, has special dinners and the Friday Fish Fry. Upcoming special menus are Stuffed Peppers, April 30; Mississippi Pot Roast, May 7; Steak Kabobs, May14; Lasagna, May 21; and Chopped Steak, May 28. Fajitas are served Wednesday, May 5. To pre-order, call (630) 231-2112. Hours are 4:00 to 8:00 p.m. Tuesday through Friday.
The West Chicago Getting Crafty program is "Wired Rings." The two-hour program is at 6:00 p.m. Thursday, April 29, 2021, via Zoom. Wired Lotus demonstrates how to make a beautiful ring, using pure copper metal wire to create a ring shank and then swirled for a focal point of interest. The wires are coiled to lock-in the focal swirl and the ring shank. The class is limited to 25 patrons. Upon registration persons receive an email telling when to pick up the kit containing all the materials needed for the ring and the link to the Zoom meeting. To register, visit wcpld.info, under event calendar.
The exhibit "Torn" is at Gallery 200, 103 West Washington Street, during the months of May and June/ The display highlights the photography of English as a Second language II students at West Chicago Community High School. "Teenagers are divided. It's the nature of adolescence. Divided between obligation and obliviousness, adventure and anxiety, nostalgia and the not quite yet"…"Immigrants are divided too. It's the nature of leaving one's home. Divided between ritual and romantic, comfort and craving, nostalgia and the not quite yet." This is what the exhibit highlights. "It is the photographs of lives in between, and the photographers who live in those places." Gallery hours are from 2:00 6:00 p.m. Fridays and from 11:00 a.m. to 2:00 p.m. Saturdays. (www.merleburl.com)
Sonny Acres, 20W310 North Avenue, opens Saturday, May 1, 2021. Available are fresh flowers, potted and hanging plants, vegetable plants, herbs and potting soil. The Fresh Farm Store offers fresh donuts, gourmet sweets, seasonings, sauces, honey, jams, jellies and other delicious sundries. Hours are from 10:00 a.m. to 6:00 p.m. Monday through Friday and from 9:00 a.m. to 6:00 p.m. Saturday and Sunday. The hours on Mother's Day are from 9:00 a.m. to 4:00 p.m. May 9. Our Kitchen, the outdoor kitchen and grill, serves hot-off-the-grill hamburgers and hot dogs, bratwurst, Italian beef and fries. The menu expands later on in the season. The restaurant hours are 11:00 a.m. to 6:00 p.m. Thursday through Sunday. The open hours for both the farm and restaurant are for May only. (www.merleburl.com)
The 42nd Annual 80 & Over Party, hosted by the West Chicago Park District, is at 2:00 p.m. Sunday, May 2, 2021, at the ARC Center, 201 West National Street. In addition to the camaraderie of the event, desserts and beverages are served. Families and friends of the honored guests are welcome to attend the event. There is no charge, but pre-registration is required and may be made by calling (630) 231-9474 or visit we-goparks.org. It was cancelled in 2020 due to COVID-19 pandemic. (www.merleburl.com)
West Chicago's 17th annual Citywide Collection takes place on regularly scheduled garbage pickup days beginning Monday, May 3, and ending Friday, May 7, 2021. Using eight "refuse" stickers, residents can dispose of an unlimited amount of acceptable items. These include barbecue grills, bicycles, furniture, box springs and mattresses and household fixtures excluding electronics. Carpeting and household construction materials both have certain requirements. Some unacceptable items are hazardous waste, tires, automobile parts, fluids and batteries, oil-based paint pesticides, propane tanks and large household appliances. Helpful hint-attach your eight stickers to your garbage container, as your junk may be someone else's treasure. For a list of acceptable items or for more information, visit the City's website www.westchicago.org, under Residents/Services/Citywide Collection or call (630) 293-2255.
Partnering with the West Chicago Public Library, the National Honor Society at West Chicago Community High School is hosting a Community Blood Drive from 1:00 to 5:00 p.m. Monday, May 3, through Wednesday, May 5, 2021, in the Versiti Mobile Unit at the library parking lot, 118 West Washington Street. To register, visit www.versti.org/IL or call/text Camille at (847) 305-9990. Appointments are preferred, but walk-ins are welcome. All donors receive a pair of flip flops. (www.merleburl.com)
The West Chicago Public Library program, "When the Music Died; the Beatles Breakup," is at 6:00 p.m. Thursday, May 6, 2021, via Zoom. In February1964 the Beatles exploded in America, but by May 1970 they were done. Using performance and interview clips, librarian Austin Hall explores the reasons it all fell apart and what, if anything, could have been done to keep the band intact. To make a reservation visit wcpld.info, under calendar.
The First Division Museum at Cantigny Park holds its Date with History program at 7:00 p.m. Thursday, May 6, 2021, via Zoom. The program is about the Nuremberg trials, held 75 years ago following World War II. Guest speaker John M. Geiringer puts the event in historical context and discusses how it led to the laws of armed conflict that exist today. Registration is required at FDMuseum.org.
The modern laws of war were developed in response to war crimes committed by the Nazi regime. Those atrocities, among others against civilians, were brought to the world's attention at the International Military Tribunal in Nuremberg, Germany, in 1946. The trials, conducted by the Allied forces, were most notable for the prosecution of prominent members of the political, military, judicial, and economic leadership of Nazi Germany, who planned, carried out, or otherwise participated in the Holocaust and other war crimes
Geiringer is a partner at Chicago's Barack Ferrazzano law firm and founding co-director of the Consortium for the Research and Study of Holocaust and the Law at Chicago-Kent College of Law's Center for National Security and Human Rights Law.
Wayne Township, 27W031 North Avenue in Carol Stream, hosts an Electronic Recycling Event from 9:00 a.m. to noon Saturday, May 8, 2021. Some of the items accepted include computers, laptops, monitors, cables, exercise equipment metal, televisions, power tools, VCD's, cameras, coffee makers and appliances. Fees apply to some items. These are $20 for televisions, $10 for old tube CRT monitors, $5 for microwaves and $5 for exercise equipment.
Gardenworks Project holds its annual Seedlings Sale. Since Blooming Fest was cancelled this year, all orders must be placed online for pickup from 9:00 a.m. to 3:00 p.m. Saturday, May 15, 2021, at the Resource Center, 103 West Washington Street. The seedlings are from Possibility Place Nursery, which specializes in cultivating and selling plant species indigenous to Northern Illinois. To order plants, visit https://www.gardenworksproject.org/shoutm_campaign=march_2021&utm_medium=email&utm_source=gardenworksproject. The deadline for ordering is Monday, May 10.
Gardenworks Project celebrates its Tenth Anniversary this year. In this time period, the organization has built more than 500 raised garden beds, planted thousands of seedlings and helped establish more than 17 community gardens.
Healthy West Chicago hosts a free virtual family cooking class, "Ratatouille," at 6:00 p.m. Wednesday, May 12, 2021, via Zoom. Chef Maria gives tips on eating healthy, saving time in the kitchen and involving children in food preparation, plus demonstrates how to make the featured recipe. Recipe ingredients are provided to the first 25 registered participants. The day to pick up supplies at the West Chicago Public Library will be communicated to those who registered first. To register visit healthywestchicago.org/newevents. For further information email Carly Smitherman at: director@healthywestchicago.org or call 630-230-6370.
West Chicago Public Library Computer class, "You Tube and You: What it is and How to Use It," is at 7:00 p.m. Wednesday, May 12, 2021, via Zoom. Librarian Austin hall teaches the basic of You tube and discusses why it is so popular. To register visit wcpld.info, under calendar.
To showcase the work of artists who were/are inspired by the influential Mexican artist Frida Kahio, Gallery 200 and People Made Visible host an exhibit "Frida Inspired" at the Gallery 200 during the months of June and July 2021. Artists interested in participating may submit entries https://form.jotform.com/200618174659157 by Saturday, May 15. Artists will receive notification of inclusion no later than May 20, 2021. (www.merleburl.com)
Although Blooming Fest 2021 was cancelled, the City of West Chicago offers some garden related classes and activities for West Chicago residents Saturday, May 15, at the ARC Center, 201 West National Street. All classes are now filled.
There is a vacancy on the West Chicago Public Library District Board of Trustees. The term shall be filled until the next regular library election. April 2023. Persons interested need to submit a letter of interest by May 7, 2021. It can be mailed to Nancy Conradt, President, Board of Library Trustees, West Chicago Public Library District, 118 W. Washington Street, West Chicago, IL 60185 or email libraryboard@wcpld.info. For further information call the Library Director Benjamin R. Weseloh at (630) 231-1552, Extension 112.
Support our local businesses. Some of the local eating establishments have specials for Cinco de Mayo, an annual celebration held on May 5. It commemorates the Mexican Army's victory over the French Empire at the Battle of Puebla under the leadership of General Ignacio Zaragoza.
The building at 130 Fremont Street is the same, but the name has changed. It is now Jalapeño Burger. The owner is West Chicago resident Laura Rajas, who installed all new equipment. In addition to jalapeño burgers, the menu includes regular hamburgers, hot dogs, fires, cheese fries, nachos with cheese and ground beef, fajitas, burritos, tacos and ice cream cones. There is a drive thru. Hours are 1:00 to 9:00 p.m. Tuesday through Sunday, closed on Monday. The telephone number is (630) 994-6195. (www.merleburl.com)
The DuPage County Health Department developed a dashboard to provide information on the total number of people, in DuPage County, who have tested positive for COVID-19. In addition, the dashboard includes a map which shows the distribution of reported cases by municipality and is updated at 4:00 p.m. daily. DuPage County's "COVID-19 Dashboard" is a one-stop-shop for all the information it offers including a town-by-town breakdown of cases. As of Saturday, April 26, 2021, there were 4,509 cases and 50 deaths; this is the number from the beginning of track recording. It is important to remember to follow the social distancing order, wear masks and wash hands.
A COVID-19 testing site is open from 8:30 a.m. to 12:30 p.m. Tuesdays and Thursdays in a VNA Health Care Mobile at St. Andrew Lutheran Church, 155 North Prince Crossing Road. There is no charge. Appointments are required and may be made at (630) 892-4355 or (847) 717-6455.
To keep residents aware of community COVID-19 updates, the City has posted West Chicago's COVID-19 COMMUNICATIONS CENTER on its website, www.westchicago.org. It is located on the upper left-hand side in red. Clicking on this, residents can see the latest information.
Sincere sympathy is extended to the family of David Lee Wilson, who at the age of 72 passed away Monday, April 19, 2021.
Deepest sympathy is expressed to the family of Duane J. Ferguson who passed away at the age of 90 Friday, April 23 2021.
Sincere sympathy is extended to the family of Luis Cuautle, who at the age of 51 passed away, Saturday, April 24, 2021.
Mayor Ruben Pineda gave the 2021 State of the City Address Monday, April 19, 2021, via You Tube. The title was "A Year Like No Other" and it was sponsored by Western DuPage Chamber of Commerce. He gave a recap of the past year and information on this year. To view, https://www.youtube.com/watch?v=Sh_k653MuG4. (www.merleburl.com)
Maxwell Harris, a senior at West Chicago Community High School, is the student of the month for March 2021. He was selected for his outstanding academic record, excellent leadership skills and involvement in extracurricular activities.
He has been on High Honor Roll, earning a cumulative weighted Grade Point Average of 5.426. Harris is an Illinois State Scholar, a member of National Honor Society and Foreign Language Honor Society and earned the AP Scholar Award.
Harris is a three-year member of the Varsity Boys Tennis team. He is secretary of the Math Team, a member of Club Green, Interact and Compass, and serves as a Student Ambassador. Through National Honor Society, he started Mathletes of Tomorrow, working with middle school students to help them understand the importance of education. Outside of school, Harris volunteers at the Leman Middle School Community Food Pantry, assists at toy/food drives and reads books to elementary school students.
Upon graduation, Harris plans to attend University of California Berkley to major in Civil Engineering, hoping to have a career as a structural engineer based in either California or Texas. (www.merleburl.com)
Maggie Capettini, former education director of West Chicago City Museum, is a participant in the Lockport Summer Art series and painted a duck to sit in front of Momma Onesta's Italian Restaurant from May through September. Her duck, along with ducks painted by two other participating artists, appears in a billboard promoting the event. merleburl.com)
West Chicago resident Becky Hall was the recipient of the Chapter Star Award from the STC Chapter Chicago. Established in 2011, the citation reads, "For exceptionally managing the process to update the chapter bylaws, and with special appreciation for a creating a simple review process." This award was created to acknowledge a chapter member for outstanding service and volunteer efforts for a single major event. The Society for Technical Communication is the world's largest and oldest professional association dedicated to the advancement of the field of technical communication. Members span the field of the technical communication profession from students and academics to practitioners and managers and represent every industry segment and many countries around the globe,
With the eligibility for the COVID-19 vaccine opened to anyone 16 years of age and older, West Chicago Community High School organized a vaccination clinic for its students. Once again, the school partnered with Jewel-Osco to organize a vaccination clinic. Participation in this vaccination clinic was optional and not required
At the Tuesday, April 20, 2921, meeting, Community High School District 94 Board of Education approved the replacement of the field turf for the amount of $509,570.31 from FiedTurf in Calhoun, Georgia. The current turf on the field is the oldest in the State of Illinois.
Also approved was the purchase of track and turf infill in the amount of $916,320 including alternates, to Integral Construction of Romeoville.
The board approved a three-year contract in the amount of $920,160 with Andy Frain Services in Aurora for building security.
Also approved was the appointment of Julie Swartzloff as the Director of Human Resources, effective July 1, 2021.
West Chicago Elementary School District 33 Board of Education selected Jamee Kenney as the new principal at Wegner School starting for the 2021/22 school year. She replaces Karen Apostoli, who will be the new Director of Business and Operations. Kenney currently is assistant principal at Wegner. She taught at Leman Middle School and Turner School. Kenney also was the director of the West Chicago Park District Community Theater. (www.merleburl.com)
In the Friday, April 23, 2021, football games, West Chicago lost to Aurora East High School with a score of 22-14; Wheaton Academy beat Elmwood Park High School with a score of 48-6.
April is National Poetry Month and the students at Leman Middle School are involved in several poetry projects. Seventh grade students create blackout poetry. They begin with a page from an old book, newspaper or magazine and then circle words with a common theme that touch their hears and mind. They black out the words not wanted and end with the result of a new pice of literature. (www.merleburl.com)
Inspired by the Summer Haiku and Fall Haiku project of the West Chicago Cultural Arts Commission, the sixth grade Dual Language students in the classes of Janet Ayala and Jose Villa explored the creative art of this type of poetry.. Gallery of the 50 poems are on the West Chicago City website at https://westchicago.org/2021-student-haiku-in-west-chicago/. Haiku is an ancient form of Japanese poetry which can be traced back to the ninth century. It is distinguished by three short lines that do not rhyme, but which follow a structure of five sound units (or similarly syllables) in the first and third line, and seven sound units in the second line. (www.merleburl.com)
After a week of conducting interviews, going from door to door talking to neighbors, reviewing surveillance footage and executing search warrants, members of the West Chicago Police Department were able to bring forth results from an incident that took place Monday, April 12, 2021. West Chicago resident Marco  Calderon, age 18, was charged  with shooting at an occupied vehicle. In the news release issued Saturday, April 24, West Chicago Interim Police Chief Chris Shackelford and DuPage County State's Attorney Robert B. Berlin announced that Judge Jeffrey MacKay set bond at $750,000 with 10% to apply. Calderon was charged with one count of Aggravated Battery-Discharge of a Firearm, Class X Felony; Aggregated Discharge of a Firearm, Class X Felony; and one count of Possession of a Firearm by a Street Gang Member, Class 2 Felony.
At approximately 7:00 p.m. April 12, the police responded to calls regarding a shooting on the 200 block of West Pomeroy Street. It is alleged that an individual, later identified as Calderon, approached a vehicle in which four persons were seated. Then he fired six shots into the vehicle, striking one of the occupants in the lower back. None of the other occupants were hurt. Then Calderon entered a vehicle parked a short distance away and fled the scene. He was taken into custody Thursday, April 22.
Berlin said, "As long as street gangs continue to plague our communities, they will remain a top priority of my administration" Berlin said, "People have the right to feel safe in their neighborhoods and by working cooperatively with all law enforcement agencies in DuPage County, we will be able to hold those accountable who terrorize our streets with senseless violence. I would like to thank the West Chicago Police Department for their outstanding work in the identification and apprehension of the suspect in this case. I would also like to thank Assistant State's Attorneys Kristin Sullivan for her efforts in preparing a strong case against the defendant."
My mail address is merleburl@earthlink.net.