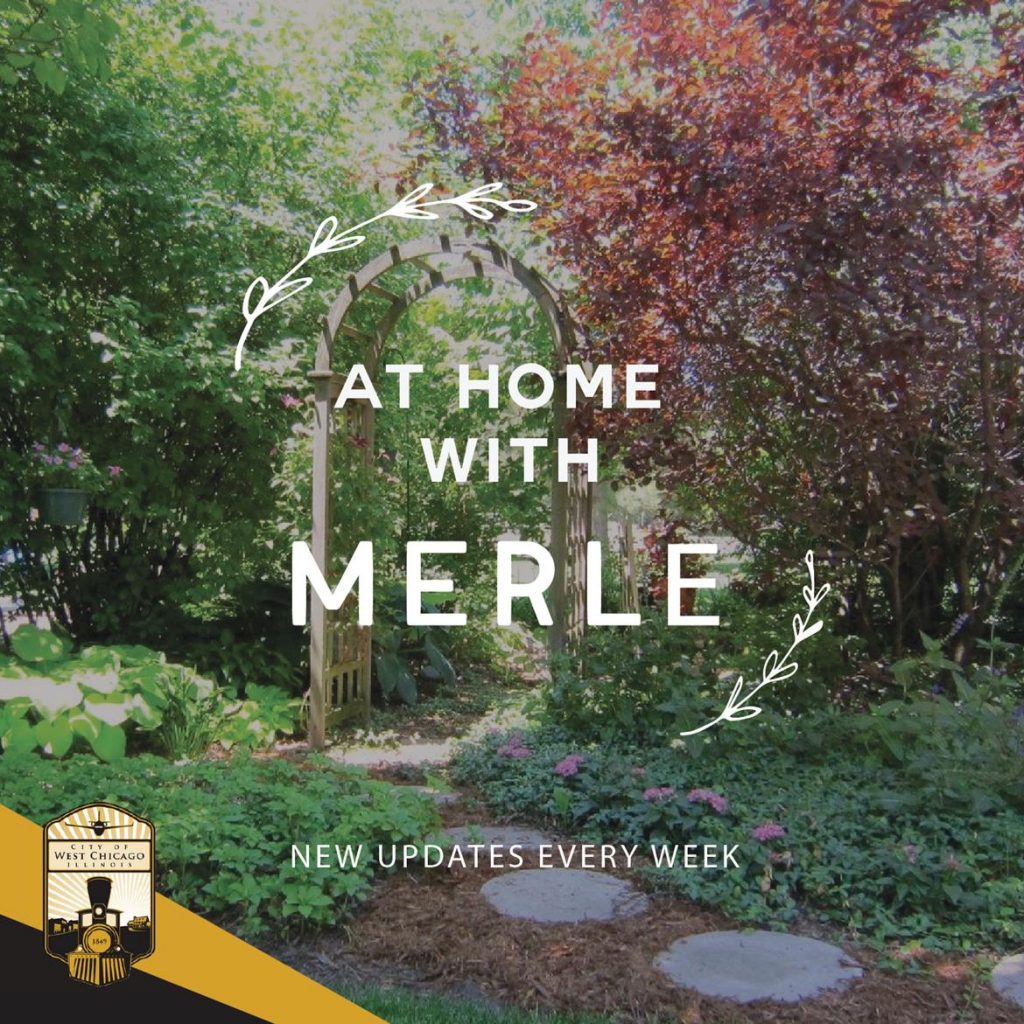 Spring has arrived. The early blooms of snow flowers, crocuses, and Stars of Bethlehem are pushing through the ground, buds are appearing on shrubs and trees, the temperatures are a little warmer. Catching sight of these signs makes the daily walks so much more interesting.
However, there is one little invasive creature of which we all should be aware. Last week, I mentioned the jumping worm was in northern Illinois, plus I had a photograph of it on my pictorial website, www.merleburl.com. The speaker at the West Chicago Garden Club discussed the worm and other invasive creatures. Attending the West Chicago America in Bloom committee meeting, I discovered the jumping worm is present in our community and how destructive it is. There are concerns about the effects these worms will have on forests and other natural areas as well as agricultural and landscaped areas. Populations of jumping worms have the potential to change the soil structure, deplete available nutrients, damage plant roots, and alter water holding capacity of the soil. Although research is being done, there is nothing, to date, that controls or gets rid of jumping worms.
Jumping worms are three to five inches long, dark brown to gray in color rather than reddish-brown. They have a milky-white to gray clitellum, the band around the body of an earthworm, that is smooth, not raised above the body and completely encircles the body unlike an European earthworms where the clitellum does not wrap entirely around the worm.
When working in your gardens, transplanting plants, potting plants in containers, etc., just do a double check of the soil as jumping worms leave a distinctive grainy soil full of worm castings. There are many sites online with information on this invasive pest.
The joy of gardening still remains, gardeners know there are always challenges.
AROUND AND ABOUT
The artwork of West Chicago Community High School students is on display for the month of April at Gallery 200, 103 West Washington Street. The artists' reception is from 4:00 to 6:00 p.m. Friday, April 5, 2019. The art teachers, Megan Dulkinys and David Exner, and some of the student artists, are attending. Refreshments are served.
Throughout the school year, students have grown in their mastery of materials, tools, techniques and concepts. The students' artwork is not only a demonstration of their technical skills, but also an invitation to explore the worlds of their imagination. The artwork ranges from traditional to contemporary in the areas of drawing, painting, ceramics, sculpture, digital photography, graphic art and 3D Design. (merleburl.com)
West Chicago resident Kathy Steere has artwork in the Nature Artists Guild 2019 Spring Exhibit of Natural History Art. It takes place from Friday, April 5, through Sunday, April 7, 2019, in the Cudahy Room of the administration and library building at the Morton Arboretum, 4100 Route 53 in Lisle. The artists' reception is from 5:00 p.m. to 7:30 p.m. Friday.
She also is teaching two three-hour Beginner's Nature Art Workshops, "Spring Flowers in Colored Pencil," 10:00 a.m. at the Morton Arboretum. The charge is $45. Attendees learn the basics of capturing the curves and color pf a spring flower. Light refreshments are served.
Late Night at the Museum is from 6:00 to 8:00 p.m. Friday, April 5, 2019, at the West Chicago City Museum, 132 Main Street. To complement its current exhibit, "Dairies to Prairies," the special activity is making butter the old-fashioned way. The children's area features a barn and life-size prairie "plants."
The traveling exhibit, produced by the Elgin History Museum, tells the story of Elgin's dairy heritage. Supplementing the display is an exhibit of the history of dairies in West Chicago. Museum hours are from 10:00 a.m. to 6:00 p.m. Thursdays and from 10:00 a.m. to 2:00 p.m. Fridays and Saturdays. (www.merleburl.com)
Gallery Theater, 129 Main Street, presents "The Dining Room" by A. R. Gurney and directed by Tom Reiser. Performances are at 7:30 p.m. Fridays and Saturdays, April 5, 6, 12 and 13, and at 3:00 p.m. Sundays April 7 and 14, 2019. The ticket price is $16, $14 for senior citizens. To reserve tickets email GalleryTickets@gmail.com, on the website www.gallerytheaterstudio.com or call (630) 234-5919.
The dining room of a well-to-do household is where the family assembles for breakfast, dinner and all special occasions. There is a mosaic of interrelated and overlapping scenes that create an in-depth portrait of a vanishing level of society, the upper-middle class. The actors change roles, personalities and ages as they portray a wide variety of characters, from little boys to stern grandfathers and giggling teenage girls to Irish housemaids. Dovetailing swiftly and smoothly, the varied scents coalesce, ultimately, into a theatrical experience of exceptional range, compassionate humor and abundant humanity.
Members of the cast are West Chicago residents Mark Fortman, Maureen Navadomskis, Thomas Tawney and Carol Townsend, Jean Austin, Xavier Dorsey, Mark Furlong, Lynn Meredith and Carolyn Pizzato. (www.merleburl.com)
The women of Faith Community Church, 910 Main Street, host their annual Spring Luncheon at 10:00 a.m. Saturday, April 6, 2019. The ticket price is $8. Tickets can be purchased by calling Rosa at the church office (630) 231-8230 or on line at the church website www.faithchurchwc.org. In addition to the meal served at tables uniquely decorated by the table hostess, there are local vendors committed to serving under-resourced populations, plus a silent auction. Laura Vroom, executive director of Manitoqua Ministries, mother and wife of a pastor, presents the program, "Embracing Hope."
Shining Light and Illinois Women Against Human Trafficking host a three-hour Human Trafficking Awareness class at 1:00 p.m. Saturday, April 6, 2019, at Leman Middle School, 238 East Hazel Street. Panelists are Amy Alvarado, KT McClure and R. Bercerril, JD. For further information call (630) 231-0013 or email debbie@shininglingnfp.org.
At the Glen Arbor Community Church, 204 Church Street, 10:00 a.m. worship service, members from Jews for Jesus give a presentation of "the Last Supper."
Wayne/Winfield Area Youth/Family Services offers hour-long computer classes for senior citizens at Wayne Township, 27W031 North Avenue. Not only do seniors learn basic skills, but also have the opportunity to socialize. The fee is $2. Reservations are required and may be made by calling (630) 231-7166. Beginner classes are at 3:00 p.m. Fridays. "Shopping on Amazon.com" class is at 4:00 p.m. Monday, April 8, 2019.
Every year townships in Illinois hold their Annual Town meetings on the second Tuesday in April, which this year is April 9, 2019. Winfield Township meeting is at 7:00 p.m. in the Winfield Township Road District building, 30W375 Roosevelt Road. Sign-in is at 6:30 p.m. Wayne Township meeting is at 7:30 p.m. in the Senior Center at Wayne Township, 27W031 North Avenue. Sign-in is at 7:00 p.m. Elected officials and staff are on hand to answer questions and give reports. The meetings are open to all residents in the townships.
"Do You Speak 'Bank'?" is the West Chicago Public Library program at 6:30 p.m. Wednesday, April 10, 2019, in the main meeting room, 118 West Washington Street. A representative from the Center for Entrepreneurship at College of DuPage presents a workshop focusing on the process of how to prepare a business to apply for outside funding. To make a reservation, call adult services department at (630) 231-1552, extension 4.
In conjunction with the traveling exhibit, "Dairies to Prairies," the West Chicago City Museum hosts a Town Hall Share on the dairies of West Chicago. It takes place at 7:00 p.m. Wednesday, April 10, 2019, at the Museum. 132 Main Street. After the 15-minute presentation, attendees can share stories, memories and photographs of dairies in West Chicago, plus learn a little history of the community,
The West Chicago Park District social gathering for senior citizens is at noon, Thursday, April 11, 2019, at the ARC, 201 West National Street. This is the annual West Chicago Police Department Chicken Luncheon. Guests bring a dish to share and a complete place setting. The event is free, but reservations are required and may be made in person at the ARC of online at we-goparks.org. (www.merleburl.com)
Spreading Our Wings 5K and 1 Mile Fun Run/Walk, sponsored by the Illinois Association of Latino Administrators, is Saturday, April 13, 2019. The course is on the Prairie Path through the City of West Chicago and into the DuPage Forest Preserve. It starts at the southwest corner of Washington and Fremont streets. The cost for the 5K is $40, $10 for persons age 18 and under; charge for 1 Mile is $15. Packet pick up and registration is at 7:30 a.m. The race begins at 8:00 a.m. Pre-race day packet pick up is from 6:00 to 8:00 p.m. Friday, April 12, at the West Chicago Elementary School District Administrative office, 312 East Forest Street. Mariachi bands play throughout the course, plus folklorico groups finish the event.
Age groups are 10 and under, 11 to 14, 15 to 19, 20 to 29, 30 to 39, 40 to 49, 50 to 59, 60 to 69 and 70 and over. The top three overall male and female participants receive awards, plus the top three males and females in each age category receive awards.
Participants can choose from either a Short Sleeve Race Shirt or a Long Sleeve Race Shirt during the registration process. To register visit https://raceroster.com/events/2019/21445/spreading-our-wings-5k-1-mile-runwalk. Proceeds benefit the IALAS Scholarship Program. (www.merleburl.com)
First United Methodist Church of West Chicago, 643 East Washington Street, hosts a free Bunny Breakfast "Eggstravaganza" from 9:00 to 11:00 a.m. Saturday, April 13, 2019. It is geared for children through fifth grade. Crafts and games take place at activity centers inside with the egg hunt outdoors. Breakfast menu is pancakes (gluten-free also), sausage and beverage. (www.merleburl.com)
West Chicago Police Department offers free Active Shooter/Workplace Training workshops to businesses, churches and organizations. Providing the training are police officers Mike Rosenwinkel and Waylon Potts, who also is a former SWAT officer. The Police Department is holding a two-hour Active Shooter Response Training class for the public at 10:00 a.m. Saturday, April 13, 2019, at the West Chicago Firefighters Training Academy, 320 Kress Road. For more information about this training or class, call Rosenwinkel at (630) 293-2751 or email mrosenwinkel@westchicago.org.
The goal is to provide information for persons finding themselves in an active shooter event. Rosenwinkel said, " We also talk about how to recognize signs of potential violence around you, and what to expect after an active shooter incident takes place. This training and information provided have become the preferred response, versus the traditional 'lockdown' approach." (www.merleburl.com)
In partnership with Center for Economic Progress and Ladder Up, the West Chicago income tax preparation site is open at Leman Middle School, 238 East Hazel Street, entrance 8. Hours are from 5:30 to 8:00 p.m. Tuesdays and Thursdays, 10:00 a.m. to 1:00 p.m. Saturdays. The lsat day for this service is Saturday, April 13. The site operates on a first come, first serve basis and may close early when capacity is reached. There is no charge for families, (more than one person in home) with income less than $55,000 and individuals with income less than $30,000. For further information call (312) 252-1281 or at www.economicpprogress.org.
West Chicago Garden Club sponsors a $500 scholarship for students, who reside in West Chicago, attend either West Chicago Community High School or St. Charles East High School and are pursuing a major in environmental fields of study, such as Agronomy/agriculture, botany, conservation, environmental concerns, forestry, horticulture or landscape design/architecture. Application deadline is April 15, 2019. The application is available on the club's website westchicagogardenclub.org
Wayne/Winfield Area Youth/Family Services celebrates its 36th Anniversary, at the annual Luncheon and Silent Auction, Tuesday, April 16, 2019, in the Wayne Township building, 27W031 North Avenue. Networking is at 11:30 a.m. and the luncheon, catered by Augustino's Rock and Roll Deli, is at noon. There is a presentation of Community Awards to individuals and groups. The ticket price is $20. Raffle tickets also are available for the price of $1 or $5 for six tickets. Reservations are requested by Tuesday, April 9, 2019. To purchase raffle tickets or to make a luncheon reservation, call WAYS at (630) 231-7166 from 9:00 a.m. to 9:00 p.m. Monday through Thursday, and from 9:00 a.m. to 5:00 p.m. Friday.
The Silent Auction features baskets ranging in value from $10 to more than $200. Baskets feature gift cards from restaurants, salons, boutiques, salons and unique fun opportunities. Persons unable to attend can call WAYS a week before the event to receive a bidding list and then submit a bid.
Proceeds support WAYS day camp program to provide scholarships for children in need. More than 25 percent of WAYS campers are from families below the poverty level and another 50 percent are struggling families, who need a safe, healthy camp while they work. In addition to the summer camp program, WAYS provides individual, family and group therapy in English and Spanish, anger management and parenting classes also in English and Spanish, and youth tutoring. WAYS is a community based not-for-profit agency serving West Chicago, Winfield, Wayne, Warrenville, Bartlett, Carol Stream, and Hanover Park. Providing funding for WAYS are Wayne Township, Winfield Township, Village of Hanover Park, Ecolab Employees' Foundation, client fees, insurance, donations and fundraisers.
United Methodist and Congregation Women once again are baking pecan pies for Easter. The price is $7.50 for a half pie and $15 for a whole pie. Deadline for ordering is Sunday, April 14, 2019. Pies will be ready for pick up Friday, April 19, at the church, 643 East Washington Street. Call the church office at (630) 231-3344 for more information or to place an order.
West Chicago City Museum Historiography program, a non-fiction book reading group, is at 1:00 p.m. Thursday, April 18, 2019, at the museum, 132 Main Street. Guests can bring a lunch, dessert and a beverage are provided. The book to be discussed is "Sin in the Second City" by Karen Abbott. Copies of the book are available at the museum and library.
It is the story of the Everleigh Club, the most famous brothel in American history, which operated at the beginning of the Twentieth century in Chicago Among the "guests" were moguls, actors, senators, athletes, foreign dignitaries and literary icons. One of the groups opposing the existence of this brothel were the Progressive Era reformers, and had repercussions all the way to the White House and the formation of the FBI.
Abbot is the author of "American Rose" and "Liar Temptress Soldier Spy." She also has written for the Wall Street Journal, the Washington Post, Smithsonian Magazine, Salon and newyorker.com.
West Chicago Community High School seeks nominations for the 2019 Distinguished Alumni Award. The purpose of the program is to recognize West Chicago Community High School graduates whose accomplishments serve as an inspiration for current students to dream and achieve.
Nomination deadline is Tuesday, May 1, 2019. The nominee must be a graduate of the high school for at least 10 years prior to the nomination, be distinguished by accomplishments in academics, the arts, athletics, business, community service, the environment, human rights, justice, medicine, research or science that reflect outstanding ability and dedication which contributes to the betterment of the community. Also the nominee must be available by telephone, email or in-person interview by the selection committee, willing to participate in the Distinguished Alumni Award Ceremony, willing to submit a photograph and available to interact with WCCHS students in a forum, seminar or assembly.
To submit a nomination, visit www.d94.org/distinguishedalumni. For further information call Sherry Bowne at (630) 890-9716.
West Chicago Elementary School District 33 hosts its Fifteenth Annual WeGo Run fundraiser. It begins at 8:00 a.m. Sunday, May 5, 2019, at Leman Middle School, 238 East Hazel Street. The race includes a 5K run/walk, a 10K run, a one-mile run for youth 8 to 14, and a 100-yard Dash for children age 8 and under. Start times are 8:00 a.m. for the 5K /10K, 9:45 a.m. for the 1 miler and 10:15 a.m. for the Kiddie Dash.
Registration fees for the 5K and 10K are $20; in the 10 K, $10 for students. $5 District 33 students; in the 5K $5 for district students; $5 and $1 for District 33 students for the one mile run; and no charge for the dash, but pre-registration is required. Proceeds benefit athletic programs at the district schools. The top overall female and male runners and the top three finishers in each age group receive medals and awards. Dash participants receive ribbons. Registration forms are available online at www.wegorun.org.
There also is food, entertainment, and multiple booths promoting local vendors and services relating to health and wellness. Food includes basic breakfast vittles such as fruit, water, milk, juice, breakfast burrito; sandwiches, plus popcorn and pretzels. Providing entertainment are Mariachi los Rayos de Leman Middle School and the Ballet Folklorico of Leman Middle School. The disc jockey is DJ Jazzy Jeff, one of the tech people at LMS and has been the DJ the last few years. The face painters are the Glitters Girls, a group of girls at the school that promote well-being among female students in the middle and elementary schools.
American Legion Post 300, 123 Main Street, is planning on serving dinners on certain evenings during the week. Currently hamburgers, fries and appetizers are served from 3:00 to 7:00 p.m. Tuesdays through Fridays.
The Year of the Butterfly in West Chicago, Butterfly Effect Project, includes 29 large butterflies designed by local artists on display in public areas throughout the community, plus seven in the Kruse House Gardens, from Sunday, May 12, through Thursday, October 31, 2019. The project is sponsored by the West Chicago Cultural Arts Commission. Also partnering in the project are West Chicago Garden Club, West Chicago America in Bloom committee and People Made Visible.
Residents, businesses and organizations also can participate in this project. At Gallery 200, 103 West Washington Street, there are small wooden butterflies available for persons to decorate and design to display in their yards, gardens and businesses. The wooden butterflies are now available for the price of $16 or $30 for two. Persons are not limited to a specific medium; it could be paint, tiles, beads, buttons or more. Of course, it should be able to withstand all types of weather conditions. This could be a fun family project. I have seen some completed butterflies, and all who created them said it was a fun project. Gallery 200 hours are noon to 6:00 p.m. Thursdays, from noon to 8:00 p.m. Fridays, from 10:00 a.m. to 4:00 p.m. Saturdays, and from noon to 4:00 p.m. Sundays. For further information call People Made Visible at (630) 473-0628 or email info@peoplemadevisible.com.
Both of the West Chicago veterans' organizations hold Bingo as a fundraiser on a weekly basis. The games at American Legion Post 300, 123 Main Street, are on Fridays. Doors open at 5:00 p.m., games start at 7:00 p.m. Games at Veterans of Foreign Wars Post 6791, 431 North Neltnor Boulevard, are on Wednesdays. Doors open at 5:00 p.m., games start at 7:00 p.m. The Auxiliary games are Sundays. Doors open at noon, games start at 2:00 p.m.
Sincere sympathy is expressed to the family of Rose M. Luckow-Achtien, who at the age of 86 passed away Monday, March 25, 2019.
Deepest sympathy is expressed to the family of Parrish Heinz, who at the age of 45 passed away Friday, March 2019.
Sincere sympathy is extended to the family of Nora Jane "Nonie" (Dierschow) Fisher, who at the age of 99 passed away Tuesday, March 26, 2019.
Deepest sympathy is expressed to the family of James. T. "Mayor" Fairbanks, who at the age of 57 passed away Wednesday, March 27, 2019.
Two Personal Finance Challenge Teams of West Chicago Community High School competed in the regional Competition; one team qualified for state competition Tuesday, April 16, 2019, at the Federal Reserve in Chicago. The team of Sabrina Lutfiyeva, Manav Patel, Jose Perez, and Grace Ramirez recorded the 5th highest score in the state, making them 1 of 10 teams out of 132 teams in the competition. This team hopes for a third state championship in a row, and the fifth state championship for WCCHS, and to compete in the national competition in May. The second team also had a high score, but not enough to make the top 10 in a very tough division. Members were Marcos Correa, Darline Cuatle, Alessandro Guasta, and Luke Krogh.
The Illinois Personal Finance Challenge recognizes students who demonstrate high levels of comprehension and application of personal finance concepts and skills.
WeGo Drama of West Chicago Community High School advanced to the State Tournament in Group Interpretation Friday, March 22, 2019. Emily Carroso, Sammy Incrocci, and Noemi Lara were named All-Sectional for their performances. Nathan Bradleywas named a Double All-Sectional winner.
At the Tuesday, March 19, 2019 meeting, Community High School Board of Education approved the pay structure for Appendix B, athletic and activity sponsors. Board president Gary Saake said, "The current contractual agreement with the faculty contained language that required a joint committee to review the current structure and recommend changes. This brings the pay structure more into line with other school districts. The fundamental requirement was to adopt a new structure with a cost that didn't exceed current expenditures. The Association previously approved the proposal."
Also approved were the student fees for 2019-20. The only change was the increase of $34 to the base registration fee, which now includes the previously optional $30 Chromebook insurance fee. "The vast majority of students opted for it."
Related to this is the approval of a contract to provide Chromebook repair services for an annual cost of $46,538.30 to Technology Resource Advisors of Milwaukee, Wisconsin. "Previously repairs were done in-house by both students in the TSI program as well as our technical staff. The number of repairs was not conducive to the goals of the TSI curriculum, so we sought an alternative that would enable both the TSI course to return to its original intent, and for staff to direct their attention to other technology needs."
Also at the meeting, DSP Insurance Services made a presentation for recommended changes to the health insurance offerings. "Our most recent collective bargaining agreement with the faculty required the parties to engage a consultant to review current offerings and make recommendations. Several potential changes were recommended that would reduce premium costs to both the district and employees. These recommendations will now go to the insurance committee to review and recommend to the district and associations for approval."
Out of 110 applicants, David Sabathne, President / CEO of the Western DuPage Chamber of Commerce was one of the 35 individuals accepted to participate in the Business Leads Fellowship program for the US Chamber of Commerce Foundation's Center for Education and Workforce program. Since there is a skills gap of jobs without people and people without jobs, the program is working to close this gap by mobilizing the business community to be more engaged partners, challenging the status quo and promoting education and workforce initiatives that "will fuel economic success and sustainability."
Participants in the program attend two separate three-day intensive workshops that focus on the history, policy, and programming on topics spanning the education pipeline including early education, K-12, college and career readiness, postsecondary education, and workforce development. (www.merleburl.com)
Golf Advisor magazine lists Prairie Landing Golf Course as the number 2 best public golf course in Illinois and as number 25 in the country.
My email address is merleburl@earthlink.net.