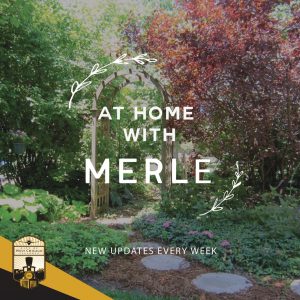 The weather is turning springlike and we find we are wanting to spend time outdoors. This is healthy, but because of the COVID-19 stay-at-home order, everyone must adhere to physical distancing. Persons living in the same households can enjoy the walks and going to the parks; remember to remain at least six feet way from others. Most stores are limiting number of people entering the store at one time, families and groups not allowed in at one time. Wear masks, which can be made at home even if you do not sew. There are several how-to's on YouTube. These regulations are not only for the health of you and your loved ones, but also the health of the employees working. The best policy is to stay at home, where you can still enjoy the outside, basking in the sun, sitting on your deck or patio, doing yard work and playing games with members of the household
AROUND AND ABOUT
It is time to get counted—in the 2020 Census. The official date was Wednesday, April 1, 2020. Paper questionnaires will be mailed to households who have not responded online from Wednesday, April 8 through Thursday, April 16, 2020. Households can still do the Census online. It is easy and fast. The Census form is available in English and 12 additional languages. Videos and guides to the form are available in 59 languages. May through July, census workers will visit households that have not replied. The U.S. Constitution mandates that everyone in the country be counted every 10 years. The reasons for its importance include redistricting, fair representation and the distribution of $675 billion in federal funds. Business, community leaders and local government use the Census data to create jobs, ensure public safety preparedness and support community initiatives. (www.merleburl.com)
In honor of the 2020 census, West Chicago City Museum shared Census sheets from the 1940 census on line, https://www.facebook.com/FriendsoftheWestChicagoCityMuseum/. Included among names listed are some familiar ones such as Buenrostro, Zarate, Hayward, Richardt, Bartsch, and Giese. From these sheets persons can learn where these people were born, what types of jobs they had and how much they were making a year. These Census sheets are a great source when researching family history. Museums and other institutions hold historic Census documents, but no one has access to government museums. (www.merleburl.com)
Community Social Distancing activities for the week of Monday, April 6, 2020, are putting white ribbons on trees Wednesday, April 8, Bunny Hunt Friday, April 10, and community sing at 7:00 p.m. Saturday, April 11, 2020. (www.merleburl.com)
            With Spring Break the first week of April, West Chicago Elementary School District 33 Board of Education meetings take place the second Thursdays, April 9 and 23, 2020. The April 9. 2020 meeting is at 7:00 p.m. and will be held telephonically.
Churches are using the internet and Facebook pages for members of their congregations and others in the community. These include the Sunday worship services, plus religious services during Holy Week. For more information, persons should visit the websites and/or Facebook pages of the various churches.
In the 60+ years of the Easter Egg Hunt hosted by American Legion Post 300, neither rain, hail, sleet or snow led to the cancellation of the event. However, due to the COVID-19 Stay-At-Home order, the Egg Hunt scheduled for Saturday, April 11, 2020 is cancelled.
The final phases of the Washington Street Reconstruction Project are scheduled to resume the week of Monday, April 13, 2020. The tentative restart date is based upon a preliminary schedule provided by the Contractor, Schroeder Asphalt Services, Inc., and is subject to change based on weather conditions and any additional restrictions imposed by State or local government agencies. The tentative completion date is the week of Monday, June 15, 2020.
Phase V entails the reconstruction of the northern half of Washington Street, from the west side of the Washington Street/Main Street/Fremont Street intersection to Arbor Avenue. During this phase of construction, the north half of the Washington Street/Main Street/Fremont Street intersection will be closed to traffic. Motorists will not be able to turn onto Fremont Street from Washington Street and vice-versa. A detour will be posted using Arbor Avenue. Access to Main Street south of Washington Street will remain open. Once Phase V is substantially complete, except for final asphalt surface course, the project will transition to Phase VI, which will entail the reconstruction of the southern half of the Washington Street/Main Street/Fremont Street intersection. As the time for phase VI nears, I will give the details then.
The West Chicago Mosquito Abatement District meeting scheduled for 9:30 a.m. Tuesday, April 14, 2020, is cancelled.
All West Chicago Park District facilities are now closed through Thursday, April 30, 2020. In addition, all playgrounds, skate parks and dog parks are closed for the same period of time. Persons must observe recommended social distancing when visiting parks.
Last week, I wrote golf courses were open. With the COVID-19 Stay at Home order, changes occur frequently and nothing is written in stone. Now at this time, golf courses are closed though Thursday, April 30, 2020.
The DuPage Veterans Foundation has rescheduled its annual fundraiser for Honor Flight Chicago from Saturday, May 2, 2020, to Saturday, Saturday, September 12, 2020. Organizers continue to seek items for the silent auction as well as financial contributions. For further information, visit www.dupageveteransfoundation.org.
GardenWorks Project has a Spring Seedling Presale. There is a large, but limited selection of vegetable seedlings, available for pick up from 9:00 a.m. to 3:00 p.m. Saturday, May 16, 2020, at the Resource Center, 103 West Washington Street. The cost for each seedling is $3. To order, visit http://www.gardenworksproject.org/shop. (www.merleburl.com)
Three teams of students from West Chicago Community High School competed to qualify for state competition in the Personal Financial Challenge. The WCCHS team of Matt Brotnow, Nick Dupree, Luke Krogh, and Manav Patel not only scored in the top 10 to qualify, but also earned the third highest score in the State. Due to current circumstances, the State competition will not be able to be held at the Federal Reserve Bank in Chicago on April 22, 2020. Organizers are currently looking at online alternatives. The first-place Illinois Championship team advances to represent Illinois in the National Personal Finance Challenge held at the University of Nebraska-Lincoln during May. All students in Illinois are required to take a consumer education/personal finance course. The IPFC program provides a fun and competitive way to engage these students more fully in their learning, while assessing how well they are meeting the State mandate. (www.merleburl.com)
Persons can continue healthy walking during the COVID-19 stay at home order. This exercise is good both physically and mentally. Healthy West Chicago holds an April #MovewiththeMayor Walking Challenge. To participate, download the Heka Walk App, www.hekahealth.com/wchicago. Individuals walking more than 200,000 steps are entered into a raffle. For more information visit www.healthywestchicago.org/walking-challenge or www.healthywestchicago.com. (www.merleburl.com)
            The virtual presentation of the exhibit, "Abstract, Traditional and all In-between," a collection of small quilts and fiber art by West Chicago resident Kathy Steere is now online at www.katesfunart.com. Steere said, "It is an eclectic collection of ideas, subject matter, styles and techniques. All are done in the manner of a 'quilt,' meaning three layers of fabric stitched together. 'Wholecloth' is a single piece of fabric used for the entire front of the quilt. With two small exceptions, everything was on hand – I only had to purchase beads for poppy seeds and green fabric for pickle relish."
The exhibit was scheduled for Friday, April 3, through Sunday, May 17, 2020, at the Steel Beam Theater in St. Charles. Due to the COVID-19 pandemic, it was cancelled. (www.merleburl.com)
Neighborhood Food Pantries, 123 Fremont Street, is in need of plastic grocery bags to bag up food for clients. The bags can be dropped off at the site. (www.merleburl.com)
Through its collaboration with Innovation Arts Connection, the West Chicago Park District offers free Virtual Dance Classes, https://www.facebook.com/innovationartsconnection/. Facebook live feeds include Daily Do Now Exercises. (www.merleburl.com)
Sincere sympathy is extended to the family of Esther Josephine Galetti Boesche, who at the age of 92 passed away Tuesday, March 31, 2020.
Deepest sympathy is expressed to the family of Daniel "Dan" C. McCarthy, who at the age of 57 passed away Saturday, March 28, 2020.
Sincere sympathy is extended to the family of Barbara Johnson, who at the age of 81 passed away Tuesday, March 31, 2020.
Deepest sympathy is expressed to the family of Dolores "Dee" Genevieve Levon, who at the age of 91 passed away Wednesday, April 1, 2020.
Sincere sympathy is extended to the family of James A. Chapman, who at the age of 82 passed away Tuesday, March 31, 2020.
The DuPage County Health Department developed a dashboard to provide information on the total number of people, in DuPage County, who have tested positive for COVID-19. In addition, the dashboard includes a map which shows the distribution of reported cases by municipality and is updated at 4:00 p.m. daily. DuPage County's "COVID-19 Dashboard" is a one-stop-shop for all the information it offers including a town-by-town breakdown of cases.
Both Community High School District 94 and West Chicago Elementary School District 33 provide free meals for students until further notice. Illinois Central School buses deliver to the various locations. Preparing the meals for high school students is Quest Food Management Services; preparing the meals for District 33 is Aramark.
Rita Thomas celebrated her 90th birthday, Tuesday, April 7, 2020.
Here is more upbeat news in our community. The West Chicago Lions Club hosted a Blood Drive by Versiti-Blood Center of Illinois Tuesday, March 24, 2020, at West Chicago Social Club. Eighteen donors registered; three were deferred. Fifteen units were collected. Camille Piazza, Versiti Account Representative, said, "Because of you and the generous community — up to 45 lives were saved." A Bunny and a carrot, walking around a neighborhood on the north side and keeping a safe distance, brought forth some smiling faces. While walking, persons see many examples of the chalk sidewalk art and welcoming signs of Spring. On Willow Creek Rd, corner lot in a cul-de-sac, a resident created a sidewalk obstacle course with 12 different activities. All directions were written on the sidewalk. Persons could time each person and compete with one another. It was virus free with nothing to touch. Sounds like fun. Another chalk game to play with family is hopscotch, which also is not limited to children. My grandchildren and I used to have lots of laughs playing this, made up some goofy rules. West Chicago Police Department keeps in touch through adult and youth give aways. View the Facebook page for activities. https://www.facebook.com/westchicagopolicedepartment/. Also, the Police Department assisted a family in celebrating the birthday of their grandma; sirens sounding they escorted family members who were in vehicles and honking horns. This made it a special birthday. According to a post on State Representative Karina Villa's Facebook page Buck's Cleaning Services of West Chicago made a generous donation to a family in her district. Amidst their own struggles of having to cut their work force they made a generous donation to a family in her district. The father tested CIVUD-19 positive and the family was living in separate hotel rooms for ten days, fearful of going into their apartment and risk contamination. Buck's disinfecting crew cleaned the apartment in order to get the family back home while the father continues to isolate. Quite a few people are making masks for those that need them. (www.merleburl.com)
Moises Patino-Romero, 25, 103 E. Geneva Street, accused of hijacking a sixty-two-year-old man's car at knifepoint, appeared in Bond Court Thursday, April 2, 2020, where Judge Alex McGimpsey set bond at $300,000 with ten percent to apply. He was charged with two counts of Aggravated Vehicular Hijacking, a Class X Felony, punishable by 6 to 30 years in prison. Patino-Romero's next court appearance is scheduled for April 27, 2020, for arraignment in front of Judge George Bakalis.
At approximately 12:08 p.m., Tuesday, March 31, 2020 the victim went to a local store and left his vehicle unlocked in the parking lot while he went inside. The victim returned to his vehicle and drove away while speaking to someone on the phone. It is alleged while the victim drove, Patino-Romero appeared behind him from the backseat, reached around and held the knife in front of his face. It is further alleged that Patino-Romero told his victim something to the effect of "tell him you'll call him back." It is alleged that the victim then jumped out of the car, ran away and contacted the police from another phone. He was apprehended in about 24 hours by West Chicago Police.
According to the news release, Patino-Romero was on a recognizance bond for a Criminal Trespass to Residence in the early morning hours of the same day. That charge has since been upgraded to Residential Burglary, a Class 1 Felony. He was released from custody on March 31, 2020, at approximately 11:45 a.m. in that case. It is alleged that he committed the current offense approximately twenty-five minutes after his release. The bond set is for both of his cases.
DuPage County State's Attorney Robert Berlin said. "This type of violent behavior, particularly in consideration of the current stay-at-home order, will not be tolerated in DuPage County and will be met with the full force of the law. What I find particularly troubling is the fact that Mr. Patino-Romero was just released from custody less than half an hour before he allegedly committed this crime. Thankfully, the victim in this case was not physically harmed. I would like to thank the West Chicago Police Department for their outstanding work in identifying and apprehending the defendant in this case."
My email address is merleburl@earthlink.net.