Whoever thought face masks would be a fashion statement. With  the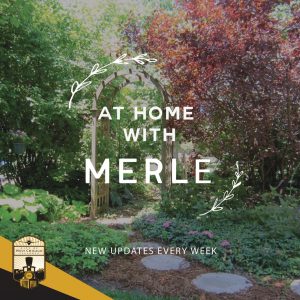 COVID-19 pandemic and, especially now, with Governor J.B. Pritzker issuing tougher measures to enforce the wearing of face covering, masks become a part of our fashion ensemble. Persons can purchase masks to make them look good and keep them covered. Face masks can depict many things such as personal interests, hobbies, animals, humor, life and more. An example of this is the face mask of West Chicago resident Uwe Gsedl. The blue and white colors are the official colors of the independent site of Bavaria in the southern part of Germany. This is the homeland of Uwe, where he was born and some of his family members still live. It also is the location of Taufkirchen (Vils), Germany, West Chicago's Sister City. Requirements for the masks are that they are comfortable, reusable and washable.
Another fashion item is the headband with buttons which can be fancy or plain. The headbands have the dual purpose of keeping hair out of one's face, which cuts down on face touching, or hiding a somewhat bad hair day. The headbands and face masks can complement each other or be wildly different.
A question arises on how to store the face masks. One way is in clean sealable paper bags or breathable containers. However, for those who want to grab them quickly as they leave the home and in plain sight, there are attractive ways to make containers part of the decor. These containers can be decorative baskets or a decorative bag hanging by the door or the new special face mask racks.
At this time, wearing a mask is one of the most effective ways there is for preventing the spread of COVID-19 and now, one also be fashionably chic. (merleburl.com)
AROUND AND ABOUT
August is National Suffrage Month. Persons can learn more about the fight for suffrage with some great streaming events from US National Archives, www.facebook.com/usnationalarchives/ as part of their "Rightfully Hers: American Women and the Vote" exhibit and initiative. Each virtual event explores the complex story of the struggle for women's suffrage, leading up to and beyond the certification of the 19th Amendment on August 26, 1920. The League of Women Voters of Wheaton holds a virtual special event Wednesday, August 26, 2020. More information will be in my August 19 column. (merleburl.com)
On behalf of the Franciscan Friars Assumption Blessed Virgin Mary Province Inc., 42.5 acres at 30W300 North Avenue is being sold at auction Wednesday, August 12, 2020. It is zoned R-6 Multiple Family Residential District and B-3 Regional Shopping District. According to Rick Levin & Associates, the auction company managing the sale, the property previously was valued at more than $8 million.
Fun Fridays at The Shell, hosted by the West Chicago Park District, take place from 11:00 a.m. to noon at the Shell in Reed-Keppler Park, 129 West National Street. Social distancing is enforced. No reservations are required. Mary Marconi takes the stage August 14. Youths enjoy magic tricks, shake shakers and dance along with rockin' tunes. ScrubMonster is the entertainment August 21. Encouraging audience participation, ScrubMonster makes children want to sing and laugh. (merleburl.com)
St. Andrew Lutheran Church hosts the Northern Illinois Food Bank mobile food pantry from 4:00 to 5:30 p.m. Friday, August 14, 2020, at the church, 155 North Prince Crossing Road. When the mobile pantry was at the church, July 13, 190 households were served benefiting 842 families.
Andrew and Marcella Kozlowski host "Free Spirit in the Garden" art show from 5:00 to 7:00 p.m. Saturday, August 15, 2020 at 29W028 River Glen Road. Artistic displays include nature and wildlife photography, pottery and custom jewelry. (merleburl.com)
Community High School District 94 changes the location of its Board of Education meetings from the Administrative building, 157 West Washington Street, to the High School, 326 Joliet St. The Wednesday, August 18, and September 22, 2020, meetings are in the Commons. After that, the meetings are in the Community Room.
Wayne Township, 27W031 North Avenue, holds its annual Reuse, Recycle and Shred Event from 10:00 a.m. to noon Saturday, August 15, 2020. Collectible items include cell phones, eyeglasses, ink jet and laser jet cartridges, tattered American flags, batteries-not household, textiles such as towels, linens, clothing, belts and shoes, which can be reusable or non-reusable, and personal documents for shredding. Also there is metal, computer and microwaves disposal for a cost. Televisions are $20 each, tube monitors are $10 and microwaves are $5. For further information, call Cindy at (630) 231-7140.
The first day of school at Wheaton Academy is Wednesday, August 19, 2020.
West Chicago City Museum Historiography program, a non-fiction book reading group, is at 1:00 p.m. Thursday, August 20, 2020, via Zoom. The book to be discussed is "Lies My Teacher Told Me: Everything Your History Textbook Got Wrong" by James W. Loewen. To get a copy of the book or for further information, visit Friends of West Chicago City Museum website, wegohistory.com or call (630) 231-3376.
The Good Books review stated, "After surveying eighteen leading high school American history texts, he has concluded that not one does a decent job of making history interesting or memorable. Marred by an embarrassing combination of blind patriotism, mindless optimism, sheer misinformation, and outright lies, these books omit almost all the ambiguity, passion, conflict, and drama from our past." The review went on to discuss the 2018 revised edition. "In this revised edition, packed with updated material, Loewen explores how historical myths continue to be perpetuated in today's climate and adds an eye-opening chapter on the lies surrounding 9/11 and the Iraq War. From the truth about Columbus's historic voyages to an honest evaluation of our national leaders, Loewen revives our history, restoring the vitality and relevance it truly possesses."
Loewen is a professor emeritus of sociology at the University of Vermont American, historian, and author.
In partnership with Cantigny Park, the League of Women Voters of Wheaton hosts a Civics Awareness program at 7:00 p.m. Thursday, August 20, 2020, via Zoom. Professor John Mueller presents the program, The "Other": How Dehumanization, the Confirmation Bias, and the Vividness Effect Perpetuate Racism. He discusses how a person's behavior affects others and what people can do to be aware and affect change. Mueller is a Professor of Psychology at North Central College in Naperville. As a social psychologist he has taught courses in stereotyping and prejudice. Additionally, he created and maintains a large, annotated collection of Resources for the Teaching of Social Psychology. To register visit https://www.eventbrite.com/e/the-other-how-dehumanization-the-confirmation-bias-perpetuate-racisim-tickets-110719681548. A zoom link to access the presentation is sent 2 days prior to the event.
League of Women Voters of Wheaton includes West Chicago, Warrenville, Winfield, Wheaton and Carol Stream. The League of Women Voters is a non-partisan organization that does not support or oppose any political party or candidate, but whose purpose is to promote political responsibility through informed and active participation of citizens in government.
West Chicago Social Club, 920 East Roosevelt Road, has an outside show Friday, August 21, 2020. Doors open at 7:00 p.m.; show begins at 8:00 p.m. Bands performing are Led Zeppelin 2 and American English. Ticket prices are $15 for general admission, $200 for four at front table, and $100 for a table of four. To make a reservation, visit theticketrumba.com. (merleburl.com)
Healthy West Chicago hosts a Virtual 5K Fun Run Saturday and Sunday, August 22 and 23, 2020. The cost is $10 for adults-18 and over, $7 for residents and $5 for students. All participants receive a HWC shirt and a gift. The first 30 registrants receive a HWC activity tracker. There is a prize for 1st place adult and child. Everyone who registers is entered into the raffle for the Amazon gift card. To register, visit www.raceroster.com/29234. To participate, runners and walkers can use their phone timers, app, Fitbit, Apple Watch or other running device to individually record their time and distance. Persons can run anywhere such as their neighborhood, trails or even their treadmills at home. After the Run, participants post screenshot of run times on the virtual event page.
All proceeds from the race will be used for Healthy West Chicago's sustainability and the continuation of community programming for West Chicago residents. (merleburl.com)
The League of Women Voters of Wheaton partners with the Wheaton Public Library for its Livingroom Conversation—virtually. There are two sessions. 1:30 and 7:00 p.m. Monday, August 24, 2020. The topic is "Stereotypes, Prejudices & Bias" The discussion focuses on where these issues impact our daily lives, social interactions, and policy in America. To "attend" email Bari Ericson at ce@wheatonlibrary.org for more information. Enter your email address for instructions and connection details. Registration ends 15 minutes before the start time of the program. The goal of Livingroom Conversations is to bring local citizens together to discuss topics of mutual interest from multiple perspectives.
League of Women Voters of Wheaton includes West Chicago, Warrenville, Winfield, Wheaton and Carol Stream. The League of Women Voters is a non-partisan organization that does not support or oppose any political party or candidate, but whose purpose is to promote political responsibility through informed and active participation of citizens in government.
The West Chicago Police Citizens Police Academy is from 6:30 to 9:00 p.m. Wednesdays for ten weeks, beginning September 16, 2020, at the police station, 325 Spencer Street. The academy gives citizens a behind the scenes look at the criminal justice system and offers insight into every day police work. Topics include patrol tactics, traffic enforcement, crime scene investigation, laws of arrest, search and seizure, use of force and active shooter. Persons must be at least 18 years of age, a resident of West Chicago or an employee of the City and able to pass a criminal background investigation. For an application, call Officer Robyn Nielsen at (630) 293-2222 or email RNielsen@westhicago.org. Applications are due by Wednesday, August 26. Class size is limited to 20 participants. Due to COVID-19, certain protocols are followed, such as social distancing, mandatory masks when social distancing not possible, screening question and temperature checks before each class.
Healthy West Chicago once again partners with the National Forum for Heart Disease and Stroke Prevention for the 2020 Move with Mayor Challenge in August and September. Due to COVID-19, the format is different this year. Made possible with a donation from Jacobs Engineering Group in West Chicago, the MWTM Walking Challenge makes it possible for persons to participate in the activities. Using the activation code, "moviechicago17," persons can download it from the App Store on their personal device. Users then may pair the app with their choice of activity trackers such as Fitbit, Gamin, Apple Watch or those built into their Smart devices. The app collects data on personal steps logged, distances walked and ranking among the participants. For the list of planned activities, visit www.healthywestchicago.org/move-with-the-mayor. (merleburl.com)
WeGo Together for Kids once again hosts the School Backpack Bash. At this time, it is scheduled for Thursday, September 3, 2020. The goal is for 500 backpacks filled with school supplies. The organization is requesting donations. There is an Amazon wish list, www.amazon.com/hz/wishlist/ls/14SR2TG3QMHG6?type=wishlist . Persons wanting a list of supplies should email the director Joie Frankovich at frankovich@wego33.org.
Community High School District 94 will start the 2020/21 school year with remote learning only. As of now, the dates are from Wednesday, September 10 through Friday, October 30.
West Chicago Elementary School District 33 will start the 2020/21 school year with remote learning through December 2, 2020.
It is time to get counted—in the 2020 Census. Households can do the census online, mail the paper questionnaires, if one was received, or call. US Census Bureau workers now are going door-to-door to count people who have not responded to earlier communication attempts. Field Data collection is scheduled to conclude by Wednesday, September 30. All census takers have government ID badges with their photographs, US Department of Commerce watermarks and expiration dates. If no one is at home when a census worker visits, the employee will leave a notice with information about responding on line at 2020census.gov or by phone at (844) 330-2020. Also accepted are responses by mail.
The US Constitution mandates that everyone in the country is counted every 10 years. The reasons it is important that everyone be counted include redistricting, fair representation and the distribution of $675 billion in federal funds. The purpose of the census is to gather statistical information. Information on individuals is not shared or released.
City Hall, 475 Main Street, and all other City buildings are now open on a limited basis for the public. Times are 8:00 a.m. to noon Tuesday, Wednesdays and Thursdays. Persons must wear a mask and maintain social distancing. Stanchions and updated directional signage are in place at both City Hall service counters, and barriers are at each counter. Since Phase 4 outlined capacity limits, persons may have to wait in line outside during busy times. At this time, the City limits hand-to-hand transactions; no cash payments for utility bills, building permits, inspections, deed certification stamps, garbage stickers or any other payments normally made at City Hall. Acceptable for City transactions are credit cards, excluding American Express, cashier's checks and money orders. Credit card payments are not accepted over the phone. Persons also can conduct business on line, www.westchicago.org; by phone, (630) 293-2200, email to the specific department. Persons may make payment or deliveries at the drop box outside City Hall, or by mail.
West Chicago Elementary School District 33 has partnered with Kelly Education, a leading provider of substitute teachers to school districts across the United States. The company will manage the district's substitute teacher program starting with the 2020/21 school year. Kelly Education provides learning continuity in the classroom when permanent teachers are absent. The business prepares the substitute teachers to succeed in every classroom by offering access to highly respected training and professional learning programs and encourages their employees to further their teaching career in specialty areas. Persons interested in becoming a Kelly substitute in the District schools, can apply at www.kellyeducation.com or email their resume 24×24@kellyservices.com.
The DuPage County Health Department developed a dashboard to provide information on the total number of people, in DuPage County, who have tested positive for COVID-19. In addition, the dashboard includes a map which shows the distribution of reported cases by municipality and is updated at 4:00 p.m. daily. DuPage County's "COVID-19 Dashboard" is a one-stop-shop for all the information it offers including a town-by-town breakdown of cases. As of 4:00 p.m. Monday, July 27, 2020, there were 925 cases. It is important to remember to follow the social distancing order, wear masks and wash hands. (merleburl.com)
To keep residents aware of community COVID-19 updates, the City has posted West Chicago's COVID-19 COMMUNICATIONS CENTER on its website, www.westchicago.org. Also included are the weekly updated messages from Mayor Ruben Pineda. It is located on the upper left-hand side in red. Clicking on this, residents can see the latest information.
Sincere sympathy is extended to the family of Georgeanna "Cookie" Harbelis Horn, who at the age of 87 passed away Tuesday, August 4, 2020.
There are new traffic restrictions at Purnell and Gary's Mill roads. There is no right turn from 7:00 a.m. to  9:00 a.m. Mondays through Fridays from Gary's Mill Road to Purnell Road and no left turn from 4:00 to 6:00 p.m. Mondays through Fridays from Purnell Road to Gary's Mill Road.
West Chicago Park District has launched a new and improved website, we-go-parks.org. Due to the COVID-1 pandemic, "Recent events have influenced the decision to discontinue the printing, publication and delivery of the seasonal program guide. Evolving circumstances means printed materials are often out of date. We are pleased to launch the new website where the latest information will be at your fingertips," the District explained. (merleburl.com)
The 39 Haiku signs are now on display in various yards throughout the community, which can be found on an interactive map https://westchicago.maps.arcgis.com/home/webmap/viewer.html?webmap=61e9d48105e441c89e544e1a26757846. Earlier in the year, the West Chicago Cultural Arts Commission asked the community to create Haiku poetry to convey thoughtful messages, spread encouragement and lift spirits during the COVID-19 pandemic. (merleburl.com)
College of Dupage is one of the three suburban community colleges to receive a combined $51.1 million in state grants to help fund Infrastructural improvements on their campuses. COD will receive $3.3 million for grounds and retention pond improvements including bank stabilization of three ponds and construction of observation platforms.
At the Monday, August 3, 2020, meeting, City Council approved a contract in the amount of $25,000 with Aptim Environmental & Infrastructure LLC for Pre-filing Siting Application Review Services. The Item Summary states, "The original contract of $35,000 has been met, so a change order in the amount of $25,000 is attached: all amounts incurred have been and will continue to be reimbursed by Lakeshore Recycling Systems. No formal application has yet been received."
Also approved was a contract for the amount of $136,114 to Lorusso Cement Contractors of West Chicago for the 2020 Sidewalk and Curb Maintenance Program. The program includes approximately 12,000 square feet of Intermittent removal and replacement of mostly residential concrete sidewalks located at approximately 200 locations throughout the City. It also includes installation of ADA compliant detectable warnings pads, removal and replacement of approximately 100 lineal feet of combination concrete curb and gutter, and pavement and landscape restoration.
With an 11 to 2 vote, City Council approved Pre-Annexation Agreement with Pulte Home Company, Inc. for the Trillium Farm subdivision. Since a Super Majority vote was required and Ward 2 Alderman Jayme Sheahan and Ward 5 Alderman Matt Garling were absent, Mayor Ruben Pineda was required to vote. He did so with a yes vote. Voting in favor of the resolution were Ward 1 Alderman Lori Chassee, Ward 2 Alderman Heather Brown, Ward 3 Alderman Al Hallett, Ward 4 Aldermen Sandy Dimas and Melissa Ferguson, Ward 5 Alderman Chris Swiatek, Ward 6 Aldermen Becky Stout and Jeanne Short, and Ward 7 Aldermen John Jakabcsin and Noreen Ligino-Kubinski. Voting against were Ward 1 Alderman Jim Beifuss and Ward 4 Alderman Mike Ferguson. The item summary explains, "Pulte now has decided to phase the project with the first phase consisting of the development of 19 lots and the installation of the required stormwater and utility infrastructure. Pulte anticipates completing the next two phases over the next two years. Rather than purchase the entire property from the owner to complete Phase One, Pulte has since acquired only that portion of the overall property that is included in Phase One. Pulte remains the contract purchaser of the balance of the property and will acquire such as the next phases occur." City Council approved Phase one at the Monday, July 20 meeting, the phasing and ownership arrangement resulted in a new pre-annexation agreement.
For the sixth year in a row, West Chicago resident Becky Hall is a Quilters Trek Champion. Her current quilt has a row with a wolf and moose, purchased from Northern Threads, Inc. in Fairbanks. Alaska. The color theme this year was blue. Each year she has won in a different state. Persons participating in Quilters Trek create a quilt of 32 nine inch blocks purchased from at least eight stores. (merleburl.com)
My email address is merleburl@earthlink.net.