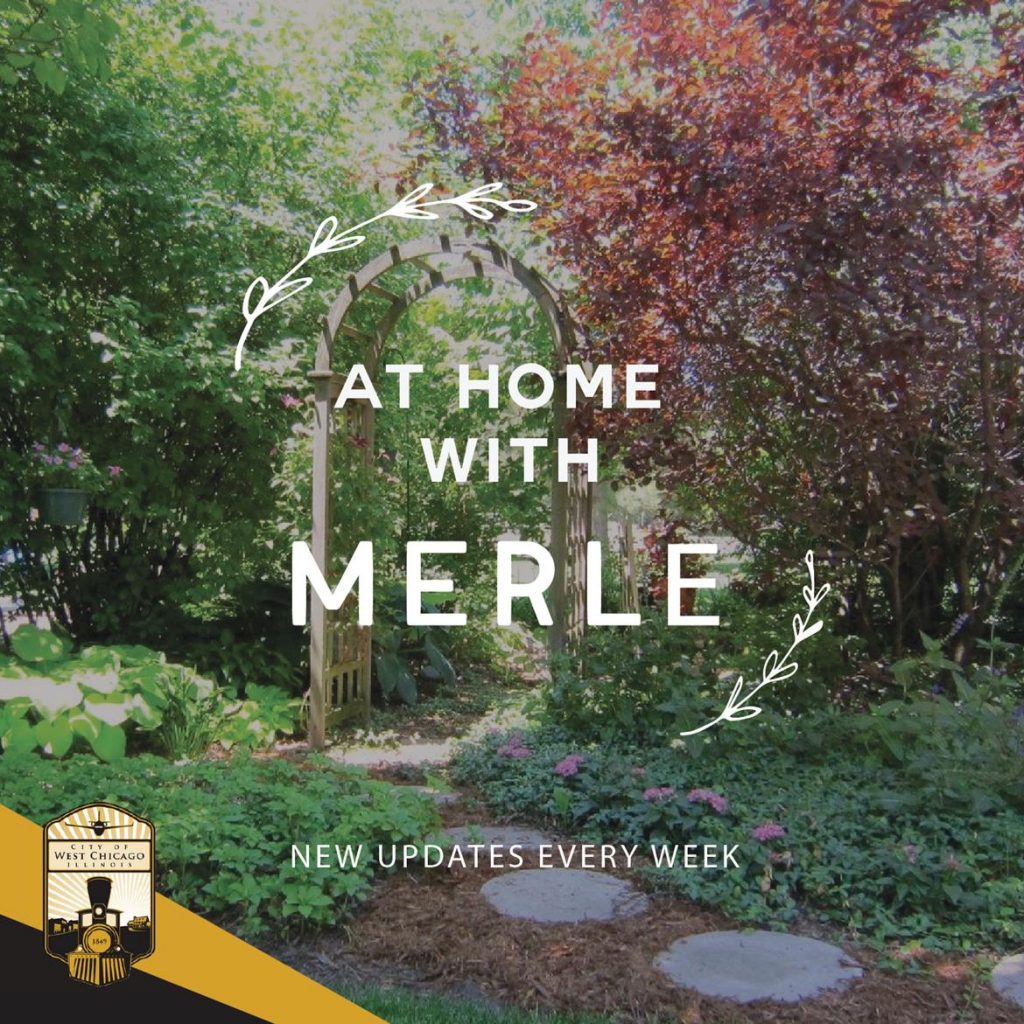 Schools have opened or will be opening soon for the 2019/2020 year. Opening day for West Chicago Community High School was Tuesday, August 12, 2019. St. Charles Community Unit School District 303 was Wednesday, August 13, 2019, and Educare West DuPage was Tuesday, August 20, 2019. Both Wheaton Academy and Benjamin School District 25 open Wednesday, August 21, 2019 and West Chicago Elementary School District 33 opens Tuesday, September 3, 2019.
Many of these youth commute on buses. There are specific rules of the road when a bus is stopped for loading or unloading youth. If the road is two lanes, vehicles traveling both directions must stop. On four-lane roads and divided highways, vehicles behind the bus must stop; vehicles traveling in the opposite direction do not stop, but proceed cautiously. (www.merleburl.com)
AROUND AND ABOUT
The West Chicago Garden Club meeting is Thursday, August 22, 2019, at St. Andrew Lutheran Church, 155 North Prince Crossing Road. Social time is at 6:45 p.m., short business meeting at 7:00 p.m. and program at 7:15 p.m. Carol Cichowski presents "Glorious Dahlias." She and her husband Mike grow about 300 dahlias a year and use about 65 for their garden. She speaks regularly at Chicago Flower and Garden Show and is past president of the Elk Grove Garden Club. Her husband is past president of Central States Dahlia Society. (www.merleburl.com)
The Ninth Annual Wildcat Night and Corn Boil with Looten's steam machine at West Chicago Community High School is from 3:30 to 9:30 p.m. Friday, August 23, 2019, in various facilities at the school, 326 Joliet Street. Although most activities are in Memorial Stadium, some take place in the pool area and Bishop Gym. The fall sports preview, free and open to the public, includes demonstrations, scrimmages and performances. Featured events include Girls Tennis, Boys Soccer, Girls Volleyball, Girls Swimming, Girls Cross Country, Boys Golf, Girls Golf, Dance Team, Cheerleaders, Football, and Marching Band. Wildcat Booster Club clothing and spirit items are available for purchase. A detailed schedule and parking information for visitors is at www.d94.org/wildcatnight. (www.merleburl.com))
Healthy West Chicago hosts a 5K Fun Run and 100-meter Kids Dash Saturday, August 24, 2019, at Reed-Keppler Park, 129 West National Street. Registration opens at 7:00 a.m., the Run begins at 8:30 a.m. followed by the Dash, around 9:45 a.m. The top three overall male and female runners receive a medal, as do the top runners in each age category. Age groups are 13 and under, 14 to19, 20 to 29, 30 to 39, 40 to 49, 50 to 59, 60 to 69 and 70 and over. All children in the Kiddie Dash receive finisher ribbons. The charge for the run is $25 for persons 18 and older, $20 for residents thorough Friday, August 23, and $10 for persons 17 and younger. There is no charge for the Dash, but registration is required. Persons can register on line at https://raceroster.com/events/2019/22995/healthy-west-chicago-5k-run-and-kiddie-dash or at the race location. All proceeds from the race will be used for Healthy West Chicago's sustainability and the continuation of community programming for West Chicago residents.
Midwest Strength and Performance has a pre and post run stretch and massage. During and after the race, there are cooking demonstrations by the Kitchen Table, a West Chicago family owned catering business. Athletico has a post run stretch and massage. Lions Panzek Martial Arts teaches self-defense techniques, plus teaches and allows youths to break boards. Gorski Wellness serves hydration drinks and post run snacks. Activities include face painting and fun games on the lawn. (www.merleburl.com)
Maggie Capettini is a participant in the Glen Ellyn Festival of the Arts. It takes place from 10:00 a.m. to 5:00 p.m. Saturday and Sunday, August 24 and 25, 2019, at Lake Ellyn, 645 Lenox. One of her paintings is of the garden shed at the West Chicago Historical Society Kruse House Museum. (www.merleburl.com)
St. Andrew Lutheran Church, 155 North Prince Crossing Road, has a bilingual worship service and blessing of the backpacks at 10:30 a.m. Sunday, August 25, 2019. Following this is a church potluck and ministry fair.
The Floral Market, 183 West Washington Street, is a full-service floral shop, opening its doors Monday, August 26, 2019. Jamie Best is the head designer, who creates unique arrangements for every occasion, The shop is partnered with Tall Pine Pottery, which sells handmade pottery and holds pottery wheel thrown and hand building classes. Also on sale are candles, jewelry, soaps, hand lettering, wood work and other artwork created by local artists. Hours are from 10:00 a.m. to 6:00 p.m. Monday through Friday and from 10:00 a.m. to 2:00 p.m. Saturday. A grand opening for the business is planned for the fall.
Wayne/Winfield Area Youth/Family Services offers hour-long computer classes for senior citizens at Wayne Township, 27W031 North Avenue. Not only do seniors learn basic skills, but also have the opportunity to socialize. The fee is $2. Reservations are required and may be made by calling (630) 231-7166. Beginner classes are at 3:00 p.m. Fridays. "Attaching Photos to Texts/Emails " class is at 4:00 p.m. Monday, August 26, 2019.
"Marijuana in the Workplace" workshop, hosted by Jel Sert Company, is at 9:00 a.m. Wednesday, August 28, 2019, at Western DuPage Chamber, 306 Main Street. The free presentation is by Laner Muchin Employment Law Firm and covers the rights, risks and responsibilities of employees. The workshop is open to Chamber members and non-members. To make a reservation email team@westerndupagechamber.com or call (630) 231-3003. (www.merleburl.com)
League of Women Voters of Wheaton hosts an Open House, a "Living Room Conversations" event, from 5:30 to 7:30 p.m. Thursday, August 29, 2019, at 261 Town Square Mall, next to Prairie Path Books in Wheaton. Various topics are discussed as guests enjoy wine, appetizers and desserts. The event is open to the public. Reservations are required by Tuesday, August 22, 2019, and may be made by sending an email to ClaudiaDunne@gmail.com.
League of Women Voters of Wheaton includes West Chicago, Warrenville, Winfield, Wheaton and Carol Stream. The League of Women Voters is a non-partisan organization that does not support or oppose any political party or candidate, but whose purpose is to promote political responsibility through informed and active participation of citizens in government. (www.merleburl.com)
"YouTube and You" is the West Chicago Public Library computer class at 6:30 p.m. Thursday, August 29, 2019, in the conference room, 118 West Washington Street. Librarian Austin Hall showcases what persons can do with YouTube, including creating playlists, changing preferences, creating and uploading videos and starting own channel. To make a reservation, call the adult services department at (630) 231-1152.
West Chicago Firefighters Association Local 3970 holds an Outside Winger competition from 3:00 to 8:00 p.m. Saturday, August 31, 2019, at Hawthorne's Backyard Bar & Grill, 1200 West Hawthorne Lane. The Winger, where persons taste the various wings cooked by the entrants, starts at 4:00 p.m. There is a People's Choice Award and a Judges' Choice Award. Entrants are West Chicago Firefighters Local 3970, Winfield Firefighters Local 5024, Elmhurst Firefighters Local 3541, St. Charles Firefighters Local 3322, Hawthorne's Backyard, DuPage Cremations, LTD, and Jason Day and brother-In-law. The charge is $10, $5 for children age 12 and under12.
Other activities include 50/50 raffle, silent auction, heads and tails, and activities for children. Heads and tails prizes include a 55-inch television, wheeled cooler and utility cart filled with liquor. There are more than 100 silent auction items. These include custom painted wooden American flag, ride to school on firetruck, dartboard, fishing basket, painting event and certificates for local area businesses and restaurants.
The 2019 summer "Passport to Adventure" program is coming to an end Monday, Sept 2, 2019. The program is for children ages 4 through 12, who receive stamps at the participating locations, which includes more than 60 museums and nature centers in DuPage and Kane counties. West Chicago City Museum, 132 Main Street, and West Chicago Historical Society Kruse House Museum, 527 Main Street, are participants. The KHM hours are from 11:00 a.m. to 3:00 p.m. Saturdays; it is closed August 31. City Museum hours are 10:00 a.m. to 6:00 p.m. Thursdays and 10:00 a.m. to 2:00 p.m. Fridays and Saturdays. The City Museum is in the fall/winter passport program which begins, Tuesday, September 3 and ends April 30, 2020.
West Chicago Historical Society hosts its Annual Ice Cream Social and Silent Auction from noon to 3:00 p.m. Saturday, September 7, 2019, on the lawn at the Kruse House Museum, 527 Main Street. The $5 ticket price includes beverage, ice cream, pie or cake. There is a cakewalk. Among the silent auction items are gift certificates to local area restaurants and businesses, books, artwork, jewelry, sports memorabilia and collectibles.
The KHM is open for tours highlighting the 2019 summer exhibit, "Kruse 'N Art." The gardens, restored and maintained by the West Chicago Garden Club, and the towering trees provide the perfect backdrop for an afternoon of socializing. Tickets are available from Society board members or at the door. For further information, call Donna Orlandini at (630) 231-2671 or Joan Conkright at (630) 231-2329.
Prairie Landing Golf Club, 2325 Longest Drive, hosts a Wedding Expo from noon to 4:00 p.m. Sunday, September 8, 2019. There are many vendors that provide the opportunity to find all the services for the wedding. Guests receive an exquisite swag bag, numerous vendor give-aways, and a chance to win the door prize. There is no charge with advance reservations which can be made by calling (630) 208-7633 or email bobsin@prairielanding.com. The charge is $5 at the door. (www.merleburl.com)
Mexican Cultural Center-DuPage hosts the Seventh Annual Miss Mexican Heritage Scholarship Pageant Sunday, September 8, 2019, in the Belushi Performance Hall of McAninch Art Center at College of DuPage, 425 Fawell Boulevard. There are six contestants. The program celebrates Mexican history and culture as contestants tell about their selected Mexican States through speeches, costumes, and performances during the event. Mariachi Monumental De México provides the musical entertainment. The program is in English. The ticket price is a suggested donation of $10.
Under the sponsorship of People Made Visible, a committee is working to publish a new cookbook, "One West Chicago: Near and Far," highlighting the diversity of the community through recipes from the people and organizations in the community. At this time, they are requesting recipes from groups and organization. Becky Hall, who is chairing the committee said, "We are celebrating the One West Chicago theme kicked off in 2018 with a community cookbook. We want to capture the great diversity — and great food!—West Chicago has to offer by creating a community cookbook that is more than just recipes —we want to include recipes, photos, and descriptions of all the wonderful groups that make our city such a great place to live." She added, "Qualifying community groups can earn a portion of the proceeds from the cookbook." Recipes are due by Sunday, September 15, 2019.
For further information or to fill out a recipe form, visit the Facebook page, One West Chicago: Near and Far or email wegocookbook@gmail.com. Forms also are available at the City Museum; West Chicago Public Library, 118 West Washington Street; or City Hall, 475 Main Street.
West Chicago Community High School holds its 20th Reunion from 5:00 p.m. to midnight Saturday, September 21, 2019, at Hawthorne's Backyard Bar & Grill, 1200 West Hawthorne Lane. The classes of 1998 and 2000 are invited to attend also. The charge of $33 includes dinner buffet, soft drinks, dessert, DJ and dancing, sand volleyball and lawn games. There is a cash bar. Reservations must be received no later than Sunday, September 15, 2019. Reservations can be made and more information may be found on the website https://wcchs1999.weebly.com/.
The West Chicago Police Citizens Police Academy is from 6:30 to 9:00 p.m. Wednesdays for nine weeks, beginning September 25, 2019, at the Police Station, 325 Spencer Street. The Academy gives citizens a behind the scenes look at the criminal justice system and offers insight into every day police work. Topics include patrol tactics, traffic enforcement, crime scene investigation, laws of arrest, search and seizure, use of force and active shooter. Persons must be at least 18 years of age, a resident of West Chicago or an employee of the City and able to pass a criminal background investigation. For an application, call Officer Robyn Nielsen at (630) 293-2222 or email RNielsen@westhicago.org. Applications are due by Wednesday, September 4. (www.merleburl.com)
Friday, August 9, 2019, was the unveiling and reception for the celebrated Mexican artist/muralist Juan Chawuk mural designed for the "Frida Kahlo 2020" exhibition in Cleve Carney Art Gallery at the McAninch Arts Center at College of DuPage. The work is composed of nine three-foot high letters spelling out "Frida Kahlo 2020,"with each letter bearing a unique design inspired by Frida Kahlo. This commissioned piece is a collaboration between the National Museum of Mexican Art, the Mexican Cultural Center DuPage, and the Cleve Carney Art Gallery. Attending the unveiling were Fernando and Lizette Ramirez, and Omar Espinosa, Mexican Cultural Center DuPage Board members, and Carlos Tortolero, founder and president of the National Museum of Mexican Art. The work has its public debut at the MAC's "Frida Fest" celebration in September. Chawuk was the 2016 artist-in-residence in West Chicago. His mobile mural "West Chicago" is on display at Gallery 200, 103 West Washington Street. (www.merleburl.com)
Maggie Capettini resigned from her position as education coordinator at West Chicago City Museum to become a part time elementary school art teacher.
After nearly a year of working on it with Trane, the solar project of the West Chicago Park District is scheduled to begin in November and completed by June 2020. Attorney Ancel Glink, Park District Risk Management Agency and the West Chicago Park District spent many, many hours in developing an effective solution. Park District Executive Director Gary Major said, "The project will provide energy for The ARC and Zone 250 building, providing approximately a 60 percent cut in energy costs. He added, "This project was at zero cost to the Park District. Financing was provided by Trane and grants." Major said, "Of special note, this will be the largest solar field/alternative energy installation for any Park District in the State of Illinois."
Seaman recruit Mariana Rodriguez Gonzales, a 2013 graduate of West Chicago Community High School, is a student at Naval Education & Training Command, learning to be a culinary specialist. A culinary specialist prepares high-quality nutritious meals. At Naval Education and Training Command, instructors at advanced technical schools teach sailors to be highly skilled, operational, and combat ready warfighters, while providing the tools and opportunities for continuous learning and development. (www.merleburl.com)
The ideal weather was the perfect ingredient for the Party in the Park event of the West Chicago Park District held Saturday, August 10, 2019. There were five contestants in the Master Grill-off Competition, where the entrants supplied the grill and charcoal and the Park District Foundation supplied the ribs. Winning first prize of $300 and the official title of rib Grill Master was Kathy Burke Nkhoma. Taking second prize of $150 was Michael Gasparini. Winning third prize of $75 was Keith Coiley. Judges were Mayor Ruben Pineda, West Chicago Police Sergeant Eugene Samuel and West Chicago resident Michael Radun. (www.merleburl.com)
West Chicago Board Secretary Melissa Medeiros administered the Oath of Office to Scott Turney as a West Chicago Park District Board Commissioner for an unexpired term ending May 2021. He replaces Mike Buenrostro, Jr., who moved out of the District.
Support our local businesses as they not only contribute to the community through taxes, but also generously contribute through monetary and in-kind donations to clubs, churches, organizations and schools.
Western DuPage Chamber of Commerce members were contributors to the goody bags for the Rotary Club's luncheon for new staff and teachers at West Chicago Community High School held Thursday, August 8, 2019. They were Winfield in Action, NorthStar Credit Union, West Chicago Park District, Jel Sert, Republic Bank, Rotary Club, Cantigny Park, Image Awards and Engraving, Wheaton Bank & Trust, Blue Frost Heating & Cooling, Gorski Chiropractic, FNBC Bank & Trust, Christian Brothers Automotive, and Dr. Richard Smith, Main Street Family Dentistry
After 42 years of pastoral and missionary ministry, Reverend Ron Sanford, pastor of Faith Reformed Church in Cedar Grove, Wisconsin, retired Sunday. September 8, 2019. He was a former pastor of Faith Community Church, serving for 22 years.
            CORRECTION of contact information for ComEd program below:
It is ComEducation@ComEd.com/request. "Powering People Campaign," an initiative dedicated to empowering families and individuals with limited resources with programmatic opportunities to protect themselves against fraud, learn more about their energy bills and save money. This includes seniors, veterans and lower income individuals, There are three parts to the program, inform, empower and assist.
My email address is merleburl@earthlink.net.