It seems I just wrote about school ending and now, in this column, I am writing about the beginning of school and activities for the High School. Elementary schools start the first part of September. However, there still is time to enjoy the dog days of summer, a common description for August. A variety of activities are happening, something for everyone. Enjoy!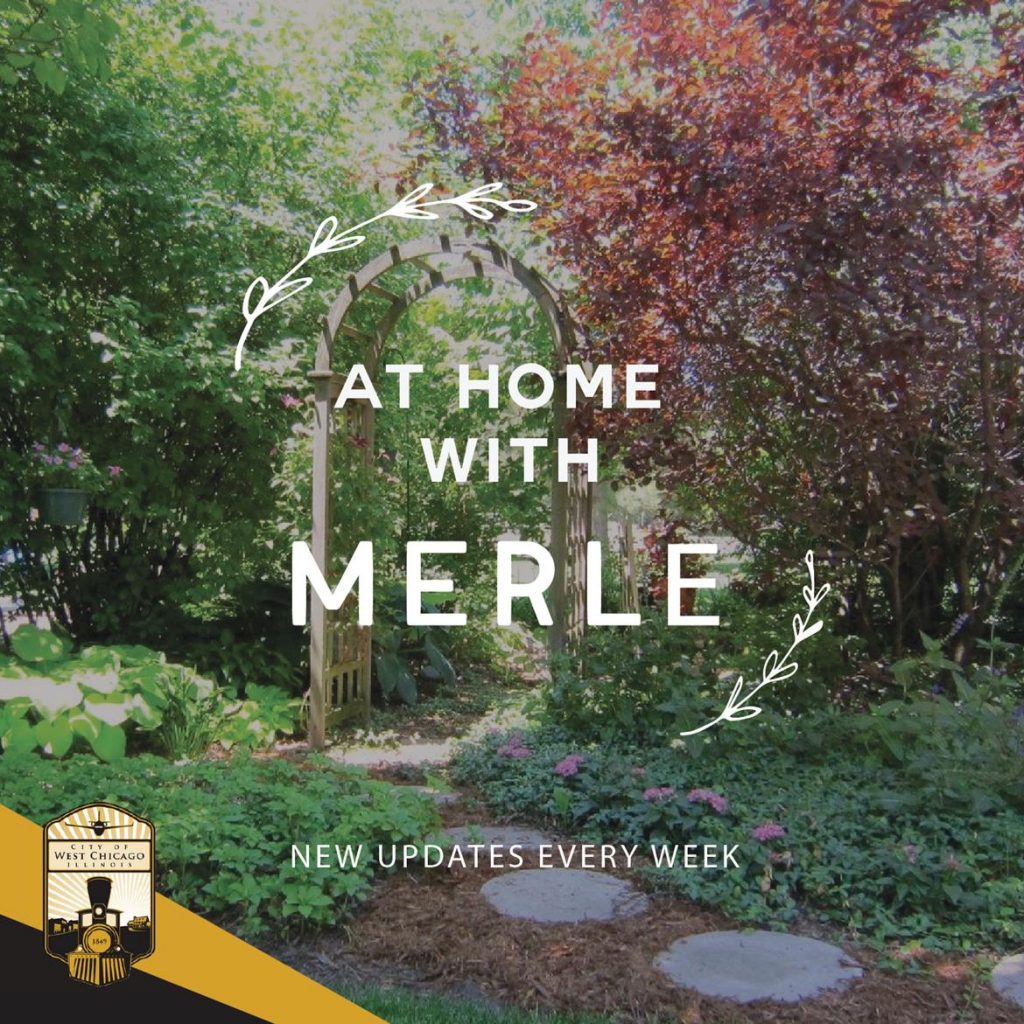 AROUND AND ABOUT
The artwork of Shari Hohl and Sue Tripp are on exhibit for the month of August in the Creative Corridor at West Chicago Public Library, 118 West Washington Street.
"Summer Scenes," pastels and oil painting of Hohl, are on the wall. She said, "As a fine art painter, I enjoy working in both pastels and oils. Pastels lend themselves very well to both in-depth sketches and vivid color studies. They also give me the rich medium of a centuries old classic tool that affords me the ability to render great detail and realism to each painting. It is my desire that my art creates a warmth that touches your heart with the love and emotion you feel about my subject matter. I switch between pastels and oils depending on what mood I am in at the time I'm ready to paint." Hohl recently was the featured artist at Gallery 200. (www.merleburl.com)
The fused glass art of Tripp is in the display case. She is a member of Gallery 200 and resides in Warrenville. Tripp said, "Although I was not an art major, and my day job has been as an engineer programming computers and building websites, I have always loved glass and mixing media to create functional pieces. Figuring out how to create something is as satisfying to me as the finished product. I have dabbled with stained glass, quilting, macramé, sewing, cross stitch, and more fads than I can remember. I discovered fused glass about five years ago, and it has become my favorite media." (www.merleburl.com)
Sushi Roll is the entertainment at 7:00 p.m. Wednesday, August 7, 2019, at the Shell in Reed-Keppler Park, 129 West National Street. Formed in early 2012, Sushi Roll quickly perfected their own unique blend of high-energy dance music and rock n' roll swagger. The band is made up of one part driving rock band, one part light-hearted pop, and one part over-the-top theatrical verve. This is the last concert at The Shell for the 2019 season. (www.merleburl.com)
The U-46 Health Services department host a Back-to-School Health Fair from 9:00 a.m. to 4:00 p.m. Thursday, August 8, 2019, at Elgin High School, 1200 Maroon Drive. Advocate Healthcare, VNA Health Care, and Greater Elgin Family Care Center provide physical and immunizations on a first-come, first-served basis to U-46 students who either have publicly assisted insurance or have no insurance.
The City of West Chicago and DuPage Airport Authority host the Third Annual Back to School Celebration from 10:00 a.m. to 2:00 p.m. Thursday, August 8, 2019, at DuPage Airport, 2700 International Drive. Youths meet Mayor Ruben Pineda, West Chicago Fire Protection District firemen, West Chicago Police Department policemen, flight Instructors, Red Cross, Civil Air Patrol Fox Valley Squadron and Boy Scouts Three Fires Council. Activities include touring a mobile command center, climbing onto airport maintenance and snow removal vehicles, experiencing CAP flight simulators, plus seeing a vintage aircraft and military planes. There are beverages and food. For further information or to make a reservation for the free event visit www.dpabacktoschool.eventbrite.com.
WeGo Drama at West Chicago Community High School will represent West Chicago and the United States at the 2020 Edinburg Fringe Festival. In order to attend, there is a great deal of prep work and special events planned. There will be monthly "Eat-Out" events in the community. One is going to be held from noon to 10:00 p.m. Thursday, August 8, 2019, at Hawthorne's Backyard Bar & Grill, 1200 West Hawthorne Lane. Fifteen percent of monies spent benefit WeGo Drama.
The Edinburgh Fringe Festival is the world's largest performing arts festival. More than 53,000 performers from all over the globe will participate at the Festival with over 2.5 million tickets sold annually. Founded in 1947, the Festival will celebrate its 73rd year in 2020.
Mr. Singer & the Sharp Cookies is the Kids Lunchtime entertainment at 11:00 a.m. Friday, August 9, 2019, at The Shell in Reed-Keppler Park. An energetic band that rocks for children and families who like to dance, laugh and rock out. They specialize in fresh, positive high-energy music at kid-friendly volume.
First United Methodist and Congregational Women hold their annual "My Trash—Your Treasure" rummage sale from 5:00 to 7:00 p.m. Friday, August 9, and from 9:00 a.m. to noon Saturday, August 10, 2019, at the Methodist church building, 643 East Washington Street. Also there is a bake sale, which benefits The Station, the church youth group. The popular "bag" special takes place from 11:00 a.m. to noon Saturday. Persons can fill a brown paper bag for $2 or a black plastic bag for $5. Again this event corresponds with National Garage Sale Day.
Umiya Mataji Sanstha, Chicago Midwest is the host for Pran Pratistha Pray event from 5:00 to 9:00 p.m. Friday, August 9, from 8:00 a.m. to 6:00 Saturday, August 10, and from 8:00 a.m. Sunday, August 11, 2019, at the temple, 1800 Joliet Street. Expecting 300 to 500 persons per day, they have arranged for shuttle buses and will have spaces Saturday and Sunday in the Metra parking lot, 508 Main Street. This event is not open to the public.
Wayne Township, 27W031 North Avenue, holds its annual Reuse, Recycle and Shred Event from 10:00 a.m. to noon Saturday, August 10, 2019. Collectible items include cell phones, eyeglasses, ink jet and laserjet cartridges, tattered American flags, batteries, except household, textiles such as towels, linens, clothing, belts and shoes, which can be reusable or non-reusable, and personal documents for shredding. For further information, call Cindy at (630) 231-7140. (www.merleburl.com)
West Chicago Park District hosts Party in the Park from 4:00 to 10:00 p.m. Saturday, August 10, 2019, in Reed-Keppler Park, 129 West National Street. Activities include competitions, live music, attractions and entertainment. For information, call (630) 231-9474.
The competitions are a Master Grill Off Competition and Salsa Cooking contest. The grill competition, sponsored by West Chicago Park District Foundation, is fro m 4:00 to 6:00 p.m. Entrants supply their own charcoal and grill; the ribs are supplied. The fee is $35.Cash prizes are $300, first place; $150, second place; and $75, third place. The Salsa Cooking Contest, sponsored by Healthy West Chicago and West Chicago Lions Club, is from 6:15 to 7:45 p.m.
Live music is at The Shell. Alibi plays from 4:30 to 6:00 p.m. and Adrian Ruiz Collective Salsa Band plays from 7:00 to 8:00 p.m. Movie in the Park is "Sing" at 8:30 p.m.
Activities from 5:00 to 8:00 p.m. include family picnic games, tug of war, balloon toss and giant games. Food is available, Taco truck and Italian Ice.
Entertainment is from 6:00 to 7:00 p.m. Drum Circle, hosted by El Ritmo School of Latin percussion is from 6:00 to 6:30 p.m. and Salsa dance lessons are from 6:30 to 7:00 p.m. (www.merleburl.com)
At Turtle Splash Water Park Grandparents Day is Saturday, August 10, where grandparents have free admission with each paying child. Dance the Day Away is Sunday, August 11, 2018. The Janet Dance Team arrives at 2:00 p.m.
From Saturday, August 10, through Friday, September 13, 2019, Turtle Splash Water Park is open from 10:30 a.m. to 5:00 p.m. weekends only.
Shining Light sponsors a "Taco Fiesta" after all masses Sunday, August 11, 2019, at St. Mary's Catholic Church, 140 North Oakwood Avenue.
During the 10:00 a.m. worship service Sunday, August 11, 2019, at First United Methodist Church of West Chicago, 643 East Washington Street, there is a Blessing of the Backpacks. Youths bring their backpacks and adults bring their briefcases/bags. Youths receive a blessing luggage tag. (www.merleburl.com)
The first day of school at West Chicago Community High School is Tuesday, August 13, 2019. Freshman attend all day. Sophomores, juniors and seniors are dismissed at 11:30. Wednesday is a regular schedule for all classes.
West Chicago Public Library District holds a Tech Time Drop-in from 2:00 to 4:00 p.m. Tuesday, August 13, 2019, in the conference room, 118 West Washington Street. Using their own device or one of the library's laptops, attendees practice their technology skills such as basic computer and mobile device skills, Word, Excel, Internet, social media, tablets and phones. To register, call the adult services department at (630) 231-1552, extension 4.
The West Chicago Public Library program, "Apollo at 50: The Story of Our Giant Leap," is at 7:00 p.m. Wednesday, August 14, 2019, in the main meeting room, 118 West Washington Street. Commemorating the 50th anniversary of the first moon landing, West Chicago resident Rita Butler, a NASA Solar System Ambassador and Earth and Science teacher, shares the exciting history of the space program that led to the historic event July 20, 1969.
West Chicago City Museum Historiography program, a non-fiction book reading group, is at 1:00 p.m. Thursday, August 15, 2019, in the Museum, 132 Main Street. Guests can bring a lunch; dessert and a beverage are provided. The book to be discussed is "Radium Girls: The Dark Story of America's Shining Women" by Kate Moore. Copies of the book are available at the Museum and Library.
The Curies' newly discovered element of radium makes gleaming headlines across the nation as the fresh face of beauty, and wonder drug of the medical community. From body lotion to tonic water, the popular new element shines bright in the otherwise dark years of the First World War. Meanwhile, hundreds of girls toil amidst the glowing dust of the radium-dial factories. The glittering chemical covers their bodies from head to toe; they light up the night like industrious fireflies. Written with a sparkling voice and breakneck pace, the book illuminates the inspiring young women exposed to the "wonder" substance of radium, and their strength in the face of almost impossible circumstances. Their courage and tenacity led to life-changing regulations, research into nuclear bombing, and ultimately saved hundreds of thousands of lives is the description of a Goodreads review. Kate Moore is a New York Times bestselling author who writes across many genres, including biography, memoir, and history. She also was the director of the acclaimed play about the Radium Girls called 'These Shining Lives'. She lives in the UK.
In partnership with Cantigny Park, the League of Women Voters of Wheaton hosts a Civics Awareness program Thursday, August 15, 2019, in the McCormick House at Cantigny, 1S151 Winfield Road in Wheaton. Social time is at 6:30 p.m., followed by the program at 7:00 p.m. The topic is "Fair Maps and Why We Need Them," presented by West Chicago resident Mike Fortner. Complimentary coffee and dessert are served. Tram service is available. Registration is required for the free program. To register, visit https://www.eventbrite.com/e/fair-maps-tickets. Parking is free.
Mike Fortner is a past mayor of West Chicago and served as State Legislator for 10 years. He is an advocate for non-partisan Fair Maps in the General Assembly. He currently serves on the board of the Public Mapping Project, which is a coalition of people who believe that democracy works best when the public is engaged.
League of Women Voters of Wheaton includes West Chicago, Warrenville, Winfield, Wheaton and Carol Stream. The League of Women Voters is a non-partisan organization that does not support or oppose any political party or candidate, but whose purpose is to promote political responsibility through informed and active participation of citizens in government.
We Go Drama opens the season with Directors, Showcase featuring three one-act plays. Performances are at 7:00 p.m. Friday and Saturday, August 16 and 17, 2019, in Weyrauch Auditorium, 326 Joliet Street. The ticket price is $10 and tickets can be purchased on line at wegotheatre.com or at the door.
"One Lane Bridge" by Stephen Gregg is essentially compelling, genuinely scary and contains one moment that is very startling. The story revolves around Eric and Samantha creeping along a winding road late at night.
"The Greek Mythology Olympiaganza" by Don Zolidas involves two battling narrators attempting to cover the entirety of Greek mythology using audience participation, cross-dressing and general theatrical insanity. It is wild, silly and fun for all ages.
"Boiling People in My Coffee" by Jonathan Yukich is a ridiculous, comical, and dark examination of the unfairness and finality of dying. Faced with microscopic civilizations in their coffee and a corpse on their couch, a husband and wife attempt to cope with the loss of their son by reinventing the boundaries, rules and nature of death. (www.merleburl.com)
The 2019 Steve Scott Memorial Golf Tournament, organized by Laurie Scott-Winter, is from 8:00 a.m. to 4:00 p.m. Saturday, August 17, at Pheasant Run Golf Course, 4051 East Main Street in St. Charles. Proceeds benefit Special Olympics Illinois. The cost is $100, $350 for foursome and $50 for sponsor (non-golfers). Check in and driving range access is at 8:00 a.m., shotgun start is at 10:00 a.m. and tournament awards and raffle is at 3:00 p.m. A lunch box of hot/dog/brat, chips and drinks, plus a goodie bag is provided. There also is a bake sale, plus tents for sponsors to gather. To register or make a donation, visit https://soill.donordrive.com/index.cfm…. The deadline for registration is Thursday, August 15, and for donations Saturday, August 31. For further information, call (630) 649-1784 or email lpwinter@gmail.com.
Scott was a long time resident of West Chicago and was an employee at General Mills. He and his wife Christy raised their family here. He dedicated his time and efforts making a difference in the lives of everyone with whom he came in contact and was always happy to lend a helping hand.(www.merleburl.com)
Healthy West Chicago hosts a 5K Fun Run and 100-meter Kids Dash Saturday, August 24, 2019, at Reed-Keppler Park, 129 West National Street. Registration opens at 7:00 p.m., the Run begins at 8:30 a.m. followed by the Dash, around 9:45 a.m. The top three overall male and female runners receive a medal, as do the top runners in each age category. Age groups are 13 and under, 14 to19, 20 to 29, 30 to 39, 40 to 49, 50 to 59, 60 to 69 and 70 and over. All children in the Kiddie Dash receive finisher ribbons. The charge for the run is $25 for persons 18 and older, $20 for residents thorough Friday, August 23, 2019 and $10 for persons 17 and younger. There is no charge for the Dash, but registration is required. Persons can register on line at https://raceroster.com/events/2019/22995/healthy-west-chicago-5k-run-and-kiddie-dash or at the race location. Those registering before August 10, 2019 will receive a $5 discount on registration. All proceeds from the race will be used for Healthy West Chicago's sustainability and the continuation of community programming for West Chicago residents.
Other activities include cooking demonstrations by the Kitchen Table, a West Chicago family owned catering business; face painting and fun games on the lawn. Vendors include Midwest Strength & Performance, the Kitchen Table and Lions Panzek Martial Arts.
During the summer only Veterans of Foreign Wars Post 6791, 431 North Neltnor Boulevard, hosts bingo on Wednesdays. Doors open at 5:00 p.m., games start at 7:00 p.m. The Auxiliary games are Sundays. Doors open at noon, games start at 2:00 p.m. Bingo at American Legion Post 300, 123 Main Street, has ended Bingo for the summer and resumes Friday, September 6, 2019. However, the Wednesday and Friday Fish Fry and Thursday dinner from 3:00 to 8:00 p.m. still continue.
GardenWorks Project has an opening for a part-time academic year non-salaried internship from September 1, through June 15, 2019. Hours vary from week to week, but should equal to an average of 10 hours a week. The intern assists staff with operations and programs management, various marketing projects and database management, plus collaborates with various not-for-profit partners within the region. Applicants submit their resume and cover letter electronically to Jeannie Iseman at jeannie@gardenworksproject.org, or mail to GardenWorks Project, PO Box 615, West Chicago, IL 60186. For further information, visit www.gardenworksproject.org.
Sincere sympathy is extended to the family of Violet J. (Welter) Bergerman, who at the 93 passed away Thursday, July 25, 2019.
Deepest sympathy is expressed to the family of Alan E. Holmes, who at the age of 55 passed away, Friday, July 26, 2019.
West Chicago Community High School Special Education teacher Tyler Belding is the new Head Football Coach. He replaces Jack Rustman who recently resigned from this position. A 2002 graduate of WCCHS, Belding began his football career playing in the West Chicago Raiders park district program. In high school, Belding played football all four years, plus a wide receiver for four years at Millikin University in Decatur. He started coaching football at West Chicago in 2006 under Head Coach Bob Stone, his former football coach. With 13 years of coaching experience at the school, he looks forward to the season as the program's head coach. (www.merleburl.com)
U.S. News and World listed Northwestern Medicine Central Dupage Hospital in Winfield as one of the Top 10 regional hospitals in its 30th Annual 2019-20 Best Hospital Rankings.
West Chicago Fire Protection District responded to a report of a vehicle on fire in the driveway of 2850 Culver Lane at approximately 10:30 a.m. Tuesday, July 30, 2019. While on route to the fire, DuComm notified the responding units the fire was spreading to the garage and possibly the house. Immediately the fire was upgraded to a working fire response, bringing in additional resources. Arriving at the scene of the fire within minutes of initial alarm, firefighters worked quickly to put water on the car fire and garage. A second line was put into the home for extension and check for any possible victims inside the home. The residents, who were at home at the time of the fire and noticed a glow coming from the car, called 9-1-1. The damage was contained to the two cars, garage. There were no injuries to firefighters; one family member with non-threatening injuries was transported to an area hospital.
Assisting at the fire were firefighters from Carol Stream, St. Charles, Geneva and Bartlett, members of West Chicago Police Department and Building Department. The cause of the fire currently is under investigation by WCFPD. (www.merleburl.com)
Janet and Steve Hale celebrated their 35th Wedding Anniversary Sunday, August 4, 2019.
With the extra responsibilities during the display of Big Boy Steam Locomotive #4014, the participation in the Third Annual Special Olympics Softball Game between the West Chicago Police Department and West Chicago Fire Protection District was lower than usual. The 13 West Chicago Police Department players and the 14 West Chicago Fire Protection District players fielded a good game. Going into the eighth inning, the score was 9-4 in favor of the Fire District. Some good hitting in the eighth inning brought the score to a close 9-8 and that is how the game ended. The Fire District has won two games and the Police Department has won one. This year $500 was raised for Special Olympics Ilinois, usually it is around $2,000. Participants and guests did have a good time, enjoying a delicious meal. (www.merleburl.com)
In the Sunday, August 4, 2019, issue of the "Daily Herald," there was a photo by West Chicago resident Amanda Baum in the photography Contest in Neighbors section. She was f the July winner in the DuPage Region. Her photo was that of the moon peeking out from a building in Chicago.
At approximately 5:15 p.m. Saturday, August 3, 2019, the West Chicago Fire Protection District received a report of a fire inside an attached garage at 4N156 Wiant Road, in unincorporated West Chicago. While the firefighters were en route, DuComm notified the responding units that the homeowners were safely out of the house and a vehicle in the garage was on fire.
Arriving at the scene within five minutes of the 9-1-1 call, they observed a heavy fire going through the roof of the garage. As this was an unincorporated area, no hydrants were available. Six Tenders were called to assist in putting out the fire, bringing in more than 15,000 gallons of water. Crews worked quickly to deploy a hose line to extinguish the fire, check for fire extension within the home, and rescue a cat. The fire was contained to the garage with minimal intrusion into the home. No-one was injured.
Assisting at the fire were firefighters from Winfield, Carol Stream, Wheaton, Roselle, St. Charles, Geneva, Bloomingdale, South Elgin, and York Center. The DuPage Sheriff's Office also responded. The cause of the fire is undetermined at this time and is being investigated by the West Chicago Fire Protection District fire investigators. (www.merleburl.com)
My email address is merleburl@earthlink.net.