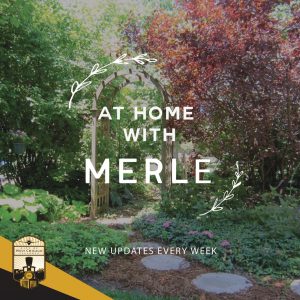 During the arctic temps we are having, it is important to dress appropriately and venture out only if you must. I must say, this is one time the dictate of wearing masks adds another layer of warmth.
AROUND AND ABOUT
The West Chicago Public Library, 118 West Washington Street, hosts a Blood Drive for Versti Blood Centers from 1:00 to 5:00 p.m. Wednesday, February 10, 2021, in the Mobile Coach in the library's parking lot. Reservations are preferred, but walk ins welcome. To register visit www.versti.org/IL or call or text Camille at (847) 305-9998. A photo ID is required. (www.merleburl.com)
Since West Chicago is in Region 8, which has moved to phase 4 of the Illinois Restore Plan, the West Chicago Park District resumes in-person fitness classes with limited capacity. Registration is required at www.we-goparks.org and masks must be worn at all times.
West Chicago Public Library holds a two-hour virtual Microsoft Excel Level 2 class at 6:00 p.m. Wednesday, February 10, 2021. Participants learn more of the basics of Microsoft Excel. To register for the class, visit https://wcpld.info, under calendar.
In partnership with Cantigny Park, the League of Women Voters of Wheaton hosts a Civics Awareness program at 7:00 p.m. Thursday, February 11, 2021. The program, presented by Evelyn Sanguinetti, Executive Director of HOPE, and Rachel Watson, Director of Outreach, is "The Past, Present and HOPEful Future of Fair Housing in DuPage County." To make a reservation visit my.lwv.org/illinois/wheaton/calendar/civic-awareness. A Zoom link to access the presentation is sent two days prior to the event. Persons can submit any questions they have to blaimins@gmail.com before the event. During the presentation, attendees use the chat box located on the bottom of the Zoom screen.
Sanguinetti is a wife, working mother of three, and an attorney by trade. Sanguinetti attended John Marshall Law School where she developed an understanding and passion for the law and for Illinois. While in law school, Sanguinetti joined the JMLS Fair Housing Legal Clinic and served as President of the Fair Housing Association. In 2014, Sanguinetti served as not only the first Latina Lieutenant Governor of the state but of the entire country. In her four years in office, Sanguinetti focused on helping to improve the lives of all Illinoisans through the delivery of more efficient government, providing health care access to all regions of the state, quality educational opportunities to all residents regardless of income or location, and economic opportunity to small businesses throughout the state.
Watson joined HOPE in September of 2019. A recent graduate from Knox College, Rachel has a background in not-for-profit and social rights work. Prior to joining HOPE, she worked at the New York City branch of the National Organization for Women, where she helped organize informational campaigns and protests in support of women and immigrant's rights, government officials across the state to educate and inform them about fair housing rights and responsibilities. In addition to providing training, Watson also helps organize HOPE special events, is responsible for all public informational material, and oversees its Retrofit Funds Distribution Program.
League of Women Voters of Wheaton includes West Chicago, Warrenville, Winfield, Wheaton and Carol Stream. The League of Women Voters is a non-partisan organization that does not support or oppose any political party or candidate, but whose purpose is to promote political responsibility through informed and active participation of citizens in government. (www.merleburl.com)
West Chicago Public Library presents a virtual "Baking with Chef Chris: Triple Chocolate Tart" at 7:00 p.m. Thursday, February 11, 2021, via Zoom. Chef Chris Thielman demonstrates how to prepare a decadent triple chocolate tart. Three types of chocolate create this chocolate lover's dream. To register, visit https://wcpld.info, under calendar .
Christopher Thielman was a professor in the Culinary and Hospitality Department at the College of DuPage in Glen Ellyn from 1987 to 2019. He has taught culinary arts, pastry arts, garde manger, sanitation classes and culinary math. He received his culinary training and Associate Degree at the Culinary Institute of America in Hyde Park, New York. He earned his Bachelor's Degree from Northeastern Illinois University and his Master's Degree in Hospitality and Tourism Management from Roosevelt University in Chicago. Chef Thielman joined the American Culinary Federation in 1988 and is currently a member of the ACF Chefs and Culinary Professionals of Chicagoland. ( www.merleburl.com)
We Grow Dreams Greenhouse and Garden Center holds it first Seed Swap from 9:00 a.m. to 2:00 p.m.Saturday, February 13, 2021. Persons can bring in extra seeds they are not using and exchange them for a different variety of seeds available at the green house. The greenhouse has four tables set up for different categories of seeds.
For persons just getting started and not having seeds to exchange, they can make a $20 donation to receive six empty envelopes and a spoon to pick their seeds. Also available are pre-made kits for a $20 donation, The selection of pre-made kits contains six different varieties of seeds. Each seed packet comes with basic instructions on how to sow. Kits available are Annual Flowers of Dianthus, Marigold, Ipomoea, Celosia., Hypoestes and Salvia; Pollinators Friends of Cosmos, Sunflower, Marigold, Cleome, Zinnia and Lavender; Herb Kit of Basil, Mint, Parsley, Cilantro, Lemon Balm and Thyme; and Vegetable Kit of Beans, Peppers, Tomatoes, Cucumber, Squash, Swiss Chard and Kale. For further information, call the greenhouse at (630) 293-0100.
The greenhouse mission is to provide people with disabilities the opportunity to lead fulfilling lives and to train and work in a supportive, safe and caring environment while producing and providing products and services to the community. In this pursuit, we honor the concepts of human dignity, respect, hard work, fellowship and friendship. (www.merleburl.com)
There is free COVID-19 testing from 8:00 a.m. to 4:00 p.m. Sunday, February 14, 2021, at Leman Middle School, 238 East Hazel Street, main entrance off of Joliet Street. No appointment is necessary. Insurance not needed. If persons have insurance, they are asked to bring their insurance card. This is made possible through the City of West Chicago, West Chicago Elementary School District 33, DuPage County Department of Health and Illinois Department of Public Health. (www.merleburl.com)
First United Methodist Church of West Chicago begins in-person worship services beginning Sunday, February 14, 2021. Reservations are required and may be made at firstumcucc.org or call (630) 231-3344. There also is a YouTube service.
Virtual Chair Yoga is the West Chicago Public Library program at 3:00 p.m. Monday, February 15, 2021. Susan from Dancing Cranes demonstrates the benefits of yoga without getting down on the floor. In an hour of Chair Yoga, persons breathe more deeply; stretch, strengthen and move their body; relieve stress and relax. To register, visit http://westchicago.evanced.info/signup/calendar. (www.merleburl.com)
League of Women Voters of Wheaton in partnership with the Wheaton Public Library holds its virtual Living Room Conversations program at 1:30 p.m. Monday, February 15, 2021, via Zoom. This month's program corresponds to the February Civic Awareness program. The conversation focuses on homelessness. To register visit my.lwv.org/illinois/wheaton/calendar.
Some of the local churches are having Ash Wednesday and Lenten services. Wednesday, February 17, 2021. Check church websites and/or Facebook for information.
First United Methodist Church of West Chicago, 603 East Washington Street has a combined worship service at 7:00 p.m. first is the recorded worship service and then the reflection, prayer and Imposition of Ashes.
St. Andrew Lutheran Church, 155 North Prince Crossing Road, offers "Ashes to Go." which are available at the church Narthex starting Wednesday, February 10. In person and Live Stream services are English at 6:00 p.m. and Spanish at 7:00 p.m.
St. Mary's Catholic Church Ash Wednesday Schedule was not ready by my Monday deadline, check stmarywc.org, Facebook page or call (630) 231-0013.
Trinity Lutheran Church, 338 George Street, Ash Wednesday service is at 7:00 p.m. Lenten services are at 7:00 p.m. Wednesdays through March 31.
West Chicago City Museum and Warrenville Historical Society present the  Historiography program, a non-fiction book reading group, at 1:00 p.m. Thursday, February 18, 2021, via Zoom. The book, which is the same as for January,  is "Braiding Sweetgrass; Indigenous Wisdom, Scientific Knowledge and the Teachings of Plants" by Robin Wall Kimmerer. The book is about plants and botany as seen through Native American traditions and Western scientific traditions. To get a copy of the book or for further information, visit Friends of West Chicago City Museum website, wegohistory.com or call (630) 231-3376. (www.merleburl.com)
The exhibit "2020," which was scheduled to open in January 2021, now opens Friday, February 12, and continues through the end of March at Gallery 200, 103 West Washington Street. The exhibit features the artwork created by Gallery artists during the COVID-19 pandemic. There is no opening reception. Gallery hours are 2:00 to 6:00 p.m. Fridays, and from 10:00 a.m. to 2:00 p.m. Saturdays.
Some of the pieces were made by artists to help them cope with their fears, pain and uncertainty during these unprecedented and worrisome times. Some of the art was produced to show that there is always beauty, even during dark times. Some of the art just plain came to be because creating art makes the artist feel better. Each artist wrote a story with each pice of their art, the ideas is to relive 2020 through the creations of the artists—art history to be remembered.
Participating artists are Margaret Bucholz, Marge Hall, Judi Horsley, Kathi Kuchler, Heide Morris, Britta Renwick, Sue Tripp and Marita Valdizan. (www.merleburl.com)
Remember to support the local businesses and restaurants. Some of the local eating establishments are having special for Valentine's Day, Sunday, February 14, 2021.
Wayne/Winfield Area Youth/Family Services offers virtual "Keep Calm and Craft" sessions, via Zoom. Times are 6:00 to 7:00 p.m. Mondays and/or 4:00 to 5:00 p.m. The charge is $5 per sessionIt is geared for for youths ages 6 through 13. For registration information, email waysintakes@gmail.com. (www.merleburl.com)
West Chicago is in the midst of creating a comprehensive plan to cover a variety of areas including land use and development, housing, economic development, transportation and infrastructure, parks and open space and community health. Residents can follow the progress on westchicagoforward.com and westchicagoaddelante.com. the first outreach activity is an online survey for residents. (www.merleburl.com)
Due to the installation of the new solar panel field, the West side of Reed-Keppler Park and both dog parks are closed until further notice.
The DuPage County Health Department developed a dashboard to provide information on the total number of people, in DuPage County, who have tested positive for COVID-19. In addition, the dashboard includes a map which shows the distribution of reported cases by municipality and is updated at 4:00 p.m. daily. DuPage County's "COVID-19 Dashboard" is a one-stop-shop for all the information it offers including a town-by-town breakdown of cases. As of 4:00 p.m. Monday, February 8 2021, there were 3,829 cases and 40 deaths; this is the number from the beginning of track recording. It is important to remember to follow the social distancing order, wear masks and wash hands.
A COVID-19 testing site is open from 8:30 a.m. to 12:30 p.m. Tuesdays and Thursdays in a VNA Health Care Mobile at St. Andrew Lutheran Church, 155 North Prince Crossing Road. There is no charge. Appointments are required and may be made at (630) 892-4355 or (847) 717-6455.
To keep residents aware of community COVID-19 updates, the City has posted West Chicago's COVID-19 COMMUNICATIONS CENTER on its website, www.westchicago.org. It is located on the upper left-hand side in red. Clicking on this, residents can see the latest information.
Sincere sympathy is expressed to the family of Nancy Ann (Rohr) Claus, who at the age of 76 passed away Tuesday, February 2, 2021.
Deepest sympathy is expressed to the family of John A. Fuja, who passed away at the age of 79 Thursday, February 4, 2021.
Sincere sympathy is extended to the family of Mauro Barbaccia, who at the age of 86 passed away Wednesday, January 27, 2021.
Deepest sympathy to the family of Steven John Henkel, who at the age of 66 passed away Thursday, February 4, 2021.
Christopher Shackelford is Interim Chief of Police of the West Chicago Police Department. He has been with West Chicago since 1998. In addition to starting off as a patrol officer, he served as a supervisor to both the patrol side and the investigations side of law enforcement. In October 2019, he was promoted to Deputy Chief. (www.merleburl.com)
Bonnie and Tom Saylor celebrated their 50th Wedding Anniversary Saturday, February 6, 2021.
West Chicago Police Department donated DuPage County Safety Kits to St. Andrew Lutheran Church for distribution of food and supplies to families in need every Saturday. (www.merleburl.com)
Sixth grade students are learning about the behavior of hot and cold molecules by doing experiments. Since labs cannot be held due to COVID-19, Mark Brown, science teacher at Leman Middle School, had one student per period do the lab as a demonstration on camera. Students in person could see it on the smart board, and students at home could see it as a zoom screen share. (www.merleburl.com)
Ward 3 Alderman Mike Ferguson submitted his resignation effective Sunday, January 31, 2021. He was not running for reelection.
West Chicago Community High School started its hybrid schedule the week of Monday, February 1, 2021. This also means the beginning of sports. Wildcat fans cans subscribe to the Wildcat Athletics YouTube for live stream of Home events in Bishop gym, https://www.youtube.com/channel/UCIQy6Np-L45BGQLWXVP1SjQ. (www.merleburl.com)
Cantigny Golf, part of the Robert R. McCormick Foundation and managed by KemperSports, announce the promotion of Matt Tullar to head golf professional, effective March 2021.
Tullar has been assistant head golf professional at Cantigny since 2010. In his new role, Tullar will oversee all golf operations including the Cantigny Golf Academy, Cantigny Youth Links, golf shop, tee time reservations and outside services. He'll manage an in-season team of about 80 staff members.
At the Monday, February 1, 2021, meeting, City Council approved the appointment of Tony Banasiak to the Plan Commission/Zoning board of Appeals. He replaces David Fraught, who resigned.
Also at the meeting, City Council approved the appointment of Joseph C. Morano for an unexpired term ending 2023. Following this, City Clerk Nancy Smith administered the Oath of Office.  Mayor Ruben Pineda said. "This is the first time a West Chicago alderman is sworn in at a Zoom meeting."
Uwe Gsdel has four pieces of artwork on display at Kindred Coffee Roasters, 148 West Washington Street. (www.merleburl.com)
My email address is merleburl@earthlink.net.