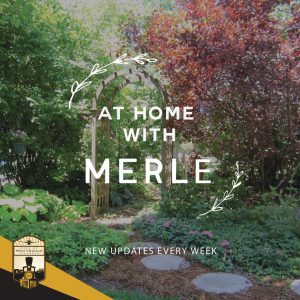 Between the weather and a virus going around, it seems like many meetings, outings or get togethers are rescheduled or postponed to an unknown date. It is the ice that causes many of the changes. The idea of falling and/or not even being able to navigate the icy surfaces. We all seem to be paying more attention to weather forecasts—hazardous weather conditions, ice storm. At least, there are fun activities to attend in the future, if we all can agree on a date. There is a ray of hope on the horizon—only 35 days until the first day of Spring.
AROUND AND ABOUT
Gallery Theater, 129 Main Street, presents "Harvey" by Mary Chase. Performances are at 7:30 p.m. Fridays and Saturdays February 15, 16, 22, 23, and March 1 and 2, and at 3:00 p.m. Sundays, February 17, 24, and March 3, 2019. The ticket price is $16, $14 for senior citizens. To make a reservation, email GalleryTickets@gmail.com, on the website www.gallerytheaterstudio.com or call the box office at (630) 234-5919.
A timeless comedy classic, this is the story of Elwood P. Dowd and his friend Harvey, an invisible six-and-a-half-foot rabbit. Set in the 1940s, as is the case with many classics, the messages it delivers are timeless. Dowd insists on including his friend Harvey in all of his sister's social gatherings. To avoid future embarrassment for her family, especially for her daughter, Myrtle Mae, Veta decides to have Elwood committed to a sanitarium. At the sanitarium, a frantic Veta explains to the staff that years of living with Elwood's hallucination have caused her to see Harvey also. The doctors mistakenly commit her instead of Elwood. Veta finally is freed, and the search is on for Elwood, who returns to the sanitarium looking for Harvey. But it seems that Elwood and his invisible companion have had a strange influence on more than one of the doctors,
Members of the cast are Toria Hollyn, West Chicago residents Therese Harrold and David Reynolds, Ric Holloman, Anne Laurie Jean-Jacques, Carolyn Larsen, Olivia Cuff, Dan Knauf, John Frankenthal, Rhys Read, Ann Myrna and Salvador Velasco. The director is Jack Smith.
Baby, it's cold outside, but the frigid temperatures are not going to deter West Chicago Police Detective Robbi Peterson from participating in the 2019 Law Enforcement Torch Run Polar Plunge Friday and Saturday, February 15 and 16. This is the second year he has committed to "be bold and cold" for 24 hours taking a plunge every hour into Lake Michigan. Peterson said, "Many people thought I had a screw loose last year when I signed up to voluntarily jump into Lake Michigan 24 times over the course of 24 hours. Well, maybe I do have a few loose because I did it again." Funds raised benefit Special Olympics Illinois. Peterson has set a personal fundraising goal of $5,000. To help him meet this goal, persons can make donations at
https://soill.donordrive.com/index.cfm?fuseaction=donorDrive.participant&participantID=45190.
Donations also can be by check made payable to Special Olympics Illinois. In order for him to receive credit for donations, put the name Robbi Peterson in the memo portion of the check. Persons can either drop off the check or mail it to West Chicago Police Department, 325 Spencer Street, West Chicago, IL 60185. Peterson said, "Yes, I am crazy! But this is a great way to get our 2019 fundraising on behalf of Special Olympics Illinois and the Law Enforcement Torch Run off to a great start." The donations provide athletes with intellectual disabilities the opportunity to participate in Special Olympics programs and reveal their inner champion. To date, Peterson has $1,980 in donations.
Gallery Theater, 129 Main Street, is holding auditions for its next play, "The Dining Room," by A. R. Gurney. The director is Tom Rieser. Auditions take place from 7:00 to 9:00 p.m. Sunday, February 17, and from 7:00 to 8:30 p.m. Monday, February, 18, 2019.  The director is looking for four men and four women to play 57 roles. Additional actors may be cast. Performance dates are Fridays and Saturdays, April 5, 6, 12 and 13, and Sundays, April 7 and 14. To set up a time or for more information, email galleryauditions@gmail.net or call (630) 234-5919.
Per the press release, "The play is set in the dining room of a typical well-to-do household, the place where the family assembled daily for breakfast and dinner and for any and all special occasions. The action is composed of a mosaic of interrelated and overlapping scenes—some funny, some touching, some rueful. The actors change roles, personalities and ages with virtuoso skill as they portray a wide variety of characters, from little boys to stern grandfathers, and from giggling teenage girls to Irish housemaids."
West Chicago Public Library holds a Managing Your Photos class at 2:00 p.m. Tuesday, February 19, 2019, in the conference room 118 West Washington Street. The class offers tips and assistance on storing, importing, labeling and organizing photos. Participants bring their smartphone or tablet and need to have necessary password/s. To make a reservation, call the adult services department at (630) 231-1500, extension 4.
West Chicago Fire Protection District offers three different CPR classes. One is for Family and Friends, ideal for community groups, organizations and individuals. The cost is $40 per person. The second is Heartsaver AED for persons with little or no medical training, who need a course completion for a job, regulatory such as OSHA or other requirements. The cost is $60 per person. The third class is BLS for Healthcare providers and teaches both single user and team basic life support for application in both pre-hospital and in-facility environments. The cost is $85 per person. Also Heartsaver AED with First Aid is offered at request with a cost of $75 per person. Classes take place at the district training academy, 320 Kress Road. Onsite training may be requested for facilities within the boundaries of the WCFPD.
The training sessions for 2019 are scheduled for Family and Friends, February 19, October 29 and November 26; for Heartsaver AED, March 12 and September 17; and for BLS for Healthcare Givers, April 23 and August 27. To sign up for a class, request an additional site or location or more information, email monroe@wegofpd.org, mbuenrostrojr@wegofpd.org, or call (630) 231-2123.
The West Chicago Public Library hosts Oscar Trivia Night at 7:00 p.m. Wednesday, February 20, in the main meeting room, 118 West Washington Street. The evening includes facts and film clips for Trivia fun and answers. To make a registration call adult service at (630) 231-1500, extension 4.
We Grow Dreams Greenhouse and Garden Center, a not-for-profit organization, hosts its 14th Annual Bowl-A-Thon from 1:00 to 5:00 p.m. Sunday, February 24, 2019, at Wheaton Bowl, 2031 North Gary Avenue. Persons bowl three games; there are prizes for various levels of achievement. Additionally, there is food, raffles and auction items. For further information, to register for the Bowl-A-Thon, purchase raffle tickets or make a donation, persons may drop by the greenhouse, 1055 West Washington Street, call (630) 293-0100, or visit the website www.wegrowdreams.org. The green house provides job training and employment opportunities for persons with disabilities. (www.merleburl.com)
Also, the greenhouse now needs funds for repair and new equipment because of the recent snow storms. Executive director Greg Bettcher explained, Due to the excessive snow, the roof of a brand new hoop house collapsed. Additionally, there are gas leaks in 3 heaters. Two had to be shut down in houses being prepared to receive pots and plants in the next few weeks; the growing season has to start soon, "But we are at risk of losing so much if our equipment fails. Winter is a difficult time for greenhouses — lots of expenses for supplies, plants and seeds, and no return of cash flow until May. Major expenses for growing houses and equipment could not come at a worse time" To donate for this cause, visit the greenhouse at 1055 West Washington Street; mail a check to PO Box 861, West Chicago, IL 60185; or visit the webpage www.wegrowdreams.org, under donate.
The greenhouse mission is to provide people with disabilities the opportunity to lead fulfilling lives and to train and work in a supportive, safe and caring environment while producing and providing products and services to the community. In this pursuit, we honor the concepts of human dignity, respect, hard work, fellowship and friendship. For further information, call (630) 293-0100.
West Chicago Park District holds a two-hour Rules of the Road Class at 1:30 p.m. Tuesday, February 26, 2019, at the ARC, 201 West National Street. An instructor from the Secretary of State's office teaches the course. To make a reservation, do so in person at the ARC or online at www.we-goparks.org.
Due to inclement weather conditions Wednesday, January 30, 2019, the West Chicago Public Library rescheduled the program, "Sheep to Chic: Fiber Art Program" to 7:00 p.m. Wednesday, February 27, 2019, in the main meeting room, 118 West Washington Street. Natasha Lehrer Lewis, a fiber artist and educator, tells about Esther's Place, her working farm and art retreat, and the processes for which she uses her sheep and farmland to create art inspired by the intersection of art and industry. The presentation includes hands-on participation, personal anecdotes and examples of her body of work. Esther's Place is a small farm in Big Rock where individuals can create and purchase crafts from wool, attend classes, parties, and retreats. To make a reservation, call adult services department at (630) 231-1552, extension 4.
The program, "Starry Skies in West Chicago," presents facts about environmentally responsible community lighting. It is at 7:00 p.m. Wednesday, February 27, 2019, at Ball Horticultural Company, 622 Town Road. Presenting the program is Drew Carhart, a board member of Illinois Coalition for Responsible Outdoor Lighting.
West Chicago Community High School seeks nominations for the 2019 Distinguished Alumni Award. The purpose of the program is to recognize West Chicago Community High School graduates whose accomplishments serve as an inspiration for current students to dream and achieve.
Nomination deadline is Tuesday, May 1, 2019. The nominee must be a graduate of the high school for at least 10 years prior to the nomination, be distinguished by accomplishments in academics, the arts, athletics, business, community service, the environment, human rights, justice, medicine, research or science that reflect outstanding ability and dedication which contributes to the betterment of the community. Also the nominee must be available by telephone, email or in-person interview by the selection committee, willing to participate in the Distinguished Alumni Award Ceremony, willing to submit a photograph and available to interact with WCCHS students in a forum, seminar or assembly.
To submit a nomination, visit www.d94.org/distinguishedalumni. For further information call Sherry Bowne at (630) 890-9716.
Past honorees are 2008, Kirk Johnson, Class of 1998, Human Rights; 2009, Pam Kuhl Davis, Class of 1967, Justice; 2010, Michael Lach, Class of 1986, Education, and Tom Marziani, Class of 1943, Entrepreneurship; 2011, Butch Hansen, Class of 1955, Education, and Scott Dierking, Class of 1973, Athletics; 2014, Beth Barrett, Class of 1986, Visual Arts; 2015, Ray Stejskal, Class of 1982, Community Service; 2016, Chris Voelz, Class of 1966, Athletics; 2018, Bruce Guevara, Class of 2006, Entrepreneurship, and Dr. Don Stockton, Class of 1979, Academic Leadership.
Sincere sympathy is extended to the family of JoAnn Kerstein, who at the age of 78 passed away, Monday, February 4, 2019.
Deepest sympathy to the family of Erik Gosselink, who at the age of 42 passed away Friday, February 1, 2019.
Sincere sympathy is extended to the family of Karen Gangestad, who at the age of 78 passed away Wednesday, February 6, 2019.
Deepest sympathy to the family of Robert W. Ebener, who at the age of 92 passed away Thursday, February 7, 2019.
Sincere sympathy is extended to the family of Morrie Teal, who passed away Sunday, February 3, 2019.
Deepest sympathy is expressed to the family of Donna Deiter Williams, who at the age of 81 passed away, Friday, February 8, 2019.
Sincere sympathy is extended to the family of Greg T, True, who at the age of 67 passed away Saturday, January 12.
"Wildcat Chronicle" of West Chicago Community High School is the recipient of the Crown Award from the Columbia Scholastic Press Association. The association stated, "This award that you and your staff have earned indicates the publication they produced ranks among the best in student journalism." The award presentation takes place during the Awards Convocation Friday, March 22, 2019, at Columbia University in New York City, where the "Wild Cat Chronicle will receive either a Gold or Silver Crown Award. (www.merleburl.com)
Ninety-two West Chicago Community High School students were recognized for their successes and contributions to the school during the Breakfast of Champions Friday, February 1, 2019. Teachers or other staff members nominated the students and used the criteria of demonstrating significant academic improvement, making a unique or difficult contribution to a class, the school or the community, overcoming a significant challenge, dealing maturely with a hardship, improving the positive climate of the classroom or the school and providing support for a peer.
Recipients were Nicole Augustyniak, Kelly Hamilton, Grace Schumann, Kelly Wade, Dylan Walsh, Kathryn Wenberg, Trevor Zbinovec, Maimouna Abdoulaye, Alejandra Aguilar, Ariana Alcantar, Mariana Alfaro, Salma Avalos, Josh Bangert, JB Baptista, Giovanni Benitez, Misael Borjon, Danny Boyce, Cielo Cabael-Castro, Jonathan Calderon, Atalie Carlos, Gabby Castillo, Israel Centeno, Jr. and Josue Chavez, Teegan Cook, Bianca Correa and Jacqueline Correa.
Others were Leslie Correa, Brian Cuiriz, Irene Dino, Abigail Escamilla, Cristina Espino, Angelina Flores, Jasmine Garcia, Jordan Garcia, Julisa Garcia, Krystal Garcia, Gladys Gomez, Maria Gomez, Alessandro Guasta, Carol Guerrero, Jacob Gulbro, Dylan Gutierrez, Maxwell Harris, Marco Hernandez, Judith Hinojosa, Saul Hinojosa, Reimaz Jarka, Elliott Jayson, and Melvin Jimenez,
Recipients also were Jeffrey Juarez, Yuliana Jurado, Karsten Krahenbuhl, Luke Krogh, Roberto Martinez, Michael McElligott, Valeria Medina, Grace Miller, Ambur Momon, Vanessa Montenegro, Suleima Montoya, Moises Morfin, Thian Nei, Carlos O'Campo, Isaias Palacios, Valerie Perez, Yaquelin Pineda, Dulce Preciado, Sebastian Quezada, Norberto Rivera, Alexis Rodriguez, Cielo Romero and Denise Sanchez.
Also receiving certificates were Diquan Sanders, Yajaira Santillan-Contreras, Caleb Shade, Spencer Schramer, Lilabeth Sokolewicz, Lian Thang, Kyle Upham, Ashley Vazquez, Andrea Vera, David White, LaToya Wright, Yassine Yakhoub, Kevin Zarate, and Eriberto Zarco.Charlie Baumgartner, Lilly Hansen, Nate Linhardt, Emil Lutfiyev, Daniel Padilla-Pereda, and Jazmin Wilkins.
West Chicago Community High School Music Department hosted students from Benjamin Middle School, Leman Middle School and Winfield Central School at its Second Annual Music Festival
Wednesday, January 9, 2019.  High school students from Symphonic Band, Symphony Orchestra, Concert Choir, and Women's Chorale joined middle school students as they participated in master classes with professional musicians, large ensemble rehearsals led by the high school conductors, and a panel discussion with a few of the high school music students about WCCHS high school programs. They also had an opportunity to hear the high school groups perform and performed in a concert that evening showcasing their work from the festival rehearsals. More than 225 students participated in this whole-day experience, which worked in conjunction with the high school courses to continue to provide music education to benefit students beyond the traditional classroom for long-term positive effects.
The Music Festival was created in an effort to increase our students' musical, academic, and social development beyond the classroom. The festival was funded in part by a grant from the JCS Fund of the DuPage Foundation.  The JCS Fund of the DuPage Foundation supports the arts, particularly, music and visual art programs. (www.merleburl.com)
Christian Rivera was appointed to the West Chicago Elementary School District 33 Board of Education He was sworn in as a member at the Thursday, February 7, 2019 board meeting. He replaces Karina Villa, who now is state representative for IL District 49. At this time, the board was reorganized and Dr. Brenda Vishanoff was elected vice president. Other members are Gil Wagner, President; Phebe Balzer, Secretary; Dave Barclay, Kalpesh Dave and Chad McLean. (www.merleburl.com)
West Chicago resident Grace Beifuss appeared in a NBC "Chicago Fire" episode Wednesday, February 6, 2019.
With a 12-2 vote, City Council approved a contract for City Museum management services with Phalen Consulting Inc.at the Monday, February 4, 2019 meeting. As proposed, the annual fee increases five percent to $88,200. Voting against the resolution were Ward 2 Aldermen Heather Brown and Al Hallett. Phalen Consulting has been managing the City Museum since 2012.
Teddy Kufta celebrated her 99th birthday Wednesday, February 6, 2019.
My email address is merleburl@earthlink.net.