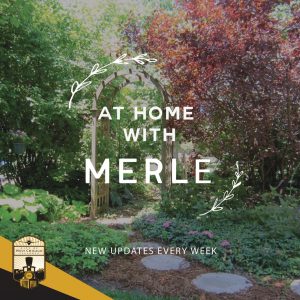 I have always liked the color purple as it reminds me of blooming spring flowers such as lilacs, irises and crocuses. However, I find it disconcerting to look at a weather map and see our area is in a purple zone; that color is supposed to be confined to upper Minnesota and the Dakotas. It does make one realize just how cold our temperatures are. We are accustomed to the blue color in winter. Well, I am going to think purple and spring. It is coming. Keep warm!
AROUND AND ABOUT
Some of the local churches are having Ash Wednesday and Lenten services. Wednesday, February 17, 2021. Check church websites and/or Facebook for information.
Faith Community Church, 910 Main Street, Lenten service is at 6:30 p.m.
First United Methodist Church of West Chicago, 603 East Washington Street, has a combined worship service at 7:00 p.m. first is the recorded worship service and then the reflection, prayer and Imposition of Ashes.
St. Andrew Lutheran Church, 155 North Prince Crossing Road, offers "Ashes to Go" with ashes available at the church Narthex. In person and Live Stream services are English at 6:00 p.m. and Spanish at 7:00 p.m.
St. Mary's Catholic Church, 140 North Oakwood Avenue, Ash Wednesday Imposition of Ashes begins at 7:30 a.m. in the vestibule of the new church.
Trinity Lutheran Church, 338 George Street, Ash Wednesday service is at 7:00 p.m. Lenten services are at 7:00 p.m. Wednesdays through March 31.
In addition to its regular menu items, American Legion Post 300, 123 Main Street, has special dinners and the Friday Fish Fry. Hours are 4:00 to 8:00 p.m. Tuesday through Friday. Upcoming special menus are Vodka sauce tortellini, February 17; Chicken Kabob, February 18; Polish Kielbasa, February 24; Rigatoni with sausage, February 26; Beefy pasta casserole, March 3; Meat loaf, March 5; and Chicken and dumplings, March 10. To pre-order, cal (630) 231-2112.
The West Chicago Public Library, 118 West Washington Street, is open for in-person services. The following services are available curbside pickup, technology usage appointments, which include computer, copier, scanner of fax, and Grab and Go appointments for 30 minute self-service appointments to browse and check out library materials. To view the curbside pickup schedule or to make a technology usage or Grab and Grow appointment, visit wcpld.info/important-covid-update-2/. (www.merleburl.com)
The exhibit "2020," which was scheduled to open in January 2021, now opens Friday, February 12, and continues through the end of March at Gallery 200, 103 West Washington Street. The exhibit features the artwork created by Gallery artists during the COVID-19 pandemic . There is no opening reception. Gallery hours are 2:00 to 6:00 p.m. Fridays and from 10:00 a.m. to 2:00 p.m. Saturdays.
Some of the pieces were made by artists to help them cope with their fears, pain and uncertainty during these unprecedented and worrisome times. Some of the art was produced to show that there is always beauty, even during dark times. Some of the art just came to be because creating art makes the artist feel better. Each artist wrote a story with each piece of their art. The idea is to relive 2020 through the creations of the artists – art history to be remembered.
Participating artists are Margaret Bucholz, Marge Hall, Judi Horsley, Kathi Kuchler, Heide Morris, Britta Renwick, Sue Tripp and Marita Valdizan.
St. Andrew Lutheran Church holds Lent Bible Studies at 9:00 a.m. Sundays, beginning February 21, 2021, via Zoom.
The deadline for the West Chicago Cultural Arts Commission annual Community Banner Project Competition is extended to Monday, February 22, 2021. The theme is "Take Flight." The artwork may be any media with no limitation to technique or subject matter. An independent juror selects the works of art. Each winning design is reproduced and featured in the 2021 West Chicago Banner Exhibition from May to September. An entry is comprised of up to 3 JPEG images at 72 dpi measuring (h) 7" x (w) 5." All files should be numbered and named with the artist's last name and first name. Ex.: 01Lastname_Firstname.jpg and submitted via an online form. All entries must be original and created within two years of entry date. Information details are available at www.westchicago.org/art. Call Rosemary Mackey at (630) 293-2200, extension 139, for more information. (www.merleburl.com)
The First Division Museum at Cantigny Park continues its Date with History series with a virtual program about Operation Desert Storm at 7:00 p.m. Thursday, February 24, 2021. Presenting the program is Colonel (Retired) L. Scott Lingamfelte. The program is free, but registration is required at FDMuseum.org.
When Saddam Hussein's Iraq invaded Kuwait in 1990, triggering the First Gulf War, a coalition of 35 countries led by the United States responded with Operation Desert Storm, a successful 100-hour coordinated air strike and ground assault. An eight-day barrage of artillery fire made this seemingly rapid offensive possible. At the forefront were the brave field artillerymen known as "redlegs" in support of the 1st Infantry Division's ("Big Red One") attack on Iraqi positions.
The author holds degrees from Penn State University and John Hopkins University. He has written for "American History" magazine among other publications and is the author of more than a dozen books on military history topics. In his 2020 book, "Desert Redleg: Artillery Warfare in the First Gulf War," Lingamfelter, a redly himself, recounts the logistical and strategic decisions that led to a coalition victory, offering a boots-on-the-ground perspective on the largest US artillery bombardment since World War II.
The date for the West Chicago City Museum and Warrenville Historical Society's Historiography program, a non-fiction book reading group,  is changed to 1:00 p.m. Thursday, February 25, 2021, via Zoom. The book, which is the same as for January,  is "Braiding Sweetgrass; Indigenous Wisdom, Scientific Knowledge and the Teachings of Plants" by Robin Wall Kimmerer. The book is about plants and botany as seen through Native American traditions and Western scientific traditions. To get a copy of the book or for further information, visit Friends of West Chicago City Museum website, wegohistory.com or call (630) 231-3376.
West Chicago Public Library presents "Getting Crafty: Yarn Wall Hanging" at 6:00 p.m. Thursday, February 25, 2021, via Zoom. The program involves the demonstration of creating a wall hanging art out of yarn and a wooden peg. To register for the program, visit wcpld.info, under calendar. The first 34 patrons to register received bag of supplies that can be picked up at the library, 118 West Washington Street.
To celebrate Black History month, Black Parents Teachers Association in West Chicago Elementary School District 33, hosts a virtual program from 6:00 to 8:00 p.m. Thursday, February 25, 2021. The organization is partnering with prominent museum curators and restoration experts from Tuskegee University, Superman College and Yale University to provide an unforgettable experience in celebrating the special month. (www.merleburl.com)
The West Chicago Garden Club meeting is at 7:00 p.m. Thursday, February 28, 2021, via Zoom. The speaker is Sharon Yielsa, owner of Sharon Yielsa Horticultural Services.
The DuPage County Clerk's Office is accepting applications for vote by mail ballots for the Consolidated Election Tuesday, April 6, 2021. Up for election are officials in the City of West Chicago, West Chicago Public Library District, West Chicago  Park District, West Chicago Elementary School District 33, Community High School District 94, and Benjamin School District 25, College of DuPage, Regional Board of Schools, and  Wayne and Winfield Townships.
 Persons can fill out the application online at www.dupageco.org.Election/Vote; by mail, download the file at www.dupageco.org/Electio/Voting/37064/,click "Vote by Mail Application"; pick up at County Complex, 421 North County Farm Road ,or call (630) 467-5600. After receiving form, persons should complete and mail as soon as possible. When they become available ballots are mailed. Once persons have their vote by mail ballot, they can choose whether to return the completed ballot by mail or turn the blank ballot in at their polling place to vote in person
Wayne/Winfield Area Youth/Family Services offers virtual "Keep Calm and Craft" sessions, via Zoom. Times are 6:00 to 7:00 p.m. Mondays and/or 4:00 to 5:00 p.m. The charge is $5 per sessionIt is geared for youths ages 6 through 13. For registration information, email waysintakes@gmail.com. (www.merleburl.com)
West Chicago is in the midst of creating a comprehensive plan to cover a variety of areas including land use and development, housing, economic development, transportation and infrastructure, parks and open space and community health. Residents can follow the progress on westchicagoforward.com and westchicagoaddelante.com. The first outreach activity is an online survey for residents which may be found at the websites noted above. (www.merleburl.com)
The DuPage County Health Department developed a dashboard to provide information on the total number of people, in DuPage County, who have tested positive for COVID-19. In addition, the dashboard includes a map which shows the distribution of reported cases by municipality and is updated at 4:00 p.m. daily. DuPage County's "COVID-19 Dashboard" is a one-stop-shop for all the information it offers including a town-by-town breakdown of cases. As of 4:00 p.m. Monday, February 15, 2021, there were 3,860 cases and 42 deaths; this is the number from the beginning of track recording. It is important to remember to follow the social distancing order, wear masks and wash hands.
A COVID-19 testing site is open from 8:30 a.m. to 12:30 p.m. Tuesdays and Thursdays in a VNA Health Care Mobile at St. Andrew Lutheran Church, 155 North Prince Crossing Road. There is no charge. Appointments are required and may be made at (630) 892-4355 or (847) 717-6455.
To keep residents aware of community COVID-19 updates, the City has posted West Chicago's COVID-19 COMMUNICATIONS CENTER on its website, www.westchicago.org. It is located on the upper left-hand side in red. Clicking on this, residents can see the latest information.
Sincere sympathy is extended to the family of Monika Eva Maria Martin, who at the age of 69 passed away Friday, February 5, 2021.
Deepest sympathy is expressed to the family of Richard A. Rolseth, who at the age of 79 passed away Thursday, February 11, 2021.
In Burt Constable's column of the Tuesday, February 9, 2021, issue of the Daily Herald, the highlight is on Ball Horticultural Company. With the COVID-19 pandemic, more persons turned to gardening, especially vegetables. The company has been sowing seeds for the 2021 season.
West Chicago resident John Banas is the author of "Storm Surge," a novel of intrigue set in post-Katrina New Orleans. It is the story of Don and Brenda Meyers, a couple on the marital bubble, separated by a killer hurricane. Brenda is in New Orleans on a high risk assignment. Against all odds Don and his neighbor head to New Orleans to rescue Brenda and bring her home. The city of New Orleans is reduced to gang rule, the incompetence of a Government Agency and a police officer accused of the highest form of corruption. Banas Served as Seventh Ward Alderman from May 2013 through April 2017.(www.merleburl.com)
DuPage County State's Attorney Robert Berlin and West Chicago Interim Chief of Police Chris Shackelford recently announced that bond has been denied for a DeKalb man accused of shooting an innocent man during his dinner break from work. Ahmad Steele, 34 of the 1400 block of Twombly Road, appeared in Bond Court where Judge Craig Belford denied bond. Steele is charged with one count of Attempt Murder and one count of Aggravated Battery with a Firearm. Both Counts are a Class X Felony with the Attempt Murder charge carrying a mandatory firearm add-on of twenty-five years up to natural life.
At approximately 7:50 p.m. Thursday, January 28, 2021, West Chicago Police Department officers responded to Mapei Corporation, 530 Industrial Drive, for a report of a subject with a facial injury. Upon their arrival, officers discovered the victim walking around the building's parking lot suffering from an apparent gunshot wound to his face. An investigation into the shooting found that the victim had been sitting in his vehicle in the parking lot during his dinner break.
It is alleged that at approximately 7:30 p.m., an SUV entered the parking lot and parked several spaces away from the victim. It is alleged that the driver of the SUV, later identified as Steele, left his vehicle and walked toward the victim's vehicle carrying a shotgun. It is alleged that Steele approached the driver's side of the victim's vehicle, raised the shotgun and fired into the vehicle, shooting the victim, whom he did not know, in the face. It is further alleged that Steele then returned to his vehicle, but then went back to the victim's vehicle and raised the shotgun at the vehicle a second time before fleeing in his SUV. The victim was immediately transported to a local hospital and is currently in critical condition.
Saturday, February 6, the Naperville Police Department observed an SUV suspected to be involved in the shooting driving on Route 59. Officers conducted a traffic stop on the vehicle at Route 59 and Ogden Avenue. The driver of the vehicle, Ahmad Steele, was allegedly driving on a revoked driver's license and taken into custody at this time. Wednesday, February 9, a search warrant executed at the defendant's residence yielded a shotgun and shotgun shells. Officers also learned that Steele allegedly had recently searched the Internet for unsolved murders and recent homicides in DuPage County, Chicago and the surrounding suburbs.
"The allegations against Mr. Steele are extremely disturbing," Berlin said. "This unwarranted alleged random attack against an unsuspecting, innocent man, whose life has been forever changed, will be strenuously prosecuted to the fullest extent of the law. The charges filed today against Mr. Steele are the direct result of the truly outstanding police work of the West Chicago Police Department and the assistance of the always vigilant Naperville Police Department. I commend both of these police departments for their efforts. I would like to thank the DuPage County Sheriff's Office, the DuPage County Sheriff's Forensic Investigations Unit, the DuPage County Metropolitan Emergency Response & Investigation Team, the DeKalb Police Department, the Department of Justice Bureau of Alcohol, Tobacco, Firearms and Explosives, the FBI Chicago Regional Forensics Computer Lab, Illinois State Police Crime Laboratory, United States Homeland Security Investigations and the United States Secret Service. I would also like to thank Assistant State's Attorney Helen Kapas for her efforts in preparing a strong case against Mr. Steele."
"Thanks to the sustained efforts of the members of the Metropolitan Emergency Response and Investigations Team, the members of the West Chicago Police Department and the State's Attorney's Office, aided by the diligence of members of the Naperville Police Department, the victim and his family can find some measure of peace knowing the person allegedly responsible for this act will have to answer for his actions in a court of law," Shackelford said.
Steele's next court appearance is scheduled for Monday, March 8, 2021 for arraignment in front of Judge Daniel Guerin.
West Chicago resident Uwe Gsdel displays 12 photographs in the new guest room at Biscuits & Gravy, 110 South Neltnor Boulevard. (www.merleburl.com)
In the morning Monday, February 15, 2021, a train derailed on the Canadian National Railroad tracks, just north of Washington Street. The crossings at Washington, church and Ann Streets were all blocked. Since this had an effect on Union Pacific tracks, Metra customers were being bused between Geneva and West Chicago. By approximately 2:30 p.m. Union Pacific trains were running; Monday evening CN was continuing to work on its railway tracks. (www.merleburl.com)
Usually when a new alderman takes the oath of office, I get his contact information in order to give residents a little information on the new alderman. However, since Joseph Morano was sworn in via Zoom, I could not get contact information. He did submit a letter to Mayor Ruben Pineda when applying for the position. Thus, the information is from his letter.
After graduation from high school, he enlisted in the United States Air Force and became a Missile Maintenance Technician and then went on to Southern Illinois University in Carbondale to study communications. Morano worked in sales management for 12 years. He has been an account executive for six years.
As a sales manager he also reviewed Profit and Loss reports to monitor controllable expenses and conducted district wide training. Currently he works with law firms, health care facilities and municipalities to improve work flows, vendor consolidation and procurement.
Public service has always been a passion of his. While in the Air Force Morano would spend his spare time on special projects to improve life on base. Now he sits on the board for Cornerstone Lakes. "While on the board my passion for serving the community has grown. I have found that in victory and even the rare occasion that something we vote on doesn't go my way, I go to bed knowing that I did everything I could to help our neighborhood and that's what really drives me."
Morano and his wife, Lucy, and their triplets have grown up and lived in and around West Chicago most of their lives.
With the collaboration of Jewel-Osco in West Chicago, West Chicago Community High School, West Chicago Elementary School District 33, Benjamin School District 25, Winfield School District 34, Mayor Ruben Pineda, State Senator Karina Villa and all the volunteers from the school districts, the COVID-19 vaccination clinic Friday, February 12, 2021, at the high school was a success. The preliminary numbers show approximately 2,300 vaccines were administered, about 80 volunteers of which several stayed for the full 12 hours and a 105 year-old woman received the shot. (www.merleburl.com)
My email is merlebur@earthlink.net.