During halftime at the basketball game between West Chicago Community High School and South Elgin Friday, February 15, 2019, Steve Bennier, Commander of Veterans of Foreign Wars Post 6791, presented the annual Randall Jacob Football Medal and Trophy to Joe Orr, a senior at the high school. At the end of each football season, the coaches nominate the team player who best personifies the positive qualities that Jacob consistently displayed—athletics, academics and leadership.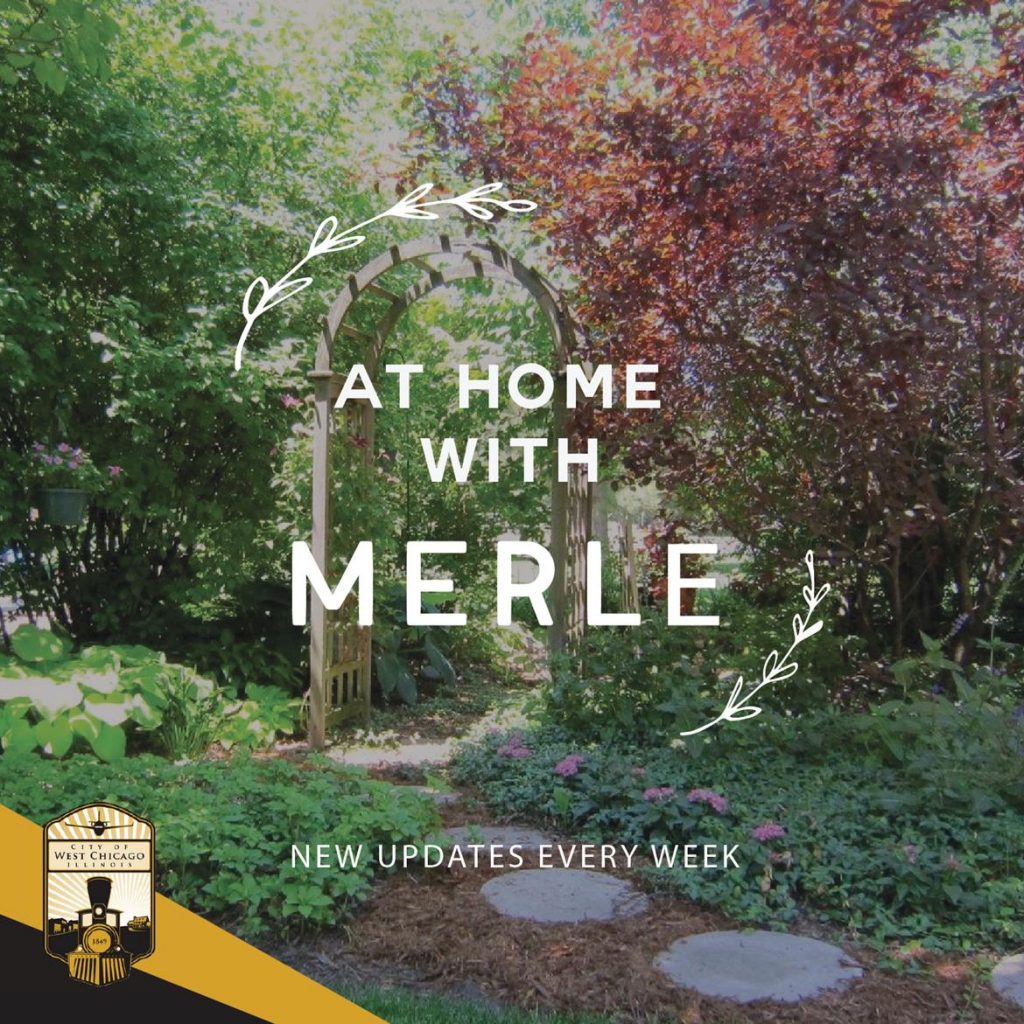 Head football coach Jack Rustman said, "Joe is a three-year starter and is the team captain. He is a leader in action and words. His team members look up to him. Joe also performed well in academics and is on the honor roll. He keeps his priorities straight. He truly does deserve the Randall Jacobs Award."
Sponsored by VFW Post 6791, the award has been in existence since 1976. The trophy, with the names of recipients inscribed on the nameplate, is permanently on display at the high school. Jacob was a 1964 graduate of West Chicago Community High School, where he was class president, participated in a variety of school groups and organizations and lettered four times in football and three times in track. In 1967, he was killed in action during the Vietnam War. (www.merleburl.com)
AROUND AND ABOUT
Gallery Theater, 129 Main Street, presents "Harvey" by Mary Chase. Performances are at 7:30 p.m. Fridays and Saturdays February 22, 23, and March 1 and 2, and at 3:00 p.m. Sundays, February 24, and March 3, 2019. The ticket price is $16, $14 for senior citizens. To make a reservation, email GalleryTickets@gmail.com, on the website www.gallerytheaterstudio.com or call the box office at (630) 234-5919.
A timeless comedy classic, this is the story of Elwood P. Dowd and his friend Harvey, an invisible six-and-a-half-foot rabbit. Set in the 1940s, as is the case with many classics, the messages it delivers are timeless. Dowd insists on including his friend Harvey in all of his sister's social gatherings. To avoid future embarrassment for her family, especially for her daughter, Myrtle Mae, Veta decides to have Elwood committed to a sanitarium. At the sanitarium, a frantic Veta explains to the staff that years of living with Elwood's hallucination have caused her to see Harvey also.The doctors mistakenly commit her instead of Elwood. Veta finally is freed, and the search is on for Elwood, who returns to the sanitarium looking for Harvey. But it seems that Elwood and his invisible companion have had a strange influence on more than one of the doctors,
Members of the cast are Toria Hollyn, West Chicago residents Therese Harrold and David Reynolds, Ric Holloman, Anne Laurie Jean-Jacques, Carolyn Larsen, Olivia Cuff, Dan Knauf, John Frankenthal, Rhys Read, Ann Myrna and Salvador Velasco. The director is Jack Smith. (www.merleburl.com)
Coffee with the Mayor is from 9:00 to 11:00 a.m. Saturday, February 23, 2019, at City Hall, 475 Main Street.
We Grow Dreams Greenhouse and Garden Center, a not-for-profit organization, will host its 14th Annual Bowl-A-Thon from 1:00 to 5:00 p.m. Sunday, February 24, 2019, at Wheaton Bowl, 2031 North Gary Avenue. Persons bowl three games; there are prizes for various levels of achievement. Additionally, there is food, raffles and auction items. Big raffle prizes are four one-way Southwest Airlines (can be combined into 2 round-trip tickets) anywhere in US, US territories including Puerto Rico; Apple iPad (Latest Generation) Wi-Fi, 128 GB, 9.7″retina display, touch ID, Facetime HD camera, iOS12; Nintendo Switch Gaming System with Super Mario Odyssey game; and Apple Watch Series 4 with a silver aluminum case and seashell sport loop band. Tickets are $10 each, six for $50.
For further information, to register for the Bowl-A-Thon, purchase raffle tickets or make a donation, persons may drop by the Greenhouse, 1055 West Washington Street, call (630) 293-0100, or visit the website www.wegrowdreams.org. The Greenhouse provides job training and employment opportunities for persons with disabilities.
The Greenhouse mission is to provide people with disabilities the opportunity to lead fulfilling lives and to train and work in a supportive, safe and caring environment while producing and providing products and services to the community. In this pursuit, we honor the concepts of human dignity, respect, hard work, fellowship and friendship. For further information, call (630) 293-0100.
Wayne/Winfield Area Youth/Family Services offers hour-long computer classes for senior citizens at Wayne Township, 27W031 North Avenue. Not only do seniors learn basic skills, but also have the opportunity to socialize. The fee is $2. Reservations are required and may be made by calling (630) 231-7166. Beginner classes are at 1:00 p.m. Tuesdays. "Introduction to Facebook" class is at 4:00 p.m. Monday, February 25, 2019.
West Chicago Park District holds a two-hour Rules of the Road Class at 1:30 p.m. Tuesday, February 26, 2019, at the ARC, 201 West National Street. An instructor from the Secretary of State's office teaches the course. To make a reservation, do so in person at the ARC or online at www.we-goparks.org.
Leman Middle School Band Concert is at 7:00 p.m. Wednesday, February 27, 2019, in the cafetorium, 238 East Hazel Street.
Due to inclement weather conditions Wednesday, January 30, 2019, the West Chicago Public Library rescheduled the program, "Sheep to Chic: Fiber Art Program" to 7:00 p.m. Wednesday, February 27, 2019, in the main meeting room, 118 West Washington Street. Natasha Lehrer Lewis, a fiber artist and educator, tells about Esther's Place, her working farm and art retreat, and the processes for which she uses her sheep and farmland to create art inspired by the intersection of art and industry. The presentation includes hands-on participation, personal anecdotes and examples of her body of work. Esther's Place is a small farm in Big Rock where individuals can create and purchase crafts from wool, attend classes, parties, and retreats. To make a reservation, call adult services department at (630) 231-1552, extension 4.
West Chicago Garden Club meeting is Thursday, February 27, 2019, at St. Andrew Lutheran Church, 155 North Prince Crossing Road. Social time is at 6:45 p.m., short business meeting at 7:00 p.m. and program at 7:15 p.m. Nina Koziol presents "Simple Pleasures—Inspiration for Gardens." She is a horticulturalist and garden writer. Some of the publications in which her gardening articles appeared are Organic Gardening, Fine Gardening, Old-House Journal, Old-House Interiors and Chicagoland Gardening, plus she is a long-time contributor to the Chicago Tribune. Koziol received the Garden Writers Award for newspaper writing, "Musings of an Everyday Gardener," and is the co-author of "The Historic Homes and Gardens of Lockport, IL 1838-2000" for the Illinois Historic Preservation Agency.
The program, "Starry Skies in West Chicago," presents facts about environmentally responsible community lighting. It is at 7:00 p.m. Wednesday, February 27, 2019, at Ball Horticultural Company, 622 Town Road. Presenting the program is Drew Carhart, a board member of Illinois Coalition for Responsible Outdoor Lighting.
West Chicago Elementary Schools and Leman Middle School Choir Concert is at 7:00 p.m. Thursday, February 28, 2019, in the cafetorium, 238 East Hazel Street.
Wheaton Academy presents "Newsies" at 7:00 p.m. Friday and Saturday, March 1, 2, 8 and 9, and Thursday, March 7, 2019, in the Fine Arts Building, 900 North Prince Crossing Road.
West Chicago Lions Club hosts its 44th annual Spring Pancake Breakfast from 8:00 a.m. to noon, Sunday, March 3, 2019, in the cafetorium at West Chicago Community High School, 326 Joliet Street. Breakfast menu is pancakes, sausage, and beverage. Providing entertainment is the Mariachi los Rayos de Leman Middle School and the Ballet Folklorico of Leman Middle School. Ticket price is $6 for adults, $5 for senior citizens and $4 for children ages 12 and under; this includes the chance to win a door prize. There also is a 60/40 raffle. Girl Scouts are selling cookies. John Catalano of Signorama and Jerry Morelli of Augustino's Rock and Roll Deli & Grill are co-chairmen. This event is a perfect time to visit with friends, neighbors and family. Proceeds benefit the many programs and services the club provides the community.
The West Chicago Police Department again participates in the Coolest Event of the Year—the Law Enforcement Torch Run Polar Plunge, where law enforcement officers take a flying leap into the frigid waters of an Illinois lake to support Special Olympics Illinois athletes. The West Chicago Fraternal Order of Police Lodge 85, captained by Detective Robbi Peterson, takes the plunge at 1:00 p.m. Sunday, March 3, 2019, at Loon Lake in Silver Springs State Park in Yorkville. Participants raise money from donations by friends, family and co-workers. The goal is $2,500. To date, donations total $1,205. Police Chief Mike Uplegger again is going to take a flying leap (jump), into the "glacial waters." Other participants are team captain Robbi Peterson, Isabella Peterson, Jayden Peterson, Dan Herbert, Yahairia Bautista, Anthony Cargola, Kennedy Cargola, Julio Calabrese, Jonathan Jones and Greg Bowers. To make a pledge persons can do so online https://soill.donordrive.com/index.cfm?fuseaction=donorDrive.team&teamID=9886. Other ways to donate are to drop off or mail the donation to the West Chicago Police Department, % Robbi Peterson, 325 Spenser Street, West Chicago, IL 60185. Make checks payable to Special Olympics Illinois.
West Chicago Community High School Winter Band Concert, under the direction of James Wallace, is at 7:00 p.m. Wednesday, March 6, 2019, in Weyrauch Auditorium 326 Joliet Street. Also performing is the band from Leman Middle School, under the direction of Brad Rathe.
The high school Concert Band plays "Nathan Hale Trilogy" by James Curnow, "On an Hymnsong of Philip Bliss" by David Holsinger, "Big Four March" by Karl King, and "Celtic Ritual" by John Higgins. The high school Symphonic Band plays "God of Our Fathers" arranged by Claude T. Smith, "A Welsh Rhapsody" by Clare Grundman, "The Pride of the Wolverines" by John Philips Sousa, and "Symphonic Dance No. 3 Fiesta" by Clifton Williams.
Leman Middle School Band plays "Procession of the Nobles" by Nikolai Rimsky-Korsakov, arrangement byAndrew Balent, "Psalm 42," arrangement by Samuel R. Hazo, and "Fantasy on English Folksongs " by Gene Milford.
West Chicago Community High School Winter Orchestra Concert, under the direction of Alexandra Wojciechowski, is at 7:00 p.m. Thursday, March 7, 2019, in Weyrauch Auditorium 326 Joliet Street. Leman Middle School Orchestra, under the direction of Janet Sikma, also performs. This includes the sixth, seventh and eighth grade orchestras.
LMS Sixth Grade Orchestra plays "Chumbara," a French-Canadian folk song, and "Overture 1812" by Pyotr Ilyich Tchaikovsky. The Seventh Grade orchestra plays "St. Anthony Chorale" by Joseph Haydn and "Allelujah" by Wolfgang Amadeus Mozart. The Eighth Grade orchestra plays "Sinfonia in G" by Domenico Gallo, "Primula" by Yukiko Nishimura, and "Canon" by Johann Pachelbel, featuring eighth grade bassist Rohan Barr.
West Chicago Public Library hosts String Art at 7:00 p.m. Wednesday, March 6. 2019, in the main meeting room, 118 West Washington Street. Using a little imagination and lots of string, participants create a picture. To make a reservation, call adult services department at (630) 231-1152, extension 4.
Friends of the West Chicago City Museum and West Chicago Historical Society host the Annual Tea Fundraiser at 1:00 p.m. Sunday, March 10, 2019, at American Legion Post 300, 123 Main Street. Leslie Goddard portrays Queen Elizabeth II. Tickets are $20 and may be purchased at the City Museum or reserved by calling (630) 231-3376 or email wegohistory@gmail.com.
West Chicago Community High School seeks nominations for the 2019 Distinguished Alumni Award. The purpose of the program is to recognize West Chicago Community High School graduates whose accomplishments serve as an inspiration for current students to dream and achieve.
Nomination deadline is Tuesday, May 1, 2019. The nominee must be a graduate of the high school for at least 10 years prior to the nomination, be distinguished by accomplishments in academics, the arts, athletics, business, community service, the environment, human rights, justice, medicine, research or science that reflect outstanding ability and dedication which contributes to the betterment of the community. Also the nominee must be available by telephone, email or in-person interview by the selection committee, willing to participate in the Distinguished Alumni Award Ceremony, willing to submit a photograph and available to interact with WCCHS students in a forum, seminar or assembly.
To submit a nomination, visit www.d94.org/distinguishedalumni. For further information call Sherry Bowne at (630) 890-9716.
Sincere sympathy is extended to the family of Ervin E. Woods, who at the age of 99 passed away, January 16, 2019.
Deepest sympathy is expressed to the family of Marililly M. Blum, who at the age of 82 passed away Wednesday, February 6, 2019.
Dr. Charles Johns, Superintendent of West Chicago Elementary School District 33, accepted an offer to serve as the superintendent of Glenbrook High School District 225. After five years of service in District 33, Dr. Johns begins his new position on July 1, 2019. (www.merleburl.com)
United Methodist and Congregational Women of First United Methodist Church installed their new officers at the Saturday, January 5, 2019 meeting. They are President, Jenny Tracey; Vice President, Erlaine Born; Treasure, Roberta Kent; and Secretary, Linda Smith.
The West Chicago Police Department continues to demonstrate their expertise in basketball as evidenced at the Windy City Bulls basketball game at Sears Centre Arena Saturday, February 9, 2019. This was Community Heroes Night, where the attendance supported Illinois Law Enforcement Torch Run for Special Olympics. A sold out crowd watched the 3×3 tournament before the game. Fast footed and on the ball, the WC Police Department won the championship. The Windy City Bulls are in the NBA G League of the Chicago Bulls. At the Kwasman Classic basketball game Saturday, January 26, the WC Police Department won the award, beating the West Chicago Fire Protection District for the fifth time. (www.merleburl.com)
Wheaton Academy student Derek Johanik finished sixth in the Illinois High School 1A wrestling tournament Sunday, February 17. He is the first WA wrestler to place downstate in 40 years.
Anna Reitz, a senior at West Chicago Community High School, is the Academic Achiever for the month of January. With a cumulative weighted grade point average of 5.521, Reitz holds one of the top 10 GPAs among senior students at West Chicago Community High School. She has been on High Honor Roll all four years, is an Illinois State Scholar, a member of the Foreign Language Honor Society and earned Academic All-Conference honors.
In addition to her academic performance, Reitz participates in extracurricular activities She is involved in Dance Team, Snowball, Dance Production, ROAR and WCCHS foreign exchange programs.
Upon graduation Reitz plans to attend a four-year university to study Engineering, pursuing her interest in math and science. ((www.merleburl.com)