Although it only is 20 days until Spring, it is longer than that before persons can work in their gardens and yards. However, residents, businesses, and organizations can participate in the Year of the Butterfly in West Chicago through The Butterfly Effect Project. At Gallery 200, 103 West Washington Street, there are small wooden butterflies available for persons to decorate and design to display in their yards, gardens, businesses. The wooden butterflies are now available for the price of $16 or $30 for two. Persons are not limited to a specific medium; it could be paint, tiles, beads, buttons or more. Of course, it should be able to withstand all types of weather conditions. Some large models also are available. This could be a fun family project. Gallery 200 hours are noon to 6:00 p.m. Thursdays, from noon to 8:00 p.m. Fridays, from 10:00 a.m. to 4:00 p.m. Saturdays, and from noon to 4:00 p.m. Sundays. For further information call People Made Visible at (630) 473-0628 or email info@peoplemadevisible.com.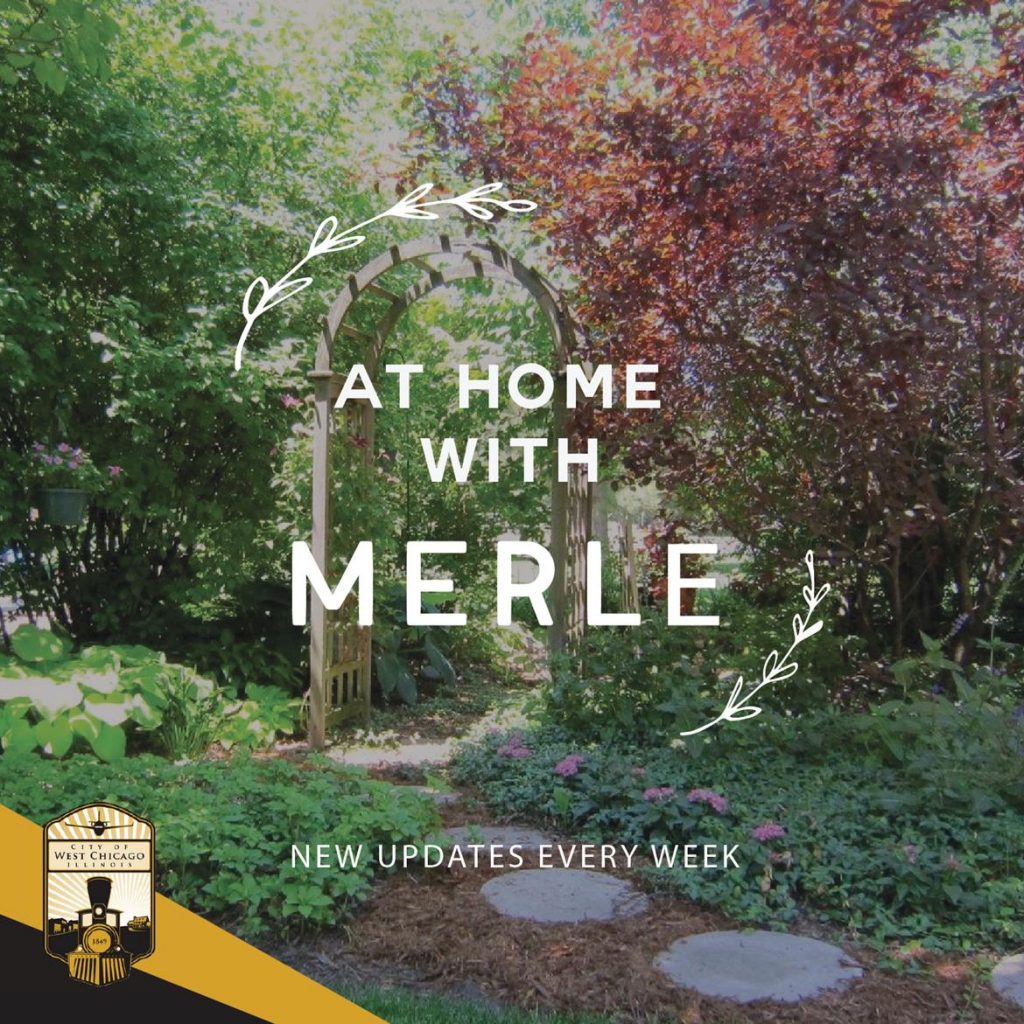 There are 29 large butterflies to be designed by local artists and displayed in public areas throughout the community, plus seven to be displayed in the Kruse House Gardens. The project is sponsored by the West Chicago Cultural Arts Commission. Also partnering in the project are West Chicago Garden Club, West Chicago America in Bloom committee and People Made Visible. (www.merleburl.com)
AROUND AND ABOUT
Wheaton Academy presents "Newsies" at 7:00 p.m. Friday and Saturday, March 1, 2, 8 and 9, and Thursday, March 7, 2019, in the Fine Arts Building, 900 North Prince Crossing Road.
West Chicago resident and Gallery 200 member Vikki Burris teaches a two-hour "Painting Butterflies and Acrylics" at 6:00 p.m. Fridays beginning March 1 and ending April 27, 2019, at Gallery 200, 103 West Washington Street. Classes are geared for persons age 12 and up. The charge is $25 per class; supplies are provided. To make a reservation, call (630) 202-6562 or email butterflieseverywhere@ymail.com.
Gallery Theater, 129 Main Street, presents "Harvey" by Mary Chase. Performances are at 7:30 p.m. Fridays and Saturdays, March 1 and 2. The Sunday, March 3, performance is sold out. To make a reservation, email GalleryTickets@gmail.com, on the website www.gallerytheaterstudio.com or call the box office at (630) 234-5919.
Members of the cast are Toria Hollyn, West Chicago residentsTherese Harrold and David Reynolds, Ric Holloman, Anne Laurie Jean-Jacques, Carolyn Larsen, Olivia Cuff, Dan Knauf, John Frankenthal, Rhys Read, Ann Myrna and Salvador Velasco. The director is Jack Smith. (www.merleburl.com)
West Chicago City Museum resumes its Saturday hours 11:00 a.m. to 2:00 p.m. March 2, 2019.
West Chicago Lions Club hosts its 44th annual Spring Pancake Breakfast from 8:00 a.m. to noon, Sunday, March 3, 2019, in the commons at West Chicago Community High School, 326 Joliet Street. Breakfast menu is pancakes, sausage, and beverage. Providing entertainment is the Mariachi los Rayos de Leman Middle School and the Ballet Folklorico of Leman Middle School. Ticket price is $6 for adults, $5 for senior citizens and $4 for children ages 12 and under; this includes the chance to win a door prize. There also is a 60/40 raffle. Girl Scouts are selling cookies. John Catalano of Signorama and Jerry Morelli of Augustino's Rock and Roll Deli & Grill are co-chairmen. This event is a perfect time to visit with friends, neighbors and family. Proceeds benefit the many programs and services the club provides the community. (www.merleburl.com)
Joy and Orville Grammer celebrate their 55th Wedding Anniversary Sunday, March 3, 2019.
The West Chicago Police Department again participates in the Coolest Event of the Year—the Law Enforcement Torch Run Polar Plunge, where law enforcement officers take a flying leap into the frigid waters of an Illinois lake to support Special Olympics Illinois athletes. The West Chicago Fraternal Order of Police Lodge 85, captained by Detective Robbi Peterson, takes the plunge at 1:00 p.m. Sunday, March 3, 2019, at Loon Lake in Silver Springs State Park in Yorkville. Participants raise money from donations by friends, family and co-workers. The goal is $2,500. To date, donations total $2,080. There are 14 participants this year, the largest group to participate. Plunging participants are Chief Michael Uplegger, Commander Julio Calabrese, Sgt. Anthony Cargola, Detective Robbi Peterson, Dan Herbert, Greg Bowers, Ryan Flanigan and Dan Calabrese, Officer Jonathan Jones, Administrative Assistant Yahaira Bautista and family members, Taylor Peterson, Isabella Peterson, Jayden Peterson, Kennedy Cargola and also a few friends of the group. To make a pledge, persons can do so online https://soill.donordrive.com/index.cfm?fuseaction=donorDrive.team&teamID=9886. Other ways to donate are to drop off or mail the donation to the West Chicago Police Department, Attn: Robbi Peterson, 325 Spenser Street, West Chicago, IL 60185. Make checks payable to Special Olympics Illinois. (www.merleburl.com)
Wayne/Winfield Area Youth/Family Services offers hour-long computer classes for senior citizens at Wayne Township, 27W031 North Avenue. Not only do seniors learn basic skills, but also have the opportunity to socialize. The fee is $2. Reservations are required and may be made by calling (630) 231-7166. Beginner classes are at 3:00 p.m. Fridays. "Uploading Pictures to Facebook" class is at 4:00 p.m. Monday, March 4, 2019.
St. Andrew Lutheran Church, 155 North Prince Crossing Road, celebrates Fat Tuesday, March 5, 2019, with a pancake supper prepared by the Church youth group. It takes place from 6:00 to 8:00 p.m. Cost is a good will donation. This is a fundraiser for the youth group's 2019 Youth Work Mission trip to Chattanooga, Tennessee. (www.merleburl.com)
The Lenten season begins on Ash Wednesday, March 6, 2019. Some of the local churches hold special services.
First United Methodist Church of West Chicago, 643 East Washington Street service is at 6:30 p.m.  During Lent, the Church meeting is at 6:30 p.m. for learning devotional practices in a worship setting.
St. Andrew Lutheran Church, 155 North Prince Crossing Road, English service is at 6:00 p.m. and the Spanish service is at 7:30 p.m. On Wednesdays during the Lenten season there is a soup supper at 6:30 p.m. followed by a Bible study at 7:00 p.m.
St. Mary's Catholic Church, 140 North Oakwood Avenue, has three Masses with Imposition of Ashes. English Mass is at 7:30 a.m., and Latin Mass is at noon, Masses are at noon and Spanish Mass is at 6:30 p.m.
St. Michael's United Church of Christ, 400 West Washington Street, services are at noon and 7:00 p.m.
Trinity Lutheran Church, 331 George Street, has a soup supper at 6:00 p.m. followed by the worship service at 7:00 p.m. During the Lenten season, services are at 7:00 p.m.
West Chicago Community High School Winter Band Concert, under the direction of James Wallace, is at 7:00 p.m. Wednesday, March 6, 2019, in Weyrauch Auditorium 326 Joliet Street. Also performing is the band from Leman Middle School, under the direction of Brad Rathe.
The High School Concert Band plays "Nathan Hale Trilogy" by James Curnow, "On an Hymnsong of Philip Bliss" by David Holsinger, "Big Four March" by Karl King, and "Celtic Ritual" by John Higgins. The High School Symphonic Band plays "God of Our Fathers" arranged by Claude T. Smith, "A Welsh Rhapsody" by Clare Grundman, "The Pride of the Wolverines" by John Philips Sousa, and "Symphonic Dance No. 3 Fiesta" by Clifton Williams.
Leman Middle School Band plays "Procession of the Nobles" by Nikolai Rimsky-Korsakov, arrangement by Andrew Balent, "Psalm 42," arrangement by Samuel R. Hazo, and "Fantasy on English Folksongs " by Gene Milford.
West Chicago Community High School Winter Orchestra Concert, under the direction of Alexandra Wojciechowski, is at 7:00 p.m. Thursday, March 7, 2019, in Weyrauch Auditorium 326 Joliet Street. Leman Middle School Orchestra, under the direction of Janet Sikma, also performs. This includes the sixth, seventh and eighth grade orchestras.
The High School orchestra selections are Violins-"Allegro" by Joseph-Hector Fiocco, Violas-"Concerto No. 5, Movement 1" by Friedrich Seitz, Cellos-"Sonata in C" by Jean Baptiste Breval, C-Choir-"Far Away" by Sister Hazel, Chamber Orchestra-"Brandenburg No. 3" by Johann Sebastian Bach, Symphony:-"Rite of Spring" by Igor Stravinsky, arrangement by Bob Lipton, Symphony/Concert/String-"Helium" by Richard Meyer, "Russian Sailors' Dance" by Reinhold Gliere, and "Warrior's Legacy" by Soon Hee Newbold.
LMS Sixth Grade Orchestra plays "Chumbara," a French-Canadian folk song, and "Overture 1812" by Pyotr Ilyich Tchaikovsky. The Seventh Grade orchestra plays "St. Anthony Chorale" by Joseph Haydn and "Allelujah" by Wolfgang Amadeus Mozart. The Eighth Grade orchestra plays "Sinfonia in G" by Domenico Gallo, "Primula" by Yukiko Nishimura, and "Canon" by Johann Pachelbel, featuring eighth grade bassist Rohan Barr.
West Chicago Public Library hosts String Art at 7:00 p.m. Wednesday, March 6. 2019, in the main meeting room, 118 West Washington Street. Using a little imagination and lots of string, participants create a picture. To make a reservation, call adult services department at (630) 231-1152, extension 4.
The seventh annual "Art is the Heart of the City" is the exhibit for the month of March at Gallery 200, 103 West Washington Street. In the display is the artwork of students in grades first through eighth at West Chicago Elementary School District 33 schools. There is a variety of both two-dimensional and three-dimensional media, representing a broad spectrum of styles and artistic periods/genres. District 33 art teachers chose the theme to emphasize the value of participation in art for all children. Art activities stimulate creativity, imagination, perception and selectivity. The artists' reception is from 5:00 to 7:00 p.m. Thursday, March 7, 2019. Students and teachers are on hand to discuss the value of art education in public schools and their artwork.
Art teachers are Linda Rooney and Kelsey Mangler from Leman Middle School, Jacqui Khatib from Currier School, Katie Yankowski from Gary School, Kirsten Snodgrass from Indian Knoll School, Christine Cintula from Pioneer School, Megan Czervionke from Turner School and Lisa Miller from Wegner School.
WeGo Drama at Community High School continues their 2018-2019 Season with their IHSA Showcase performance, which is the 40-minute play and 30-minute Group Interpretation that are featured in Illinois High School Association competition. Performances are at 7:00 p.m. Friday and Saturday, March 8 and 9, 2019, in Weyrauch Auditorium, 326 Joliet Street. The ticket price is a suggested donation of $10.
WeGo Drama's 2018-19 Season encourages everyone to "Find Their Passion." These shows embody that theme as they deal with the journeys people travel for the things they love. Illinois High School Association shows deal with serious content and are intended for teens and adults.
The company of actors and crew are Abby Carr, Philip Calabrese, Maggie Hancock, Samuel Incrocci, Nora Zamora, Grecia Bahena, Nathan Bradley, Emily Carroso, Ryan Castiglia, Delaney Flynn and Josie Kotke.
Others include Noemi Lara, Audrey Miller, Jose "Rudy" Muñoz, Justin Blackburn, Hannah Brown, Paige Custardo, Ava Fini, Mikail Herrera, Megan Kordik, Elizabeth Ryan, and Neve Ryan. The director is Mark Begovich. Scenic Design and Technical Direction is by Chris Jensen. Hair and make-up is by Jamie Elza. (www.merleburl.com)
The annual West Chicago Community High School Music Boosters Pancake Breakfast is from 8:00 to 11:00 a.m. Saturday, March 9, 2019, in the Commons, 326 Joliet Street, at Entrance H. Music students in jazz band, brass quintet, chamber choir and some string ensembles perform throughout the breakfast. Ticket price is $5, $3 for children 10 and under and senior citizens 65 and older. Proceeds from the pancake breakfast go towards funding scholarships for music students.
Winfield Township once again is participating in "Local Government Week" with an Open House from 11:00 a.m. to 2:00 p.m. Saturday, March 9, 2019, at Winfield Township Road District building, 30W575 Roosevelt Road. Hot dogs, snacks and beverages are served.
There are tours of the office and garage, plus the opportunity to view the road equipment. In addition to information on display, staff and elected officials are on hand to answer questions. Also available to answer questions and give information are members of the Citizen Emergency Response Team, referred to as CERT, Schools and Community Assistance for Recycling and Composting Education, commonly known as SCARCE, DuPage County Sheriff's Office and representatives from Wayne/Winfield Area Youth/Family Services (WAYS) share information on programs currently offered.
The Township is collecting cell telephones, eyeglasses and hearing aids to distribute to the appropriate organizations. There are bins for newspapers and non-perishable foods. Foods are donated to Neighborhood Food Pantry located at the Crossroads Church location. Persons also may bring tattered and faded American flags to give to American Legions Post 300 or Veterans of Foreign Wars Post 6791 for proper disposal at a flag ceremony.
For further information call the Township office at (630) 231-3591 or road district office at (630) 231-8850.
The Friends of the West Chicago City Museum and West Chicago Historical Society host the Annual Tea Fundraiser at 1:00 p.m. Sunday, March 10, 2019, at American Legion Post 300, 123 Main Street. The ticket price of $20 per person includes tea luncheon and entertainment. Tickets are available at the City Museum, 132 Main Street, wegohistory@gmail.com, or call (630) 231-3376.
Leslie Goddard presents "Becoming Queen Elizabeth II," which explores the life of Britain's famous monarch. It covers her life from childhood, abdication of her uncle, marriage to a naval officer named Phillip, World War II services and her struggle to balance the forces of queen and mother.
Goddard makes history come alive in a fun, inspiring and educational way through her presentations of lectures and performances of first-person programs. She holds a PhD specializing in American studies and United States history, as well as a Master's Degree in theater and in museum studies. In addition to performing at schools, museums, libraries, businesses and conferences, she presented programs an Illinois Humanities Council sites, Questers International, WBEZ-Chicago Amplified and the Victorian Society in America. (www.merleburl.com)
The League of Women Voters of Wheaton and Leman Middle School Student Council host a Candidate Meet and Greet from 6:00 to 8:30 p.m. Wednesday, March 13, 2019, in the cafetorium, 238 East Hazel Street. Invited are candidates running in the Tuesday, April 5, 2019, consolidated election, which includes City Council, Park District, Library District, West Chicago Elementary School District 33 and Community High School District 94. Each candidate is provided an assigned table to answer questions one on one with the constituents.
The West Chicago Park District monthly social gathering for senior citizens is Thursday, March 14, 2019, at the ARC, 201 West National Street. To celebrate St, Patrick's Day, the District supplies the Irish meal of corn beef, cabbage, red potatoes, carrots, bread and dessert. The charge is $11 for residents, $13 for non-residents. Reservations are due by Friday, March 8, and may be made in person at the ARC or online at we-goparks.org
In partnership with the Center for Economic Progress and Ladder Up, the West Chicago income tax preparation site is open at Leman Middle School, 238 East Hazel Street, entrance 8. Hours are from 5:30 to 8:00 p.m. Tuesdays and Thursdays, 10:00 a.m. to 1:00 p.m. Saturdays. The site operates on a first come, first serve basis and may close early when capacity is reached. There is no charge for families, (more than one person in home) with income less than $55,000 and individuals with income less than $30,000. For further information, call (312) 252-1281 or at www.economicpprogress.org.
Blooming Fest is from 9:00 a.m. to 3:00 p.m. Saturday, May 18, 2019, in historic downtown. The event includes the West Chicago Garden Club's plant sale, craft sale, car show, art exhibit, children's activities, music and food. Vendor registration packets are available on the City's website, www.westchicago.org under Residence/Forms and Applications. The deadline is Friday, April 19, 2019.
The GardenWorks Project offers two summer volunteer intern opportunities for its Home Gardening program and Community Garden Program. For information on responsibilities and application, visit www.gardenwowrksproject.org, under volunteer opportunities.
Sincere sympathy is extended to the family of John P. Culloton, who at the age of 83 passed away Sunday, February 17, 2019.
Deepest sympathy is expressed to the family of Dorothy Elliott, who passed away at the age of 87 Wednesday, February 20, 2019.
Sincere sympathy is extended to the family of Donna Jean Dillner, who at the age of 74 passed away Thursday, February 14, 2019.
Deepest sympathy is expressed to the family of Bev May, who at the age of 84 passed away Friday, February 22, 2019.
Sincere sympathy is extended to the family of Barbara "Barb" Scott, who at the age of 77 passed away Thursday, February 21, 2019.
West Chicago Police Detective Robbi Peterson participated in the 2019 Law Enforcement Torch Run Polar Plunge Friday and Saturday, February 15 and 16, 2019. This is the second year he has committed to "be bold and cold" for 24 hours taking a plunge every hour into Lake Michigan. Weather conditions were far from ideal. At the beginning, the water was somewhat calm (nice beach and calm waters), but near the end slush was forming on the lake. Peterson said, "The plunge site was deemed unsafe after our 11:00 a.m. plunge and we were forced to make some double plunges to ensure we got all 24 plunges in." Funds raised benefit Special Olympics Illinois. Peterson set a personal fundraising goal of $5,000. As of Friday afternoon, donations totaled $4,480. None made since then are recorded yet. (www.merleburl.com)
Elizabeth Valerio, a senior at West Chicago Community High School, is the Student of the Month for January. She is an excellent student and, at the same time participates in extracurricular activities. She has been on the High Honor Roll or Honor Roll all four years. Her cumulative weighted Grade Point Average is 4.979. Valerio is a member of the Foreign Language Honor Society, International Club, Art Club, Alegria, and Team Danzon, plus is a Student Ambassador.
Valerio is considering Elmhurst College, North Park University, or Lewis University to major in Nursing. She wants to be a nurse or travel to another country and teach English. (www.merleburl.com)
At the Western DuPage Chamber of Commerce's Sweet Success held Friday, February 11, 2019, West Chicago City Clerk Nancy Smith administered the oath of office to the officers and directors of the chamber. Officers are Dave Milinko from Veritrust Wealth Management, chairman; Joe Buchholz from Buck Services Inc., vice chairman; Helen Budziak from DHL Corp, secretary; and Rory King from DHJJ, treasurer.
Directors are Anne Marie Andexler from Northwestern Medicine, Omar Espinosa from Republic Bank, Doug Forst, attorney at law, Uwe Gsedl from Gsedl Graphic Design/Oova Photography, Inc., Phil Pahlki from Pro-Pak Industries, Anthony Pisciotta from Ardmore Auto Sales, Inc., Chuck Sadowski from Rutenberg Realty Group, Inc., Karen Stott from FNBC Bank & Trust, Brian Rubino from Pulse Technology, Joel Clousing from J Squared Insurance Agency, and John Miller from Clare Woods Academy.
Members retiring from the board were Kristen Giannini from Top Golf, Burt Minor from Winfield Township Republican Committee and Linda Wilhelm from Allegra Marketing Print Mail.
The Chamber honored businesses with Spirit of Success Awards in three categories. Presenting the awards was Dave Milinko. Recognized for the demonstrating acumen innovation in leadership, management, financial stability, community involvement and social responsibility acumen service was Chuck Sadowski with the Entrepreneurial Spirit Award. Fernando Ramirez from Mexican Cultural Center-DuPage was the recipient of the Service Spirit Award, which recognizes an individual, company or organization dedicated to improving lives within the region through their services. Winner of the Enduring Spirit Award was the West Chicago Park District. This award recognizes a business with exceptional commitment and success in their industry, company and community. The award is in honor of Pearl and the late Tom Marziani for their many years of leadership in business, public service and philanthropy throughout the community. Accepting the award was Park District executive director Gary Major, Park District commissioners Reggie Bass, Courtney Voelz, Frank Lenertz, and Dale Showalter, owner. (www.merleburl.com)
The City's Holiday Lights and Extension Cord Recycling program ended January 18, 2019. Collected this year were 738 pounds, an increase from 622 pounds collected last year. The West Chicago Environmental Commission coordinates the program with Elgin Recycling, which collects these items to strip and recycle for their copper and plastic parts.
At the meeting Monday, February 18, 2019, City Council approved three special uses to allow used motor vehicle sales and ancillary motor vehicle care center and motor vehicle repair shop at 560 West North Avenue. The site previously housed Volkswagen of America.
Also approved were two resolutions to execute a local Public Agency Agreement for Federal Participation between the Illinois Department of Transportation and the City for STP grant funding for construction costs related to the Washington Street Reconstruction Project and the use of Motor Fuel Tax funds for the City's local share of the project's construction costs. Per the item summary the Project consists of the reconstruction of Washington Street between Arbor Avenue and Clara Street with Hot Mix Asphalt. The engineer's estimate of construction costs is $815,050. Construction is anticipated to commence in June 2019.
Council approved the purchase of one 2019 Ford Escape SE $WD for the amount of $24,329 from Currie Motors Fleet in Frankfort.
West Chicago Police Commander and Officer Ryan Flanigan received an assignment as detectives and are to focus on gang and drug activity.
My email address is merleburl@earthlink.net.