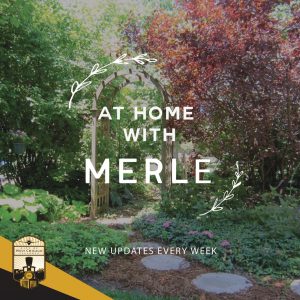 To many of us in the older generation, a famous line from the Lone Ranger show was, "Who was that masked man?" Well, this could become a famous saying of the COVID-19 pandemic. When at various places, we see someone in a mask that looks familiar. Who is it? I see photos of groups, looking into the camera, and I wonder, who are they? I imagine historians may spend hours trying to match masked faces with names. The masks are important in our lives now. Remember to keep wearing them, social distance and wash hands frequently
AROUND AND ABOUT
            West Chicago Public Library holds a two-hour Virtual Excel Level 1 class via Zoom at 6:00 p.m. Wednesday, February 3, 2021 Participants learn the basics of Microsoft excel. Registration in advance is required and may be made at https://wcpld.info, under calendar. (www.merleburl.com)
West Chicago Public Library presents a virtual "Architectural Tour of the World" at 7:00 p.m. Thursday, Feb 4, 2021, via Zoom. Educational entertainer Martina Mathisen portrays international traveler, Jasmine Blaze. The tour highlights superstructures around the world. Of the 100 super structures that are in the world today, the first 50 took 80 years to build. The second 50 took five years. To register, visit https://wcpld.info, under calendar.
St. Andrew Lutheran Church, 155 North Prince Crossing Road, resumes in person worship services Sunday, February 7, 2021. English services are at 10:00 a.m. and Spanish services are at noon. Reservations are required and may be made by calling the church office at (630) 231-3787 or email office@standrewlutheran.net.
West Chicago Public Library holds a two-hour virtual Microsoft Excel Level 2 class at 6:00 p.m. Wednesday, February 10, 2021. Participants learn more of the basics of Microsoft Excel. To register for the class, visit https://wcpld.info, under calendar.
In partnership with Cantigny Park, the League of Women Voters of Wheaton hosts a Civics Awareness program at 7:00 p.m. Thursday, February 11, 2021. The program, presented by Evelyn Sanguinetti, Executive Director of HOPE, and Rachel Watson, Director of Outreach, is "The Past, Present and HOPEful Future of Fair Housing in DuPage County." To make a reservation visit my.lwv.org/illinois/wheaton/calendar/civic-awareness. A Zoom link to access the presentation is sent two days prior to the event. Persons can submit any questions they have to blaimins@gmail.com before the event. During the presentation, attendees use the chat box located on the bottom of the Zoom screen.
Sanguinetti is a wife, working mother of three, and an attorney by trade. Sanguinetti attended John Marshall Law School where she developed an understanding and passion for the law and for Illinois. While in law school, Sanguinetti joined the JMLS Fair Housing Legal Clinic and served as President of the Fair Housing Association. In 2014, Sanguinetti served as not only the first Latina Lieutenant Governor of the state but of the entire country. In her four years in office, Sanguinetti focused on helping to improve the lives of all Illinoisans through the delivery of more efficient government, providing health care access to all regions of the state, quality educational opportunities to all residents regardless of income or location, and economic opportunity to small businesses throughout the state.
Watson joined HOPE in September of 2019. A recent graduate from Knox College, Rachel has a background in not-for-profit and social rights work. Prior to joining HOPE, she worked at the New York City branch of the National Organization for Women, where she helped organize informational campaigns and protests in support of women and immigrant's rights, government officials across the state to educate and inform them about fair housing rights and responsibilities. In addition to providing training, Watson also helps organize HOPE special events, is responsible for all public informational material, and oversees its Retrofit Funds Distribution Program.
League of Women Voters of Wheaton includes West Chicago, Warrenville, Winfield, Wheaton and Carol Stream. The League of Women Voters is a non-partisan organization that does not support or oppose any political party or candidate, but whose purpose is to promote political responsibility through informed and active participation of citizens in government.
West Chicago Public Library presents a virtual "Baking with Chef Chris: Triple Chocolate Tart" at 7:00 p.m. Thursday, February 11, 2021, via Zoom. Chef Chris Thielman demonstrates how to prepare a decadent triple chocolate tart. Three types of chocolate create this chocolate lover's dream. To register, visit https://wcpld.info, under calendar .
Christopher Thielman was a professor in the Culinary and Hospitality Department at the College of DuPage in Glen Ellyn from 1987 to 2019. He has taught culinary arts, pastry arts, garde manger, sanitation classes and culinary math. He received his culinary training and Associate Degree at the Culinary Institute of America in Hyde Park, New York. He earned his Bachelor's Degree from Northeastern Illinois University and his Master's Degree in Hospitality and Tourism Management from Roosevelt University in Chicago. Chef Thielman joined the American Culinary Federation in 1988 and is currently a member of the ACF Chefs and Culinary Professionals of Chicagoland.
We Grow Dreams Greenhouse and Garden Center holds it first Seed Swap  from 9:00 a.m. to 2:00 p.m. Saturday, February 13, 2021. Persons can bring in extra seeds they are not using and exchange them for a different variety of seeds available at the green house. The greenhouse has four tables  set up for different categories of seeds.
For persons just getting started and not having seeds to exchange , they can make a $20 donation to receive six empty envelopes and a spoon to pick their seeds. Also available are pre-made kits for a $20 donation, The selection of pre-made kits contain six different varieties of seeds. Each seed packet comes with basic instructions on how to sow. Kits available are Annual Flowers of Dianthus, Marigold, Ipomoea, Celosia., Hypoestes and Salvia; Pollinators Friends of Cosmos, Sunflower, Marigold, Cleome, Zinnia and Lavender; Herb Kit of Basil, Mint, Parsley, Cilantro, Lemon Balm and Thyme; and Vegetable Kit of Beans, Peppers, Tomatoes, Cucumber, Squash, Swiss Chard and Kale. For further information, call the greenhouse at (630) 293-0100.
The greenhouse mission is to provide people with disabilities the opportunity to lead fulfilling lives and to train and work in a supportive, safe and caring environment while producing and providing products and services to the community. In this pursuit, we honor the concepts of human dignity, respect, hard work, fellowship and friendship.
West Chicago City Museum and Warrenville Historical Society present the Historiography program, a non-fiction book reading group, at 1:00 p.m. Thursday, February 18, 2021, via Zoom. The book, which is the same as for January, is "Braiding Sweetgrass; Indigenous Wisdom, Scientific Knowledge and the Teachings of Plants" by Robin Wall Kimmerer. The book is about plants and botany as seen through Native American traditions and Western scientific traditions.To get a copy of the book or for further information, visit Friends of West Chicago City Museum website, wegohistory.com or call (630) 231-3376.
St. Andrew Lutheran Church, 155 North Prince Crossing Road, is holding a Diaper Drive to have a diaper pantry for its food distributions on Saturdays. Hours to drop off diapers are from 9:00 a.m. to 2:00 p.m. Monday and Wednesdays, and from 9:00 a.m. to 5:00 p.m. Fridays.
Remember to support the local businesses and restaurants.
The DuPage County Health Department developed a dashboard to provide information on the total number of people, in DuPage County, who have tested positive for COVID-19. In addition, the dashboard includes a map which shows the distribution of reported cases by municipality and is updated at 4:00 p.m. daily. DuPage County's "COVID-19 Dashboard" is a one-stop-shop for all the information it offers including a town-by-town breakdown of cases. As of 4:00 p.m. Monday, February 1, 2021, there were 3,787 cases and 38 deaths; this is the number from the beginning of track recording. It is important to remember to follow the social distancing order, wear masks and wash hands.
A COVID-19 testing site is open from 8:30 a.m. to 12:30 p.m. Tuesdays and Thursdays in a VNA Health Care Mobile at St. Andrew Lutheran Church, 155 North Prince Crossing Road. There is no charge. Appointments are required and may be made at (630) 892-4355 or (847) 717-6455. A medical assistant now is at the site.DuPage County offers free COVID-19 testing at the DuPage County Complex, 421 North County Farm Road. The sites open from 7:00 a.m., to noon Monday through Friday. Since it is a drive-thru testing site, individuals give themselves a nasal swab test with instructions from staff
To keep residents aware of community COVID-19 updates, the City has posted West Chicago's COVID-19 COMMUNICATIONS CENTER on its website, www.westchicago.org. It is located on the upper left-hand side in red. Clicking on this, residents can see the latest information.
An article about the West Chicago Community High School simulated legislative session appeared in the Wednesday, January 27, 2021, issue of the Daily Herald.
It was a difficult decision by the West Chicago Garden Club Board, it was decided not to have the plant sale in the City's Blooming Fest event.
At the Tuesday, January 19, 2021, meeting, Community High School District 94 Board of Education approved a three year contract with North America Central School bus, dab Illinois Central School Bus, in Joliet for the combined amount of $2,867,036.05 for the school years of 2021/22, 2022/23 and 2023/24.
Also approved was a tentative school calendar for the 2021/2022 school year. The calendar returns to a more traditional schedule that ends first semester leading into the winter break, and second semester begins upon return in 2022.
The selection of Distinguished Alumni is a student-driven process. The nomination period is normally February 1 to May 1. Unfortunately, current circumstances do not allow for the face-to-face contact so essential to the selection process. As it is unlikely the situation will change this spring, the decision has been made to suspend nominations for 2021.
Sincere sympathy is extended to the family of Dovie Earline Jones who at the age go 85 passed away Tuesday, January 26, 2021.
            Deepest sympathy is expressed to the family of Ruth Waterman, who passed away Friday, January 22, 2021.
Sincere sympathy is extended to the family of Glenda Thompson, who passed away at the age of 84 Tuesday, January 26, 2021.
            Deepest sympathy to the family of Luella Irene Lambert, who at the age of   83 passed away Tuesday, January 26, 2021.
Sincere sympathy to the family of Emelia "Emely" Carmona, who at the age of 24 passed away, Monday, January 25, 2021.
Deepest sympathy to the family of Juanita Grant, who passed away Saturday, January 23, 2021.
Sincere sympathy is extended to the family of Jack Parker Stewart, Jr, who at the age of 81 passed away Friday, January 29, 2021.
Deepest sympathy is expressed to the family of Maria Santos Varela, who at the age of 63 passed away Sunday, January 31, 2021.
            Anthony Buchholz is now the Senior Customer Care Representative at Buck Services. In this new role he continues to serve his current client base, plus taking additional roles as needed in the Business Development and Customer Service Department. His specialties include caring for the customer, maintaining client relationships and assuring 100 percent quality assurance. Anthony is teaming up with Jim Nemecek, Business Development, and Joe Buchholz, Vice President of Sales. As a second generation family member, Anthony started with Buck Services in 2011 as a Custodian. (www.merleburl.com)
Every school year, there are two blood drives at West Chicago Community High School. However, due to COVID-19, it was not possible to have one in the school. Therefore the Interact Club hosted a month long virtual blood drive ending Thursday, December 31, 2020. Persons could donate blood at any of the 17 Vitalant Illinois Donation Centers. Due to the pandemic and remote learning, the participation was not as great as in the past. Nine students did donate blood. One pint of blood can save three lives.
At the caucus Tuesday, December 1, 2020, Wayne Township Democratic Party voted for the Wayne Township slate. Elected were Jennifer Dziepak for Supervisor, Ruby Perez for Township Clerk, Incumbent Martin McManamon for Highway Commissioner, David Michael for Trustee, Chris Borbas for Trustee, Sergiusz Zgrezebski for Trustee, and Khurram Syed for Trustee.
Brendan McCormack, who turned in a nomination petition for Ward 1 Alderman in the Tuesday, April 6, 2021, Consolidated Election, withdrew his candidacy. Incumbent Lori Chassee and David W. Reynolds are the Candidates for Ward 1 Alderman.
My email address is merleburl@earthlink.net.