The community of West Chicago has a giving spirit and it is so very evident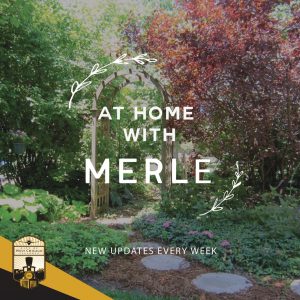 during the holiday season with many organizations, families and individuals reaping the benefits.
Kramer Tree Specialists once again donated and decorated the holiday decorations for the Community Tree at 306 Main Street.
St. Michael's United Church of Christ donated 250 coats to Educare. The coats were purchased through Operation Warm, at a cost of $20 per coat. Coats, hats, scarves, gloves and mittens donated from the Lend a Hand coat drive of the DuPage Bar Association now are available at the Clothing Closet. Since the Clothing Closet opened more than 15 years ago, 99,372 clothing items have been distributed. The church alternates the collection of baby products and paper products for the Neighborhood Food Pantry on a monthly basis. At the end of November, there were 513 items donated. These are items that persons cannot purchase through the government SNAP program.
St. Andrew Lutheran Church adopted 15 families through the Adopt-A-Family program of Winfield Township. This involved providing a holiday meal and a gift for family members.
Lou Kopinski, owner of Hawthorne's Backyard Bar & Grill, once again adopted several families in need for the holidays. He seeks donations from his customers and then matches the monies collected. Then he and his staff purchase, wrap the gifts, and deliver them to the West Chicago Police Department. West Chicago Police Department Social Services Coordinator, Rosie Valencia, coordinates the gift distribution to the families.
The West Chicago Police Department hosted its annual Christmas for the Community Luncheon  Wednesday, December 25, 2019, at Hawthorne's Backyard Bar & Grill. Arranging the event for the 18 families was the special elf, Rosie Valencia, Social Services Coordinator of the police department. The fun time included a meal, dancing, crafts, photos and gifts from Santa. Hawthorne's not only donated the space, but also the food and collected presents. (www.merleburl.com)
Some of the schools in West Chicago Elementary School District also demonstrated the giving spirit and/or were on the receiving end.
WeGo Together for Kids, in partnership with United Way of Metro Chicago, hosted United Way's annual United for the Holidays event on at Zone250. The 100 West Chicago families, almost 500 individuals, received new winter coats, hats, gloves and scarves, books, and toys. Families created ornaments together and enjoyed a meal from Portillos.
The Maddie's Mittens March bus visited the WeGo Together Community Market. More than 50 families visited the bus. Distributed were a total of 276 winter gear items, which included coats, gloves, hats, boots and snow pants.
Ball Seed spent the first half of December putting together stockings full of goodies for families who attend the WeGo Together Community Market. Visiting the Community Market Tuesday, December 17, Ball Seed staff distributed the stockings.
Humanitarian Service Project partnered with the elementary schools to provide gifts to children from 10 to 15 families from all six elementary schools. In total, HSP generously provided high quality presents to 265 District 33 students. Each student received at least three presents plus stocking stuffers.
International Christian Fellowship Church provided Thanksgiving meals that included turkey and sides for thirty-three families Tuesday, November 26, at Wegner School. Families were identified by family liaison, Yvette Hernandez, and the pick up took place at Wegner, and was supported by church volunteers.
West Chicago Community High School also had the holiday giving spirit.
Community High School District 94 staff purchased gifts and other items for three West Chicago families. They delivered two carloads of gifts to the families.
WeGo Drama and Student Council held a Toys for Tots drive during school raising nearly $550 and a number of toys, which they donated to the West Chicago Police Department.
The annual Turkey Suit Change Drive raised $467 that was donated to Toys for Tots. Students "voted" for who was to wear the turkey suit by donating loose change in their classes. The "winners" were principal Dr. Wayne Dwyer and teachers Kyle Etheridge and Carrie Stieglitz who wore the turkey suits all day the last day of school before Thanksgiving. (www.merleburl.com)
Happy New Year!
AROUND AND ABOUT
Infrastructure Committee meeting scheduled for Thursday, January 2, 2020, is cancelled.
We-Go Community Theater of West Chicago Park Districts holds auditions for its 2020 winter production, "The Jungle Book Kids." Drop in auditions are from 10:00 a.m. to 2:00 p.m. Saturday, January 4, 2020, at the ARC, 201 West National Street. Performances are at 10:00 a.m. and 2:00 p.m. Saturday, February 8.
Free Christmas tree pick up collection dates are from Monday, January 6, through Friday, January 17, 2020. Trees need to be free of lights, garland, tinsel and other decorations.
Wayne/Winfield Area Youth/Family Services offers hour-long computer classes for senior citizens, 27W031 North Avenue. Not only do seniors learn basic skills, but also have the opportunity to socialize. The fee is $2. Reservations are required and may be made by calling (630) 231-7166. Beginner classes are at 1:00 p.m. Tuesdays. "Introduction to Pinterest" class is at 4:00 p.m. Monday, January 6, 2020.
City Council meeting takes place at 7:30 a.m. Monday, January 6, 2020, at City Hall, 475 Main Street.
The WeGo Wildcats Special Olympics Club basketball game against District 203 Naperville is at 6:30 p.m. Wednesday, January 8, 2020, in Bishop Gym at West Chicago Community High School, 326 Joliet Street.
West Chicago Park District holds its monthly social for senior citizens at noon Thursday, January 9, 2020, at the ARC, 201 West Washington Street. The luncheon menu is Italian Beef sandwiches, chicken, mostaccioli and salad. Speakers from Boenzi/Lindner Group of Fathom Realty discuss the ABC's of downsizing. Reservations are due by Friday, January 3, and may be made in person at the ARC or on line at www.we-goparks.org.
West Chicago Park District hosts a New Year's Fitness Open House from 7:00 a.m. to 7:00 p.m. Saturday, January 11, 2020, at the ARC, 201 West National Street. There is free access to the fitness center, classes and Treehouse childcare, plus raffles for fitness classes, personal training, gym gear and other great items. During Kickoff Free Fitness Week from Sunday, January 11, through Friday, January 17, persons can try one or all fitness classes. Also there are 10 percent off memberships, limited to one per person.
Now persons begin taking down the holiday decorations, which might include strands of incandescent and LED holiday lights that no longer work and/or extension cords no longer needed. There is a way to dispose of them in an ecological manner. The City provides the "green" answer with the offer of free recycling through Saturday, January 11, 2020. The offer is open to residents, businesses, clubs, churches and organizations. Drop-off locations are City Hall, 475 Main Street; First United Methodist Church of West Chicago, 643 East Washington Street; Murphy Ace Hardware, 319 South Neltnor Boulevard; Water Treatment Plant, 1400 West Hawthorne Lane; West Chicago Public Library District, 118 West Washington Street; and the ARC Center, 201 West National Street.
The West Chicago Environmental Commission coordinates the program with Elgin Recycling, which collects these items to strip and recycle for their copper and plastic parts. The company is a full service scrap metal business serving the area for more than 30 years.
West Chicago Cultural Arts Commission sponsors its Thirteenth Annual Community Banner Project Competition. The theme is "Home." The artwork may be any media with no limitation to technique or subject matter. An independent juror selects the works of art. Each winning design is reproduced and featured in the 2020 West Chicago Banner Exhibition from May to September. All entries are due by Saturday, February 1, 2020. An entry is comprised of up to 3 JPEG images at 72 dpi measuring (h) 7" x (w) 5". All files should be numbered and named with the artist's last name and first name. Ex.: 01Lastname_Firstname.jpg and submitted via an online form.  All entries must be original and created within two years of entry date.
Information details are available at www.westchicago.org.  Entry form is located at https://form.jotform.com/92166762392161. Call Rosemary Mackey at (630) 293-2200, extension 139, for more information. (www.merleburl.com)
West Chicago Community High School offers a 12-week Wildcat Preschool for local children ages 2.5 to 5 years of age and is taught by students enrolled in Child Development 2 courses under the supervision of teacher Brittany Bauer. The classes are held Tuesdays and Thursdays, February 4 to April 30, 2020. The class times for the first ten weeks are 10:50 a.m. to 12:35 p.m. and for the last two weeks the times are 10:50 a.m. to 2:00 p.m. Child Development 1 students have the opportunity to teach these weeks and for this reason preschool is extended one hour. Lessons range from alphabet and number awareness to gross motor activities to beginning reading and writing. Activities include a Spring Concert, a field trip to the Brookfield Zoo, and Preschool Graduation. The cost is $180. To register and for more information, visit www.d94.org/preschool. For further information call Brittney Bauer at (630) 876-6377 or email bbauer@d94.org
Both of the veterans organizations hold fundraisers, with some of the monies going toward community projects. Bingo games at Veterans of Foreign Wars Post 6791, 431 North Neltnor Boulevard, are on Wednesdays. Doors open at 5:00 p.m., games start at 7:00 p.m. The Auxiliary games are Sundays. Doors open at noon, games start at 3:00 p.m. American Legion Post 300 has a fish fry Wednesdays and Fridays, plus special meals on Thursdays.
West Chicago Social Club recently opened its doors at 920 Roosevelt Road. It is a restaurant/bar and features live music of local, national and international groups.
Sincere sympathy is extended to the family of Rigoberto Mercado Pasillas, who at the age of 56 passed away Sunday, December 22, 2019.
Deepest sympathy is expressed to the family of Kenneth Joseph Schlueter, who at the age of 74 passed away Saturday, December 14, 2019.
Sincere sympathy is extended to the family of Ralph J. Tetente, who at the age of 74 passed away Wednesday, December 25, 2019.
Jacqualine and John Kufer celebrated their 50th Wedding Anniversary Friday, December 27, 2019.
At the Friday, December 20, 2019, basketball game against Fenton High School, the Wego Wildcats Special Olympics Club won with a score of 52-33.
Kolbe Kasper, ARC Center Facility Manager, received the Illinois Park and Recreation Association Distinguished Member Award for the Facility Management Section. (www.merlburl.com)
West Chicago Police Department Honor Guard presented the Colors at the Sunday, December 22, 2019 Chicago Bears football game. (www.merleburl.com)
Mainly due to an increase inflight instruction activity, DuPage Airport is set to record its largest number of annual operations since 2005. As of November 1, 2019, the airport reached nearly 115,000 operations, surpassing its 2018 year-end total of 106,249. According to the press release, the airport expects to finish the year between 125,000 to 130,000 operations, "just shy of the 133,000 recorded in 2005. The total operations rank DuPage as the third busiest airport in Illinois behind only O'Hare and Midway."
"Annual operations comprise both itinerant and local operations. Itinerant refers to aircraft that either land at DuPage from other airports or takeoff from DuPage and leave the general airport area. Local refers generally to flight training. These aircraft remain in the local traffic pattern, execute simulated instruments approaches or low passes in a designated practice area that's within a 20-mile radius of the control tower."
Most of the local operations come from three different flight schools housed at the airport, Illinois Aviation Academy, Avel Flight School and ATP Flight Training. IAA also runs the flight training arm of Tuskegee NEXT, a nationally recognized program housed at DuPage that seeks to transform the lives of at-risk youth through aviation. Since its inception in 2014, the program has certified nearly 30 new pilots.
Factors contributing to the increase in flight training include heightened publicity surrounding the national plot shortage, the strong economy, more diverse crop of pilots and a growing number of international airports. "The significant increase in flight training speaks to the dynamic nature of DuPage Airport," said Mark Doles, DuPage Airport Authority Executive Director. "Our facilities can safely and comfortably accommodate hundreds of flights each day, from business jets that operate internationally to the smaller single-engine aircraft commonly used in flight training. We are proud to play a role in training the next wave of pilots here at DuPage and hope that flight activity will continue to grow into 2020 and beyond."
My email address is merlburl@earthlink.net.