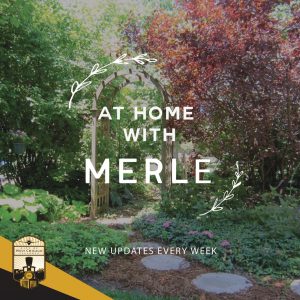 Although we are in the new year of 2021, COVID-19 pandemic still exists. Vaccinations are available and being administered. However, it will be some time before our lives return to a somewhat normal state. This makes it difficult for organizations to make plans for the future. Fundraisers and service projects end up on "the back burner." My only advice is to be patient. January is a good hibernation month, which calls for cups of hot chocolate with whipped cream and maybe a chit chat with someone you have not seen in a very long time, or even a short note..
AROUND AND ABOUT
West Chicago Public Library presents, the virtual program, "Clear the Clutter," at 7:00 p.m. Thursday, January 14, 2021. Professional organizer Colleen Klimczak discusses how to recognize and eliminate clutter. To register, visit http://westchicago.evanced.info/signup/calendar.
Klimczak is a Certified Professional Organizer and owner of Peace of Mind Professional Organizing, LLC. She offers in-home and in office organizing and consultations, coaching and organizing presentations for 2 to 500 participants. She also provides weekly organizing blogs and newsletters, to bolster your organizing skills and motivation!
As the holiday season ends and the "dedecorating" is in process, there may be strands of incandescent and LED holiday lights that no longer work and disused extension cords. There still is a way to dispose of them in a "green" way and finding a way of ecological disposal. The City offers free recycling for the holiday lights and extension cords through Friday, January 17, 2021. The offer is open to residents, businesses, clubs, churches and organizations. Drop-off locations are City Hall, 475 Main Street, open limited hours of 8:00 a.m. to noon; First United Methodist Church of West Chicago, by exterior door at 643 East Washington Street; Murphy Ace Hardware, 319 South Neltnor Boulevard; Water Treatment Plant, 1400 West Hawthorne Lane; West Chicago Public Library District, 118 West Washington Street; and the ARC Center, 201 West National Street.
Virtual Chair Yoga is the West Chicago Public Library program at 3:00 p.m. Monday, January 18, 2021. Susan from Dancing Cranes demonstrates the benefits of yoga without getting down on the floor. In an hour of Chair Yoga persons breathe more deeply; stretch, strengthen and move their body; relieve stress and relax. To register, visit http://westchicago.evanced.info/signup/calendar.
The West Chicago Park District offers a special on ARC memberships now through Sunday, January 31. It is $25 off one-year memberships.
There are free virtual ZUMBA classes for families in West Chicago Elementary School District 33. Times are 5:00 p.m. Mondays, and 4:00 p.m. Thursdays. To register, visit we-goparks.org/registation, select online, login or create an account and then use code 4080420-01 for Mondays and code  4080420-03 for Thursdays. This program is funded by the Department of Education Full Service Community School Grant. (www.merleburl.com
There are free online Adult English classes for West Chicago Elementary School District 33 families. All English language levels are offered. Classes are from 9:00 to 11:30 a.m. or 6:00 to 8:30 p.m. Wednesdays. Placement testing is by appointment only at Western DuPage Chamber of Commerce office, 306 Main Street. To register call (630) 942-3697, text (630) 447-9047 or email ELA@cod.edu. (www.merleburl.com)
Mexican Cultural Center DuPage offers Miss Mexican Heritage and Miss Academy winter preparation sessions. The program includes professional development, mentorship opportunities and preparation for the official Miss Mexican Heritage summer program and pageant. The age requirement for Miss academy is 14 to 17 years, for Miss Mexican Heritage is 18 to 22 years. For further information visit https://www.facebook.com/MexicanCulturalCenterDuPage/. (www.merleburl.com)
GardenWorks Project hosts a virtual Workshop, "Healthy Soil, Healthy Harvest," at 7:00 p.m. Wednesday, January 13, 2021. Presenting the workshop is Scott Witte, Director of Horticulture at Cantigny Park. The discussion includes composting, erosion, mulching and aeration.To register visit, http://www.gardenworksproject.org/fgn_20210113?utm_campaign=e_news_welcome_2021&utm_medium=email&utm_source=gardenworksproject
He previously was the Director of Agronomy for Cantigny Golf. Scott has a Bachelor of Science degree in Crop and Soil Sciences from Michigan State university and a Masters Degree in Leadership Studies from North Central College. His background includes Audubon Cooperative Sanctuary Certification and as a licensed apiarist, he founded The Bee Barometer Project to promote diverse ecosystems on golf courses to foster healthy honey bees and pollinators. (www.merleburl.com)
The First Division Museum at Cantigny Park continues its Date with History series with a virtual program about Operation Desert Storm at 7:00 p.m. Thursday, January 14, 2021. Presenting the program is author and historian Jim Corrigan. The program is free, but registration is required at FDMuseum.org.
Thirty years ago, this month, the skies over Iraq and Kuwait were filled with a dizzying array of new weapons, such as Tomahawk and Hellfire missiles, stealth aircraft and laser-guided smart bombs. The vast campaign of more than 100,000 sorties presented flight crews with many harrowing moments, recounted in Corrigan's book, Desert Storm Air War: The Aerial Campaign Against Saddam's Iraq in the 1991 Gulf War.
The author holds degrees from Penn State University and John Hopkins University. He has written for "American History" magazine among other publications and is the author of more than a dozen books on military history topics.
West Chicago City Museum and Warrenville Historical Society present the Historiography program, a non-fiction book reading group, at 1:00 p.m. Thursday, January 21, 2021, via Zoom. The book is "Braiding Sweetgrass; Indigenous Wisdom, Scientific Knowledge and the Teachings of Plants" by Robin Wall Kimmerer. To get a copy of the book or for further information, visit Friends of West Chicago City Museum website, wegohistory.com or call (630) 231-3376.
The book is about plants and botany as seen through Native American traditions and Western scientific traditions. Per Goodbook review, "As a botanist, Robin Wall Kimmerer has been trained to ask questions of nature with the tools of science. As a member of the Citizen Potawatomi Nation, she embraces the notion that plants and animals are our oldest teachers. In Braiding Sweetgrass, Kimmerer brings these lenses of knowledge together to show that the awakening of a wider ecological consciousness requires the acknowledgment and celebration of our reciprocal relationship with the rest of the living world. For only when we can hear the languages of other beings are we capable of understanding the generosity of the earth, and learning to give our own gifts in return."
In partnership with Cantigny Park, the League of Women Voters of Wheaton hosts a Civics Awareness program at 7:00 p.m. Thursday, January 21, 2021. Mark Ailes of the Citizen' Climate Lobby presents the program, "Personal Transformation to Become a Climate Advocate." To make a reservation visit my.lwv.org/illinois/wheaton/calendar/civic-awareness. A Zoom link to access the presentation is sent two days prior to the event. Persons can submit any questions they have to blaimins@gmail.com before the event. During the presentation, attendees use the chat box located on the bottom of the Zoom screen.
His presentation highlights the AHA method of Acceptance, embracing reality; Hope, explaining how persons learn to have hope and look at solutions; and Agency, giving people ideas on what they can do. Citizens' Climate Lobby is a nonpartisan organization working to develop the political will for a livable world.
Mark Ailes is a retired Science Teacher from Addison Trail High School. Ailes was a finalist for Illinois Teacher of the Year 1996-97. He's been a long-time Science Olympiad Coach and bicyclist. In addition, Mark is an active member of Citizens' Climate Education for three years and is the Citizens' Climate Lobby liaison for the Illinois 6th District.
League of Women Voters of Wheaton includes West Chicago, Warrenville, Winfield, Wheaton and Carol Stream. The League of Women Voters is a non-partisan organization that does not support or oppose any political party or candidate, but whose purpose is to promote political responsibility through informed and active participation of citizens in government. (www.merleburl.com)
Hawthorne's Backyard Bar & Grill, 1200 West Hawthorne Lane, hosts its Twelfth Annual Turkey Bowl Charity Event Fundraiser at 12:30 p.m. Sunday, January 31, 2021. The charity this year is the Illinois Fire Safety Alliance, a 501(c)(3) not-for-profit organization dedicated to fire safety, burn prevention, and supporting burn survivors. There are many prizes, give away items and a 50/50 raffle, The charge is $60 per four-person teams. Pre-registration is required. Teams must register at the bar or see a manager. The event is limited to 100 teams. For individuals not on a team, this is a fun event to watch and cheer on your favorite team. For further information call (630) 293-6700.
West Chicago Cultural Arts Commission sponsors its Fourteenth Annual Community Banner Project Competition. The theme is "Take Flight." The artwork may be any media with no limitation to technique or subject matter. An independent juror selects the works of art. Each winning design is reproduced and featured in the 2021 West Chicago Banner Exhibition from May to September. An entry is comprised of up to 3 JPEG images at 72 dpi measuring (h) 7" x (w) 5". All files should be numbered and named with the artist's last name and first name. Ex.: 01Lastname_Firstname.jpg and submitted via an online form. All entries must be original and created within two years of entry date.
All entries are due by Monday, February 1, 2021. Information details are available at www.westchicago.org/art. Call Rosemary Mackey at (630) 293-2200, extension 139, for more information.
The West Chicago Park District is looking for individuals to teach virtual one-day classes to adults and youth. Areas of interest and talent include crafts, music, drawing, make-up application, skin care, painting scrapbooking and home hacks. If interested email infor@we-gopaks.org.
Remember to support the local businesses and restaurants.
American Legion Post 300, 123 Main Street, has take out service from 4:00 to 8:00 p.m. Tuesdays thorough Fridays. Friday is the Fish fry. Other menu items are available. Usually there is a special on either Thursday or Friday. To place and order, call (630) 231-2112. (www.merleburl.com)
The DuPage County Health Department developed a dashboard to provide information on the total number of people, in DuPage County, who have tested positive for COVID-19. In addition, the dashboard includes a map which shows the distribution of reported cases by municipality and is updated at 4:00 p.m. daily. DuPage County's "COVID-19 Dashboard" is a one-stop-shop for all the information it offers including a town-by-town breakdown of cases. As of 4:00 p.m. Monday, January 10, 2021, there were 3,508 cases and 34 deaths; this is the number from the beginning of track recording It is important to remember to follow the social distancing order, wear masks and wash hands.
A COVID-19 testing site is open from 8:30 a.m. to 12:30 p.m. Tuesdays and Thursdays in a VNA Health Care Mobile at St. Andrew Lutheran Church, 155 North Prince Crossing Road. There is no charge. Appointments are required and may be made at (630) 892-4355 or (847) 717-6455. A medical assistant now is at the site.DuPage County offers free COVID-19 testing at the DuPage County Complex, 421 North County Farm Road. The sites open from 7:00 a.m., to noon Monday through Friday. Since it is a drive-thru testing site, individuals give themselves a nasal swab test with instructions from staff
To keep residents aware of community COVID-19 updates, the City has posted West Chicago's COVID-19 COMMUNICATIONS CENTER on its website, www.westchicago.org. It is located on the upper left-hand side in red. Clicking on this, residents can see the latest information.
Sincere sympathy is extended to the family of Richard "Dick" Gerhardt, who at the age of 83 passed away Wednesday, December 30, 2020.
Deepest sympathy is expressed to the family of Ismael Carrillo, who at the age of 24 passed away Friday, January 8, 2021.
There was an interview with Cassie Ruiz, beginning and intermediate orchestra teacher in West Chicago Elementary School District 33, in the Illinois Music Education Association winter blog. One question asked was, "What have been the biggest challenges teaching early strings players remotely?"
Her response was "The biggest challenge I faced when the year started was making my schedule work. When I teach in person, I usually see students for one small-group pull-out lesson per week and one full-group rehearsal per week. For remote learning, we are alternating between private lesson weeks and group lesson weeks. Coordinating all this with the students, families and classroom teachers at six different schools, along with ensuring that the students knew how to get to class, was a huge process and it took several weeks for attendance to be where it is now. I have also had to adjust a lot of my teaching techniques for remote learning. In person, I play along with the students most of the time, especially in small group or private lessons. Over Zoom, we cannot play at the same time with our mics on. With only one person being able to play at a time unmuted, we switch off between me being unmuted and the student playing along while muted, or the student being unmuted and me playing along while muted." (www.merleburl.com)
Once again a photograph by West Chicago resident Sierra Koenig was featured in the Daily Herald "Images of 2020" photo contest. It was taken on a forest preserve trail, blending images and colors.
A question regarding the asphalt track at Reed Park, now Reed-Keppler Park led to newspaper clippings for Friends of the West Chicago City Museum "FridayFun." The midget auto race track was opened in 1958 and was geared for youth from 6 to 12 years of age. In 1959, the track hosted the Chicago area Grand Prix race. To view the clippings and, visit https://www.facebook.com/hashtag/fridayfun. (www.merleburl.com)
At the caucus Tuesday, December 1, 2020, Wayne Township Republican Organization voted for the Neighbors for Wayne Township slate. On the slate are incumbent Randy Ramey for supervisor, incumbent Brandi Ramundo for Clerk, incumbent Michael Musson for assessor, Janusz Jarmula for Highway Commissioner. Trustee candidates are incumbent Mark Hoyert, incumbent Jackie Hayden, incumbent William Waghorne, and Paul Hempel.
We Grow Dreams Greenhouse & Garden Center is looking forward to 2021, but there is no question it will be different from year's past. The year 2020 caused many businesses to adapt, and it was no different for We Grow Dreams. "We said good-bye to many people that have been with the greenhouse for years, and there are so many team members that we have not seen since last winter." The decision was made to postpone the major fundraiser, the Bowl-a-thon in February. The event also was a time for friends, families and neighbors to gather for a fun afternoon.
            However, there still is the opportunity to donate monies the greenhouse. This is through the annual donation appeal. Ball Horticulture once again is matching donations up to $10,000. There also is an anonymous donor who is doing the same donation match. As the greenhouse is a 501-c(3) not-for-profit, donations are tax deductible. To make a donation, mail a check payable to We Grow Dreams, P.O. Box 861, West Chicago, IL 60186, or visit www.wegrowdreams.org,  and click the donate button
The greenhouse mission is to provide people with disabilities the opportunity to lead fulfilling lives and to train and work in a supportive, safe and caring environment while producing and providing products and services to the community. In this pursuit, we honor the concepts of human dignity, respect, hard work, fellowship and friendship.
My email address is merleburl@earthlink.net.