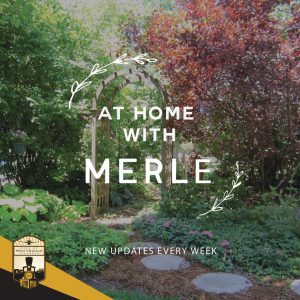 I have a friend who picks up garbage whenever she sees it. Watching her, I plan to carry a small bag to pick up trash I see as I walk. There are organizations that "adopt-a-highway" to clean up garbage people toss. Individuals and groups can pick up the litter, but the best way is not to litter in the first place.
At sports events or other outside activities, keep your throw aways until you find a waste receptacle; do not drop on the ground. In your car, place a small receptacle for the paper products, cups and such that sometimes seem to multiply and then empty into a waste receptacle at your home. Keeping the litter down helps add to the beauty of our community.
Many years ago, Clean and Proud was a  community organization that promoted beautification of the community through the elimination of as much litter as possible and ways to make the community a more attractive place. Through working together, West Chicago was the recipient of several awards, including the Governor's Hometown Award. The committee discovered it took the efforts of every individual to obtain these results. Thus, each and every one of us can contribute to the beauty of West Chicago, by not littering.
AROUND AND ABOUT
During the month of January 2019, the artwork of Gallery 200 artists is on display in the Creative Corner of the West Chicago Public Library, 118 West Washington Street. (www.merleburl.com)
There is a vacancy on the West Chicago Elementary School District 33 Board of Education for an unexpired term ending in April 2021. Persons interested in the position must be a US citizen, 18 years of age, a resident of District 33 and a registered voter. Applications are available at the District Educational Center, 312 East Forest Avenue or call (630) 293-2000. Completed applications are due by 4:00 p.m. Friday, January 18, and directed to Board President Gil Wagner. Karina Villa resigned, she was elected state representative of Illinois District 49.
The last day of free recycling for the holiday lights and extension cords is Friday, January 18, 2019. The offer is open to residents, businesses, clubs, churches and organizations. Drop-off locations are  Drop-off locations are City Hall, 475 Main Street; First United Methodist Church of West Chicago, 643 East Washington Street; Murphy Ace Hardware, 319 South Neltnor Boulevard; Water Treatment Plant, 1400 West Hawthorne Lane; West Chicago Public Library District, 118 West Washington Street; and the ARC Center, 201 West National Street.
The West Chicago Environmental Commission coordinates the program with Elgin Recycling, which collects these items to strip and recycle for their copper and plastic parts. The company is a full-service scrap metal business serving the area for more than 30 years.
West Chicago resident and Gallery 200 member Judy Horsley has two pieces of artwork on display in the juried Photography 2019 Winter exhibit, "Details, Details," from Saturday, January 19, through Saturday, February 16, 2019, at the Bloomingdale Park District Museum, 108 South Bloomingdale Road. Gallery hours are 4:00 to 8:00 p.m. Thursday, 10:00 a.m. to 4:00 p.m. Friday and Saturday, and from noon to 4:00 p.m. Sunday. The artists' reception is from 2:00 to 4:00 p.m. Sunday, January 27, 2019. This is the seventh consecutive year Horsley's work has been selected. (www.merleburl.com)
Reverend Ted Steele, lead pastor at Wesley United Methodist Church in Naperville, is the guest speaker at the 10:00 a.m. worship service Sunday, January 20, 2019, at First United Methodist Church of West Chicago, 643 East Washington Street.
St. Mary's Parish holds its Third Annual Pro-Life March from 2:15 to 4:00 p.m. Sunday, January 20, 2019. Starting at the church, 140 North Oakwood Avenue, the route proceeds west on York Street, north on Arbor Avenue, east on National Street, south on Elite, west on Grand Lake Boulevard, south on Garden Street back to the church.
St. Andrew Lutheran Church, 155 North Prince Crossing Road, hosts a Life Line Screening from 9:00 a.m. to 5:00 p.m. Monday, January 21, 2019. The five-test package tests for risk of stroke, cardiovascular disease and other chronic conditions. The tests are Carotid Artery Plaque, Atrial Fibrillation, Abdominal Aortic Aneurysm and Peripheral Arterial Disease. To register, call (866) 229-0469 or online www.lifelinescreening.com/communitycircle.
The West Chicago Public Library District offers a two-hour computer class, Microsoft Word, at 6:30 p.m. Wednesday, January 23, 2019, in the small conference room, 118 West Washington Street. Subjects covered include formatting text and documents, changing fonts, cut/copy and paste, using Spell Check and MS Word terminology.  To register, call the adult services department at (630) 231-1552, extension 4.
The Environmental Commission meeting is rescheduled to 7:00 p.m. Wednesday, January 23, 2019, from January 16, 2019, at City Hall, 475 Main Street.
The West Chicago Garden Club meeting is Thursday, January 24, 2019, at St. Andrew Lutheran Church, 155 North Prince Crossing Road. Social time is at 6:45 p.m., short business meeting at 7:00 p.m., and program at 7:15 p.m. The speaker, Carolyn Ulrich, presents "Perennials for the Chicago Garden." She discusses the choices of perennials for gardens in this area. The slides are from her Chicago garden and others throughout the region. Ulrich is the editor of "Chicagoland Gardening" magazine.
West Chicago resident Kathy Steere teaches "Begin to Draw Nature" classes from 9:00 a.m. to noon Saturdays ,January 26, through February 23, 2019, at Morton Arboretum, 4100 Route 53 in Lisle. The cost is $138 for members, $162 for non-members. To sign up, call (630) 719-2458 or on line http://www.mortonarb.org/courses/begin-draw-nature. The discussion includes everything from how to hold a pencil to what kind of paper to use. There is time to work on drawing skills in a no-pressure setting.
The WeGo Wildcats Special Olympics Club hosts the Seventh Annual Kwasman Klassic Saturday, January 26, 2019, in Bishop Gym at West Chicago Community High School, 326 Joliet Street, entrance C. Doors open at 6:30 p.m.; game begins at 7:00 p.m. Basketball teams are members of the West Chicago Fraternal Order of Police Lodge 85 and West Chicago Illinois Association of Firefighter 3970. Members of the Special Olympics team play with the firefighters and policemen for the first three quarters. Coaches for the Special Olympics team are Dick Doremus and Dirk Gunderson. Diana Gunderson is the timekeeper; Kyle Gunderson is the home referee.
There is no charge to attend.  However persons attending are encouraged to bring a non-perishable food item or monetary donation for the Neighborhood Food Pantry located at Real Life Church campus in West Chicago. Concessions are available with a portion of the proceeds benefitting the Special Olympics Club. There is a 50/50 raffle and a raffle for gift baskets. The fundraiser is named after the late Mayor Mike Kwasman. Hempe explained, "He was the driving force and expressed the spirit to get our fledgling club restarted."
Hawthorne's Backyard Bar & Grill, 1200 West Hawthorne Lane, hosts its Tenth Annual Ovarian Cancer Turkey Bowl Fundraiser at 12:30 p.m. Sunday, January 29, 2019. The charge is $60 per four-person teams. Pre-registration is required. There are many prizes, give away items and a 50/50 raffle. Teams must register at the bar or see a manager. The event is limited to 100 teams. For individuals not on a team, this is a fun event to watch and cheer on your favorite team. For further information call (630) 293-6700.
West Chicago Public Library hosts the program, "Sheep to Chic: Fiber Art Program" at 7:00 p.m. Wednesday, January 30, 2019, in the main meeting room, 118 West Washington Street. Natasha Lehrer Lewis, a fiber artist and educator, tells about Esther's Place, her working farm and art retreat, and the processes for which she uses her sheep and farmland to create art inspired by the intersection of art and industry. The presentation includes hands-on participation, personal anecdotes and examples of her body of work. Esther's Place is a small farm in Big Rock where individuals can create and purchase crafts from wool, attend classes, parties, and retreats. To make a reservation, call adult services department at (630) 231-1552, extension 4.
The City of West Chicago is holding a Local Government Academy. Adrian Marquez, City Outreach Specialist, said, "The purpose is to provide Latino middle and high school students an in-depth understanding of the working functions of the City, as well as to examine issues affecting City residents. The program also aims to promote civic leadership and participation amongst West Chicago Latino youth."
The eight sessions are from 3:30 to 5:00 p.m. Thursdays, starting January 31 and ending March 21, 2019, at City Hall, 475 Main Street. Applications are available on the City's website www.westchicago.org/local-government-academy. Students interested in the program need to submit an application by Monday, January 21, 2019, to Adrian Marquez by dropping them off at City Hall or email AMarquez@westchicago.org. For further information, call Marquez at (630) 293-2200, extension 123 or send an email.
In addition to featured speakers, who are personnel from City departments and community partners, there are field trips to various City facilities. After each presentation by the featured speakers, there is a question and answer opportunity for the students. Students are to complete a short reflection/evaluation on the session topic and speaker. All sessions are conducted in English.
Session 1 is "Welcome" and "What's the Big Deal?" An Introduction to Local Government; Session 2, "The Big Picture" by City Administration; Session 3, "Connecting our Community" by Administrative Services; Session 4, "How to Build a Better Community" by Community Development; Session 5, "Public Safety and the Community" by Police; Session 6, |"Roads, Bridges, Land and Water" by Public Works; Session 7, Tour of Water Plant and Waste Water Treatment Facility by Public Works; and Session 8, "What's Next?" with Civic Engagement / Leadership / Presentations.
West Chicago City Museum needs artists for inclusion in the new exhibit, "Home," which is scheduled to be on display from Saturday, May 18, 2019, through Saturday, May 20, 2020. The original artwork is to be inspired by the story of someone, who at one time, called West Chicago home. Participation is encouraged from artists working both in visual and performing arts, which include sculpture, painting, photography, printmaking, site specific installations, performance, writing, sound and music.
To enter their nomination for participation, artists are to submit an artist statement, a biography and exhibition/performance history and up to three samples of prior work either in jpeg format/links to sound or video files to Sara Phalen at wegohistory@gamail.com or 132 Main Street, West Chicago, IL 60185. The deadline is Friday, February 1; artists will receive notification no later than Friday, February 15, 2019. The
introduction to potential stories of "Home", and exploration of archives and artifacts behind the stories, is scheduled for Saturday, March 2, 2019.
The selected artists will work with Museum Director Sara Phalen and exhibit co-curator Anni Holm to explore local history and relevant artifacts from the collection of the Museum. The artwork will be displayed alongside the histories of community members and select artifacts. Featured artists also will be featured in a small publication.
For further information, call Phalen at (630) 231-3376 or email wegohistory@gmail.com. (www.merleburl.com)
Blue Frost Heating & Cooling is holding a Collection Drive for Neighborhood Food Pantry located on the campus of Real Life Church through February at its business location, 1965 Powis Road. Hours are from 8:00 a.m. to 5:00 p.m. Monday through Friday. Acceptable items are laundry care, toiletries, non-perishable foods and beverages such as bottled water and juice.
Maggi Capettini, education coordinator at West Chicago City Museum, has three pieces of artwork in the Norris Gallery Winter 2019 exhibit, "Up Close and Personal," now through Wednesday, February 27, 2019, at the Norris Cultural Arts Center, 1040 Dunham Road in St. Charles. Galley hours are from 11:00 a.m. to 4:00 p.m. Wednesday through Sunday. The artists' reception is from 2:00 to 4:00 p.m. Sunday, January 27, 2019. (www.merleburl.com)
Kathy Manning, a Gallery 200 member, has a watercolor exhibit, "Color of Water," now through Friday, March 1, 2019, in the second floor Gallery at Bartlett Village Hall, 228 Main Street. Hours are 8:30 a.m. to 4:30 p.m. Monday through Friday, and from 9:00 a.m. to noon Saturday. (www.merleburl.com)
Gallery Theater presents "Harvey" by Mary Chase. Director is Jack Smith. Performances are at 7:30 p.m. Friday and Saturday, February 15, 16, 22, 23 and March 1 and 2, and at 3:00 p.m. Sunday, February 17, 24 and March 2, 2019. The ticket price is $16; $14 for senior citizens. To make a reservation, email GalleryTickets@gmail.com, on the website: www.gallerytheaterstudio.com or call (630) 234-5919.
Sincere sympathy is extended to the family of Joy Arlene Bright, who at the age of 78 passed away Wednesday, January 9, 2019.
Deepest sympathy is expressed to the family of Dwight Lund, who at the age of 94 passed away, Saturday, December 29, 2018.
Sincere sympathy is extended to the family of Larry Ray "Uncle Lar" Heinz, who at the age of 73 passed away Tuesday, November 27, 2018.
Deepest sympathy is expressed to the family of Catherine Ann Nordlund, who at the age of 65 passed away Wednesday, January 8, 2019.
At the Blood Drive Sunday, January 6, 2019, at Andrew Lutheran Church, seven units of blood were donated.
Lakeshore Recycling recently acquired commercial waste and recycling routes from Molenque Enterprises, Inc.
The West Chicago Fire Protection District responded to the report of a kitchen fire at approximately 2:50 p.m. Wednesday, January, 9, 2019, in an apartment at the Autumn Crest Apartment complex, 247 North Neltnor Boulevard. Arriving on the scene within minutes of the initial alarm, the firefighters found smoke coming from a second floor apartment. They quickly made an interior attack on the fire, and, at the same time, searched all the apartments to make certain all occupants were safely evacuated. The fire, contained to the single apartment, was quickly extinguished.
Assisting at the fire were firefighters from Winfield, Wheaton and Carol Stream, plus the West Chicago Police Department, Public Works and City Building Department. There were no civilian or firefighter injuries. The cause of the fire is under investigation. (www.merleburl.com)
Police Chief Mike Uplegger swore in Ryan Moore, the newest police officer. Friday, January 11, 2019. He started his training this week at the Illinois State Police Academy in Springfield. (www.merleburl.com)
At the meeting, Monday, January 7, 2019, City Council approved a contract for Cemetery Sexton Services for the amount of $80,000 to Cemetery Management, Inc. The City pays John Reynolds an annual salary of $7,200 plus additional costs associated with interments, grounds maintenance and other contractual services as required. The item summary states, "The number of interments and number of snow removal events remain unknown factors that impacts budget expenditures; however the City averages 30 interments per year." The company requested an increase for grave excavation and interment of ashes charges. The Council approved the increase. The charges now are $775 for grave excavations Monday through Friday, $900 for Saturday and $1,000 for Sunday or holiday. Charges for interment of ashes now are $375 Monday through Friday, $400 for Saturday, and $500 for Sunday and holiday.
Also approved was a contract for the 2019 Emerald Ash Borer Insecticidal Treatment program for trunk injections with "boxer" at the unit price of $3.20 per inch diameter and soil treatment with 'imidacloprid" at the unit price of $1;25 per inch diameter to Emerald Tree Care, LLC from Carol Stream. Per the item summary, "There currently are approximately 1,336 City-owned Ash trees that would require treatment in 2019.
Council approved a contract for the 2019 Tree Planting program for the amount of $48,000 to St. Aubin Nursery of Kirkland. The item summary states, "As bid, the 2019 Tree planting program consists of providing and planting 160 Parkway trees in various location within the corporate limits of the City of West Chicago." Staff increased the quantity of trees to be planted to approximately 200 due to the additional tree removal/removals that resulted from the November 2018 winter snow storm.
Also approved was a contract amendment No.1 for the procurement of Coarse and Fine Aggregate Materials Delivered for Fiscal Year 2019 for $32,137 to Marcott Enterprises, Inc. of Villa Park. Per the items summary, the 2018 Coarse and Fine Art Materials Delivered contract contained a Claus, "The contract may be extended for two additional years through mutual agreement between the successful bidder and the City of West Chicago for the same unit price." Staff received a letter from Scott Schroeder, President of Marcott Enterprises,
which indicated a willingness to hold to its 2018 unit prices for FY 2019.
Council approved a contract for Emergency Repairs to the Standby Power Generator at the Water Treatment Plant for the amount of $137,200.38 to Charles Equipment Energy Systems of Des Plaines. The item summary explained Council had approved a contract for the amount of $144,915.37 to Illini Power Products of Carol Stream at its Monday, December 17, 2018, meeting. When staff informed Illini Power Products of City Council's approval, the company said it would not honor the November 14, 2018, bid, citing various reasons. Staff then
contacted Charles Equipment Energy Systems to see if it would be willing and able to complete the necessary generator repairs in 2019 and honor its repair estimate/quote, dated November 30, 2018.
Also approved was a contract for the purchase and use of Axon Enterprises, Inc. products and services associated with the body camera system for an amount not to exceed $251.608. This involves 44 body cameras.
The WeGo Wildcats Special Olympics Club basketball team played in the state qualifier Sunday, January 13, 2019, and won both games. The score against Glenbard East was 44-38 and the score against Naperville 203 Connections was 52-36. Club president Dave Hempe said, "The athletes played extremely well and coaches Dirk Gunderson and Dick Doremus did a masterful job directing the team."  The state tournament takes place Friday and Saturday, March 15 and 16, at Illinois State University in Bloomington/Normal.
Through the Annual Appeal fundraiser, We Grow Dreams Greenhouse & Garden Center, 1055 West Washington Street, raised $25,000 with a $15,000 matching contribution from Ball Horticultural Company. The greenhouse mission, a not-for-profit organization, is to provide people with disabilities the opportunity to lead fulfilling lives and to train and work in a supportive, safe and caring environment while producing and providing products and services to the community.
However, during the year, the greenhouse also was giving back to the community. The business provided more than 500 pounds of vegetables for Northern Illinois Food Bank, hosted more than 50 tours from local high schools, middle schools and grade schools to teach them what the greenhouse does, and involved more than 30 Master Gardeners, who gave of their time and energy as job coaches and teachers.
West Chicago Fire Protection District was among the five fire departments assisting at the fire Monday, January 14, 2019, at D & D Kennels, 2N441 County Farm Road. Firefighters successfully rescued 25 of the dogs; however, 25 to 30 dogs perished in the fire.
My email address is merleburl@earthlink.net.