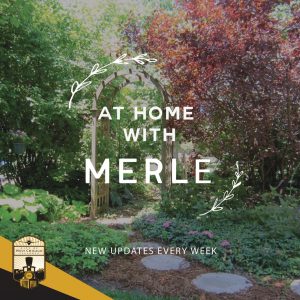 The Christmas boxes are finally put away in my storage area. Now the hunt begins for the everyday items I put in a safe place. There is nothing more exhilarating than having an "aha" moment. Actually, some seem logical hiding nooks. Others not so much, such as why did I put the napkin holder with the bathroom towels. These are my exciting moments for now.
AROUND AND ABOUT
Healthy West Chicago offers a virtual cooking class, "Healthy Snacks: Dips and Spreads,"at 6:00 p.m. Wednesday, January 20, 2021. In addition to the demonstration of healthy family approved recipes, participants learn the importance on eating healthy, saving time in the kitchen and involving youth in food preparation. The log in link is https://us02web.zoom.us/j/81195700688.(www.merlebure.com)
The WeGo Together Community Market reopens at Leman Middle School. 238 East Hazel Street. It is for all West Chicago families with children from birth through 18. Hours are 4:30 to 6:00 p.m. Tuesdays. The community Market offers fresh produce, meats, milk, eggs, canned good and household staples.
Volunteers are needed for both morning, 7:30 to 10:30 a.m., and afternoon, 2:30 to 6:30 p.m. Duties in the morning include stocking and sorting food. Afternoon duties include prep for distribution and assistance with distribution. Persons interested should email Kiya Becke at kbecket@peoplesrc.org or call (630) 682-5902, extension 215. )www.merleburl.com)
January is Firefighter Cancer Awareness Month. Fire Fighters face a nine percent increase in cancer diagnoses and a 14 percent increase in cancer-related deaths compared to the general public. The Office of the Illinois State Fire Marshal is joining forces with the Fire Fighter Cancer Support Network and the International Association of Fire Fighters to raise awareness about the increased risk of cancer amongst fire fighters. The goal of this campaign is to provide fire fighters the necessary tools and guidance to develop life-saving protocols for cancer prevention and to support those with a cancer diagnosis within their departments.
The OSFM partnered with the Illinois Fire Service Institute and the MABAS-Illinois to create the State of Illinois Preliminary Exposure Reduction Training project in 2020. This project was developed to deliver critical firefighter health and life safety research, education, training and basic equipment to fire departments across the state. To learn more about this program visit: https://fsi.illinois.edu/decon/#!/index.
West Chicago resident Roxanne Matejovsky Hamlin said that the issue on a recent Chicago Fire, "Cancer in the Fire Service was the topic at an Administration presentation. A ten year on the job Firefighter told the statistics that one in three firefighters will get Cancer. Then he went on to tell his story. Now, I realize this is a television show. However, it's becoming all too common in the fire service that needs to be brought to the attention of all. Nice job Chicago Fire. Hopefully raising the awareness with this episode."
West Chicago City Museum and Warrenville Historical Society present the Historiography program, a non-fiction book reading group, at 1:00 p.m. Thursday, January 21, 2021, via Zoom. The book is "Braiding Sweetgrass; Indigenous Wisdom, Scientific Knowledge and the Teachings of Plants" by Robin Wall Kimmerer. The book is about plants and botany as seen through Native American traditions and Western scientific traditions.To get a copy of the book or for further information, visit Friends of West Chicago City Museum website, wegohistory.com or call (630) 231-3376.
In partnership with Cantigny Park, the League of Women Voters of Wheaton hosts a Civics Awareness program at 7:00 p.m. Thursday, January 21, 2021. Mark Ailes of the Citizen'x Climate Lobby presents the program, "Personal Transformation to Become a Climate Advocate." To make a reservation visit my.lwv.org/illinois/wheaton/calendar/civic-awareness. A Zoom link to access the presentation is sent two days prior to the event. Persons can submit any questions they have to blaimins@gmail.com before the event. During the presentation, attendees use the chat box located on the bottom of the Zoom screen.
Hawthorne's Backyard Bar & Grill, 1200 West Hawthorne Lane, hosts its Twelfth Annual Turkey Bowl Charity Event Fundraiser at 12:30 p.m. Sunday, January 31, 2021. The charity this year is the Illinois Fire Safety Alliance, a 501(c)(3) not-for-profit organization dedicated to fire safety, burn prevention, and supporting burn survivors. There are many prizes, give away items and a 50/50 raffle, The charge is $60 per four-person teams. Pre-registration is required. Teams must register at the bar or see a manager. The event is limited to 100 teams. For individuals not on a team, this is a fun event to watch and cheer on your favorite team. For further information call (630) 293-6700.
West Chicago Cultural Arts Commission sponsors its Fourteenth Annual Community Banner Project Competition. The theme is "Take Flight." The artwork may be any media with no limitation to technique or subject matter. An independent juror selects the works of art. Each winning design is reproduced and featured in the 2021 West Chicago Banner Exhibition from May to September. An entry is comprised of up to 3 JPEG images at 72 dpi measuring (h) 7" x (w) 5". All files should be numbered and named with the artist's last name and first name. Ex.: 01Lastname_Firstname.jpg and submitted via an online form. All entries must be original and created within two years of entry date.
All entries are due by Monday, February 1, 2021. Information details are available at www.westchicago.org/art. Call Rosemary Mackey at (630) 293-2200, extension 139, for more information.
Continuing its tradition of promoting an active lifestyle through movement activities, Healthy West Chicago is launching a New Year Wellness Challenge. The new free digital app, Heka Well, features include the option to track one's own personal health. There will be monthly scan-in opportunities for bonus steps, prizes, and access to the challenge leaderboard on the Healthy West Chicago Challenge Page.
Persons who have already participated in the West Chicago Move with the Mayor Walking Challenge during previous months can use their existing login credentials but you first need to install the new app and complete the registration https://www.hekahealth.com/healthywestchicago21
To stay up-to-date on the challenge prizes and bonus activities by following Healthy West Chicago on Facebook or subscribe to their website at www.healthywestchicago.org. For more information visit HWC Wellness Challenge Page or HWC Wellness Challenge Info
Remember to support the local businesses and restaurants.
The DuPage County Health Department developed a dashboard to provide information on the total number of people, in DuPage County, who have tested positive for COVID-19. In addition, the dashboard includes a map which shows the distribution of reported cases by municipality and is updated at 4:00 p.m. daily. DuPage County's "COVID-19 Dashboard" is a one-stop-shop for all the information it offers including a town-by-town breakdown of cases. As of 4:00 p.m. Monday, January 18 2021, there were 3,508 cases and 34 deaths; this is the number from the beginning of track recording. It is important to remember to follow the social distancing order, wear masks and wash hands.
A COVID-19 testing site is open from 8:30 a.m. to 12:30 p.m. Tuesdays and Thursdays in a VNA Health Care Mobile at St. Andrew Lutheran Church, 155 North Prince Crossing Road. There is no charge. Appointments are required and may be made at (630) 892-4355 or (847) 717-6455. A medical assistant now is at the site.DuPage County offers free COVID-19 testing at the DuPage County Complex, 421 North County Farm Road. The sites open from 7:00 a.m., to noon Monday through Friday. Since it is a drive-thru testing site, individuals give themselves a nasal swab test with instructions from staff
To keep residents aware of community COVID-19 updates, the City has posted West Chicago's COVID-19 COMMUNICATIONS CENTER on its website, www.westchicago.org. It is located on the upper left-hand side in red. Clicking on this, residents can see the latest information.
Deepest sympathy is expressed to the family of James Lenertz, who at the age of 81 passed away Monday, January 11, 2021.
Sincere sympathy to the family of Rich Runowski, who at the age of 71 passed away Monday, January 11, 2021.
Deepest sympathy is expressed to the family of Richard E. Berg, who at the age of 82 passed away Sunday, January 19, 2021.
Jordan Garcia, a senior at West Chicago Community High School, is the Student of the Month for December 2020. Reasons for his selection include being an outstanding citizen, a hard worker and an excellent student.
He has been on the Honor Roll nearly every semester, earning a cumulative weighted grade average of 4.667. Garcia earned Academic All-Conference for varsity basketball and earning the designation twice for football. In addition to these two sports, he played baseball. He serves as a Student Ambassador and volunteers for other school events.
Upon graduation Garcia plans to play football at Concordia University Chicago. He plans to major in criminal justice to fulfill his dream of becoming part of law enforcement. (www.merleburl.com)
Mexican Cultural Center DuPage has a new member on its administrative team. Rocio Olvera, Miss Mexican Heritage 2018, is the new Miss Mexican Heritage Program Director. (www.merleburl.com)
Each Saturday St. Andrew Lutheran Church is the distribution center for food and other necessities for the 500 families in need. The volunteers demonstrate the Postmen's creed, "Neither snow nor rain nor heat nor gloom of night stays these couriers from the swift completion of their appointed rounds." No matter what the weather, the volunteers are at the church. Donations are always welcome. Sheila Rutledge, County Board District 6 member, recently donated diapers. (www.merleburl.com)
The last day for filing nominating petitions for the Tuesday, April 6, 2021, Consolidated Election was December 21, 2020. Tristan Moffett filed objected challenges to Daniel M. Czuba's nomination papers for Mayor. Objections included not a registered voter, residency and petition signatures. Members of the electoral board were City Clerk Nancy Smith, Aldermen Lori Chassee and Jim Beifuss. The first meeting was Tuesday, January 5, 2021. However Winn, attorney for Czuba, requested the meeting take place Tuesday, January 12, as he just received the papers. At this meeting, the objection to Czuba's nomination for Mayor was sustained by the Electoral Board.
For 27 years, West Chicago Community High School American Government teachers have prepared senior students to "live" democracy through the award winning semester-long legislative simulation. The COVID-18 pandemic was going to cause difficulties in presenting this to youth in a meaningful manner. The almost 250 seniors wanted this program, teachers devised ways to make it work and technology stepped in to make certain all i's were dotted and t's crossed to make the situation "live" and the effort was worth it.
American Government teachers John Chisholm, Bobbie Felfle, and Candace Fikis worked diligently to make the simulation work remotely. "From the beginning of the semester, students asked us if we were going to do the legislative simulation because they knew it was a senior tradition in Government," said Fikis. "They got online at 6:00 a.m. to secure their political topics they were passionate about, worked outside of school hours to research their issue and advocate on its behalf, and so many students stepped up to be leaders, from committee chairs to caucus leaders to the Speaker of the House. It was their enthusiasm for political action that drove us to reimagine this simulation online."
The teachers reimagined Committee Hearings and held them virtually December 18. Based on how successful that day went, they agreed to move ahead with a virtual Full Session. While preparing for Committee Hearings, students told the teachers they were excited to be doing a "traditional" senior year experience and it provided some students some extra motivation to be sure they were caught up in class.
As the WCCHS technology integration specialist, Clarke was challenged with how to manage half of senior class, almost 250 students, in an online experience that could keep students engaged, allowed increased participation opportunities, and allowed all of the roles in a legislative full session to be carried out.
Clarke created a "war room" that was key to the management of this large undertaking on January 13, 2021. With multiple Chromebooks connecting groups of students by not only political affiliation, but by strict, moderate, or centrist to further define their beliefs, students were able to caucus for discussion prior to taking a vote. In addition, all students were able to see and hear those testifying, view presentations, and see vote tallies as they came in.
The bills written by the 1st Semester Senior Class that made it to the full session were: HB119: Restore Voting Rights for Felons. HB111: Ban Assault Weapons, HB120: Mask Mandates, HB125: Zero Tolerance for Teens Driving with Alcohol, and HB126: Police Repurposing. The bills that passed were Mask Mandates and Zero Tolerance for Teens Driving with Alcohol.
"In this very polarized political environment we live in, it was refreshing to hear our students agree and disagree with one another on controversial issues, yet do it in a civil and respectful manner that impressed all the adults who observed the simulation," said Fikis. "In our reflection after the mock full session students repeatedly said that one of this things they liked best about this simulation was the ability to hear what others think, even if they disagreed with them. It really made them take a closer look at the issue."
To wrap up the experience, Chisholm said, "Civil discourse and respect for others is alive and well here at WeGo. (www.merleburl.com)
Flint Group from Batavia dropped by West Chicago Fire Protection District Station 7 to donate cases of hand sanitizer. In the Sunday, January 17, 2021, issue of the Daily Herald, there was an article on K9/Drone search and rescue Strike Team.West Chicago Fire Protection District K9 Thor and his handler, Todd Baseggio were mentioned. Also the team trains together and one location is the disaster pile the team built in West Chicago. It stimulates the rubble dogs may encounter in a disaster. (www.merleburl.com)
Former long time West Chicago resident Susan (Weimer) Dickens is the author of "Zig, the Spotted Pig," a children's book. "Being different is not easy, which is something Zig, the only pig on the farm with spots, sadly learns. When he makes friends with other animals who are different, they all learn that what is on the outside is not as important as what is on the inside. Join Zig in this story of friendship and acceptance."
Dickens was the daughter of the late Carol and George Weimer. She graduated from West Chicago Community High School in 1967. She now resides in Austin, Texas with her husband Steve.
Her mother Carol worked for many years in the bookkeeping department at DuPage National Bank, now Republic Bank. She also volunteered at the West Chicago Public Library.
Her father George graduated from WCCHS in 1927, and while in his junior year was employed at the West Chicago Press, owned by the Treudt family. He continued at the newspaper for 51 years and was editor for 35 years. (www.merleburl.com)
My email address is merleburl@earthlink.net.