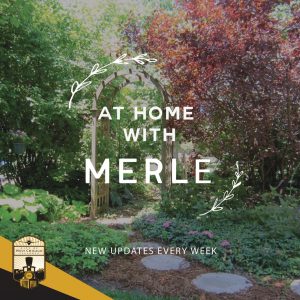 Sharon Hadden and Teresa Woodard, judges from America in Bloom, will be in West Chicago Monday and Tuesday, July 22 and 23, 2019. The areas of judging include Urban Forestry, Flower Displays, Landscaped Areas, Community Vitality, Environmental Efforts, Celebrating Heritage and Overall Impression. While visiting, not only do judges become acquainted and learn about the community and its citizens, but the participants also learn more about the community.
Locations in town to be visited include the new location for Neighborhood Food Pantry on Fremont Street, Gallery 200, West Chicago City Museum, West Chicago City Hall, Sesquicentennial Park, Kruse House Museum and Gardens, Prairie Landing Golf Course and We Grow Dreams Greenhouse and Garden Center.
Others are Reed-Keppler Park, DuPage for Humanity, Educare West DuPage, the Community Gardens planted on property of St. Michael's United Church of Christ. DuPage Business Center, Ball Horticultural Company Gardens, two residential gardens and West Chicago Prairie.
Hadden moved with her husband from the UK to Indianapolis, Indiana, where she manages the Container Gardening department at Allisonville Nursery, Garden and Home. She appears on Fox 59 Good Morning Show as their Garden Guru, and along with other presenters, covers garden topics. She also presents a series of educational lectures at the IGC Show in Chicago. Hadden studied horticulture in the UK and studied for her diploma in Botanical Art Chelsea Physic Garden in London. In the UK, she owned her own company, growing and selling everlasting flowers and herbs.
Woodard writes and produces garden and lifestyle stories for regional and national magazines. She resides in Galloway, Ohio.After graduation with a bachelor's degree in journalism from Indiana University, she was employed by a Columbus, Ohio public relations firm marketing the city's economic development and promoting its restaurant and hotel chains' community insolvent Seven years later she started a freelance writing business in 2007. She was a recipient of a Gold Award in Magazine Writing from GWA: The Association of Garden Communicators. In addition to writing blogs with two other garden writers, Woodard is a Master Gardener volunteer for the Ohio State University Extension, editor of Master Gardener Training Manual and winner of the 2015 Outstanding Master Gardener Award. (www.merleburl.com)
AROUND AND ABOUT
West Chicago City Museum Historiography program, a non-fiction book reading group, is at 1:00 p.m. Thursday, July 18, 2019, at the museum, 132 Main Street. Guests can bring a lunch; dessert and a beverage are provided. The book to be discussed is "The Strange Case of Dr. Couney: How a Mysterious European Showman Saved Thousands of American Babies" by Dawn Raffel. Reservations are not required for this free program. For further information call the museum at (630) 231-3376 or email wegohistory@gamil.com.
In 1897, Dr. Martin Couney launched an incubator exhibit, with actual babies in incubators, for Queen Victoria's Diamond Jubilee in London, He soon immigrated to the United States, where he set up similar exhibition at amusement parks and World Fairs. By the 1950s, just after Couney's death, incubators finally became common in maternity wards. National Public Radio selected the book and some of the best for 2018 and the book was awarded a 2019 Christopeh Award for books that affirm the human spirit.
Raffel was a fiction editor for many years, helped launch "O, the Oprah " magazine, and served as art web editor at the Center For Fiction, She currently is an independent editor for individuals and creative organizations, specializing in memoir, short stories and narrative nonfiction. (www.merleburl.com)
In partnership with Cantigny Park, the League of Women Voters of Wheaton hosts a Civics Awareness program Thursday, July 18, 2019, in the McCormick House at Cantigny, 1S151 Winfield Road in Wheaton. Social time is at 6:30 p.m., followed by the program at 7:00 p.m. The topic is "Census 2020," presented by Martina "Tina" Hone, Chief Impact Officer at YWCA Metropolitan Chicago. She discusses why the 2020 census is so important and how it impacts Illinois. Complimentary coffee and dessert are served. Tram service is available. Registration is required for the free program. To register visit http://bit.ly./2020-census-lwv Parking is free.
Hone oversees the Economic Empowerment Institute and the public policy portfolio of the YWCA. She has more than 20 years working in the Washington, DC public policy and political arena. She was the founder of Coalition of the Silence, a not-for-profit organization committed to giving minority and socioeconomically disadvantaged parents an equal voice in the education of their children. Hone received her BA degree in Political Science from the University of Chicago and her law degree from the University of California, Berkeley.
League of Women Voters of Wheaton includes West Chicago, Warrenville, Winfield, Wheaton and Carol Stream. The League of Women Voters is a non-partisan organization that does not support or oppose any political party or candidate, but whose purpose is to promote political responsibility through informed and active participation of citizens in government. (www.merleburl.com)
St. Andrew Lutheran Church, 155 North Prince Crossing Road, hosts its annual Bike-A-Thon Saturday, July 20, 2019. The six-mile ride is on the Prairie Path. Persons meet at 8:30 a.m. with the start time of 9:00 a.m. followed by a meal. Bikers must wear helmets. Donations support the ministry of St. Andrew. For further information, call the church office at (630) 231-3787. (www.merleburl.com)
With Reverend Sue Ebersold on vacation, there are different guest speakers at the 9:30 a.m. worship services at St. Michael's United Church of Christ, 400 West Washington Street. Member Jeanna Stewart leads a breakfast worship service in the Church fellowship room Sunday, July 21, 2019.
DuPage Immigrant Ministry holds a bilingual Service of Welcome, followed by a potluck, at 5:00 p.m. Saturday, July 20, 2019, at St. Andrew Lutheran Church, 155 North Prince Crossing Road.
People Made Visible hosts Art in the Park, a family night of music and art at the Shell in Reed-Keppler Park, 129 West National Street. It takes place at 6:00 p.m. Friday. July 19, 2019. Guests can bring a lunch and should wear play clothes to decorate while taking part in interactive art. The artist is Juan Chawuk, the artist-in-residence. He painted the letter blocks on display in Gallery 200.
West Chicago Community High School holds a Wildcat Elite Football Camp from 6:00 to 8:00 p.m. Monday through Thursday, July 22 to July 28, 2019, at the high school stadium 326 Joliet Street. The camp is for fourth through eighth graders. Head football coach Jack Rustman and the other coaches lead the camp with the introduction to Wildcat offense and defense schemes and philosophies. Current and past players also assist. Attendees need football cleats and athletic clothing; everything else is provided. The charge is $50. To make a reservation, visit d94.revtrak/Summer-Sports-Camps/. For further information, email Coach Rustman at jrustman@d94.org or call (630) 876-6468. (www.merleburl.com)
West Chicago Park District holds a two-hour Rules of the Road Class for persons 50 and older at 1:30 p.m. Tuesday, July 23, 2019, at the ARC, 201 West National Street. An instructor from the Secretary of State's office teaches the course. To make a reservation, do so in person at the ARC or online at www.we-goparks.org.
The DuPage County Fair celebrates is 65th Annual Fair from Wednesday, July 24, through Sunday, July 28, 2019. It is a five-day celebration of music, food, fun, education and agriculture.
It is Pause for Paws Movie Night at 7:00 p.m. Wednesday, July 24, 2019, at The Shell in Reed-Keppler Park. The West Chicago Park District teams up with Fetching Tails Foundation, a non-breed specific rescue committed to saving dogs regardless of breed, age and physical ability. There will be pets available for adoption from the Foundation, located in Itasca. Other vendors are Natural Healing Whole Dog Wellness from West Chicago, Carol Stream Animal Hospital and Two Bostons Dog Store with locations in Geneva and Wheaton. The movie "The Secret Life of Pets" begins at 8:15 p.m. Guests should bring blankets, chairs, snacks and bug spray.
"From Chaplin to the Dark Knight, The Movie Industry in Chicago" is the program at 6:30 p.m. Thursday, July 25, 2019, in the meeting room at the West Chicago Public Library, 118 West Washington Street. Historian Dave Clark presents the program, discussing the whole history of the film industry in Chicago from the days of Charlie Chaplin through such modern classics as the Dark Knights.
As motion pictures developed as an art form, storefront nickelodeons gave way to opulent movie palaces. The Chicago-based Rapp & Rapp architectural firm, headed by brothers Cornelius and George, designed more than 400 of the nation's most eloquent showplaces, including the Chicago Theater and Rialto Square in Joliet.
For several decades Chicago was sporadically a featured location in popular movies. The success of "The Blues Brothers" helped increase the number of film shots. Today, Cinespace Studios on the city's west side is the largest film studio outside of Hollywood.
Mark these dates on your calendar. As part of the 150th anniversary for the Transcontinental Railroad completion, the Big Boy Engine 4014 is touring Union Pacific railroads, "The Great Race Across the Midwest." The largest steam locomotive in the world weighs 1.2 million pounds and is 132 feet long. Leaving Altoona, Wisconsin, the Big Boy is scheduled to arrive in West Chicago at 2:30 p.m. Friday, July 26, It will be on display from 9:00 a.m. to 4:00 p.m. Saturday, July 27and from 9:00 a.m. to 3:00 p.m. Sunday, July 28, and Monday, July 29, 2019, at the Union Pacific Larry Provo Training Center, 335 Spencer Street. Also at the same time, the Experience Union Pacific Rail Car is open to the public. The converted baggage car is a multi-media walk-through exhibition, where person can see glimpses of the past, plus it tells the story of modern day railroading. To view the schedule and route, visit up.com, under Heritage. Also some pictures and information of Big Boy on the rails as it travels to the destinations of Midwest tour are on cs.trains.com, under blogs.
"The Great Race to Promontory" started with the signing of the Pacific Railway Act of 1862 by Abraham Lincoln. The Central Pacific Railroad, chartered in 1861, was authorized to build a line from Sacramento. At the same time, the Act chartered the Union Pacific Railroad Company to build west from the Missouri River. These were to meet and form a continuous line across the United States. The tracks met at Promontory Summit, Utah. The original legislation granted each railroad 6,400 acres and up to $48,000 in government bonds. (Information is from Union Pacific website)
The Third Annual Special Olympics Softball Game and Pig Roast is Sunday, July 28, 2019. The game between the West Chicago Police Department and West Chicago Fire Protection District is at 1:00 p.m. at Reed-Keppler Park, 241 West National Street. The Police Department was the winner last year. Following the game is the Pig Roast at Hawthorne's Backyard Bar & Grill, 1200 West Hawthorne Lane. The charge is $10. Other activities include 50/50 raffle, raffle, including tickets for 2018 Harley-Davison and Can-Am Defender HD5 all-terrain vehicle and, silent auction. All proceeds benefit the Law Enforcement Torch Run for Special Olympics Illinois. For further information, call Robbi Peterson at (630) 918-6326.
Under the sponsorship of People Made Visible, a committee is working to publish a new cookbook, "One West Chicago: Near and Far," highlighting the diversity of the community through recipes from the people and organizations in the community. Persons who are a resident, a former resident, work in West Chicago, visited friends or family here, or belong to a West Chicago organization, sports club, other not-for profit organization or church can submit a recipe. The publication is scheduled for fall of 2019. Recipes can be submitted electronically until Wednesday, July 31, 2019. For further information or to fill out a recipe form, visit the Facebook page, One West Chicago: Near and Far or email wegocookbook@gmail.com. Forms also are available at the City Museum; West Chicago Public Library, 118 West Washington Street; or City Hall, 475 Main Street.
The Shopping Cart Shuffle takes place Saturday, August 3, 2019, at Mallard Lake Forest Preserve, Schick Road and Mallard Lane in Hanover Park. The proceeds from the race benefit Neighborhood Food Pantries, which includes the one in West Chicago located on the Real Life Church campus. Registration is at 7:30 a.m., The Kids Dash is at 8:15 a.m. and the 5K race is at 8:30 a.m. The top 3 overall male and female runners will receive a medal, as will the top runners in each age category. Age groups are 13 and under, 14 to19, 20 to 29, 30 to 39, 40 to 49, 50 to 59, 60 to 69 and 70 and over. There is an "Express Lane" Kids Dash for children ages 2 to 10. Persons can also register as a team, with each member receiving a $5 registration discount. The cost is $40 for the 5K and $15 for children ages 6 to 10 in the Kids Dash. The charge on the day of the race is $50 for the 5K and 20 for Kids Dash. Persons can register on line at https://raceroster.com/events/2018/16103/shopping-cart-shuffle-5k or at the race location. The top three finishers in a food-related costume receive an award.
The Fourth Annual "Dueling Pianos" fundraiser, hosted by the Community High School Educational Foundation, is at 7:30 p.m. Saturday, August 3, 2019, at the ARC, 201 West National Street. The fun evening includes entertainment, silent auction, 50/50 raffle, mystery envelopes, hors d'oeuvres from Augustino's Rock and Roll Deli & Grill and open bar. The ticket price is $40. Tickets can be purchased on line at www.d94.org/piaanos, or through any Foundation member, Ren Hughes, Frank Lenertz, Brian Beerman, Ron Segert, Chuck Strayve, Patti Kozlowski, Dennis Hughes, Lisa Welz.
Since it was established in 2003, the Foundation has granted $244,000 to the teachers at WCCHS for non-budgeted equipment needed to enhance our students' education. Chrome books, electronic baby charging cabinet and AP testing for low income students are just a few of the many fulfilled grant requests.
Gallery Theater opens its tenth season with the play "The Man with Bogart's Face" by Andrew J. Fenaday. Gail Cannata is the director Auditions take place from 5:00 to 7:00 p.m. Sunday, August 4, 2019 and from 7:00 to 8:30 p.m. Monday, August 5, 2019, at the theater, 129 Main Street. Performance dates are the last two weekends in September. To schedule an appointment e-mail galleryauditions@gmail.com.
In the good old days of radio, people had to use their imaginations, and the mind was a stage. Those days are back only better because one can see as well as hear radio programs. A man whose identity the audience never knows has his face altered to look like Humphrey Bogart and is involved in a Maltese Falcon-type caper, like the old days when there were causes and dames and flags worth fighting for and "a fast-moving story with action and staccato dialogue that literally bring Bogart to life." This is an old-time radio show with the actor's versatility coming through with character voices. The audience knows there is a change of characters just by hearing the voice.
The characters in the production are Announcer, Hostess, Dr. Inman, Sam Marlow, Duchess, Mother, Elsa Borsht, Buster, Nero's Uncle, Horst Borsht, reporters Able, Baker and Charlene, Lt. Marion Bumbera, Sgt. Horace Hacksaw, Gena Anastas, Petey Cane, Jock, Commodore Alexander Anastas, Mr. Zebra, Nicky Karamavrakinopoulos, Cynthia Ashley, Mustafa Hakim and Wolf Zinderneuf
Other plays for the season are "Bistro De L'Amour & Reconciliation" by Thomas Rieser, "Skylight" by David Hare, "Stella & Lou" by Bruce Graham, and "Arsenic & Old Lace" by Joseph Kesselring.
GardenWorks Project has a good selection of quality, organic cabbage, kale, greens and herbs from One Seed Plant. Seedling price is $3 each. To order, visit, www.gardenworksproject.org/shop. Pick-up is from 6:00 to 8:00 p.m. Friday, August 9, 2019 and from 8:00 a.m. to noon Saturday, August 10, 2019, at the Resource Center, 103 West Washington Street. The organic seedling sale raises much-needed funds for The GardenWorks Project to continue to providing families in need with home vegetable gardens, and promoting home and community food growing throughout DuPage County.
Palaya, a vocal duo from West Chicago was one of the 15 finalists in Suburban Chicago's Got Talent competition and performed Sunday, July 14, 2019, at Arcada Theater in St. Charles. A panel of judges select the winners for the Top 10 finals round. There also is an online component. A video follows the Top 15 and posted at dailyherald.com/entertainment.talent. The top vote getter is guaranteed a spot in the next competition.
The Farmers Market at Sonny Acres, 29W310, North Avenue, is now open. Hours are from 10:00 a.m. to 6:00 p.m. Monday through Friday, and from 9:00 a.m. to 5:00 p.m. Saturday and Sunday.
Sincere sympathy is extended to the family of Margaret "Peg" (Larson) Slote, who at the age of 92 passed away Monday, May 27, 2019.
Brent Miller, local weatherman on NBC, featured a photo by West Chicago resident Bruce Treudt. Taking a bicycle ride on Thursday, July 4, 2019, Treudt noticed a group canoeing down the DuPage River. He captured the peaceful theme in the photograph. (www.merleburl.com)
The "Daily Herald" featured a photograph by West Chicago resident Amanda Baum in the Tuesday, July 9, 2019, issue in the Your Images photography contest Neighbors section.
The U-Haul in the Mosaic Crossing Shopping Center is closed.
Correction to July 10, 2019, column. West Chicago resident Spencer Schramer completed his requirements for Eagle with 37 merit badges in August 2018. His project involved organizing a group of people to clean all the ceiling tiles at the Veterans of Foreign Wars Post 6791, not the American Legion.
My email address is merleburl@earthlink.net.