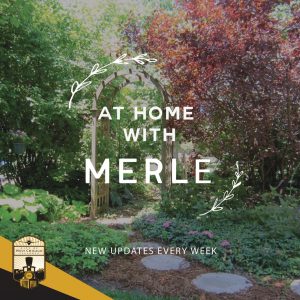 In just a short week, the temperatures changed from pleasant to just downright hot. For a while, I said, "At least it is not humid," but that also has changed. In the early part of the day, I see people walking and running, but my midday, it is quiet on the streets. On the plus side are the blue skies and sunshine, which always make one feel happier.
AROUND AND ABOUT
Fun Fridays at The Shell, hosted by the West Chicago Park District, take place from 11:00 a.m. to noon at the Shell in Reed-Keppler Park, 129 West National Street. Social distancing is enforced. No reservations are required.
The first one is July 10, 2020 with Chris Fascione providing the entertainment. She combines comedy, mime, juggling and storytelling in an interactive performance.
The second one, "Art of Inflation" by Dale Obrachta is July 17, 2020. He blends comedy, audience participation, balloon twisting and a dash of silliness. (merleburl.com)
Starting Friday, July 10, 2020, the West Chicago City Museum, 132 Main Street, is open to visitors by appointment only. To ensure staff and visitors are kept safe, all interactives are put away and children's play areas are closed at this time. Everyone must wear a face covering at all times while in the museum and maintain social distancing from any non-household members. Museum occupancy is limited to one household group at a time and the museum will be cleaned between visitor groups.
To request an appointment, email museum@westchicago.org or call (630) 231-3376. The request is for appointments to be made 24 hours in advance. Posting online and social media will continue. (merleburl.com)
Starting Thursday, July 10, 2020, GardenWorks Project starts to take pre-orders for its Fall  Seedling Sale. Contactless pick up is Saturday, August 1, 2020 at GardenWorks Resource Center, 103 West Washington Street. For further information or to register, visit http://www.gardenworksproject.org.
"Oh, the Places You Can Go When the Pandemic Is No More," a photograph display by West Chicago resident, Judy Horsley, is the exhibit for the months of July and August 2020 at Gallery 200, 103 West Washington Street. Due to the COVID-19 pandemic, there is no artist's reception, but the exhibit will be online at http://peoplemadevisible.com/gallery-200/oh-the-places-you-can-go-when-the-pandemic-is-no-more/. Beginning Friday, July 10, 2020 Gallery hours are from 2:00 to 6:00 p.m. Fridays and from 1:00 p.m. to 6:00 p.m. Saturdays. Social distancing is followed and masks are required.
Horsley said it was her hope to "inspire the desire to travel through the visions displayed in my show." She added, " The title of my show was inspired by reading Dr. Seuss' book "Oh, the Places You'll Go!" to my children when they were young. As we shelter in place, images of nature can lift our spirits and become focal points for contemplation. Beauty is in the eye of the beholder and, in my case, what is framed through my lens."
Horsley joined Gallery 200 and the DuPage Art League after her first show in 2015 at the Gallery. "I am honored that the works of people created through drawing, painting, forming wood or other materials into objects of art surround my photos at both galleries." Also her photos have been in juried art shows and displayed at a variety of locations in the Chicago Metropolitan area. To her, "Photography is an art form that freezes a point in time capturing light and expression to evoke curiosity and a sense of adventure through the eyes of the beholder." (merleburl.com)
We Grow Dreams Greenhouse & Garden Center, 1055 West Washington Street, in partnership with Northwind Perennial Farm and its esteemed plantsman, Roy Diblik, holds a July perennial sale. Diblik is at the greenhouse from 11:00 a.m. to 2:00 p.m. Saturday, July 11, 2020. He discusses perennials and planting patterns as outlined in his latest book, "The Know Maintenance Garden."
The sale features more than 30 Wisconsin grown perennials from stock selected by Diblik, and are available for a very limited time. Prices range from $7.99 to $11.99. Summer hours are from 9:00 a.m. to 4:00 p.m. Monday through Saturday, closed on Sundays. COVID-19 protocols for face masks and social distancing are followed.
Roy Diblik is a recognized perennial plant expert, grower, designer, speaker and author. Combining his 35 years of knowledge growing traditional and Midwest native perennials, he specializes in highly aesthetic, sustainable plant communities for all seasons, while reducing maintenance through design. He is the co-owner of Northwind Perennial Farm in Burlington, Wisconsin. Diblik collaborated with Dutch garden designer Piet Oudolf on projects such as the Lurie Garden in Chicago.
Northwind Perennial Farm is located just north of Lake Geneva, Wisconsin on an early 1900s farmstead. Founded in 1991, the business specializes in growing regionally hardy perennials, offers landscape design services and the unique garden shop is filled with art, garden accents and home décor. (merleburl.com)
Wayne/Winfield Area Youth/Family Services offers Virtual Summer Camp via Zoom for youth ages 6 to 13 years. Camp takes place Mondays, Wednesdays and Fridays for five weeks starting July 13 and ending August 14, 2020. The morning session is from 10:00 to 11:00 a.m. and the afternoon session is from 1:00 to 2:00 p.m. Activities are different for each session, so youths can be in one session or both. The weekly session fees per child is $10. Session links are sent via email Friday evenings after all payments are collected. Weekly sign up and fees are due by 4:30 p.m. the Friday before the week which one is registering. For further information and to register, go to http://www.ways4change.org/summer_day_camp.
St. Andrew Lutheran Church and ISD Mutual Aid Network host the Northern Illinois Food Bank mobile food pantry from 4:00 to 5:30 p.m. Monday, July 13, 2020, at the church, 155 North Prince Crossing Road.
West Chicago Park District holds a Public Hearing on Budget & Appropriations at 6:00 p.m. Tuesday, July 1, 2020, at the ARC, 201 West Washington Street.
The Warrenville Historical Society joins the West Chicago City Museum at the Historiography program, a non-fiction book reading group. It takes place at 1:00 p.m. Thursday, July 16, 2020, via Zoom. Under discussion is "Hamilton," the Broadway hit that was streamed on Disney Plus. Persons can join the discussion even if they have not read the book or watched the film. For further information, visit Friends of West Chicago City Museum website, wegohistory.com or call (630) 231-3376. (merleburl.com)
Due to COVID-19 pandemic, there was limited use of the commuter lots by parking permit customers, second quarter Metra parking permits are to be applied to the third quarter period with no additional payment due to toe maintain possession of eligibility for a third quarter parking permit. Active permit parking customers who have not made a second quarter payment and wish to retain their parking permit, must make payment for the third quarter parking permit by Friday, July 10, 2020, in order to retain their current parking permit.
During the third quarter, the parking lots will be monitored on a daily basis. The data will be used to determine what, if anything, is done for fourth quarter payments. Decisions about payments due for the fourth quarter will be made on a global, not an individual basis.
The League of Women Voters of Wheaton and Cantigny Park sponsor programs focusing on themes of civic awareness and encouraging local participation in the democratic process. Due to the COVID-19 pandemic, the program, "What You Need to Know About Election 2020" takes place via Zoom at 7:00 p.m. Thursday, July 16. The speaker is DuPage County Clerk Jean Kaczmarek, who discusses the changes for the November 2020 election. There are new voting options and opportunities available now due to SB1863 signed by Governor J. B. Pritzker. To register, visit https://my.lwv.org/illinois/wheaton/event/civic-awareness-series-what-you-need-know-about-voting-november-2020. Persons receive the Zoom link two days before the event.
League of Women Voters of Wheaton includes West Chicago, Warrenville, Winfield, Wheaton and Carol Stream. The League of Women Voters is a non-partisan organization that does not support or oppose any political party or candidate, but whose purpose is to promote political responsibility through informed and active participation of citizens in government. " (merleburl.com)
It is time to get counted—in the 2020 Census. Households can do the census online, mail the paper questionnaires, if one was received, or call (844) 330-2020. Contrary to popular belief, persons do not need their Census ID code in order to fill out the Census. People can fill the form out online at my2020census.gov or over the phone by simply stating their address. The census form is available in English and 12 additional languages. Business, community leaders and local government use the census data to create jobs, ensure public safety preparedness and support community initiatives. The US Constitution mandates that everyone in the country is counted every 10 years. The reasons it is important that everyone be counted include redistricting, fair representation and the distribution of $675 billion in federal funds. The purpose of the census is to gather statistical information. Information on individuals is not shared or released.
The DuPage County Health Department developed a dashboard to provide information on the total number of people, in DuPage County, who have tested positive for COVID-19. In addition, the dashboard includes a map which shows the distribution of reported cases by municipality and is updated at 4:00 p.m. daily. DuPage County's "COVID-19 Dashboard" is a one-stop-shop for all the information it offers including a town-by-town breakdown of cases. As of 4:00 p.m. Monday, July 6, 2020, there were 796 cases out of 4,580 tested and 14 deaths, including nursing homes, with the majority of the persons age 60 and under Keep in mind, the statistics of cases date to the beginning of the trace count. Remember to follow the social distancing order, wear masks and wash hands. (merleburl.com)
To keep residents aware of community COVID-19 updates, the City has posted West Chicago's COVID-19 COMMUNICATIONS CENTER on its website, www.westchicago.org. Also included are the weekly updated messages from Mayor Ruben Pineda. It is located on the upper left-hand side in red. Clicking on this, residents can see the latest information.
Sincere sympathy is extended to family of Jim Micel, who at the age of 69 passed away the week of June 28, 2020
Deepest sympathy is expressed to the family of Andrea Trovato, who at the age of 74 passed away Tuesday, June 23, 2020.
Sincere sympathy is extended to the family of James C. Arwood, who at the age of 74 passed away Sunday, July 5, 2020.
Deepest sympathy is expressed to the family of Zachery Thomas Davis, who at the age of 22 passed away Thursday, July 2, 2020.
Firefighter/paramedic Patrick Fogarty celebrates his fifth year with the West Chicago Fire Protection District.
Recently through State Farm's "Good Neighbor Community Fund" and a partnership with Jason Dederich's State Farm Agency of West Chicago, the West Chicago Fire Protection District received four new Mustang Hammar Automatic Personal Floatation Devices. The "Good Neighbor Community Fund" was capped at $500. Demonstrating his personal support of the project, Dederich contributed $379.80 to the award to purchase the new floatation devices. These floating devices can be used either by rescue personnel operating the District's rescue boat or by rescue personnel working on the shoreline. The current devices were becoming outdated and were never designed for rescue personnel. (merleburl.com)
The summer luncheon for West Chicago Lions Club members, their wives and guests included an installation of officers, recognition of scholarship winners and presentation of Melvin Jones Fellowship recognition. To allow for social distancing, which included wearing face masks, the event was held Saturday, June 27, 2020, at Kress Creek Park. Augustino's Rock & Roll Deli & Grill provided the food for the lunch. On hand to assist with the installation and presentations was District 1-J Zone Chairman Bob Oleander.
Installed as officers were Omar Espinosa. president; Rudy Johnson, first vice president; Don Voelz, second vice president; Mike Fortner, treasurer; and Sterling Price, secretary.
Ruth Bovey and Tristan Keene were the recipients of the $1,000 scholarships. Bovey is a graduate of West Chicago Community High School. She will attend Wheaton College majoring in Christian ministries and Spanish. Keene will attend the University of Minnesota in Minneapolis with a major in Biomedical Engineering. Members of the scholarship committee were Frank Lenertz, Dan Czuba, Omar Espinosa, Don Voelz and Sterling Price.
Frank Lenertz was the recipient of the Melvin Jones Fellowship recognition.The Melvin Jones Fellowship, created in 1973, takes its name from the founder of Lions Clubs International, Melvin Jones. It is an honor–not an award. The Melvin Jones Fellowship was established as Lions Clubs International Foundation's highest form of recognition to acknowledge an individual's dedication to humanitarian service. (merleburl.com)
In the 2020 Special Edition of "Reflections" magazine published by the Military Sexual Trauma Movement in Hyde Park, New York, there is a section of recommended books of which one is full page about "Undertow:a US Navy Veterans Journey Through Military Sexual Trauma" by West Chicago resident Diane Madden Ferguson. The book was published in October 2016 and is available from Amazon. This particular issue of the magazine focuses on the issues of military sexual trauma and the #believe me movement. (merleburl.com)
A piece of the past is gone with the demolition of the Clark gas station on West Washington Street. Life long West Chicago resident and Ward 3 Alderman Mike Ferguson said he thought it was built in the early 1960s after the railroad tracks were removed by the 1860s depot. The depot later became the site of Geneva Iron Works. Many in town have memories such as working there, the inexpensive cost of gas (28 cents a gallon), buying snacks and even the advertising jingle. Pamela Becker remembers when her husband Darren Becker and Robby Hanson worked there during the filming of Blues Brothers and John Belushi and Dan Ackroyd came to the gas station for gas. (merleburl.com)
My email address is merleburl@earthlink.net.