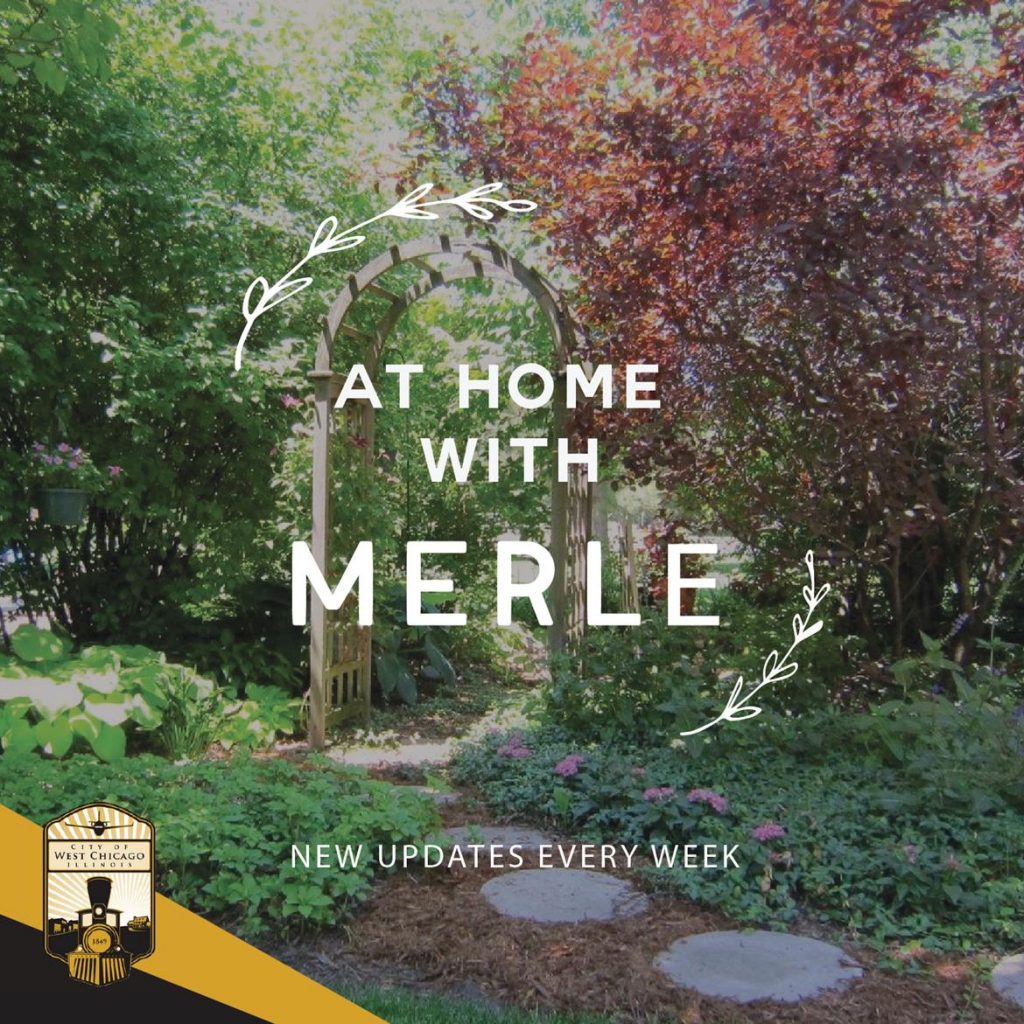 Through America in Bloom, West Chicago was the recipient of CN EcoConnexions From the Ground Up grant of $25,000, which was used for the planting of about 100 trees in the City's 2019 tree planting program. At the Opening Ceremony during Blooming Fest, Mayor Ruben Pineda introduced the two representatives, Bill Hahn from America in Bloom and Larry Lloyd from CN Railways. Hahn is the former Arborist and Horticulturist for the City of Akron, Ohio and active member of the America in Bloom organization serving on the CN Contest Committee. Lloyd is Head of State and Local Government/Public Affairs for CN Railway, and CN's lead for CN EcoConnexions From the Ground Up. The mayor explained, "The awarding of this grant is based on community impact and engagement, sustainability, technical assurances, and alignment with the program's objectives."
Following the introduction, the two representatives enjoyed visiting the participants at the fest, became better acquainted with the community and viewed some of the trees planted. Hahn and Lloyd agreed there are three basic components of the grant—environment, special landscaping and forestry.
The CN network extends to three North American coasts, passes through a wide range of habitats, including national parks, forests, prairies and wetlands. Lloyd said, "It is a way for us to be environmentally friendly to the communities which our trains go through. It builds up pride. Reforestation is important. We need the tree planting." He added, "CN uses 500,000 to 800,000 trees for rail in both Canada and the United States. Chicago is the larger Railroad hub in the world. All rail lines lead to Chicago." The partnership with AIB has helped to expand the program. He explained the grant program in Canada started in 2012 and in the United States in 2014. "It is good input for communities, creating a good environment in hometown communities, both visibly and audibly."
Hahn explained the benefits of communities participating in the AIB program. It helps increase health both mentally and physically through nature, higher real estate values, economic development, pride, and a colorful and beautiful community. "It is a Win-Win situation for participating communities, learn ways to improve and build pride." He added that with each year of participation, communities gain knowledge, continue beautification and increase community involvement.
America in Bloom was founded in 2001. Hahn said, "AIB has its roots back in Europe. It started in France in 1947. After the war, the citizens felt no hope. They started the beautification to get them out of the doldrums and it worked. Then it spread to England, then to Ireland, where it was called TidyTowns". AIB builds on the concept of creating sustainable community greening and beautification projects contributing to each community's environmental, economic, social, and health benefits.
Two judges from America in Bloom are visiting West Chicago near the end of July. Here they will assess the seven criteria of community vitality, flowers, landscaped areas, urban forestry, environmental efforts, celebrating heritage, and overall impression. (www.merleburl.com)
AROUND AND ABOUT
The artwork of Heide Morris, Gallery 200 member, is on display for the month of June on the wall of the Creative Corner at West Chicago Public Library, 118 West Washington Street. The Soft Pastel allows her to combine her watercolor painting and drawing techniques to look like painting. The lobby display case features the prizes available in the Library's Summer Reading program, "It's Showtime!" (www.merleburl.com)
National Flag Day is Friday, June 14, 2019. Remember to proudly display the flag at your home and/or business. In 1916, President Woodrow Wilson issued a proclamation of establishing a national flag day to honor the United States of America flag and to commemorate the flag's adoption by the Continental Congress on June 14, 1777. On that date, the congress replaced the British symbols of the Grand Union flag with 13 white stars in a circle of blue and 13 red and white stripes, which represent the original 13 colonies. Each of the stars in the flag of today represents the 50 states in the United States. Flag Day did not become official until President Harry Truman signed the legislation in 1949. (merleburl.com)
Seminole Sports "Salute to Pops" baseball and softball tourney is Friday, June 14, through Sunday, June 16, 2019, at Reed-Keppler and Pioneer Parks.
Plein air painter Maggie Capettini, education coordinator at West Chicago City Museum, has a pop up workshop, "Paint the Peonies," from 2:00 to 5:00 p.m. Friday, June 14, 2019, at the historic Schweikher House, 645 South Meacham Road in Schaumburg. The session begins with an oil painting demonstration and ends with an optional "celebration and critique" of participants paintings. The charge is $25 per person, payable at the door. To make a reservation, visit https://www.signupgenius.com/go/8050d4eaaa622a7fe3-paint. (www.merleburl.com)
Healthy West Chicago has partnered with Midwest Strength + Performance Gym, 245 West Roosevelt Road, Building 2, Suite 9, to provide West Chicago residents free weekly community group fitness classes. The classes take place at 7:00 a.m. Saturdays during the summer. MSP Trainer, Kevin Martinez, leads the weekly upbeat group exercise class designed to increase fat loss, improve muscle definition, and reduce pain in all major joints.
A West Chicago Health and Fitness Social, hosted by HWC and MSP, is from 8:00 a.m. to noon, Saturday, June 15, 2019. Highlights of the event include cooking demonstrations, group fitness classes, interactive health exhibitor booths, games and music, health screenings, food and beverages, raffle prizes and giveaways. No registration is required. (www.merleburl.com)
The 2019 Healthy West Chicago Activity Passports now are available. They provide information on all movement and activities and events occurring in the community. Users bring them to all Healthy West Chicago events to have them stamped for the completed activity. When three stamps are received, the names of participants are entered into the HWC bicycle raffle that takes place Thursday, September 26, 2019, at the annual World Heart Day Celebration. In addition to HWC events, Passports are located at City Hall, 475 Main Street; Gallery 200, 103 West Washington Street; and West Chicago Public Library, 118 West Washington Street.
Kramer Tree Specialists, 330 Charles Court, will host a Career Fair from 9:00 to 11:00 a.m. Saturday, June 15, 2019. Persons attending learn about careers in the arborist field, current positions available at Kramer's, a tour of the facility and light refreshments. For further information, call Seth Balvanz at (630) 293-5444 or email sbalvanz@kramertree.com. (www.merleburl.com)
Barb and Bob Dieckmann celebrate their 25th Wedding Anniversary Saturday, June 15, 2019.
It is Dad's Day Out Sunday, June 16, 2019, at Turtle Splash Water Park, 129 West National Street. Dad's admission is free with one paying child.
Gary's Mill Road is scheduled to be closed between Currier School at 800 Gary's Mill Road and Route 59 from Monday, June 17, 2019, through mid-July. The project is the upgrading of the bridge over the west bank of the DuPage River.
The West Chicago Public Library District offers a two-hour computer class, Microsoft Word Level 1, at 2:00 p.m. Tuesday, June 18, 2019, in the small conference room, 118 West Washington Street. Subjects covered include formatting text and documents, changing fonts, cut/copy and paste, using Spell Check and MS Word terminology. To register, call the adult services department at (630) 231-1552, extension 4.
Story Walk by the West Chicago Public Library District is at 2:00 p.m. Tuesday, June 18, 2019, at the Shell. In addition to the walk and story, there are related activities to the selected book, "Sheep Blast Off," by Nancy Shaw.
In partnership with Cantigny Park, the League of Women Voters of Wheaton hosts a Civics Awareness program Wednesday, June 19, 2019, in the McCormick House at Cantigny, 1S151 Winfield Road in Wheaton. Social time is at 6:30 p.m., followed by the program at 7:00 p.m. The topic is "Major Issues Before the Supreme Court," presented by Steve Schwinn, Constitutional Law Professor at John Marshall Law School. He discusses current issues before the Supreme Court and their implications. Complimentary coffee and dessert are served. Tram service is available. Registration is required for the free program. To register visit http://bit.ly.?supreme-court-june. Parking is free. (www.merleburl.com)
Ethan Bell Band, a country, pop drop group, from Chicago, is the entertainment at 7:00 p.m. Wednesday, June 19, 2019, at the Shell in Reed-Keppler Park, 129 West National Street. Members of the band are Ethan Bell, Eric Smith, Brandon Weber and Jonny Gifford.
West Chicago City Museum Historiography program, a non-fiction book reading group, is at 1:00 p.m. Thursday, June 20, 2019, in the Museum, 132 Main Street. Guests can bring a lunch; dessert and a beverage are provided. The book to be discussed is "Bootleg: Murder, Moonshine, and the Lawless Years of Prohibition" by Karen Blumenthal. Copies of the book are available at the Museum and Library.
The outlawing of liquor started with the best of intentions. Prohibition was hailed as the end of public drunkenness, alcoholism, and other issues related to booze. Instead it led to a decade of lawlessness, involving both upright citizens and notorious gangsters. Filled with period art and photographs, anecdotes, and portraits of unique characters from the era, this book looks at the rise and fall of Prohibition. The book received four-starred reviews and was a finalist of the YALSA Excellence in Nonfiction for Young Adults Award.
Karen Blumenthal has been a financial journalist for more than 25 years. She has written three financial books for adults and seven nonfiction books for young people. As an author and reporter, she appeared on the ABC World News Tonight, the Today Show, CNN and the PBS Nightly Business Report. She is a graduate of Duke University and has an MBA from Southern Methodist University. (www.merleburl.com)
West Chicago Historical Society and People Made Visible/Gallery 200 host Art in the Garden from 1:30 to 4:30 p.m. Saturday, June 29, 2019, on the grounds at the Kruse House Museum, 527 Main Street. The ticket price of $12 a person, $20 a couple includes wine, cheese and desserts. Tickets are available at City Museum, 132 Main Street; Gallery 200, 103 West Washington Street; or reserve by emailing gallerytwohundred@gamil.com
Guests can enjoy the lovely gardens, maintained by the West Chicago Garden Club, while listening to the music by ZAZZ, a local jazz group. Artist Maggie Capettini, education coordinator at West Chicago City Museum, paints the gardens and the historic four-square home. There also are other artist demonstration and booths. The silent auction features the works of artists.
Under the sponsorship of People Made Visible, a committee is working to publish a new cookbook, "One West Chicago: Near and Far," highlighting the diversity of the community through recipes from the people and organizations in the community. Persons who are a resident, a former resident, work in West Chicago, visited friends or family here, or belong to a West Chicago organization, sports club, other not-for profit organization or church can submit a recipe. The publication is scheduled for fall of 2019. Handwritten or typed recipes can be submitted until Sunday, June 30, to Attn: Sara Phalen, West Chicago City Museum, 132 Main Street, West Chicago, IL 60185; Recipes can be submitted electronically until Wednesday, July 31, 2019. For further information or to fill out a recipe form, visit the Facebook page, One West Chicago: Near and Far or email wegocookbook@gmail.com. Forms also are available at the City Museum; West Chicago Public Library, 118 West Washington Street; or City Hall, 475 Main Street.
West Chicago City Museum, 132 Main Street, and West Chicago Historical Society Kruse House Museum, 527 Main Street, are participants in the "Passport to Adventure" program, which runs now through Monday, September 2, 2019. The program is for children ages 4 through 12, who receive stamps at the participating locations, which includes more than 60 museums and nature centers in DuPage and Kane counties. Passports are available at both Museums and the West Chicago Public Library District, 118 West Washington Street. The KHM hours are from 11:00 a.m. to 3:00 p.m. Saturdays. City Museum hours are 10:00 a.m. to 6:00 p.m. Thursdays and 10:00 a.m. to 2:00 p.m. Fridays and Saturdays.
Bingo at American Legion Post 300, 123 Main Street, has ceased for the summer and resumes Friday, September 6, 2019. However, the Wednesday and Friday Fish Fry and Thursday dinner from 3:00 to 8:00 p.m. will still continue. (www.merleburl.com)
The senior class selected fourteen teachers as "Inspirational Teachers" who were honored at the end of the year brunch for teachers and staff. The teachers are Jeff Anderson, Student Services; Patty Arnold, Math; Andrea Contreras, World Languages; Kyle Etheridge, English; Marianne Melvin, Student Services; TJ Nall, Physical Education; Diana Palkal, Math; Drew Plumb, Science; Beth Schomig, Special Education; Adam Singer, Science; Lauren Stewart, English; Sandy Wilson, Humanities; Ashley Walsh, Career & Technical Education; and Joe Zeman, Humanities. (www.merleburl.com)
At the meeting Monday, June 3, 2019, City Council approved the appointment of Kimberly MacPherson to the Environmental Commission for a term ending April 2022.
Construction of the second floor at West Chicago Community High School has started and will continue through the fall of 2020. The west side student parking lot is not available, as it is being used for staging building materials. During spring break, crews began erecting steel support posts, attaching them through the roof into the existing structure. Once this work was completed, masons began building the east wall of the new addition. The main goal for the summer of 2019 is to construct and enclose the entire second floor addition to the west side of the building. Interior finishing work will continue throughout the 2019-2020 school year. More behind-the-scenes infrastructure work continue this summer, including the construction of additional footings and cross-bracing to address building code changes since the 1999 addition was completed. There is a continuation with HVAC projects; last summer, one-third of the heating/air conditioning units were replaced or modernized, another third will be updated this summer, and the final third is scheduled for the summer of 2020. The building control system will be upgraded from pneumatic to digital, making it easier to maintain even temperatures throughout the school, which is quite a feat considering the building has 400 rooms and more than 500,000 square feet. In addition, LED lighting upgrades continue, making the interior of the building brighter while bringing cost savings in utility bills. All told, 160 classrooms, storerooms and closets will be affected by construction this year. The fall semester of 2019 brings interior work on the Music Department rehearsal spaces. Construction crews will have their own entrance and will not interact with students. Entrance B will become the new main entrance of the school. Both a staircase and an elevator will be constructed here to allow easy access to the new Music Department rehearsal spaces. (www.merleburl.com)
"Edgy" Tim O'Halloran, NBC Sports, interviewed Jack Rustman, Head Football Coach at West Chicago Community High School Thursday, June 6, 2019. They discussed the school's upcoming
season, 85 days from the day of the interview. (www.merleburl.com)
Alejandro "Alex" Reynaga is the summer intern for the West Chicago Park District. He graduated from St. Ambrose University in Davenport, Iowa and is pursuing a Master's degree in Organizational Leadership. He is a 2014 graduate of West Chicago Community High School and previously worked for West DuPage Special Recreation Association.
The 22-acre Sonny Acres Farm, 29W301 North Avenue, has new owners, Mike Fontana and Chris Joyaux. They plan to keep the eight acres for the Fall Festival and Christmas Tree Farm, but also want to expand it for more community use, a large scale year-round destination. These events could include car shows, corporate events, art fairs, and possibly weddings. At this time, plans for the remaining acreage involve townhomes. The farm has been in the Feltes family, since 1890s, when the parents of Ramona Feltes, Ferdinand and Anna Nagel, purchased 100 acres.
Al and Cindy Hallett celebrated their 45th Wedding Anniversary Saturday, June 8, 2019.
Faith Community Church hosted a service of Ordination and Installation to the Gospel Ministry Presbyterian Church in America for Joseph Rhett Austin, Sunday, June 9, 2019. Reverend Austin is the new pastor at the church.
The weather for the Railroad Days Parade was perfect for both participants and watchers. Richard "Dick" Truitt was the Grand Marshal. Winner of the Turner Junction Award was Smile View Dental. "The beaming smiles on the faces of the Tooth Fairies depicted the services of the business," said one of the judges. The winner of the Heritage Award was Leman Middle School Folklorico. "Their costumes were so pretty and they had lovely smiles and a lively step as they marched." The Turner Award is for the business or organization that best depicts its services and the Heritage Award is for the youth group showing its purpose, enthusiasm and spirit. (www.merleburl.com)
West Chicago Fire Protection District firefighter/paramedic Todd Baseggio and K-9 Search and Rescue dog Brinx recently attended a training session at the University A&M Texas in College Station. The training involved search methods, such as in a debris piles. The District acquired the black lab in spring 2018. Receiving their Federal Emergency Management certifications, they are team members of Illinois Task Force 1. (www.merleburl.com)
My email address is merleburl@earthlink.net.