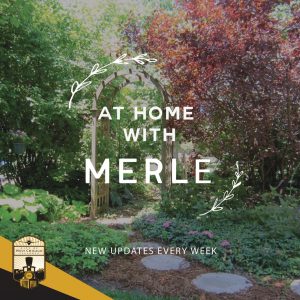 Bees are buzzing in West Chicago. At the Kruse House Museum, there are 13 artistic bees located in the gardens and yard, each designed by 12 artistic West Chicago Garden Club members. The gardens located at 527 Main Street are open to the public. The bee signs may remain the same, but there is constant change in the gardens; more than one visit is warranted to enjoy the beauty of nature.
Creating the bee pattern was Kerry Perry. Then Keith Nelson, a neighbor of Billy Childress, cut them out, using plywood sheets. Each bee features two wings and a body, the total structure measuring 48 by 48 inches. Each was sanded and then the application of two coats of primer, followed by the drilling of holes. The 12 artists then went to work. The buzzing bee artists are April Murphy, Kerry Dexter, Barb Bizzarri, Barb Melville, Jodi Otzwirk, Ruth Kyme, Dick Darrah, Scott Johnson, Kerry Perry, Pamela Darrah, Patti Zaputil and Billie Childress. To give the bees a little more personality, each has a name such as Bee Bodacious, Bee-dazzling, Polly Nader and Bee-hemian Rhapsody, plus a bee-fact sign. Stan Grismore made the name and signs.
The garden club May newsletter stated, "We hope the project promotes an interest in the welfare of bees who are having a tough time surviving out there. We, the people, have done much to take away their habitat, food, and polluted their environment with pesticides. It's time to turn that around. We need the bees to pollinate flowers so fruit and seed can be produced for our food. Also because bees are unique and interesting insects that are fun to observe and we love the honeybees honey!" (www.merleburl.com)
West Chicago resident Bill Whitney is the owner of City Bee Savers. He has kept honey bees for more than 28 years. His small honey bee farm cares for approximately 200 beehives distributed around DuPage County. He is a certified member of the Illinois queen rearing initiative. Whitney also is the vice president for the Cook-DuPage Beekeepers Association and is a certified structural pest control technician, which qualifies him for removing honeybees from buildings throughout the Chicagoland area. The company also offers a bee buddy program in which individuals can sponsor a hive with the bonus of honey at the end of the season. Of course, there is the sale of honey. Whitney taught a class at 2021 Blooming Fest and recently was the speaker at a West Chicago Garden Club meeting, (www.merleburl.com)
West Chicago resident Ashley Keller is the owner of Cece's Honey Bees, which began when her husband, Mike, mentioned it might be nice to have honey bees in their back yard. Now they are harvesting their own honey and providing fresh, local honey and at the same time, helping the honey bee population grow. The business is named after their daughter Cecelia. Keller is also the owner of two other businesses, Fishy Green Organic Farm and Weathered Way Farms.
Weathered Way Farms is an Agricultural Incubator located in Geneva, IL hosting farmers markets with local vendors and educating neighborhoods on the importance of sustainable, organic food. When Keller started farming, she realized it was hard, especially for first time farmers. They do not have family land, or equipment of years of experience. "To run a truly successful farm, you need funding, experience, and more hours in a day than everyone else." She added, "It can cost up to a million dollars for equipment and land." This is when the idea of creating a community of "like minded farmers, all with different skill sets and help one another," grew into a workable business.
Fishy Green, a hydroponic urban lettuce farm, had a similar start as the honey bees. Keller started growing fresh greens in her basement and noticed how fresh they tasted. She shared the produce with friends and neighbors. The business sprouted. Hydroponic gardening is a method of growing plants without soil; the water does the work of delivering nutrients to the plant roots.The plantings are grown vertically, Lettuce crops growing now are romaine, arugula, kale and butter crunch.. Among her clients are 302 Wheaton and Kindred Coffee Roasters. During the summer months, Keller and some of the other farmers are at local area Farmers Markets, including the one in Batavia from 8:00 a.m. to noon Saturdays. Usually when I attend this one, I see several vendors from West Chicago.
Keller made use of her English major in writing her first children's book, "Cece Saves the Planet." Cece and her honey bees explore magical places that make the earth a better place. In a fun way, the book describes how recycling, bee keeping and crop rotation help sustain the planet. Each step, whether large or small, makes a difference. (www.merleburl.com)
AROUND AND ABOUT
As Illinois enters into Stage 5, there are changes in schedules and venues, plus the addition of events and activities. Check the websites and Facebook pages to see what is occurring now.
        As part of the June and July "Frida Inspired" exhibit at Gallery 200, 103 West Washington Street, Gallery artists are creating a Frida's Garden full of works of flower and garden art. Frida Kahlo found inspiration and refuge in her garden at her home Casa Azul, "Blue House." Realizing many West Chicagoans also find joy in their gardens, the artists are asking West Chicagoans to submit a picture of their garden, garden plant or flowers. Over the length of the show, Frida's Garden grows with local beauty. To submit an image, persons can use JotForm https://form.jotform.com/211498702067054 or email peoplemadevisible@gmail.com. Participating artists are Heide Morris, Kathy Manning, Judith Horsley, Laurie Parker, Margaret Bucholz, Britta Renwick, Janine Barajas, Patty Koenigsaecker, Kathi Kuchler, Sharon Malec, Lou Jacobsen, Sue Tripp and Marita Valdizan. Hours are 2:00 to 6:00 p.m.  Fridays and from 10:00 a.m. to 2:00 p.m. Saturdays. (www.merleburl.com)
Season passes for Turtle Splash Water Park, 129 West National Street, now are available. The cost is $90 for residents; $98 for non-residents. To order, visit www.we-goparks.org. The passes are only valid once the State of Illinois has moved into Phase 5 pf the COVID-18 Mitigation Plan. (wwww.merleburl.com)
            During the summer, Fun Fridays return to The Shell  from 11:00 a.m. to noon in Reed-Keppler Park, 129  West National Street. Entertainment includes a variety of performances such as a animals, magic, music and science. Miss Jamie's Farm, a show filled with music, takes the stage June 18, 2021. Sharing values from life down on the farm, Miss Jamie and her puppet friend sing and dance. To view the schedule, visit West Chicago Park District website www.we-goparks.org. (www.merleburl.com)
First United Methodist Church of West Chicago, 643 West Washington Street, host a free COVID-19 Vaccination Clinic from 9:00 a.m. to 3:00 p.m. Saturday, June 19, 2021. To register, visit www.firstumcucc.org.
Maggie Capettini, former education director at West Chicago City Museum, offers a plein air painting workshop, "Paint the Peonies," from 9:00 a.m. to noon Saturday, June 19, 2021, at the Schweikher House, 645 Meacham Road in Schaumburg. Capettini demonstrates how she creates large-scale plein air painting using a combination of brushes, painting knives and oil pigment sticks. Participants bring their own supplies, the charge is $25. (www.merleburl.com)
Mexican Art in the Park is from 10:00 a.m. to 4:00 p.m. Saturday and Sunday, June 19 and 20, 2021, at Cantigny Park, 1S151 Winfield Road in Wheaton. Several local artists display their art, plus students from Leman Middle School showcase their creations of their Mexican Heritage. Also at 10:00 a.m. Saturday, June 19, Leman Middle School Folklorico Ballet perform in front of the Visitors Center. (www.merleburl.com)
Support Over Stigma presents PTSD vs. Moral Injury event from 10:00 a.m. to 2:00 p.m. Saturday, June 19, 2021, in the Outdoor Pavilion at Cantigny Park, 1S151 Winfield Road in Wheaton. The keynote speakers are James H. Mukoyama, Jr.,Major General, US Army retired; Chappy Ferrer, US Army; and Zoeie Kreiner, founder and CEO of Support Over Stigma. For further information, call (630) 492-0308 or email INFO@SupportOverStigma.org.
Healthy West Chicago hosts a free virtual family cooking class, "Blackened Fish with Strawberry Kiwi Sauce," at 6:00 p.m. Wednesday, June 23, 2021, via Zoom. Chef Maria gives tips on eating healthy, saving time in the kitchen and involving children in food preparation, plus demonstrates how to make the featured recipe. Recipe ingredients are provided to the first 25 registered participants. The day to pick up supplies at the West Chicago Public Library will be communicated to those who registered first. To register visit healthywestchicago.org/newevents. For further information email Carly Smitherman at: director@healthywestchicago.org or call 630-230-6370.
West Chicago Garden Club meeting is Thursday, June 24, 2021, at St. Andrew Lutheran Church, 155 North Prince Crossing Road. Social time is at 6:45 p.m., short business meeting at 7:00 p.m., and program at 7:15 p.m. Carol Cichorski presents the program, "A few of my favorite things!" She is past president of the Elk Grove Garden Club, speaks regularly at the Chicago Flower and Garden Show and writes a gardening blog.
West Chicago Park District holds a Pickleball Skills Clinic from 10:00 a.m. to noon Friday, June 25, 2021, at the ARC, 201, West National Street. It is for ages 10 and up. The cost is $15 for residents, $18 for non-residents. To register, visit www.we-goparks.org. Some of the basic skills covered include posture, ready position, grip, paddle angle, serve and return of serve, forehand and backhand shots, court positioning, twos-bounce rule, scoring and basic strategy.
West Chicago Park District holds a Movie Night Saturday, June 17, 2021, at The Shell in Reed-Keppler Park, 129 West National Street. The movie is Walt Disney's "The Good Dinosaur." Crafts and scavenger hunt are at 7:30 p.m., movie starts at 8:30 p.m. A special creature may be roaming around during the safari scavenger hunt. The first 50 children arriving participate in a special paleontology activity. (www.merleburl.com)
Support our local businesses. Father's Day is Sunday, June 20, 2921. Check local businesses and eating establishment for gifts and dining.
Kitchen Table once again is open for children's cooking classes. Part of its mission as a company is to offer affordable opportunities for kids to learn to cook with the understanding that not all families can afford to pay to send their children to cooking classes. Thus, during the summer, the business is donating open class spots to children, who otherwise might not have the opportunity to take a class. For further information on the business and classes, visit https://www.facebook.com/thekitchentablewc/. (www.merleburl.com)
A COVID-19 vaccination clinic is open from 2:30 to 6:00 p.m. Tuesdays at St. Andrew Lutheran Church, 155 North Prince Crossing Road. The clinic is for persons age 18 and older. To make an appointment, call the church office at (630) 231-3787 or email office@standrewlutheran.net.
A COVID-19 testing site is open from 8:30 a.m. to 12:30 p.m. Tuesdays and Thursdays in a VNA Health Care Mobile at St. Andrew Lutheran Church, 155 North Prince Crossing Road. There is no charge. Appointments are required and may be made at (630) 892-4355 or (847) 717-6455
The DuPage County Health Department developed a dashboard to provide information on the total number of people, in DuPage County, who have tested positive for COVID-19. In addition, the dashboard includes a map which shows the distribution of reported cases by municipality and is updated at 4:00 p.m. daily. DuPage County's "COVID-19 Dashboard" is a one-stop-shop for all the information it offers including a town-by-town breakdown of cases. As of Monday, June 14, 2021, there were 4,708 cases and 53 deaths; this is the number from the beginning of track recording.
To keep residents aware of community COVID-19 updates, the City has posted West Chicago's COVID-19 COMMUNICATIONS CENTER on its website, www.westchicago.org. It is located on the upper left-hand side in red. Clicking on this, residents can see the latest information.
Sincere sympathy is extended to the family of Barbara Theisen, who at the age of 76 passed away Sunday, June 6, 2021
Retiring staff at West Chicago Community High School are Laura Kuehn, Donna Leahy and Mary Roley. Kuehn was an English and journalism teacher for 24 years, which includes sponsorship of "Wildcat Chronicle," national award winning high school newspaper, for 20 years. Leahy was Library Media Specialist for 14 years, planning special events such as the Dare to Scare student writing contest and event for third grades from local School. Roley was School Counselor, for18 years. (www.merleburl.com)
Named All Conference in the Upper Eight Conference were Brianna Pechman and Scout Gallagher for Softball. (www.merleburl.com)
Justin Blackburn, a senior at West Chicago Community High School, is the Student of the Month for May. He was selected for outstanding leadership and scholarship throughout his four years.
He was on High Honor Roll every semester, earning a cumulative weighted grade point average of 5.291. He is a member of National Honor Society, the Music Honor Society, and a recipient of the AP Scholar Award. Also Blackburn is an Illinois State Scholar, and graduated with Highest Distinction honors, having maintained a grade point average of 5.0 or higher in the four years of high school.
Blackburn was very involved in extracurricular activities including the Math Team, Film Club, Band, Jazz Band, Tech Crew, and WeGo Drama, also serving on the Drama Leadership Team.
He plans to attend DePaul University for Film and Television with an undecided minor. Following college, he wants a career within the film industry with the goal of being a film director. (www.merleburl.com)
Jel Sert Company donated treats for West Chicago Community High School students on their last full day of school for the 2020-21 school year, June 9, 2021. (www.merleburl.com)
Sarah Toney was selected as a Top 50: 2021 Women Illinois Super Lawyers honoree. She has been chosen for this list every year since 2015 and was included on the Rising Stars list from 2010-2014.
Super Lawyers is part of Thomson Reuters, a rating service of outstanding lawyers from more than 70 practice areas who have attained a high degree of peer recognition and professional achievement. The annual selections are made using a patented multiphase process that includes a statewide survey of lawyers, an independent research evaluation of candidates and peer reviews by practice area. She is the daughter of West Chicago residents Barb and Rand Toney. (www.merleburl.com)
West Chicago resident and artist Judi Horsley received an Honorable Mention for her photograph "Hush" in the exhibit, Photo 2021: A Lost Year, at the Bloomingdale Park District Museum,108 South Bloomingdale Road. The exhibit ends Sunday June 19, 2021. Museum hours are 5:00 to 8:00 p.m. Wednesdays and noon to 4:00 p.m. Thursdays and Saturdays. Joanne Barsanti , a well-known fine art photographer, was the judge. Horsley also has a photograph, "Rest Break," in the virtual exhibition, Pollinators in Action: Flowering Journeys or Pollinators, at the Mayslake Peabody Estate. To view the exhibit visit https://www.facebook.com/mayslakepeabody/ and "like."
West Chicago Elementary School District 33 selected Brittany Smith to be assistant principal at Wegner School and Melissa Favata to be assistant principal at the preschool.
Smith has been an English as a Second Language educator for the past seven years. At her current district, she leads many Bilingual Family Nights throughout the school year. She strongly believes in bilingual parent involvement. Brittany received her Bachelor's degree in Elementary Education with an Endorsement in Middle School Language Arts from Northern Illinois University. Completing her Master's Degree in Educational Administration from NIU, Smith obtained her English as a Second Language Endorsement through the Northern Illinois University Project Dreams Scholarship.
Favata has more than 15 years of experience working with children through professional and volunteer opportunities. She served as the Early Childhood Coordinator for the past two years in Crystal Lake Elementary District 47. She served as a Preschool for All and PFAE teacher for nine years in Woodstock Community Unit School District 200. Favata has a master's degree in educational leadership and ESL endorsement. (www.merleburl.com)
At approximately 10:30 a.m. Thursday, June 10, 2021, the West Chicago Police Department received a call of shots fired in the area of Geneva and Joliet streets. Responding quickly to the call, the police officers discovered no one had been hurt. They began to conduct a canvas of the neighborhood, talking to residents The Investigative Unit also responded to the call and followed up with witnesses.
During the course of the investigation, detectives were able to identify a male juvenile suspect. The suspect was located at his place of residence in West Chicago and transported to the police station. During questioning, the suspect confessed to his involvement in the shooting and was charged with one count of Aggravated Discharge of a Firearm Into an Occupied Vehicle, Class 1 Felony. The offender was \transported to the Kane County Juvenile Detention Center to await hearing. Due to the juvenile status, personal information will not be released
At the Monday, June 7, 2021, meeting, City Council approved a downtown facade agreement for the amount of $6.925 to W. M. Lauhoff & Co..This is to complete a brick facade replacement and a rear exterior door replacement for the building at 122 Main Street.
Also approved was amending a noise ordinance, dealing with high treble and deepness sounds.
My email address is merleburl!earthlink.net.