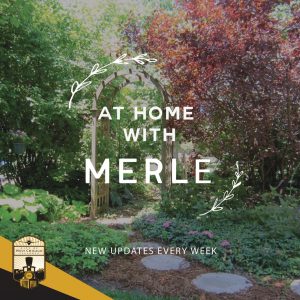 The weather, for the most part, has been pleasant. I see many people walking, jogging and riding bikes and most are following social distancing and wearing of masks, where necessary. I am finding eating at the restaurants that have dining out facilities a very pleasant experience. Living alone, I truly appreciate being served, and not having to cook, serve myself, and wash dishes. It is so nice to see the familiar faces of staff at the restaurants. Another pleasant experience is to hear the conversations and laughter of adults and children as they get together in the groups of 10 or less. Some of us even were able to participate in the virtual graduation of our relatives. After the separation from friends, neighbors and families, one realizes how important the small things in life are.
AROUND AND ABOUT
West Chicago Public Library, 118 West Washington Street, opens for curbside and sidewalk services for West Chicago residents only beginning Wednesday, June 24, 2020. The building is not open to the public. The book drop is open for returns. All items checked out are quarantined for three days prior to pick up and all returned items also are quarantined for three days before being returned to the shelf. The return date for all items checked out before March 14 is Monday, June 29. For further information, visit tinyurl.com/ybmorpmt.
Holds may be placed as usual on West Chicago items online or by phone and may be picked up outside the library. Items must be requested in advance and persons are notified by phone call or email when their hold is ready for curbside pickup. Upon arrival at the library, text "PICKUP" to (630) 348-9201 and follow the prompts or call our circulation number, (630) 231-1552, Ext 2. Staff brings out the pre-bagged items to place in the opened car trunk. Persons biking or walking to the library should text or call the curbside communicator and staff items will place items on a table.
Book reserves can be requested as usual on West Chicago items and patrons can pick them up outside the library. The instructions for book requests are the same as for book holds. (merleburl.com)
St. Andrew Lutheran Church, 155 North Prince Crossing Road, hosts a Census Caravan at 1:00 p.m. Friday, June 26, 2020. COVID-19 prevented many of the events planned for residents to become informed and receive assistance for the census. This is one way to make the residents aware of the importance of completing the census. Businesses owners, organizations and residents are invited to participate. To register a car for the caravan, call Maria at (630) 399-8844 or Idalia at (630) 885-3950. (merleburl.com)
Contactless Mini Apple Cider Donut Truck, hosted by Little Red Donut Truck, is in West Chicago from 9:00 a.m. to 2:00 p.m. Saturday, June 27, 2020, at Murphy Ace Hardware, 319 South Neltnor Boulevard. This is a mobile donut truck housing a donut machine inside in order that purchased donuts are fresh and warm. The cost is $8 for one dozen, $15 for two dozen and $20 for three dozen, plus apple cider slushies for $3 each. To keep each transaction contactless at this time, payment is by credit card only. (merleburl.com)
St. Andrew Lutheran Church, 155 North Prince Crossing Road, holds a taco drive-thru fundraiser from noon to 3:00 p.m. Sunday, June 28, 2020. Tacos with a choice of steak, pork or chicken are $2.50 each. Pop is $1. The Taco combo of four tacos and one drink is $10. Place order by calling (630) 401-2008. (merleburl.com)
West Chicago City Museum Director Sara Phalen recently led a tour at Oakwood Cemetery. Other Stroll through History programs are scheduled throughout the summer. A tour of the Chicago Burlington & Quincy railroad depot, 134 Turner Court, and some history of railroading in West Chicago is at 10:30 a.m. Tuesday, June 30, 2020. The groups size is limited to six, reservations are required and may be made by calling (630) 231-3376 or sending an email wegohistory@gmail.org. This is the same contact information for persons wanting to suggest a site to visit. During Phase 3 of the Governor's Restore Illinois plan, all gatherings must be limited in size, commit to social distancing and wear a face covering or mask.
West Chicago Summer Camps of the West Chicago Park District begin Monday, July 6, 2020, in the ARC Center, 201 West National Street. There are new camper and staff expectations in order to maintain the safest environment possible. Program rooms allow for up to ten youths and two counselors. These "home bases" will limit contact between other campers and staff. Social distancing is followed and campers as well as staff are responsible for wearing a face covering during camp when not having food or drink. Off-site field trips and swimming are not offered. The new schedule of activities include increased outdoor time, park visits, crafts, in-house field trips, games and sports. For further information or to register, visit the District website we-goparks.org. (merleburl.com)
American Legion Post 300, 123 Main Street, has extended its take out orders to 4:00 to 8:00 p.m. Mondays, Wednesdays and Fridays. The Fish Fry takes place Fridays. To place an order, call (630) 231-2112. (merleburl.com)
West Chicago families have several ways of keeping fit at home during the summer months. Virtual Zumba classes are Tuesdays. The link is posted each week on WeGo Together for Kids Facebook page, https://www.facebook.com/WeGoTogetherWC/. Thirty minute Power Fitness classes, hosted by Power Boxing & Fitness, Healthy West Chicago and WeGo Together for Kids, are at noon Saturdays. These include a variety of routines, including workouts inspired by boxers. Join Zoom Meeting https://us04web.zoom.us/j/79706674337?pwd=RmhmTkIzdWNkNGkwakRiL3BUTW1EQT09, Meeting ID: 797 0667 4337, Password: boxfit. (merleburl.com)
Lorelai is the winner of the vocal category of We-Go's Got Talent, hosted by the West Chicago Park District. All talent submissions are per video. The District staff selects the top five submissions and residents vote for their preference. To view her performance, visit https://www.youtube.com/watch?v=0_Iy0sIBZ44. Instrumental competition is now.
The 17 community banners with the theme of "Home" are hanging on the light poles in the historic downtown district. Persons can vote for there favorite for the People's Choice Award online at https://form.jotform.com/201526701550041. (merleburl.com)
A COVID-19 testing site is open from 8:30 a.m. to 12:30 p.m. Tuesdays and Thursdays in a VNA Health Care Mobile at St. Andrew Lutheran Church, 155 North Prince Crossing Road. Appointments are required and may be made at (630) 892-4355 or (847) 717-6455.
DuPage County courts have reopened with a combination of in-person and virtual hearings and trials. Marriage and civil union ceremonies are conducted Thursdays and Fridays and by appointment only by calling (630) 407-8232. (merleburl.com)
We Grow Dreams Greenhouse and Garden Center, 1055 West Washington Street, has new summer hours. They are 9:00 a.m. to 4:00 p.m. Monday through Friday, 9:00 a.m. to 3:00 p.m. Saturday and closed Sunday.
Starting Friday, June 26, 2020, Illinois moves into Phase 4 of the COVID-19 reopening plan. This allows the reopening of movie theaters, indoor restaurants and youth sports with restrictions. Social distancing and wearing face masks are still required.
Reinvest DuPage, a grant relief program developed for small businesses and independent contractors in DuPage County, has re-opened and now is accepting applications. The grants from this program can be used for employee retention payroll, utilities and rent. To apply visit https://www.choosedupage.com/reinvest-dupage/.
Criteria to apply for the grant include Small businesses with fewer than 15 full-time employees and less than $1.5 million in annual revenue may apply for a grant up to $15,000; independent contractors with more than 50 percent of their annual income coming from 1099 work, and an annual income of less than $100,000 may apply for a grant up to $7,500.
John & Tony's Restaurant, 27W371 North Avenue, changed the name to T42, same owners. (merleburl.com)
It is time to get counted—in the 2020 Census. Households can do the census online, mail the paper questionnaires, if one was received, or call (844) 330-2020. Contrary to popular belief, persons do not need their Census ID code in order to fill out the Census. People can fill the form out online at my2020census.gov or over the phone by simply stating their address. The census form is available in English and 12 additional languages. Business, community leaders and local government use the census data to create jobs, ensure public safety preparedness and support community initiatives. The US Constitution mandates that everyone in the country is counted every 10 years. The reasons it is important that everyone be counted include redistricting, fair representation and the distribution of $675 billion in federal funds. The purpose of the census is to gather statistical information. Information on individuals is not shared or released.
The DuPage County Health Department developed a dashboard to provide information on the total number of people, in DuPage County, who have tested positive for COVID-19. In addition, the dashboard includes a map which shows the distribution of reported cases by municipality and is updated at 4:00 p.m. daily. DuPage County's "COVID-19 Dashboard" is a one-stop-shop for all the information it offers including a town-by-town breakdown of cases. As of 4:00 p.m. Monday, June 22, 2020, there were 763 cases out of 3,3,89 tested; and 14 deaths, including nursing homes, with the majority of the persons age 60 and under. As of Sunday, June 21, there were 43 cases and 7 deaths at Alperion Care on North Avenue, and ten cases and two deaths at West Chicago Terrace on Joliet Street. These numbers include patients and employees. Keep in mind, the statistics of cases date to the beginning of the trace count. Remember to follow the social distancing order, wear masks and wash hands.
To keep residents aware of community COVID-19 updates, the City has posted West Chicago's COVID-19 COMMUNICATIONS CENTER on its website, www.westchicago.org. Also included are the weekly updated messages from Mayor Ruben Pineda. It is located on the upper left-hand side in red. Clicking on this, residents can see the latest information.
Sincere sympathy is extended to the family of Sean Thomas Kelleghan, who at the age of 59 passed away, Saturday, June 13, 2020.
Deepest sympathy is expressed to the family of Wallace ªWally/Mickey" Larson, who at the age of 92 passed away Sunday, May 31, 2020.
One of the construction projects at West Chicago Community High School is the expansion of the auditorium lobby. The expanded lobby area will include new restrooms, and an area for ticket and concession sales. (merleburl.com)
Reuben and Rosalinda celebrated their 45th Wedding Anniversary Sunday, June 21, 2020.
Cantigny Park donated its extra tomato and pepper plants from their "Grow It Forward" annual event to GardenWorks Projects, who then donated 40 peppers and 50 tomatoes plants to families in need. (merleburl.com)
At the Monday, June 15, 2020, meeting, City Council approved a Zoning Code Text Amendment creating the Indoor Recreation and Amusement Use. The item summary explains this is for Kids Empire USA, LLC, an indoor children's activity play facility, to locate in the Mosaic Shopping Center The business would occupy approximately 15,000 square feet in the former Hobby Lobby space.
Also approved was the sale of the city-owned property at 224 Blair Street for the amount of $21,000 to Benigno Gomez.
Council approved the Stormwater and Flood Plain Variation Ordinance at Reed-Keppler Park. This is part of the West Chicago Park District plan to install solar panels. The installation of solar panels requires stormwater detention facilities be provided to address site runoff. The item summary explains " the property is a former remediation site for thorium contamination and also was the site of a former sports shooting range, and therefore has lead contamination in the soil as well. As part of the remediation agreement for this site, there is a restriction on the site with respect to removing soils from the site. Providing detention storage on the site for the solar panel installation would require the removal of a significant amount of soil, which is not advisable or prudent." The park district, with its engineer, prepared a hydrology report "demonstrating that the proposed runoff as a result from the solar plant installation will not exceed the existing release rates for stormwater."
Prior to the regular Council meeting, there was a public hearing on the Pre-Annexation Agreement-Trillium Farms (Pulte). Due to COVID-19 pandemic order, persons had to submit comments via email prior to the hearing. City Administrator Michael Guttman read the 27 submitted comments. None were in favor of the development and voiced concerns with reasons including increased traffic, some road hazards, age restriction change and tree destruction. Guttmann explained the development was in an unincorporated area and the DuPage County board approved the project, which included the zoning. Many of the objections raised in the hearing comments concerned this. Whereby the hearing was for the pre-annexation agreement. In the regular meeting, Council approved the pre-annexation agreement of the Trillium Farms Subdivision with an 11-3 vote, Voting against were Ward 1 Alderman Jim Beifuss, Ward 3 Alderman Mike Ferguson and Ward 5 Alderman Matt Garling. Beifuss voiced his concerns for waiving the fees for the sewer connections and water connection at this time. Ferguson was concerned about the decrease in the size of property lots.
Pulte Home Company is the contract purchaser of the former Planter's Palette Nursery, who proposed to develop the property as a planned unit development for an 84 single-family residential subdivision in unincorporated DuPage County. As the property is within 1.5 miles of the corporate limited of West Chicago, the final Plat of Subdivision is subject to review and approval by the City also. The Item Summary states, "The City approved the preliminary Plat with a deviation October 21, 2019. DuPage County approved the Preliminary Plat, as well as the conditional use permit for the development February 25, 2020," and the Final Plat of subdivision March 20, 2020."
Pulte plans a senior-oriented residential development, including the dedication of new rights-of-way for three minor streets and five outlets for open space, stormwater detention and utility crossings. "The final plat includes the previously approved deviation from the Subdivision Code to allow a minimum radius of curvature on a minor street centerline to be as little as 90 feet in lieu of the minimum required 250 feet."
Also in connection with the Trillium Farms Development was the approval of the Public Utility Easement with the individual owner of 29W066 and 29W080 Gary's Mill Road and Pulte Home Company, LLC. The company drafted he public utility agreements to allow the extension of City sewer and water through the private properties to which the owner agreed. "As the grantee of the public utility easements, the City is a signatory fo the agreements."
The five high schools in School District U-46 started in-person summer conditioning camps. Bartlett High school is in this district.
In the Sunday, June 21, 2020, issue of the DuPage County "Daily Herald," there was a special insertion, "Celebrating the Class of 2020." There also was an article, "The Class of 2020," in the news section. Here certain high school graduates from Batavia, St. Charles North and West Chicago discussed how the quarantine from the COVID-19 pandemic affected them. Grace Quiroz from WCCHS started to learn sign language and Ukrainian, and made self-portraits and handmade cards of frontline medical workers. As a student at the high school she was the captain of the Wildcats Girls Volleyball team and made USA Volleyball's High Performance National Team Also she earned a weighted Grade Point Average of 5.154 and was Student of the Month for April. Quiroz will attend Lynn University in Boca Raton, Florida, majoring in biology. She hopes to become an orthopedic surgeon or a physician assistant. As a side note there were 457 graduates, plus 33 midyear graduates from WCCHS. (merleburl.com)
The movie "The Blues Brothers" opened 40 years ago. Two scenes took place in West Chicago, one was a gas station, that has been torn down, and the West Wind Motel, which is still open at 28W721 Roosevelt Road.
Persons wanting to subscribe to my pictorial website can either visit merleburl.com or https://merleburl.com/subscribe/.
My email address is merleburl@earthlink.net.