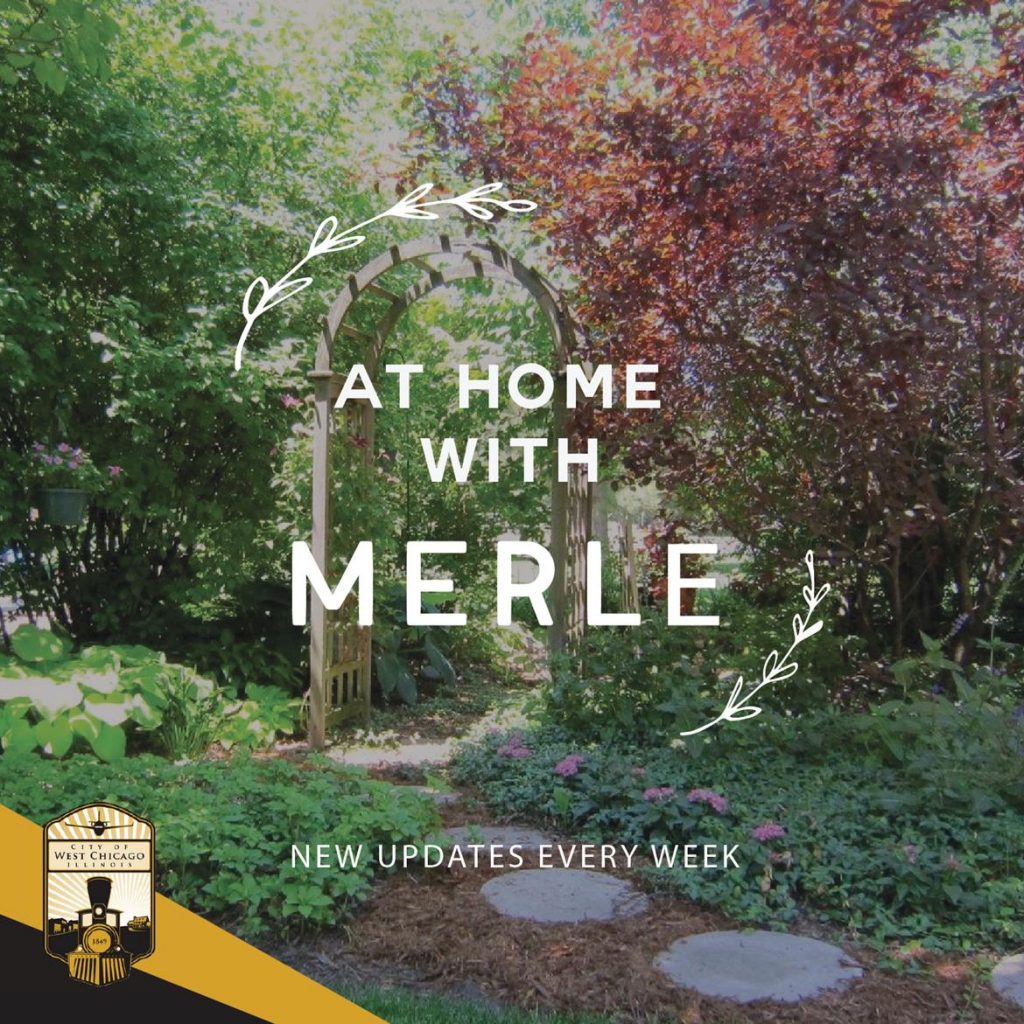 Kruse 'N Art is the summer exhibit at the West Chicago Historical Society Kruse House Museum, 527 Main Street. The artwork of many talented artists from West Chicago, were from West Chicago or have West Chicago connections are on display throughout the rooms of the102 year-old historic four square home, blending well with the period decor of the home. The home was built for Fred and Martha Kruse and their daughter Celia. The artwork includes West Chicago landmarks, florals, clay and ceramic figures and woodworking.
In the parlor, there are West Chicago scenes by Barry Stark and a painting by Fredericka Howard, a noted artist in West Chicago and an art teacher in local schools. A print of the West Chicago Sesquicentennial Mural depicts historic moments and individuals, the original mural is at the Library. The wood carvings by Garth Kent include the bowls and the homemade pens for which he is noted. Other works by Kent are on view in the family room, library, the dressing room of Fred Kruse, who was a collector for the Chicago & North Western railway.
In the family room there is a painting of West Chicago landmarks by the late Loretta Christensen, who was well-known for her water colors. A true landmark is the West Chicago Bolles Opera House by Mildred Baldwin. The 1894 building was next to the Masonic Lodge on West Washington Street. First it was an Opera House, the gathering place for social events, then was the laboratory for Kerr-McGee Corp., and was razed in 1997. Plien air paintings by Maggie Capettini, education coordinator for West Chicago City Museum, are on display here and in the library. There are a few more paintings by Howard in the dining room.
The perfect setting for "What's Your Favor?", a tea cups painting by Kathy Manning, is in the dining room. Other artwork is the photography of Jennifer Ralph of First Star Art and floral paintings by Heide Morris, a member of Gallery 200 and a retired art teacher.
Her ceramic and clay pieces also are on display in the kitchen. An eye-catcher is "I am King," a rooster watercolor by Kathy Manning. Not only are the photographs by Judith Horsley on display in the kitchen, but also in Fred's dressing room and the sunroom
In Celia's bedroom, the paintings of Margaret Bucholz and Kathi Kuchler are on display. The earrings and cufflinks are from "Out of the Woods," which were made from the downed trees in the storm 2012.
In the bedroom of Fred and Martha, vivid color is seen in the paintings. There are two paintings of West Chicago mothers by Rachel Weaver Rivera. These were on display in the 2013 exhibit "Where History and Progress Meet" at the West Chicago City Museum. The striking red color of the tulips in the painting by Ralph catches one's eye immediately.
Flowers bloom in the bathroom. These are in the yellow iris oil by Kathi Kuchler, and purple flowers by Ralph, plus the painting by Bucholz.
Celia loved animals, especially dogs, so it is perfect for "Ready to Play" dog watercolor and "Dreaming " cat watercolor paintings by Kathy Manning are highlighted in the child's room bedroom. The wood carvings are by Tom Bright. His carvings also are in Fred's dressing room. His have a more shiny finish than those of Kent.
Appropriate for Fred's dressing room are the "CB&Q Depot" and "AE&C Trolley" prints by Barry Stark. Another depot on display is the West Chicago Metra Station by Joe Ross.
The sun room is brightened by the digital works of Mitch Ralph of First Star and photographs by Horsley. With the view of the gardens seen through the windows, the "Outdoor Wedding," watercolor print by Manning gives one the feeling of being a guest at the ceremony.
The KHM Museum is open from 11:00 a.m. to 3:00 p.m. Saturdays the first of May to the end of September. For further information, call Joan Conkright at (630) 231-2329 or email joan@krusehousemuseum.org or call Donna Orlandini at (630) 231-2671. (www.merleburl.com)
AROUND AND ABOUT
It is Throwback Thursday June 27, 2019, at Turtle Splash Water Park. All children's admission fees are $3 until 1:00 p.m.
Kline Creek Farm, 1N600 County Farm Road, celebrates Independence Day with an 1890s themed "Glorious Fourth" from 2:00 p.m. to 8:00 p.m. Thursday, June 27. Visitors can play hoops and outdoor games, tour the farmhouse, join a casual game of 1887 baseball, make patriotic crafts, churn ice cream and watch model hot-air ballon launches. At 6:00 p.m. costumed interpreters present a Fourth of July ceremony, followed by an ice cream social at 7:00 p.m.
Republic Bank, 101 Main Street, hosts a reception for a viewing of the photo exhibit, "Woodstock: A Look Back," from 6:00 to 8:00 p.m. Thursday, June 27, 2019. Cocktails and hors d'oeuvres are served.
The exhibit commemorates the 50th Anniversary of an event that changed culture and redefined music. It took place Aug 15, 16 and 17, 1969, in Bethel, New York. At the reception, a Woodstock historian, Steve Macek, provides insight in the three day phenomenon, originally billed as "An Aquarium Experience:3 Days of Peace and Music" and became simply known as Woodstock.
The photographs, which depict the different scenarios, are displayed on 3×7 foot panels. The photos of the travel to the festival are a story within itself, 10 mile backups. In addition to photos of the crowds and what it was like at the festival, there are some of the performers. The exhibit also includes numerous facts printed on t-shirts. These include what performers were paid, popular performers from 1969 that did not perform there and weather conditions. There is no beginning or end of the sequence of the photos and the story it conveys; the display can be viewed in any order.
Macek is professor and Chair in the Department of Communication and Media Studies at North Central College in Naperville. His articles and op/eds about media policy issues, academic freedom and free speech appeared in scholarly journals and collections, newspapers and magazines, including "The Seed," a 60s-era underground newspaper. Although he was not alive at the time of the Aquarian Exposition, he interviewed a number of people who were.
The exhibit remains at the bank from 9:00 a.m. to 5:00 p.m. Friday, June 28, and moves to the West Chicago Library, 118 West Washington Street, Monday, July 1, where it remains until Wednesday, June 10.
The dedication of the new church of St. Mary's parish, 140 North Oakwood Street, is at 6:00 p.m.Thursday, June 27, 2019. Bishop R. Daniel Conlon will be present. Starting Saturday, June 29, there is a new weekend Mass schedule. On Saturdays, the English Mass is at 5:00 p.m. and the Spanish Mass is at 6:30 p.m. On Sundays, English Masses are at 7:00 and 10:30 a.m. Spanish Masses are at 8:30 a.m., 12:30 and 5:00 p.m. The Latin Mass is at 9:00 a.m. in the Old Church.
Seminole Sports holds it Double Play Classic softball tournament Friday through Sunday, June 28 to 30, 2019, at Pioneer and Reed-Keppler parks.
Todd Downing Tall Tales and Silly Songs is the Kids Lunchtime entertainment at 11:00 a.m. Friday, June 28, 2019, at The Shell in Reed Keppler Park. He entertains with his guitar, hand puppets and more.
Coffee with the Mayor is from 9:00 to 11:00 a.m. Saturday, June 29, 2019, at City Hall, 475 Main Street.
West Chicago Historical Society and People Made Visible/Gallery 200 host Art in the Garden from 1:30 to 4:30 p.m. Saturday, June 29, 2019, on the grounds at the Kruse House Museum, 527 Main Street. The ticket price of $12 a person, $20 a couple, includes wine, cheese and desserts. Tickets are available at West Chicago City Museum, 132 Main Street; Gallery 200, 103 West Washington Street; or reserve by emailing gallerytwohundred@gamil.com
Guests can enjoy the lovely gardens, maintained by the West Chicago Garden Club, while listening to the music by ZAZZ, an alternative jazz quintet, who come together to create unique and creative sounds for tunes from the jazz standards and popular show tunes repertoire. Artist Maggie Capettini, education coordinator at West Chicago City Museum, paints the gardens and the historic four-square home. Other participating artists are First Star, Kathi Kuchler, Kathy Manning and Heide Morris. The silent auction features the works of artists. Persons also can view more artwork in the exhibit "Kruse 'N Garden" in the KHM. (www.merleburl.com)
Under the sponsorship of People Made Visible, a committee is working to publish a new cookbook, "One West Chicago: Near and Far," highlighting the diversity of the community through recipes from the people and organizations in the community. Persons who are a resident, a former resident, work in West Chicago, visited friends or family here, or belong to a West Chicago organization, sports club, other not-for profit organization or church can submit a recipe. The publication is scheduled for fall of 2019. Handwritten or typed recipes can be submitted until Sunday, June 30, to Attn: Sara Phalen, West Chicago City Museum, 132 Main Street, West Chicago, IL 60185; Recipes can be submitted electronically until Wednesday, July 31. For further information or to fill out a recipe form, visit the Facebook page, One West Chicago: Near and Far or email wegocookbook@gmail.com. Forms also are available at the City Museum; West Chicago Public Library, 118 West Washington Street; or City Hall, 475 Main Street.
The Field of Honor is at the Warrenville Post 8018, #S371 Mignin Drive, from Saturday, June 29, through Thursday, July 5, 2019.
Palaya, a vocal duo from West Chicago, is one of the 20 finalists in Suburban Chicago's Got Talent competition. The performers take the stage at 6:00 p.m. Sunday, June 30, 2019, at Arcada Theater, 105 East Main Street in St. Charles. A panel of judges select the winners for the Top 15 round. Admission is free. There also is an online component. A video follows the Top 20 and posted at dailyherald.com/entertainment.talent. The top vote-getter is guaranteed a spot in the next competition.
"Nature's Beauty" is the exhibit for the month of July 2019 at Gallery 200, 103 West Washington Street. The display features the artwork by Marge Hall. Not only are there many pantings of close up flowers, for which she is known, but also a variety of landscapes and still lives, showing a diversity in subject and technique. The artist's reception is from 6:00 to 9:00 p.m. Friday, July 5.
Hall earned an Associate Degree in Commercial Art from Southern Illinois University Vocational Technical Institute. She currently is teaching oil painting classes at the Oak Brook and DuPage Art leagues. She also taught classes at College of DuPage. A flower painting workshop in 1992 led the path to her "Floral Portraits." Hall said, "I try to capture the delicacy of each petal concentrating on light and shadows to create a photorealistic style."
The West Chicago Public Library District holds a one-hour Microsoft Excel Level 1 class at 2:00 p.m. Tuesday, July 9, 2019, in the small conference room, 118 West Washington Street. Topics include learning the basic tools of Excel: setting up spreadsheets, adding/deleting columns and rows, simple calculations, & terminology. Persons must have basic computer skills. To register, call the adult services department at (630) 231-1552, extension 4.
The West Chicago Park District monthly social for senior citizens is at noon, Thursday, July 11, 2019, at The ARC, 201 West National Street. The "Backyard BBQ" menu is slow-cooked ribs, corn bread, green bean casserole, apple pie and ice cream. Guests bring a dish to share and a full place setting. "Celebrating Independence" is the theme. Featured speakers discuss keeping independence as one ages. Reservations are due by Friday, July 5, and may be made in person at The Arc or online at www.we-goparks.org.
West Chicago Railroad Days takes place from Thursday, July 11, through Sunday, July 14, 2019, at Pioneer Park, 479 West Forest Avenue. There is a carnival, children's activities, regional music acts, sporting events, beet tent and food.
West Chicago Police Department is starting an Explorers Program. Youths must be at 14 years and completed eighth grade and not yet 21, attend a West Chicago school, and have an interest is law enforcement. Meetings are monthly where highly trained officers talk about and demonstrate different skills needed for the job. Topics include police academy, crime scene investigation, defensive tactics, fingerprinting, patrol tactics, report writing and use of force. Following the classroom portion, there are fun-fill hands on activities. Explorers will have the opportunity to participate in different activities throughout the year, including parades, community programs and special events. Persons interested can call Officer Robyn Nielsen at (630) 293-2222 or email RNielsen@westchicago.org. (www.merleburl.com)
West Chicago Sister Cities celebrates its Twentieth Anniversary with a cultural exchange trip to the Sister City Taufkirchen (Vils), Germany from Friday, September 20, to Tuesday, October 1, 2019. The cost is $1,100 including airfare. Activities include Oktoberfest in Munich, two-day tour of the Alps with a visit to "Zugdpitze," tour of Taufkirchen, tours of German craftsmanship companies, a twentieth century reception and the stay as a guest with families. For further information email Becky Hall at beckyh@rchconsulting.com or call (630) 649-0128.
Sincere sympathy is extended to the family of Dennis L. Swanner, who at the age of 68 passed away Sunday, June 16, 2019.
Family Video, 910 North Neltnor Boulevard, is closing its doors.
Prestige Nursery Garden Center, 28W761 Army Trail Road, is now Prestige Creative Markets & Nursery. It houses 72 shop owners and about 10 cosigners.
West Chicago Community High School alum John Konchar, class of 2014, signed a Two Way Contract with the NBA Memphis Grizzlies Thursday, June 20, 2019. Konchar left WCCHS as the all-time leading scorer with 1,551 points. A two-time All-Conference selection, he averaged 28 points, 14 rebounds, 5 assists and 3 steals per game during his senior basketball season. He was a first team All-Area selection, and the Illinois Basketball Coaches Association named him to the All-State as second team. Konchar went on to play college ball at Purdue Fort Wayne, where he became the only player in NCAA Division 1 history to amass 2,000 points, 1,000 rebounds, 500 assists, and 200 steals.
The NBA's summer league starts July 5. After summer league, Konchar will participate in the team's camp in hopes of making the roster. If he does not, he will be playing with the Grizzlies G league team, the Memphis Hustle. (www.merleburl.com)
Boost Mobile, 119 West Roosevelt Road, is now open.
At the Monday, June 17, 2019, meeting, City Council approved the rejection of bids for the 2019 Sidewalk and Curb Maintenance. The City advertised for bids in the March 5 issue of the "Daily Herald" and only received one response in the amount of $174,869. The budgeted amount was $135,000. With the rejection of the bid, the budgeted amount will be utilized to remove and replace additional section sidewalk and curbs along Washington Street, between Arbor Avenue and Clara Street, as part of the 2019 Washington Street Reconstruction Project.
Also Council approved the appointment of Cindy Davies to the Cultural Arts Commission for a term ending April 2023.
My email address is merleburl@earthlink.net.