West Chicago welcomes summer with a parade, festivities and fireworks Saturday, June 8, 2019.
Railroad Days Parade is at 3:00 p.m.; this is due to scheduled road construction on Washington Street. It steps off from Elmwood Street and Ingalton Avenue, proceeding on Ingalton, east on Washington Street, then north on Arbor Avenue to Reed-Keppler Park on National Street. The City sponsors and Western DuPage Chamber organizes the Railroad Days Parade.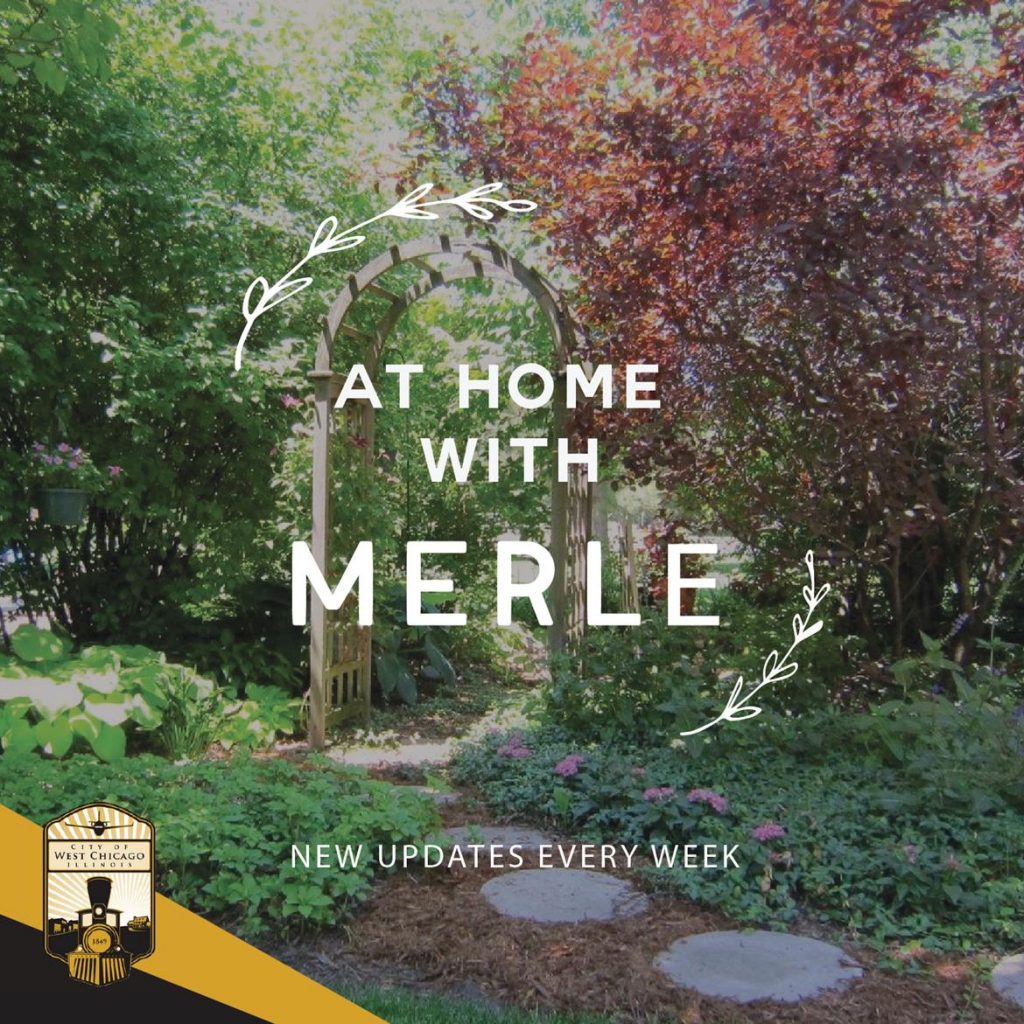 The theme is "Metamorphosis" The three award categories for parade participants are Grand Marshal for the float that best depicts the theme of the parade, Turner Award for the business or organization that best depicts its services and the Heritage Award for the youth group showing its purpose, enthusiasm and spirit.
Richard "Dick" Truitt is the Grand Marshal. The Western DuPage Chamber of Commerce took nominations and his name was submitted multiple times. Truitt served as a tank driver during the invasion of Normandy, D-Day, and took part in the Battle of the Bulge in the 3rd Armored Division, 83rd Recon in World War II. He was injured twice during these campaigns. At the end of the war in 1945, Truitt greeted and shook hands with the Russians in Germany. Returning home to West Chicago, he and his wife Catherine Truitt, a WWII Veteran Nurse, raised their children, Tim, Tom, Doug, Dan, Susan, and Bridget.
Completing his master's degree from Northern Illinois University, Truitt taught for many years in both the Waterman & Wheaton School Districts. He understood the value in programs for the youth, leading him to found local football and wrestling programs. Truitt served as an alderman and City Clerk and was mayor from 1973 to 1977. During his mayoral term, he designated land as the West Chicago Prairie, was involved in the purchase and renovation of the old Jewel store at 475 Main Street to become City Hall and designated the old City Hall at 132 Main Street to be the City Museum.
Musical entries are the Medinah Highlanders Pipes and Drums, the West Chicago Community High School Band under the direction of James Wallace, and Mariachi Los Rayos de Leman Middle School under the direction of Janet Sikma.
Local organizations, clubs and businesses are West Chicago Fire Protection District, West Chicago Police Department, DuPage Sheriff's Department, American Legion Post 300 and Veterans of Foreign Wars Post 6791 Color Guard, West Chicago Police Department and WCFPD Color Guard, Thorium Action Group, West Chicago Lions Club, Knights of Columbus Council #1555, Leman Middle School Ballet Folklorico, West Chicago Park District, West Chicago Youth Cheerleaders, Republic Bank/Mexican Cultural Center of DuPage, Area DuPage Towing, Blue Frost Heating, Jimmy Johns, On Pointe Dance Academy, RestoPaint Auto, Smile View Dental and Wireless Central West/Verizon.
Also participating are Mayor Ruben Pineda and City Council members, West Chicago Park District, Commissioners, Winfield Township Road District, Winfield Township Democratic Organization. Other political entries are Citizens for Karina Villa with Congressman Sean Casten for Congress and Citizens for Evelyn Sanguinetti. As a side note, the entry of the 1953 International Harvester Truck by Brachs Service Center in Winfield belonged to the late Ed Dierking, a lifelong resident of West Chicago and now owned by Tony Reyes.
The West Chicago Park District event, "Hello Summer," takes place from 4:30 p.m. to 10:30 p.m. at Reed-Keppler Park. Taco truck and Italian ice concessions are available. Live music by the band Alibi is from 4:30 p.m. to 6:00 p.m. and by Ist van & His Imaginary Band from 6:15 p.m. to 7:00 p.m. Activities from 5:00 to 8:00 p.m. are Cruise Night, petting zoo and pony rides. From 6:00 to 8:00 p.m. family fun includes kids' activities such as a face painter, caricature artist and balloon twister. The special performance is Infinity, "Classic to Current: The Ultimate Rock Experience," from 7:15 to 9:15 p.m. Formed in 1985, Infinity grew from being not only a Journey Tribute band, but one of the top drawing cover bands in the Midwest. Fireworks, sponsored by the City of West Chicago, are at 9:30 p.m. www.merleburl.com)
AROUND AND ABOUT
Lawn games for all ages take place from 6:00 to 8:00 p.m. Wednesdays, starting June 5th , and ending July 31, 2019, on the library lawn next to the parking lot, 118 West Washington Street. Among the many games available are badminton and bocce ball. In case of rain, there are board games inside the Library.
The First Division Museum at Cantigny Park, 1S151 Winfield Road in Wheaton commemorates the 75th anniversary of D-Day Thursday, June 6th . The opening memorial ceremony is at 10:00 a.m. Many different activities take place. Parking is $5 and includes admission to the gardens and museums.
For more information, visit www.cantigny.org.
During Meet the Soldiers of D-Day, living history performers bring real soldiers to life. Stories include 1st Infantry Division Medal of Honor story, 320th Barrage Balloon Battalion story and 1stInfantry Division First Wave story. Master Sculptor Ted Siebert presents a one-of-a-kind display made entirely of sand, depicting soldiers of the 1st Infantry Division who served on Omaha Beach. At History Alive youths and adults can try on the gear of a WWII soldiers and train for a mission on the Museum's inflatable obstacle course. Surviving D-Day Special Exhibit is in the War Gallery of the First Division Museum. At the Historic Vehicles and WWII encampment, visitors meet WWII re-enactors. Scavenger hunt maps are available. During the afternoon Open House, the famous "D-Day Prayer", six-and-a-half-minute radio broadcast speech of President Franklin D. Roosevelt, plays on a continuous loop. WWII posters from the War and Food Administration are on display throughout display gardens. At 7:00 p.m. is the presentation of Voices of D-Day, where guests have the opportunity to meet and remember D-Day soldiers of the 1st Infantry Division through oral histories narrated by the First Division Museum.
D-Day, June 6, 1944, marked the beginning of the largest amphibious invasion in history: Operation Overlord. The Allied landings in the Normandy region—more than 160,000 troops—triggered the liberation of Nazi-occupied France and laid the foundation for victory in Europe during World War II.
State Senator Jim Oberweis (R-25) hosts a Senior Health Fair from 10:00 to 11:30 a.m. Thursday, June 6, 2019, at American Legion. Post 300, 123 Main Street. His staff is on hand to assist constituents with state government concerns. Various agencies, businesses, organizations and taxing bodies provide information on legal, financial, medical, assisted living and home health care services. Walgreens will have Shingrix, Pneumococcal and TDAP Immunizations. Persons wanting these shots, need to have their insurance cards. Also there are nutritious refreshments.
Cheryl and Ray Waterman celebrate their 50th Wedding Anniversary, Friday, June 7, 2019.
West Chicago Fire Protection District hosts a Retirement and Promotion Ceremony at 3:30 p.m. Friday, June 7, 2019, at District headquarters, 200 Fremont Street. Retiring is Battalion Chief Hugh Stott, who has been in Illinois fire service for 40 years, 32 of these years in West Chicago. Receiving a promotion to Battalion Chief is Lieutenant Jeff Keefe. Firefighter Mike Meyers is being promoted to Lieutenant. (www.merleburl.com)
"Door County Memories" is the exhibit for the month of June at Gallery 200, 103 West Washington Street. The artwork of Shari Hohl is on display. The artist's reception is from 6:00 to 9:00 p.m. Friday, June 7, 2019.
Hohl has visited Door County for 23 years, stating she is "amazed at the beauty around the County." While there, she captures the beauty in plein air painting and photographs. Then back home, she uses the photographs to paint her memories. She took classes in oil painting at age 12. Hohl graduated from with a degree in art from Indiana State University in Terre Haute. Attending numerous courses and workshops over the years, Hohl continues her education in art. (www.merleburl.com)
The last production of the ninth season of Gallery Theater, 129 Main Street, is "Suite Surrender" by Michael McKeever. Tickets are only available for the 3:00 p.m. Saturday, June 8, 2019, performance. The ticket price is $16, $14 for senior citizens. For more information and tickets, email GalleryTickets@gmail.com, visit gallerytheaterstudio.com or call (630) 234-5919.
Director is West Chicago resident Gail Cannata and Assistant Director is West Chicago resident Maureen Navadomskis. Members of the cast are Nancy Braus, Matt Hellyer, Carolyn Larsen, Galen Malick, Cheryl Rice, Justin Schaller, Heidi Swarthout, Carol Townsend and Carl Zeitler
"It's Showtime" is the theme for the West Chicago Public Library Summer Reading Program, which begins Saturday, June 8, and ends Wednesday, July 31, 2019. To kick off the program, Hugo Colin, Chicagoland's youngest 1950s Elvis Tribute artist, performs at 2:00 p.m. While listening to the music, doing a little dancing and enjoying snacks, attendees can also take part in a craft activity in the main meeting room, 118 West Washington Street. (www.merleburl.com)
First United Methodist Church of West Chicago holds its Annual Dinner and Pie Auction at 6:00 p.m. Saturday, June 8, 2019, at the Church, 643 East Washington Street. The theme is "What's Your Sauce?" On the menu is Antipasto, tossed salad, garlic bread, spaghetti, Italian meatballs, traditional Italian marinara sauce, Italian style green beans and Spumoni with pirouline rolled wafers; vanilla ice cream is available for those with nut allergies. The cost is $12.50 and $6 for children ages 3 to 10. The tradition of highlighting the talents of members of the Church through the playing of musical instruments, skits, songs and fun creativity, returns this year. Of course, the evening would not be complete without the very popular pie auction. To make reservations, call the Church office at (630) 231-3344 or email wegoumcucc@gmail.com.
St. Michael's United Church of Christ, 400 West Washington Street celebrates the Pentecost at its 9:30 a.m. worship service Sunday, June 9, 2019.
Following its 10:00 a.m. Pentecostal Sunday service, June 9, 2019, First United Methodist Church of West Chicago hosts a farewell reception for Reverend Nancy Blade, pastor of the Church, and her two daughters, Jeri and Becky Rethford.
St. Andrew Lutheran Church, 155 North Prince Crossing Road, has a bilingual Pentecost service at 10:30 a.m. Sunday, June 9, 2019, followed by a potluck lunch.
St. Mary's Catholic parish,140 North Oakwood Avenue, h celebrates the Pentecost and the beginning of its Church, established in 1868, with a family gathering at 11:15 a.m. Sunday, June 9, 2019. Activities include a procession games, prayer, music and food.
Dance the Day Away is the event at 2:00 p.m. Sunday, June 9, 2019, at Turtle Splash Water Park, 129 West National Street. Janet Dance Team leads the program.
Leman Middle School has three 2019 graduation ceremonies in the cafetorium, 238 East Hazel Street. On Monday, June 10, 2019, the Red Team ceremony is at 6:00 p.m. The White, Orange and Green Teams graduation is at 8:00 p.m. The Blue Team graduation is at 6:00 p.m. Tuesday, June 11, 2019. The last day of school for District 33 is Wednesday, June 12, 2019.
The West Chicago Public Library holds a two-hour Computer Basics class at 2:00 p.m. Tuesday, June 11, 2019, in the conference room, 118 West Washington Street. Areas covered include opening/closing programs and documents, saving documents and computer vocabulary. To make a reservation, call the adult services department at (630) 231-1552, extension 4.
Eclipse-Chicago, a Pink Floyd Tribute band, is the entertainment at 7:00 p.m. Wednesday, June 12, 2019, at the Shell in Reed-Keppler Park, 129 West National Street.
West Chicago Park District monthly social for senior citizens is at noon Thursday, June 13, 2019, at the ARC, 201 West National Street. It is a Father's Day Celebration. Guests bring a dish to share and a complete table setting. On the menu is Penne pasta with broccoli, and a sundae bar for dessert. After lunch, persons can play bags or ladder golf. The cost is $11 for residents, $13 for non-residents. Reservations are due by Friday, June 7, and may be made in person at the ARC or on line at we-goparks.org.
Friends of West Chicago Parks Foundation hosts its ninth annual golf outing, "Funds Fore Fun," Friday, June 14, 2019, at Prairie Landing Golf Course, 2325 Longest Drive. The cost is $160 per individual and $625 for a foursome. It begins at 8:30 a.m. and ends with lunch. Proceeds from the golf outing are placed into a scholarship fund that helps families facing financial difficulty participate in recreational opportunities such as Park District classes, programs and sports leagues. Proceeds also benefit community events that encourage families to participate in recreational fun. For further information or to register, visit http://www.we-goparks.org/park-foundation-, email lmedina@we-goparks.org or call (630) 231-9474.
St. Andrew Lutheran Church holds its Vacation Bible School from 6:00 to 8:00 p.m. Monday, June 17, through Friday, June 21, 2019. The Theme is "Who is My Neighbor?" Activities include Bible teachings, crafts, games, songs and snacks. The cost is $5 per child with a $10 maximum. To register, call the church office at (630) 231-3787.
In partnership with Cantigny Park, the League of Women Voters of Wheaton hosts a Civics Awareness program Wednesday, June. 19, 2019, in the McCormick House at Cantigny, 1S151 Winfield Road in Wheaton. Social time is at 6:30 p.m., followed by the program at 7:00 p.m. The topic is "Major Issues Before the Supreme Court," presented by Steve Schwinn, Constitutional Law Professor at John Marshall Law School. He discusses current issues before the Supreme Court and their implications. Complimentary coffee and dessert are served. Tram service is available. Registration is required for the free program. To register visit http://bit.ly.?supreme-court-june. Parking is free.
West Chicago City Museum Historiography program, a non-fiction book reading group, is at 1:00 p.m. Thursday, June 20, 2019, in the museum, 132 Main Street. Guests can bring a lunch; dessert and a beverage are provided. The book to be discussed is "Bootleg: Murder, Moonshine, and the Lawless Years of Prohibition" by Karen Blumenthal. Copies of the book are available at the Museum and Library.
The outlawing of liquor started with the best of intentions. Prohibition was hailed as the end of public drunkenness, alcoholism, and other issues related to booze. Instead it led to a decade of lawlessness, involving both upright citizens and notorious gangsters. Filled with period art and photographs, anecdotes, and portraits of unique characters from the era, this book looks at the rise and fall of Prohibition. The book received four-starred reviews and was a finalist of the YALSA Excellence in Nonfiction for Young Adults Award.
Karen Blumenthal has been a financial journalist for more than 25 years. She has written three financial books for adults and seven nonfiction books for young people. As an author and reporter, she appeared on the ABC World News Tonight, the Today Show, CNN and the PBS Nightly Business Report. She is a graduate of Duke University and has an MBA from Southern Methodist University.
Mary Longe featured Maggie Capettini, education coordinator at West Chicago City Museum, on "My Art Dish," her video interview series. Not only did they discuss Capettini's solo exhibit, "land: sky" on display through Friday, June 28, 2019, at the LaGrange Art League Gallery, but also plein air painting, how she finds places for solo exhibits and her background in art. (www.merleburl.com)
Healthy West Chicago has partnered with Midwest Strength + Performance Gym, 245 West Roosevelt Road, Building 2, Suite 9, to provide West Chicago residents free weekly community group fitness classes. The classes take place at 7:00 a.m. Saturdays during the summer. MSP Trainer, Kevin Martinez, leads the weekly upbeat group exercise class designed to increase fat loss, improve muscle definition, and reduce pain in all major joints.
Both of the West Chicago veterans' organizations hold Bingo as a fundraiser on a weekly basis. The games at American Legion Post 300, 123 Main Street, are on Fridays. Doors open at 5:00 p.m., games start at 7:00 p.m. The last Bingo at the Legion for their summer break is June 7, 2019, and Bingo resumes at the Legion on September 6, 2019. Games at Veterans of Foreign Wars Post 6791, 431 North Neltnor Boulevard, are on Wednesdays. Doors open at 5:00 p.m., games start at 7:00 p.m. The Auxiliary games are Sundays. Doors open at noon, games start at 2:00 p.m.
Summer opening hours at John & Tony's, 27W371 North Avenue, are 3:30 p.m. Monday through Saturday and 11:00 a.m. Sunday.
Sincere sympathy is extended to the family of John Frank Chorobik, who at the age of 59 passed away Sunday, May 26. 2019.
Deepest sympathy is expressed to the family of Jim Schuster, who at the age of 72 passed away, Saturday, May 18, 2019.
Sincere sympathy is extended to the family of Daniel Sanchez, who at the age of 47 passed away Thursday, May 23, 2019.
The photograph on the cover of the Cantigny Park Summer Guide is by West Chicago resident Greg Stockman. It also was a Top 20 winner in Cantigny 2018 photo contest and can be seen on the wall in the Cantigny Visitors Center. (www.merleburl.com)
With the assistance of many volunteers, The GardenWorks Project supplied 101 area families with gardens for this growing season. In addition to providing each family with wood, soil and compost for a 4×8 foot garden bed, the organization also gives seeds, some seedling plants, garden tools, and garden and cook books. The GardenWorks goal is to raise $4,000 to ensure quality products and services for the growing season. To make a donation, visit https://gardenworksproject.nationbuilder.com/give. (www.merleburl.com)
At the Tuesday, May 21, 2019, meeting, Community High School District 94 awarded two contracts. One was for the purchase of Chromebooks for the incoming freshman class for the amount of $245,725.25 to CDW from Vernon Hills. Another was for new band uniforms to DeMoulin in Greenville for the amount of $43,831.22. Band students were involved in selecting the new design.
Jamie Mazurski, a senior at West Chicago Community High School, is Academic Achiever for the month of May. With a cumulative weighted grade point average of 5.474, Mazurski holds one of the top 10 GPAs among senior students at West Chicago Community High School. She has been on High Honor Roll every semester. Mazurski is an Illinois State Scholar, a member of the Music Honors Society, and the Foreign Language Honor Society. She has earned Outstanding Performance in Mathematics, the AP Scholar Award, the President's Education Award, and the highest achievement award in German.
Mazurski served as a student leader for both Snowball and ROAR, is on the Math Team and the Scholastic Bowl, and has been part of the German exchange program. She has been in band all four years, and is a drum major.
With an interest in our oceans and love of working with animals, Mazurski plans to attend the University of Hawaii to major in Marine Biology and minor in Zoology. (www.merleburl.com)
Maria Giannoudakos, a senior at West Chicago Community High School, is Student of the Month for May. Giannoudakos was chosen for her excellent academic record, participation in activities, and making the high school a welcoming place for all students.
Giannoudakos has been on High Honor Roll or Honor Roll every semester and has earned a cumulative weighted grade point average of 4.543. She is a member of National Honor Society.
Her extracurricular activities included Art Club, Club Green, Student Council and WeGo Global, plus is the founder of the Podcast Club. Outside of school, Giannoudakos has volunteered with the League of Women Voters, Feed My Starving Children, Covenant House, Refugees International, and Amnesty
International, with a local food pantry, and helped create a butterfly garden with Club Green. Giannoudakos plans to attend North Central College as Sociology major. She hopes to become an urban planner or a lawyer. (www.merleburl.com)
West Chicago Elementary School District 33 teachers Humberto Ayala, Latinos In Action teacher, Physical Education, Health, and Athletic Director at Leman Middle School; Patty Rodriguez, ESL language arts and social studies teacher at Leman Middle School; and Julio Banfi, Intermediate Autism Teacher at Indian Knoll Elementary School, are recipients of the Illinois Association of Latino Administrators and Superintendent "Wings to Success Scholarship." This is a scholarship that is awarded to educators in support for their dedication and commitment to continue their professional growth to better servo students. (www.merleburl.com)
Staff of "Wildcat Chronicle," student online newspaper at West Chicago Community High School was the recipients of awards from the Northern Illinois School Press Association. Editor in chief Ariana Alcantar earned a Blue Ribbon for Excellence in Journalism for news writing. She also earned an Honorable Mention for Excellence in Journalism for sports writing. News editor Leslie Najera-Rivas earned an Honorable Mention Award for Excellence in Journalism for feature writing. Perspectives editor Isabella Casimiro earned an Honorable Mention Award for Excellence in Journalism for editorial writing.
The Career & Technical Education Division at West Chicago Community High School consisting of the Business Education, Family & Consumer Science, and Technology Education departments strives to prepare students for success in college and in the work place. There are five 2018-2019 Students of the Year for the Class of 2019.
Students in Business Education are Darline Cuautle and Eduardo Bahena-Avila. Cuautle took seven Business Education courses. She was a member and served as an officer in Business Professional of America. She will attend DePaul University, majoring in International Business and minoring in Marketing. Bahena-Avila took nine Business education classes, eating A's in every course. He will attend Northern Illinois University, majoring in Accounting.
June Ludwig is the student in Family & Consumer Science. She took seven FACS courses. Competing with the FCCLA Club Regional Competition, she earned second in Interior Design Display. Ludwig plans to attend College of DuPage, majoring in Interior Design.
The student in Technology Education is Harrison Vallero, who took seven TE courses. He earned 11 dual credit hours through these courses. Vallero will attend Northern Illinois University, majoring in Manufacturing Engineering.
TSI Technician of the year is Clifford Chase, the first recipient of this award and the first student to be a member of Technical Support Internship program for the entire time in high school. He provided excellent leadership, customer service, gained technical skills, and earned numerous industry certificates. He has been a model TSI student, and someone teachers and students relied on for developing procedures, reviewing tech tickets, and creating a professional atmosphere in TSI. In the fall, Chase will be enlisting in the United States Marine Corps and hopes to focus on Aviation Mechanics.
Fred Cadena, Director of Buildings and Grounds in West Chicago Elementary School District 33, received the Certified Professional Maintenance Management credential. The certification indicates that he has taken the course required and passed the certification exam that verifies he "possesses in-depth expertise in plant and facilities maintenance management." (www.merleburl.com)
West Chicago Community High School recently completed its Fourth Annual Wildcat Triathlon, which had 60 participants. Each athlete completed a 200-yard swim, a three-mile bike in the high school's fitness center, and finished with a one-mile run on the track. For the second consecutive year, the overall champion was Teegan Cook, a sophomore. The top finishing female participant was Nicole Luedtke, a Physical Development teacher. The top finishing female student was Sofia Schumann, a freshman.
Honorable Mentions in the "Daily Herald" DuPage County Academic Team were Anna Reitz from West Chicago Community High School, and Ann Hancock and William D. Lyon from Wheaton Academy. (www.merleburl.com)
DuPage County Vice Chairman Jim Zay, District 6, received the DuPage County Mayor and Managers Conference 2019 Intergovernmental Cooperation Award for his work on the DuPage Water Commission.
Mike Wagner from West Chicago Community High School was named as an Honorable Mention of the "Daily Herald" DuPage County Boys Volleyball All-Area Team.
Sophia Lindquist from Wheaton Academy was named to the "DuPage Herald" DuPage County Girls Soccer All-Area Team.
Dr. Philip Ehrhardt retired as Benjamin School District 25 Superintendent Thursday, June 30, 2019. He served in this position 12 years, and was in the education field for 45 years. During his tenure, he guided the district through construction upgrades, a successful school referendum, implementation of one-on-one computer devices for students, safety upgrades, enhanced curriculum offerings, award-winning communication enhancements and additions, enriched community relations opportunities and the planning for the 175th anniversary celebration this year.
My email address is merleburl@earthlink.net.