After the rough weather in February, I think March came in as a lamb. It is great to see grass, even if not green, and not snow. Spring is almost here!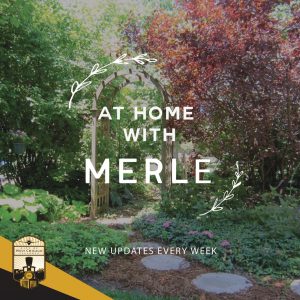 AROUND AND ABOUT
Open gym times for basketball, pickleball and soccer are now available at the ARC, 201 West Washington Street. To see the new schedule visit www.we-goparks.org/open-gym. (www.merleburl.com)
Healthy West Chicago hosts two virtual fitness sessions. To register for one or both, visit https://us02web.zoom.us/webinar/register/WN_lm0UW1WKTEOxWZsUFDsQXg. After registering, participants receive a confirmation email with information about joining the webinars.
Functional Fitness is a 20-minute class at 5:30 p.m. Wednesday, March 3, 2021. This basic workshop has participants using their bodies to push, pull, bend, squat and more. No equipment is needed. All fitness levels are welcome.
Cardio Boost is a 20-minute session at 5:30 p.m. Wednesday, March 19. 2021. The class helps boost endorphins and lower stress. No equipment needed and all fitness levels welcome.
There is a Wellness Challenge QR Code for Virtual Workouts: Participants will earn 1,000 bonus steps by joining the virtual workouts. QR code can be scanned one time per day. (www.merleburl.com)
The DuPage County Clerk's Office is accepting applications for vote by mail ballots for the Consolidated Election Tuesday, April 6, 2021. Up for election are officials in the City of West Chicago, West Chicago Public Library District, West Chicago  Park District, West Chicago Elementary School District 33, Community High School District 94, and Benjamin School District 25, College of DuPage, Regional Board of Schools, and  Wayne and Winfield Townships. Vote by mail starts Wednesday, March 10, 2021.
 Persons can fill out the application online at https://www.dupageco.org/Election/Voting/37064 (corrected link) download the file at "Vote by Mail Application (PDF)," pick up at County Complex, 421 North County Farm Road, or call (630) 467-5600. After receiving the form, persons should complete and mail as soon as possible. When they become available ballots are mailed. Once persons have their vote by mail ballot, they can choose whether to return the completed ballot by mail or turn the blank ballot in at their polling place to vote in person.
In-Person Early Voting-Paper Ballots for the Consolidated Election are available through Monday, April 5, 2021, at DuPage County Fairgrounds, 2015 Manchester Road, Building 5, in Wheaton. Hours are 8:00 a.m. to 4:30 Monday through Friday until March 19; 9:00 a.m. to noon Saturdays until March 20. Touch Screen voting begins March 22. Other locations open later this month. More information on this in a later column. The Early Voting program allows any eligible DuPage County voter to vote before Election Day.
Wayne Township Senior Center hosts a blood drive for Versti Blood Centers from 10:00 a.m. to 3:00 p.m. Wednesday, March 10, 2021, in the parking lot at Wayne Township, 27301 North Avenue. Appointments are preferred, but walk-ins are welcome. To make an appointment, visit https://donate.illinois.versiti.org/donor/auth/signin.
GardenWorks Project hosts an online workshop on the unique technique of raised bed gardening uses for GWP Home Gardening participants at 6:30 p.m. March 10, 2021. Topics covered include how to install and prepare a raised bed garden, tips and techniques on building a good garden at home, companion planting, square foot gardening and succession planting. To register for "Grow A Growing Garden," visit www.gardenworksproject.org/food_growers_network_031021.
Healthy West Chicago hosts a Zoom webinar at 6:00 p.m. Thursday, March 11, 2021. The topic is "Healthy Living Grocery Tour: Eating Healthy on A Budget." Leading the tour is registered nutritionist, Melissa O'Brien. Participants learn to find healthier food options, find bargains, read food labels and sticking to the budget. There is no charge, but registration is required and may be made at https://us02web.zoom.us/webinar/register/WN_uRLJ-7HMQQ-TimCIDzLkmA. After registering, persons receive a confirmation on how to join the webinar.
To celebrate Women's History Month, the League of Women Voters of Wheaton, the Robert McCormick House at Cantigny Park, the Wheaton Public Library and the Wheaton Community Relations Committee present a virtual program on Florence Nightingale at 7:00 p.m. Thursday, March 11, 2021, via Zoom. Master storyteller Megan Wells an award winning actor brings to life this historical figure. To register, visit https://my.lwv.org/illinois/wheaton, under calendar.
Born on May 12, 1820, Florence Nightingale became the founder of the modern nursing profession. Against all odds, and with a determination uncharacteristic of women in the 1800s, Nightingale won the right to serve. She was the first female superintendent of nurses in the British army and led a team of 38 nurses into the horrible circumstances of the Crimean War. She later established a training program for nurses at St. Thomas Hospital in London.
League of Women Voters of Wheaton includes West Chicago, Warrenville, Winfield, Wheaton and Carol Stream. The League of Women Voters is a non-partisan organization that does not support or oppose any political party or candidate, but whose purpose is to promote political responsibility through informed and active participation of citizens in government.
Due to the COVID-19 pandemic, We Grow Dreams Greenhouse and Garden Center postponed the Bowlathon, its main fundraiser, to August. Since it usually is held in February, the event offsets the cost of supplies and plants purchased in the winter. To help pay the bills that continue to come in, the greenhouse is hosting the "Luck of the Green" cash raffle. The cost of the tickets is $25 each or five for $100. Prizes are $1,000, $500 and $250 or the equivalent value of greenhouse plants and or products. To purchase tickets on line, visit the website wegrowdreams.org or mail a check to We Grow Dreams Greenhouse, 1055 West Washington Street, West Chicago, IL 60185. The deadline is Friday, March 12, 2021. The winning ticket will be pulled St. Patrick's Day Wednesday, March 17.
The greenhouse, a 501(c (3))organization, mission is to provide people with disabilities the opportunity to lead fulfilling lives and to train and work in a supportive, safe and caring environment while producing and providing products and services to the community. In this pursuit, we honor the concepts of human dignity, respect, hard work, fellowship and friendship. (www.merleburl.com)
The West Chicago Police Department again participates in the Coolest Event of the Year—the Law Enforcement Torch Run Polar Plunge, but in a different way this year due to the pandemic. Usually they plunge into the frigid waters of Loon Lake in Silver Springs. The concept is still the same – be bold and get cold to support thousands of athletes and their families. It takes place from noon to 2:00 p.m. Sunday, March 14, 2021, at Hawthorne's Backyard Bar & Grill, 1200 West Hawthorne Lane. 
Persons attending can throw "snowballs" at the participating officers and, with good aim, have the officer plunge into the cold waters of the dunk tank. Other activities include food specials, raffles for a television and gift cards and giveaways with a portion of the proceeds for the Special Olympics Law Enforcement Run. Persons also can make a donation online at https://soill.donordrive.com/index.cfm?fuseaction=donordrive.participant&participantID=69175. West Chicago Police Detective Robbi Peterson participated in the Super Plunge and is organizing the 2021 Polar Plunge. (www.merleburl.com)
The Child Development classes of West Chicago Community High School are hosting a virtual preschool program via Zoom from Thursday, March 16 to Thursday, May 13, 2021. Eligible children are ages 2 1/2 to 5. There is no cost for the program. Lessons range from alphabet and number awareness to gross motor activities to beginning reading and writing. Activities include a Spring Concert, a field trip to the Brookfield Zoo, and Preschool Graduation. Applications are available at www.d94.org/preschool. For further information, call instructor Brittney Bauer at (630) 876-6377 or bbauer@d94.org.
West Chicago Public Library holds a Spring Giveaway for patrons who have a physical WCPL library card. Grand prizes are awarded for each age group-adults: young adults, ages 12 through 18; youth, ages 5 through 11; and youth, ages 0 to 5. Details on each of the grand prizes and how to enter are on the Facebook page www.facebook.com/wcpld The last day to enter is Wednesday, March 17, 2021. For further information email pr@wcpld.info.
West Chicago City Museum and Warrenville Historical Society present the Historiography program, a non-fiction book reading group, at 1:00 p.m. Thursday, March 18, 2021, via Zoom. The book is "Notorious RBG: The Life and Times of Ruth Bader Ginsburg" by Irin Carmon and Shama Knizhnik. The book was published in 2015. To get a copy of the book or for further information, visit Friends of West Chicago City Museum website, wegohistory.com or call (630) 231-3376.
Per the Goodreads review, "Supreme Court Justice Ruth Bader Ginsburg never asked for fame—she was just trying to make the world a little better and a little freer. But along the way, the feminist pioneer's searing dissents and steely strength have inspired millions. The book created by the young lawyer who began the Internet sensation and an award-winning journalist, takes you behind the myth for an intimate, irreverent look at the justice's life and work. As America struggles with the unfinished business of gender equality and civil rights, Ginsburg stays fierce."
Shana Knizhnik, born August 22, 1988, is a staff attorney at the Legal Aid Society of New York City's Criminal Defense Practice. Previously, she was a legal fellow at the ACLU of the District of Columbia. Irin Carmon is an Israeli-American journalist and commentator. She is a senior correspondent at New York Magazine, and a CNN contributor.
DuPage Habitat for Humanity selected West Chicago to be a part of its first Community Cares Week, in which volunteers do exterior home repair projects for residents in a selected community. Small groups of volunteers from DuPage County come to West Chicago from Tuesday, May 25, through Saturday, May 29, 2021. Since the first Community Cares Week is in West Chicago, Dupage Habitat for Humanity is calling it WeGo Community Care Week.
The organization is accepting pre-application for exterior repair work from West Chicago residents. To qualify, the applicant's household income has to fall below 80 percent of Area Median Income for the Chicagoland Area. Priority is given to repairs that affect the applicant's quality of life. A portion of the repair cost will be repaid by the applicant based on their income at time of application. Applications are accepted in person, by mail and through email until 5:00 p.m. Friday, March .19. To request an application or for further information, call Jill Sobie at (630) 510-3737, extension 315, or email jsobie@dupagehabitat.org. (www.merleburl.com)
Support our local businesses.
West Chicago resident Mary Ann Manna recently opened her own business, Manna Real Estate. With 17 years experience, she works with sellers, first time home buyers, investors, short sales, and foreclosures market in Western DuPage and Kane County. Her website is www.MARYANNMANNA.com. Manna is an active member in the community and is a member of West Chicago Rotary Club and Western Dupage Chamber of Commerce. (www.merleburl.com)
Free Bar Bingo is back at Hawthorne's Backyard Bar & Grill, 1200 West Hawthorne Lane. It takes place at 7:00 p.m. Wednesdays. (www.merleburl.com)
During the Lenten season Augustino's Rock and Roll Deli and Grill, 300 W North Avenue, offers meatless specials. These include Buffalo Cauliflower Wrap, Haddock Sandwich Clamstrips.
Blooming Fest 2021, scheduled for Saturday, May 15, 2021, is cancelled. Related activities and giveaways are being planned and can be found on the City's Blooming Fest Facebook page, https://m.facebook.com/West-Chicago-Blooming-Fest-100927978413717.
The DuPage County Health Department developed a dashboard to provide information on the total number of people, in DuPage County, who have tested positive for COVID-19. In addition, the dashboard includes a map which shows the distribution of reported cases by municipality and is updated at 4:00 p.m. daily. DuPage County's "COVID-19 Dashboard" is a one-stop-shop for all the information it offers including a town-by-town breakdown of cases. As of 4:00 p.m. Monday, March 1, 2021, there were 3,909 cases and 43 deaths; this is the number from the beginning of track recording. It is important to remember to follow the social distancing order, wear masks and wash hands.
A COVID-19 testing site is open from 8:30 a.m. to 12:30 p.m. Tuesdays and Thursdays in a VNA Health Care Mobile at St. Andrew Lutheran Church, 155 North Prince Crossing Road. There is no charge. Appointments are required and may be made at (630) 892-4355 or (847) 717-6455.
To keep residents aware of community COVID-19 updates, the City has posted West Chicago's COVID-19 COMMUNICATIONS CENTER on its website, www.westchicago.org. It is located on the upper left-hand side in red. Clicking on this, residents can see the latest information.
Sincere sympathy is extended to the family of Donald R. Gutzmer, who at the age of 68 passed away Sunday, February 14, 2021.
Deepest sympathy is expressed to the family of Rosemary T. Kaenel, who at the age of 92 passed away Saturday,, February 20, 2021.
Sincere sympathy to the family of Juan "Johnny" Escamiila, who passed away Sunday, February 21, 2021.
Deepest sympathy to the family of Jeane Sickel Mazzaferro, who passed away Thursday, February 25, 2021.
Sincere sympathy is expressed to the family of Carolyn Patch Fairbanks, who at the age of 74 passed away Sunday, February 14, 2021.
Deepest sympathy is expressed to the family of Laurel Avila, who at the age of 67 passed away Thursday, February 25, 2021.
Usually the Western DuPage Chamber of Commerce hosts an installation and awards dinner. However, as with many other community events, it was not possible for 2021 due to COVID-19. The Chamber has a board of directors confirmed for the upcoming year.
Officers are John Miller of Clare Woods Academy, Chairman of the Board; Steve Schwarz, Jr. of SS Schwarz Construction, Vice-Chairman; Joe Buchholz of Buck Services, Inc., Secretary; Omar Espinosa of Republic Bank, Treasurer.
Board members are Allan Gilbert of The Bunker Bar & Grill, Ann Marie Bianchi of Northwestern Medicine, Chuck Sadowski of Ruentberg Realty Group, Inc., Chuck Strayve of Charlie's Tree Service, Dora Cheila-Georganas of Wheaton Bank & Trust, Frank Lenertz of West Chicago Park District, Nancy Perillo of FNBC Bank & Trust, Phil Pahlke of Pro-Pak Industries, Rory King of DiGiovine, Hnilo, Jordan + Johnson, Ltd. (aka DHJJ), and Uwe Gsedl of Gsedl Graphic Design & Photo.
At the Tuesday, February 16, 2021, meeting, Community High School District 94 Board of Education approved a five year agree with Groot Recycling and Waste services, Inc. with an estimated initial cost of $8,712 for the first year and annual increases of up to five percent per year.
Also approved was the Intergovernmental Agreement between the District and the City of West Chicago for the procurement of school resources officers from the West Chicago Police Department.
The board approved a one year extension with Quest Management Services for food services.
Other approved expenses were related to expanding in-person learning opportunities during the COVID-19 pandemic. These were the approval to purchase of new chairs and tables from Educational Environments in the amount of $98,816, which includes delivery and installation and the purchase of new field house dividers from Larson Company in the amount of $18,750, which includes removal of existing dividers, plus the proposal from Pepper Construction for the construction of temporary walls in the Commons for the amount of $12,858.
Bianca Reyes, the Mexican Cultural Center DuPage 2017 Miss Mexican Heritage Queen, fulfills her lifelong dream of becoming a police officer. (www.merleburl.com)
West Chicago Fire Protection District fire fighters Noel Repiscak,  Erik Therkildsen and Jake Herrmann received letters of commendation for their rescue of a man trapped in a house fire Sunday, January 24, 2021. The fire occurred on Child Street in the Winfield Fire Protection District. The three fire fighters removed t and treated the victim, who was transferred to a Wheaton ambulance for transport to Northwestern Central DuPage Hospital. (www.merleburl.com)
Community High School Educational Foundation made several grants in the amount of $15,900 to benefit the students of West Chicago Community High Schoo.. The grants were for the purchase of 10 mobile tool cabinets for machine shop, apps for the English department and 10 Lenovo tablets for theCareer & Technical Division, plus GoFormative for the Math division.
West Chicago resident Abe Mashal and his son are the authors of "Atomic 90." a children's sci-fi book with a touch of West Chicago history. He graduated from West Chicago Community High school in 1998. The community High School Educational Foundation honored Mashal with the 2019 Distinguished Alumni Achievement Award for Justice. To read more about his award, visit https://www.d94.org/Page/1011. (www.merleburl.com)
In the Saturday, February 27, 2021, Boys Basketball games, West Chicago Community High School lost to Glenbard East High School with a score of 42-68; Wheaton Academy lost to Timothy Christian High School with a score of 54-68. In the Girls Basketball game, West Chicago Community High School lost to Glenbard East High School with a score 20-49. Wheaton Academy won against Chicago Christian High School with a score of 38-18.
The livestream broadcast by Wheaton Academy students Chas Lewchanyn, Wes Kersey, Kenna Tolman and Rachel Cobb won a National Student Production Award. This award is conferred by NATAS, the same group responsible for the Emmy Awards. Thursday, February 11, 2021, the awards ceremony aired on The Emmy's app.
The students produced a livestream broadcast of a basketball game between WA and Streamwood High Schoo in November 2019. The Chicago/Midwest Chapter of the National Academy of Television Arts & Sciences recognized the broadcast, with a Crystal Pillar award in the spring of 2020. After winning this award, the broadcast moved on to compete for a National Student Production Award. Wheaton Academy was one of only five high schools in the nation to be nominated to the Live Sports section of the competition. (www.merleburl.com)
My email address is merleburl@earthlink.net.