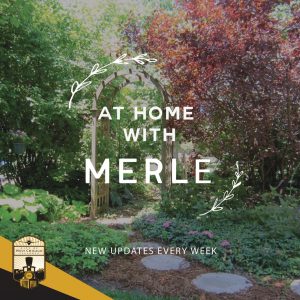 Although social distancing still is in effect due to the COVID-19 pandemic, persons can participate in various events virtually. Several are occurring in West Chicago. Those who want to be active in other ways can take walks and enjoy the sights of spring in the community. Just wear masks when necessary and continue to wash hands.
AROUND AND ABOUT
During the COVID-19 stay-at-home order, many persons are using the time to do some deep cleaning, tossing unwanted items. Problems arose when there was no place to take these items. Relief is on the way. Groot Industries is allowing, once again, bagged garbage (sealed and tied) outside the cart. To help with the pent up demand, it is restricted to one bulk item per week during the month of May. Another piece of good news is the Citywide Collection, when persons can put unlimited amount of items out using eight garbage stickers, is rescheduled. Different from years past, it takes place on one day only, Saturday, June 13, 2020.
The lsat day of school for seniors at West Chicago Community High School is Thursday, May 14, 2020. Seniors have signs to place in front of their homes.
The following is a message sent to students. "With all sincerity and gratitude possible we want to thank all members of the class of 2020 for your hard work, school spirit, dedication and maturity. These qualities have never been more needed than now as we face an unprecedented time in the history of school. Spring is always a special time in the lives of high school seniors as you begin to reflect on your experience as a high school student and form more lasting memories of your time at WeGo. While the end of your senior year has not had the usual events and traditions please do not let that hinder your sense of accomplishment and pride. Your work and achievements have been exceptional and we will never forget the lasting contributions and impressions the class of 2020 has left on WeGo."
Renewal Church, working with the West Chicago business the Kitchen Table, is donating 130 Family Meal Kits to benefit families in West Chicago Elementary School District 33. The kit feeds a family of four to six and includes spaghetti sauce with meat or no meat, spaghetti noodles, fresh baked bread, brownies and a salad. For further information and to order one or to gift one to a family in need visit https://the-kitchen-table-west-chicago.square.site/…/-5-1…/7 . Pick up for the family kit is from 2:00 to 4:00 p.m. Friday, May 15, 2020, in the Turtle Splash Water Park parking lot, 129 West National Street.
Friends of the West Chicago City Museum host an Interactive We Go History Trivia Hour, a Zoom event at 5:30 p.m. Friday, May 15, 2020. City Museum Director Sara Phalen leads participants through short informational guides and then they compete with other local history lovers in a digital trivia game. Team and family groups are welcome to "attend." There is no charge, but persons need to have access to a mobile device/smart phone. Space is limited. To register visit https://www.facebook.com/events/1553885088122232/. Persons who only wish to observe must register to watch. (www.merleburl.com)
GardenWorks Project has a Spring Seedling Presale. There is a large selection of vegetable seedlings available for drive-thru pick up from 9:00 a.m. to 1:00 p.m. Saturday, May 16, 2020, at the Resource Center, 103 West Washington Street. The cost for each seedling is $3. To order, visit http://www.gardenworksproject.org/shop. (www.merleburl.com)
West Chicago Lions Club and West Chicago Social Club sponsors a Blood Drive by Versiti Blood Center, formerly Heartland Blood Centers. It takes place from 10:00 a.m. to 2:30 p.m. Saturday, May 16, 2020, at West Chicago Social Club, 920 East Roosevelt Road. Donors must be in good health and feeling well, be at least 17 years of age and weigh 110 pounds or more. Appointments are preferred and can be made at https://donate.illinois.versiti.org/donor/schedules/drive_schedule/5584653. By setting an appointment in advance, this helps to control the number of people at the site at a given time. If several donors arrive at the same time, measures are in place to handle them on a one-on-one basis to limit social contact. Versiti is monitoring and abiding by putting safety guidelines in place, and working closely with all blood drive hosts to ensure donor safety. Lions Club newest incoming member Michael Libery, owner of the WC Social Club, "donated the space and time to accomplish this important mission," said club president Dan Czuba. (www.merleburl.com)
Healthy West Chicago presents a family fun Cooking Matters virtual series Thursdays. The topics are Hack Your Snack-Must Have Tips For Healthy Easy Snacks For Your Family on May 21, Get More Fruits and Veggies on Your Kids Plate on May 28, Drink to Your Health: Tasty, Low Sugar Choices on June 4 and The Family Kitchen: Cooking Up Lifelong Healthy Habits on June 11. Participants learn tips on eating healthy, saving time in the kitchen and how to involve children in food preparation. Instructor Maria Trejo demonstrates healthy family approved recipes. Registered participants receive an email with the recipes to be demonstrated, plus a $10 grocery gift card allowing the completion of the course survey. To register, link to the live webinar https://us02web.zoom.us/webinar/register/WN_dCQLN2sUScGh4hA04uYpbw. A recorded version of the classes will be available afterward for those unable to attend live. (www.merleburl.com)
Since Blooming Fest 2020 was cancelled due to COVID-19 pandemic, the City is sponsoring "Spring has Sprung," a photo campaign of flowering blooms in the community. These are photographs persons take of flowers in their own gardens or those seen while taking safe-distancing walks or drives around their neighborhoods. The City plans to compile a video from the submitted photos, which can be viewed on the City's website www.westchicago.org and its social media platforms. While supplies last, participants receive a free seed packet, compliments of Ball Horticultural Company. Submission deadline is Wednesday, May 27 at https://form.jotform.com/201133883018146.
Gallery 200 continues to shelter in place through the month of May to keep everyone healthy, but brings the work of the artists to the public through Gallery 200 Virtual Artist Market. It features artwork of Gallery 200 artists that are available for purchase, https://www.facebook.com/Gallery200/. After persons select artwork they want to purchase, they send a private message through Facebook or email GalleryTwoHundred@gmail.com. Then Gallery 200 sends an invoice to pay by credit card and arrange contact-less delivery. (www.merleburl.com)
In years past, the City of West Chicago had a Rain Barrel Program, where persons could order a rain barrel and pick it up at the City's Paper shredding event scheduled for June 6, 2020. However due to the OVID-19 pandemic, the event is cancelled. The City linked up with the DuPage County program where prices of the rain barrels include home delivery. To order rain barrels, visit http://upcycle-products.com/static.asp?path=4905.
St. Vincent's de Paul, 213 Main Street, is in the process of preparing to open. At this time the store is now taking donations of clothing only. These can be placed in the bins or barrels along the building in the alley behind the store. (www.merleburl.com)
Support our local restaurants by ordering for delivery, pick up and curbside service. Check their websites and/or facebooks, or call for menus and services offered.
Hawthorne's Backyard Bar & Grill, 1200 West Hawthorne Lane, has changed its hours. It is open from 11:00 a.m. to 8:00 p.m. Tuesday, Wednesday and Sunday, from 11:00 a.m. to 9:00 p.m. Thursday through Saturday and closed on Monday. (www.merleburl.com)
Completing renovations, John & Tony's Restaurant, 27W371 North Avenue, is now open for carry out. The restaurant is providing 100 meals a week to the Northwestern Central DuPage Hospital. Donations are appreciated to help feed the local ER and ICU staff.
On Facebook, a customer of Pal Joey's Restaurant, 449 West Roosevelt Road, wrote that the owner Greg told him that business was not good and there was a possibility that both West Chicago and Batavia restaurant locations might have to close permanently. The West Chicago location offers drive-thru pick up, catering pick up or delivery, and delivery through Door Dash. Pal Joey's opened its doors in 1973 at a location on East Roosevelt Road and them moved to its current location about 20 years ago.
Egg Yolk Cafe, 100 South Neltnor Boulevard, is now open from 6:00 a.m. to 3:00 p.m. daily for carry out and curbside service. (www.merleburl.com)
American Legion Post 300, 123 Main Street, has a Fish Fry every Friday; call ahead to order at (630) 231-2112 and pick up. Most of the organization's profits go back to the local community, by way of donations to the Neighborhood Food Pantries, giving of scholarships and other ways of support. (www.merleburl.com)
Dunkin' Donuts at 110 West Roosevelt Road is now open, drive thru only.
While West Chicago Elementary School District 33 works on a plan to reinstate food distribution at its schools, all District 33 families can pick up sack lunches through the food distribution provided by Community High School District 94. The lunches are available from 10:00 a.m. to 1:00 p.m. under the awning between Entrance H and the loading dock at West Chicago Community High School, 326 Joliet Street, Aspen Ridge Apartments, 1440 South Neltnor Boulevard; Riverwoods Apartments, 851 Lorlyn Drive; Timber Lake Apartments, 1200 Kings Circle; and Towne and Country Apartments, 700 West Forest. District 33 and Aramark, the district's food service provider, will resume breakfast and lunch distribution next week on a modified schedule and at an alternate location. Beginning Monday, May 18, it takes place from 10:00 a.m. to 12:30 p.m. at Leman Middle School only.
This is in response to District 33 receiving the information on Thursday, April 30, 2020, that a food service vendor employee had tested positive for COVID-19. District 33 immediately shut down all of its buildings for 14 days and proceeded to thoroughly clean and disinfect all building areas where the food service employee had worked, including the Administration building. Trained facilities personnel used the required and recommended cleaning and disinfecting products and equipment, based on guidance from the Center for Disease Control, for eliminating the COVID-19 virus from building surfaces. In addition to the cleaning and disinfecting already completed, facilities personnel will again clean and disinfect all buildings prior to employees returning to work on Monday, May 18. (www.merleburl.com)
Although the West Chicago Park District planned to issue a virtual 2020 summer program guide Friday, May 1, that is not happening due to the current pandemic situation; much of the information might not be correct. Lily Medina, District Marketing and Communication Director, said, "Staff is working on a contingency plan to address this and keep customers up to date since the situation is constantly evolving."
It is time to get counted—in the 2020 Census. The official date was Wednesday, April 1. Households can do the census online, mail the paper questionnaires, if one was received, or call (844) 330-2020. The census form is available in English and 12 additional languages. Business, community leaders and local government use the census data to create jobs, ensure public safety preparedness and support community initiatives. Best of all, you can complete the census within the confines of your home, adhering to the COVID-19 stay-at-home order. The US Constitution mandates that everyone in the country is counted every 10 years. The reasons it is important that everyone be counted include redistricting, fair representation and the distribution of $675 billion in federal funds. The purpose of the census is to gather statistical information. Information on individuals is not shared or released. (www.merleburl.com)
The DuPage County Health Department developed a dashboard to provide information on the total number of people, in DuPage County, who have tested positive for COVID-19. In addition, the dashboard includes a map which shows the distribution of reported cases by municipality and is updated at 4:00 p.m. daily. DuPage County's "COVID-19 Dashboard" is a one-stop-shop for all the information it offers including a town-by-town breakdown of cases. As of 4:00 p.m. Monday, May 11, 2020, there are 353 cases in West Chicago with the majority of the persons age 60 and under. Remember to follow the social distancing order, wear masks and wash hands.
Buck Services added more equipment and technology through CEC, The Ozone Company and Clorox pros to assist with its deep cleaning and disinfecting program in the fight against COVID-19. Team members also received additional training and certification from Global Biorisk Advisory Council and the International Sanitary Supply Association. In the last 45 days, the company has disinfected more than three million square feet. (www.merleburl.com)
To keep residents aware of community COVID-19 updates, the City has posted West Chicago's COVID-19 COMMUNICATIONS CENTER on its website, www.westchicago.org. Also included are the weekly updated messages from Mayor Ruben Pineda. It is located on the upper left-hand side in red. Clicking on this, residents can see the latest information.
Most of the local churches offer virtual Sunday worship services and some offer series or prayer time during the week. Check the church websites and/or Facebook pages for information.
West Chicago Public Library started Virtual Library program, MyVirtualLibrary. Programs vary weekly and are for different age groups. To see the weekly lineup, visit Facebook at www.facebook.com/wcpld/. Some programs require registration with the limit published if applicable, some are on Facebook Live and air on WC library Facebook page and some are published directly on the library's social media pages, ( primarily Facebook and Instagram) at their scheduled time, ready to be watched.
Sincere sympathy is extended to the family of Maria Luna, who at the age of 56 passed away, Saturday, May 9, 2020.
The West Chicago Police Department is receiving messages with questions about solicitors going door to door in West Chicago; most questions concern soliciting during COVID-19 pandemic. All solicitors, with a few exceptions listed in the City's ordinance, must register with the City of West Chicago. This registration includes an application and background check. Once these are approved, they receive a city issued solicitor's identification badge. This badge must be on them at all times. During COVID-19, the City currently is not accepting any applications for solicitors and there are no approved solicitors on the list as of now. This means no one, except for a few listed in the ordinance, should be going door to door.
When dealing with solicitors check for identification, both city permit and company, never let them in your house, never give out your personal information unless you are 100 percent confident it is a legitimate company and if something doesn't feel right about the situation, end the conversation.
Persons seeing any solicitors in town who should not be or dealing with an overly pushy solicitor, call 911. Provide dispatch with as much information as possible, such as description, direction of travel, on foot or in car and.or business representing.An officer will respond to the area, attempt to talk with the subject and handle the situation as necessary. (www.merleburl.com)
West Chicago Elementary School District 33 faculty and staff are well represented in the Illinois Association of Latino Administrators & Superintendents. Humberto Ayala, physical education teacher at Leman Middle School, is the newly elected historian on the IALAS board of Directors. Crystal de la Huerto, family liaison at LMS, is the recipient of a $2,000 scholarship. Kristina Davis, District 33 Superintendent, was awarded the IALAS Set Up Award, which highlights individuals who have gone above and beyond and demonstrate exemplary leadership in the face of diversity. These include one of more of these categories of communicating to the community, supporting and providing resources to the community, supporting teachers/staff, and engaging students in learning. (www.merleburl.com)
West Chicago Community Center recently provided washable, reusable masks, produced using the guide from Providence Medical Center, and delivered non-perishable foods, individually wrapped to provide a snack for personnel at Central DuPage Hospital. This was made possible from the generous support of the community, Western DuPage Chamber of Commerce, Buck Services and Proline Safety Products for facilitating and coordinating the sewing operation, volunteers and purchase of materials. (www.merleburl.com)
Anthony Hugelier is the new assistant principal at Leman Middle School. He spent 11 years as a classroom teacher in Villa Park School District 45. In his tenure, he was a contributing member to the District Leadership Team, School Leadership Team, Math Leadership Team, and the PBIS Team. Hugelier currently is co-authoring a blog that focuses on research-based instructional strategies proven to have high effect sizes on student achievement.
He has Bachelors degree in Elementary Education with a specialization in mathematics from the University of Illinois Chicago; a Masters in Curriculum and Instruction with an ESL endorsement from Concordia University Chicago; and a Masters in Principal Preparation from Concordia University Chicago. (www.merleburl.com)
At its Thursday, May 7, 2020, meeting, West Chicago Elementary School District 33 Board of Education approved changing the job description from Community Relations Specialist to Coordinator of Communication and Community Relations and making it a 12-month position. Gina Steinbrecher is employed in this position.
At the Monday, May 4, 2020, meeting, City Council approved the cancellation of 2020 Railroad Days, organized by Western DuPage Chamber of Commerce, scheduled for Thursday through Sunday, July 9 to 12.
Also approved with a 13-1 vote was the extension of Ride DuPage Transportation program Intergovernmental Agreement between the City and Pace, the suburban bus division of the Regional Transportation Authority, for a year to April 24, 2021. The program enhanced the existing transportation program that was previously offered only through Winfield Township by increasing the travel boundaries and expanding the hours of service. Ride DuPage provides paratransit services for disabled residents and those 65 years and older. Since the program began 32 residents have registered with the program with 55 trips having occurred. During the COVID-19 stay-at-home orders, the Winfield Township bus service is not in operation. Voting against the extension was Ward 2 Alderman Heather Brown.
Ride DuPage Transportation participants can travel to any location in DuPage County for a fee of $2 plus $1 for each mile traveled and be paid in cash; one companion can travel for free. Service is available 24 hours a day, seven days a week. To participate in the program, persons must be registered. Forms are available at City Hall, 475 Main Street. For further information, call City Hall at (630) 293-2200.
Andy Patel, owner of Mr. A's Emporium Wine, Mr A's Galleria Liquor and Mr A's Arbor Liquor, donated eight cases of hand sanitizer to the West Chicago Police Department. (www.merleburl.com)
Wheaton Academy held a Homestaying week, where students competed in various contests and activities, while maintaining the social distancing of the COVID-9 stay-at-home order. During this week, there was a collection for shoes for GoMinistries in the Dominican Republic; 960 pairs were donated. The winning class was the Sophomores with 326 pairs of shoes. (www.merleburl.com)
"Floreciendo"-Angleica Gallegos is an album by former West Chicago resident, Angelica G. Cortez. I watched a few of the videos of songs on the album. She has a very good voice and the videos are very well done. (www.merleburl.com)
My email address is merleburl@earthlink.net.