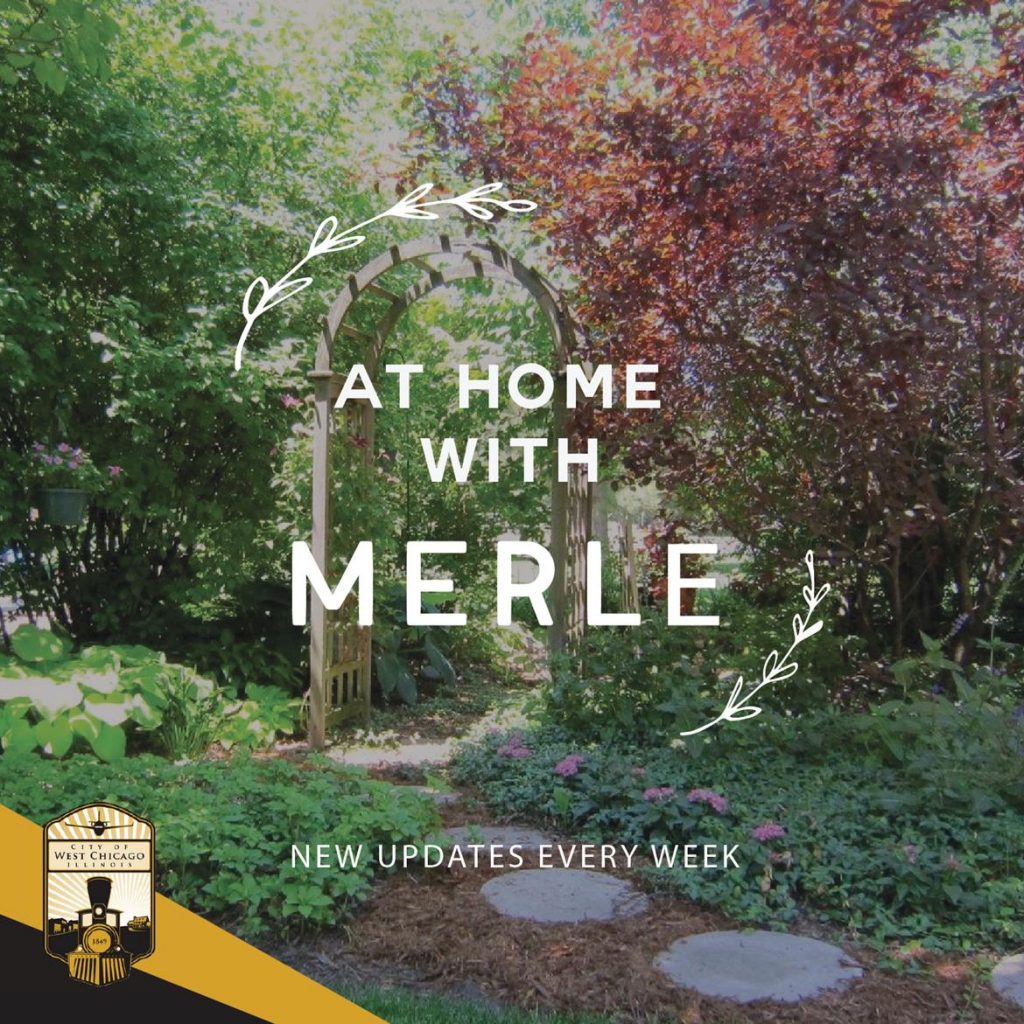 The Community Memorial service scheduled for Monday, May 25, 2020, is cancelled due to COVID-19. I think this is the first time for a cancellation. The Veterans of Foreign Wars Post 6791 was to be the organizer this year. Members of the VFW will place American flags on the gravesites of veterans at Oakwood Cemetery on Oakwood Avenue and York Street, Calvary Cemetery on East Washington Street and St. John Cemetery in Winfield. Members of American Legion Post 300 will place American flags on the gravesites in Glen Oaks Cemetery on Arbor Avenue. VFW Commander Steve Benner said, "It is sad we cannot observe this day at the community service. It means a lot to many. I think it is one of the most important days we celebrate."
Memorial Day, originally known as Decoration Day, originated in the years following the Civil War. Three years after the Civil War ended, on May 5, 1868, the head of an organization of Union veterans, the Grand Army of the Republic established Decoration Day as a time for the nation to decorate the graves of the war dead with flowers. Major General John A. Logan declared that Decoration Day should be observed on May 30. The first large observance was held that year at Arlington National Cemetery, across the Potomac River from Washington, DC. The ceremonies centered around the mourning-draped veranda of the Arlington mansion, once the home of General Robert E. Lee. Officials presiding included General and Mrs. Ulysses S. Grant. After speeches, children from the Soldiers' and Sailors' Orphan Home and members of the GAR made their way through the cemetery, strewing flowers on both Union and Confederate graves, reciting prayers and singing hymns.
However, the observance of this special day and its history had its origin in Illinois. On March 16, 1868, the Grand Army of the Republic Post # 301 Turner Junction was formally organized. Thus with General Logan's directive in May, Turner Junction (today West Chicago) was the only community in DuPage County and in a wide section Illinois that would be part of this directive. Newspaper accounts of the years from 1894 to 1889 show that West Chicago began a yearly tradition of patriotic observance of Memorial Day. Taking part in the celebration were prominent speakers, marching bands and school children. In 1888 the Elgin Military Band led the procession to Oakwood Cemetery. Reverend Henry Wilson, a one-armed veteran, gave the speech. In 1893, the children led the parade, joined by the Turner and Elgin Band. The parade went to Calvary Cemetery and Oakwood Cemetery, where the audience heard the speech by Major J. W. Brown of Geneva. According to John C. Neltnor's local weekly the Memorial Day observance in 1894 had the largest crowd. The procession with the Turner Cornet Band, marched from North Side School house to Oakwood Cemetery, where Major Ballou of Naperville gave the oration. There were musical and vocal performances throughout the afternoon.
At the Oakwood Cemetery observances, the estimated attendance was from 1,300 to 1,500 people. In 1895, an honor roll of 36 soldiers buried in the 2 cemeteries was read. All were Civil War veterans except for four from the war of 1812, Daniel Benjamin, James Snyder, Daniel Wilson and Daniel Wood. In observance of Memorial Day, the "West Chicago Press" published the names of veterans buried in the four cemeteries. This continued until the newspaper was sold. The parades continued until the late 1970s and usually included the West Chicago Community High School band. The observances continued at Oakwood Cemetery. After the installation of Soldiers' and Sailors Monument in Oakwood Cemetery, this is where the observances with the participation of the services took place and continue to do so. The high school band participates each year.
It was not until after World War I that the day was expanded to honor those who died in all American wars. In 1968 it was placed on the last Monday in May by an Act of Congress. In 1971, Memorial Day was declared an official national holiday. There are some formal rituals still to be followed.The American flag should be hung at half-staff until noon on Memorial Day, then raised to the top of the staff. And since 2000, when the US Congress passed legislation, all Americans are encouraged to pause for a National Moment of Remembrance at 3:00 p.m. local time.
In the spring of 1915, bright red flowers began poking through the battle-ravaged land across northern France and Flanders. Canadian Lieutenant Colonel John McCrae, who served as a brigade surgeon for an Allied artillery unit, spotted a cluster of the poppies shortly after serving as a brigade surgeon during the Second Battle of Ypres. The sight of the bright red flowers against the dreary backdrop of war inspired McCrae to pen the poem, "In Flanders Field." The poppy remains a symbol of remembrance to this day. Usually the VFW or Legion seek donation the poppies for Memorial Day. Due to COVID-19, the VFW chose to hold off and have Poppy Buddy time for Veterans Day.
Although the official observance has been cancelled the Day has not. Memorial Day is a solemn day of remembrance for everyone who has died serving in the American armed forces. As the inscription on the Soldiers and Sailors Monument states, "In memory of all they gave we do not forget." (www.merleburl.com)
AROUND AND ABOUT
The League of Women Voters of Wheaton and Cantigny Park sponsor programs focusing on themes of civic awareness and encouraging local participation in the democratic process. Due to the COVID-19 pandemic, the program, "Protecting Our Environment" takes place via Zoom at 7:00 p.m. Thursday, May 21, 2020. The speaker is Kay McKeen, Executive Director and founder of School & Community Assistance for Recycling & Composting Education. To register, visit https://www.eventbrite.com/e/protecting-our-environment-tickets-104493340394. Persons receive the Zoom link after they register.
She presents the background of SCARCE, a not-for-profit, 501(C) 3, and their outreach to communities of need across our area and the United States, and provides pertinent updates for ongoing plans for supporting educators and future SCARCE programs. McKeen and the SCARCE Team have educated and inspired hundreds of thousands of people in schools, businesses and community groups to conserve natural resources and reduce their environmental impact on their immediate community and the world. This includes extensive information on topics such as composting, waste reduction and household hazardous waste. She is the originator of organized special recycling collections/extravaganzas, and is constantly informing communities about updates regarding policies for proper disposal of all items. McKeen has worked to affect change in Illinois State laws in an effort to improve children's lives, public health and safety.
League of Women Voters of Wheaton includes West Chicago, Warrenville, Winfield, Wheaton and Carol Stream. The League of Women Voters is a non-partisan organization that does not support or oppose any political party or candidate, but whose purpose is to promote political responsibility through informed and active participation of citizens in government. (www.merleburl.com)
West Chicago City Museum and People Made Visible launch a West Chicago Community Cares Card Drive. Adults and children create a simple card made from paper for West Chicago residents who cannot leave their homes due to the COVID-19 pandemic. The cards may be dropped off through the mail slot between now and Friday, May 20, 2020, at the Museum, 132 Main Street. Persons who know of an individual whose day would be brightened with such a card, can send the museum a Facebook message or email wegohistory@gmail.com. (www.merleburl.com)
St. Andrew Lutheran Church, 151 North Prince Crossing Road, joins other Lutheran churches in the area in feeding families in need during the COVID-19 pandemic. The food drive is at noon Saturday, May 23, 2020. The church is in need of food donations, especially non perishable Hispanic foods. Persons may drop their donations off before 5:00 p.m. Friday, May 22. (www.merleburl.com)
The Public Affairs Committee meeting is rescheduled to 7:00 p.m. Tuesday, May 26, 2020,
Since Blooming Fest 2020 was cancelled due to COVID-19 pandemic, the City is sponsoring "Spring has Sprung," a photo campaign of flowering blooms in the community. These are photographs persons take of flowers in their own gardens or those seen while taking safe-distancing walks or drives around their neighborhoods. The City plans to compile a video from the submitted photos, which can be viewed on the City's website www.westchicago.org and its social media platforms. While supplies last, participants receive a free seed packet, compliments of Ball Horticultural Company. Submission deadline is Wednesday, May 27 at https://form.jotform.com/201133883018146. (www.merleburl.com)
Gallery 200 continues to shelter in place through the month of May to keep everyone healthy, but brings the work of the artists to the public through Gallery 200 Virtual Artist Market. It features artwork of Gallery 200 artists that are available for purchase, https://www.facebook.com/Gallery200/. After persons select artwork they want to purchase, they send a private message through Facebook or email GalleryTwoHundred@gmail.com. Then Gallery 200 sends an invoice to pay by credit card and arrange contact-less delivery.
West Chicago Community High School Honors Night is Tuesday, May 26, 2020. The virtual ceremony is broadcast at 7:00 p.m.
With constant changes due to COVID-19 pandemic, the West Chicago Park District is scheduling summer 2020 openings and schedules accordingly. The date for the opening of the ARC Center, 201 West National Street, is tentatively set for Wednesday, July 1. The community events of Rhythm, Brews & BBQ, Celebrate Summer, Taco & Art Fest, plus the three musical concerts at the Shell are cancelled. The district is planning virtual programs. To check schedule, visit the District's website wego-parks.org or its Facebook page. All District parks are open, but the facilities, playgrounds, skate park and dog park are closed at this time.
In years past, the City of West Chicago had a Rain Barrel Program, where persons could order a rain barrel and pick it up at the City's Paper shredding event scheduled for June 6, 2020. However due to the COVID-19 pandemic, the event is cancelled. The City linked up with the DuPage County program where prices of the rain barrels include home delivery. To order rain barrels, visit http://upcycle-products.com/static.asp?path=4905.
St. Vincent de Paul, 213 Main Street, is open. At this time only five persons, one per cart, are allowed in the store at a time. The business advises persons be prepared to stand in line and bring umbrellas if rain is forecast. (www.merleburl.com)
It is time to get counted—in the 2020 Census. The official date was Wednesday, April 1. Households can do the census online, mail the paper questionnaires, if one was received, or call (844) 330-2020. Contrary to popular belief, persons do not need their Census ID code in order to fill out the Census. People can fill the form out online at my2020census.gov or over the phone by simply stating their address. The census form is available in English and 12 additional languages. Business, community leaders and local government use the census data to create jobs, ensure public safety preparedness and support community initiatives. The US Constitution mandates that everyone in the country is counted every 10 years. The reasons it is important that everyone be counted include redistricting, fair representation and the distribution of $675 billion in federal funds. The purpose of the census is to gather statistical information. Information on individuals is not shared or released. As of the week of May 10, the self-response participation percentage was 66.7 percent in West Chicago and 64.3 percent in Illinois (www.merleburl.com)
The DuPage County Health Department developed a dashboard to provide information on the total number of people, in DuPage County, who have tested positive for COVID-19. In addition, the dashboard includes a map which shows the distribution of reported cases by municipality and is updated at 4:00 p.m. daily. DuPage County's "COVID-19 Dashboard" is a one-stop-shop for all the information it offers including a town-by-town breakdown of cases. As of 4:00 p.m. Monday, May 11, 2020, there were 542 cases and two deaths in West Chicago with the majority of the persons age 60 and under. As of Sunday, May 17, there 13 cases and one death in the nursing home facilities in West Chicago. Remember to follow the social distancing order, wear masks and wash hands.
To keep residents aware of community COVID-19 updates, the City has posted West Chicago's COVID-19 COMMUNICATIONS CENTER on its website, www.westchicago.org. Also included are the weekly updated messages from Mayor Ruben Pineda. It is located on the upper left-hand side in red. Clicking on this, residents can see the latest information.
Sincere sympathy is expressed to the family of Micaela (Soto) Alfaro, who at the age of 94 passed away Sunday, May 19, 2020.
Deepest sympathy is expressed to the family of Raul Florian, who passed away Wednesday, May 13, 2020.
Sincere sympathy is extended to the family of Veronica Cabrera Morales, who passed away Wednesday, May 13, 2020.
Deepest sympathy is expressed to the family of Maria R. Alaniz de Regalado, who at the age of 96 passed away Tuesday, May 12, 2020.
The Broadcast Production students at West Chicago Community High School created a video of the seniors, "The WCCHS Class of 2020: One Last Roar. "Dave Jennings is the teacher. To view the video visit #WeAreWeGo https://youtu.be/SFP1FJqYaF4.
Dick and Kathe Doremus celebrated their 35th Wedding Anniversary Monday, May 18, 2020.
Her artistic talent came to the foreground, when West Chicago resident and fabric art and mixed media artist, Kathy Steere, created whimsical scenes in her yard during the COVID-19 Pandemic. At the beginning of the stay-at-home orders, Steere started to sew masks, offering them at no charge to individuals in the community. She made more than 200 masks, including child-size.
The promoted scavenger hunt idea did not appeal to Steere, but the idea of creating an ever-changing scene drove her imagination and artistic talent into high gear. She said, "Over the years I have accumulated a lot of outdoor critters such as a plastic owl, a resin fox and a concrete seagull. On March 31, the fox appeared at the top of a pile of wood chips. The next day, the owl challenged him to be "King of the Hill" and it went from there." Holidays and special times add to the artistic whimsey. Easter found two inflatable bunnies near a small spruce tree with plastic eggs hanging from its branches. As everyone knows, a cold spell hit our area after the holiday. Well, what to the wondering eyes of her neighbors should appear, but the two bunnies wrapped in a giant scarf huddled around a "fire."
Then, like most people, she felt sadness when the stay-at home order was extended to the end of May. Yet Steere once again let her creativity rise to the challenge. May 1 is May Day and that requires a May Pole with pink flamingos and some other feathered fowl dancing around it. One family birthday was "celebrated" with a cake, When it came time to acknowledge the birthday of her twin grandchildren, there was a "debut of two large critters," she explained. It was G-rated party time for Cinco de Mayo, flowers for Mother's day, and most likely a statue with a cape and gown for graduation. Next is a rotating exhibit of her artwork that has been reproduced on vinyl.
She shares the changing scenes with her grandchildren and their parents. "I take a photo and send it to my toddler grandkids to provide them and their parents a few moments of distraction." There also is the extra plus of sharing smiles and waves with neighbors at they walk in the area. "We live in a picture postcard, lots of trees and not much traffic. Our neighborhood is a glorious bubble in a scary world. People are out walking and talking and meeting each other (six feet apart, of course). The critters and masks are easy conversation starters and are not controversial."
When I first interviewed Steere some years ago, she stated, "Art should be fun" and with these creative scenes, Steere demonstrated this in the fullest sense. As a side note, a blogger who posts positive stories to counteract the negative COVID-19 news wrote about Steere's creativity, https://www.alittletimeandakeyboard.com/2020/05/kathy-steere-artist.html. (www.merleburl.com)
District 6 DuPage County Board Member Sheila Rutledge and SCARCE donated books and DuPage County Sheriff Jim Merrick and Undersheriff Eddie Moore donated food to the West Chicago Neighborhood Food Pantries located at 123 Fremont Street. (www.merleburl.com)
Retiring from West Chicago Elementary School District at the end of the 2020 school term are John Rodriguez, principal at Turner School; Brad Leonard, custodian at Turner School; Susan Grissom, Speech Language Pathologist at Leman Middle School; Karen Botkin, social studies teacher at Leman Middle School; Lilian Sullivan, social emotional learning teacher at Turner School; Laura Holguin, paraprofessional at Leman Middle School; Carrie Beale, speech language pathologist at Turner School; Dolores Miller, paraprofessional at Wegner School; Danise Burke, paraprofessional at Leman Middle School; and Virginia Zahaitis, paraprofessional at Indian Knoll School.
The torrential rains Thursday evening and early Friday morning, May 14 and 15, 2020, caused flooded basements and yards. We Grow Greenhouse & Garden Center, 1055 West Washington Street, suffered the same fate. The doors were closed Friday for cleaning in order that doors could open to make gardeners happy Saturday. Entrance and exit signs are marked clearly. It is a wondrous sight seeing all the budding flowers, difficult to make a decision though. Best of all, it raises one spirits.
The mission of We Grow Dreams Greenhouse is to provide people with disabilities the opportunity to lead fulfilling lives and to train and work in a supportive, safe and caring environment while producing and providing products and services to the community. In this pursuit, we honor the concepts of human dignity, respect, hard work, fellowship and friendship. (www.merleburl.com)
Another victim of the storm was Pheasant Run. The roof on the entrance way collapsed.
St. Andrew Lutheran Church celebrated its 60th Anniversary Friday, May 15, 2020. (www.merleburl.com)
West Chicago Police officers work 12 hour shifts. Day shift hours are 6:00 a.m. to 6:00 p.m. and night shift hours are 6:00 p.m. to 6:00 a.m. To help them manage the long shifts, they sometimes need a little pick-me-up. To help with this, Christopher Martin of Monster Energy recently donated 15 cases of energy drinks to the Police Department. (www.merleburl.com)
My email address is meleburl@earthlink.net.