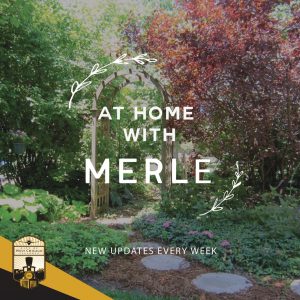 Although the Memorial Day services commemorating those that served in the armed forces and died did not take place this year, these men and women were remembered. There were virtual observances, speeches made, memories recalled with the poignancy. The patriotic sounds resounded on YouTube and radio. (www.merleburl.com)
Veterans of Foreign Wars Post 6791, who were to be the organizers for the Community Memorial Day observance this year, held a small service in the post's parking lot. Persons attending watched from their vehicles. The observance included singing of "The Star Spangled Banner," the invocation by American Legion Auxiliary Chaplain Julie Doggett, the 21-gun salute, the playing of "Taps" by VFW Auxiliary President Terry Adams and a short address by Auxiliary Patriotic Chairman Nancy Smith, who also led the Pledge of Allegiance. (www.merleburl.com)
The following are excerpts from Smith's speech.
"As we observe Memorial Day, we do more than simply carry on a tradition dating back to 1866, we also fulfill. A commitment to some very special people. Who are these individuals we pause to honor and praise? They were ordinary human beings, just like us. But what they accomplished was extraordinary. They answered the call to duty, thereby giving us today, tomorrow and all the tomorrows of our future.It is not for money or medals that such heroes step froward to act out their patriotism…it is based on the ideals on which this country was founded; life, liberty and the pursuit of happiness.
Counting the 6,824 who died in the American Revolution up to those who have perished in our more recent confines, more than one million Americans have died in defense of our country. Together these defenders of freedom sacrificed everything to give us the world we are blessed to enjoy today.
This Memorial Day we honor all those ordinary people who ascended to the extraordinary by picking up the tools of war in the name of freedom. Some died in combat; others from wounds afterwards; still others after a time of living in the peace they fought so hard to win. Our sorrow over the loss will never die…but if we remember them only in sorrow, we do them a disservice. They gave us the rare opportunity to live in freedom and we must make good use of that opportunity, honoring the dead by helping the living."
Ward 3 Alderman Al Hallett co-hosted with Leah Unser a live Memorial Day special in tribute to "those who gave their lives that we may remain free" on WRMN 1410 AM. It was on Facebook.
On its Facebook site, https://www.facebook.com/FriendsoftheWestChicagoCityMuseum/, Friends of the West Chicago City Museum featured photos and stories of three West Chicago residents who lost their lives in a war. They were William Currier, Civil War casualty in 1861; Leon "Bud" Richardt, World War II casualty, 1942; and Ted Katsoolias, Korean War casualty, 1950. There also were photos from the 1961 Memorial Day parade and ceremony at Oakwood Cemetery in May 1961. (www.merleburl.com)
AROUND AND ABOUT
Benjamin Middle School virtual Eighth Grade Graduation is at 7:00 p.m. Wednesday, May 27, 2020.
Bill Zimmerman celebrates his 90th birthday, Thursday, May 28, 2020.
West Chicago Park District, with partial sponsorship by Buck's Services, has a free weekly Rec in a Box. Weekly options include a variety of crafts, games, activities, information, challenges, and more to recreate with your family. Each West Chicago family can pick up one box per household. Boxes are limited and first come first serve. Persons must register by Thursday, May 28, 2020, at https://webtrac.we-goparks.org/wbwsc/webtrac.wsc/search.html?module=AR&primarycode=512002. (www.merleburl.com)
Virtual programs of Western DuPage Special Recreation Association are online at https://www.wdsra.com/Publications/Brochure/brochure-current.pdf. Registration deadline is 5:00 p.m. Friday, May 29, 2020. (www.merleburl.com)
Wheaton Academy Baccalaureate Ceremony is at 7:00 p.m. May 29 and graduation is May 31, 2020.
First United Methodist Church of West Chicago, 643 East Washington Street, hosts a PADS Emergency Food Drive from 1:00 to 4:00 p.m. Saturday, May 30, 2020. There is a convenient parking lot drop off into waiting vehicles. Shelf-stable Items needed include Non-perishable Microwave Meals, Campbell's Ready Meals, Easy Mac, Hormel 60 Second Meals, Instant Pasta/Rice, Ramen Noodles, Ravioli/SpaghettiOs, Soup/Chili/Stew, Chips, Crackers, Dried Fruit, Tuna/Chicken Salad Kits, Jerky, Meat Sticks, Trail Mix, Dish Soap and Sponges, Laundry Detergent (10-15 load size bottles). Paper Towels and Toilet Paper. Due to the COVID-19 pandemic, DuPage PADS closed all interim (overnight) housing shelter sites. The organization was able to locate some locations to provide shelter and meals for the homeless. FUMC was an overnight shelter. (www.merleburl.com)
The Naperville Hazardous Waste Facility, 156 Fort Hill Drive, is now open again and is available for all persons in Illinois. Hours are from 9:00 a.m. to 2:00 p.m. Saturdays and Sundays. To view acceptable items, visit https://www.naperville.il.us/services/garbage-and-recycling/household-hazardous-waste-facility/.
To congratulate the Class of 2020, Friends of West Chicago City Museum are featuring pieces from the West Chicago City Museum collection of graduations past The 1915 ticket is for a ceremony held at what was then called South Side School, sitting just south of where Glen Arbor Church at 204 Church Street sits today, The 1978 graduation ticket is for the ceremony at West Chicago Community High School, built in 1926. To view the various photos, visit https://www.facebook.com/FriendsoftheWestChicagoCityMuseum/. (www.merleburl.com)
At this time the Kruse House Museum, 527 Main Street, is not opening for its Summer tour season due to the COVID-19 pandemic. Persons are welcome to tour the grounds and view the Kruse House Gardens, maintained by the West Chicago Garden Club. Seven butterflies are on display, three from garden club members and four that were installed around town last year, including two from West Chicago Elementary School District 33 students, courtesy of Gallery 200 and People Made Visible, (www.merleburl.com)
It is time to get counted—in the 2020 Census. Households can do the census online, mail the paper questionnaires, if one was received, or call (844) 330-2020. Contrary to popular belief, persons do not need their Census ID code in order to fill out the Census. People can fill the form out online at my2020census.gov or over the phone by simply stating their address. The census form is available in English and 12 additional languages. Business, community leaders and local government use the census data to create jobs, ensure public safety preparedness and support community initiatives. The US Constitution mandates that everyone in the country is counted every 10 years. The reasons it is important that everyone be counted include redistricting, fair representation and the distribution of $675 billion in federal funds. The purpose of the census is to gather statistical information. Information on individuals is not shared or released. (www.merleburl.com)
The DuPage County Health Department developed a dashboard to provide information on the total number of people, in DuPage County, who have tested positive for COVID-19. In addition, the dashboard includes a map which shows the distribution of reported cases by municipality and is updated at 4:00 p.m. daily. DuPage County's "COVID-19 Dashboard" is a one-stop-shop for all the information it offers including a town-by-town breakdown of cases. As of 4:00 p.m. Sunday, May 24, 2020, there were 652 cases out of 2,488 tested and seven deaths in West Chicago with the majority of the persons age 60 and under. As of Sunday, May 24, there were 35 cases and four deaths at Alperion Care on North Avenue, and 8 cases and no deaths at West Chicago Terrace on Joliet Street. These numbers include patients and employees. Keep in mind, the statistics of cases date to the beginning of the trace count. Remember to follow the social distancing order, wear masks and wash hands.
To keep residents aware of community COVID-19 updates, the City has posted West Chicago's COVID-19 COMMUNICATIONS CENTER on its website, www.westchicago.org. Also included are the weekly updated messages from Mayor Ruben Pineda. It is located on the upper left-hand side in red. Clicking on this, residents can see the latest information.
Sincere sympathy is extended to the family of Toni Grace Cherney, who at the age of 39 passed away Tuesday, May 19. 2020.
Deepest sympathy to the family of Charles J. "Gus" Gustafson, who at the age of 85 passed away Thursday, May 21, 2020.
Sincere sympathy is extended to the family of Sandra White Pritchard, who at the age of 82 passed away Sunday, March 29, 2020.
Following the small Memorial Day service, some members of Veterans of Foreign Wars Post 6791 visited the home of member John Johnson. There Auxiliary President Terry Adams presented a $2,500 scholarship to his grandson Ben Lopez, a senior at West Chicago Community High School (www.merleburl.com)
West Chicago Community High School Music Booster's Scholarship winners were Frank Joseph Steward, Band; Ruth Bovey, Choir; and Noemi Lara, Orchestra. (www.merleburl.com)
Theresa Carriveau, recently was one of 17 students inducted into Omicron Delta Kappa, a National Leadership Honors Society. OΔK is the premier collegiate leadership honor society. It recognizes achievement in the five "Phases of Campus Life," which include Scholarship; Athletics; Community Service, Student Involvement, Religious Activities, Student Government; Journalism, Speech, Mass Media; and Creative, Performing Arts. She attends Sweet Briar College in Sweet Briar, Virginia. Theresa is the daughter of West Chicago residents Mark and Alicia Carriveau.
Retiring from West Chicago Community High School are Patricia Arnold, Math teacher, 33 years; Patrice Dobry, Special Education teacher, 22 years; Paul McLeland, Physical Education teacher, 32 years; Eduardo Montoya, Math/Science teacher, 19 years; Sharon Mooney, Administrative Assistant/Special Education, 20 years; and David Sayner ,Social Studies teacher, 33 years. (www.merleburl.com)
Marcela G. Sweeney is the new Executive Director for Educare West DuPage. Sweeney, a daughter of Mexican immigrants, speaks English and Spanish fluently and has more than 20 years experience in early childhood not-for-profit organizations. Since 2012, she served as the School Director at Educare. Previously she worked as and Early Childhood Education Specialist through the office of Head Start's Training and Technical Assistance Center, plus held federal and leadership positions. (www.merleburl.com)
West Chicago resident Becky Hall presented at the Technical Communication Summit Conference. Due to COVID-19. It was the first virtual one held.
West Chicago resident John Tulipano, owner of JLT Photography, won first prize in the SYNC Sports photography conference banner contest in the open category for 2020. He created the image in the spring of 2019 for Lieutenant Steve Lipowski of the black shift in the Glenside Fire Protection District. Tulipano said, "All firefighters were photographed individually and photoshopped together to create the final image, " which shows six firefighters holding firefighting gear standing in front of a fire truck. He added that the conference "is one of the largest sports conferences in the country." (www.merleburl.com)
Payton Campbell from West Chicago Community High School finished fourth in the state in Sports Medicine at the Illinois State Health Occupations Students of America competition held Friday, April 24, 2020. Although the in-person competition was cancelled due to COVID-19, an online version allowed the competition to continue.
Eight WCCHS students placed eighth in the state. Biomedical Debate team members were Ruby Lebo, Lola Browning, Emily Bove, and Julia Nosky. Creative Problem Solving team members were Dominic DeConcilis, Shalin Kadakia, and Connor Slattery.
The purpose of HOSA-Future Health Professionals is to develop leadership and technical HOSA skill competencies through a program of motivation, awareness and recognition. (www.merleburl.com)
At the Tuesday, May 19, 2020, meeting, Community High School District 94 Board of Education approved three-year employment contracts for Will Dwyer, Principal, and Dan Oberg, Director of Business, plus a partial-year contract for Gordon Cole. Around October, he will be on a per-diem schedule since his workload will primarily be finishing up punch-list things from construction.
Also approved were salary increases for building level administrators and confidential staff, with total increase just under $60,000.
The board approved a change order for the addition of a "Community Room," Board Room. The plans were to make changes to the Commons area for an open-air board room. Administration was able to identify a double classroom that could be converted into a community meeting room that would also be used for the board. With an added cost of roughly $18,000 this is a better solution for a medium-size multi-use meeting room.
Also approved was the purchase of new laptops for the faculty from Dell EMC for $158,236.22 and purchase of Chromebooks for the incoming freshmen, as well as spares, from CDW for $204,628.75.
The board approved the bid for technology under the Federal E-Rate program that covers 50 percent of the cost for a total of $240,170 to CDW.
With a 5-2 vote, the board did not approve the Illinois Central Bus Company request to receive payment for services not rendered during the closure.
Isabela Casimiro and Leslie Najera-Rivas, West Chicago Community High School juniors and members of the staff of the student newspaper, "The Wildcat Chronicle," are the recipients of awards from the Northern Illinois Scholastic Press Association. Casimiro won the blue ribbon for editorials. She is the editorial page editor. Najera-Rivas won an Honorable Mention for news and sports writing. Both have been with the newspaper for three years. (www.merleburl.com)
At the Monday, May 18, 2020, meeting, City Council approved a second amendment to the Special Use permit for Gary Elementary School, 130 East Forest Avenue, to construct a 1,945 square-foot addition to the existing school building at it its entrance.
Also approved was a special use permit and setback variances for an existing vacant building to include outdoor storage at 1201 Hawthorne Lane. Hines Lumber is relocating from Warrenville to this property. The variances include allowing a one-foot interior side yard setback instead of the 15 feet required, a five-foot landscape yard instead of the 20 feet required along the side of the yard, a one-foot rear side yard setback instead of the 15 feet required. The item survey states. "There are no setback protections and a full gravel outdoor storage area." Thus, it is an improvement, plus the new area will be paved with asphalt. A new six-foot tall shadowbox fence will replace the exiting chain link fence.
Also approved was the purchase of up to 3,900 tons of rock salt at the price of $81.13 per ton deliveries from Compass Minerals of America, Inc of Overland Park, Kansas, under the DuPage County Rock Salt Joint Purchasing program for the 2020-2021 winter season.
Council approved the procurement of coarse and fine aggregate material delivery for an amount not to exceed $47,390 to Viking Brothers of Aurora. The material is delivered on an as needed basis and totals vary from year to year. Aggregate material is used in numerous maintenance and repair activities performed by Public Works staff. These include shoulder work on unimproved roads and alleys, sand bags and underground utility repairs in or near streets and sidewalks.
Also approved was for the City Administrator's execution of a three-year contract with Constellation NewEnergy, Inc. for the supply of electricity for the City's Water Treatment Plant, all Well Stations and all Sanitary Lift Stations.
Joana Perez and Brian Salina, seniors in AVID at West Chicago Community High School, appeared in a nationwide video. Per the AVID website, "Advancement Via Individual Determination is a not-for-profit that changes lives by helping schools shift to a more equitable, student-centered approach. We train 85,000 educators annually to close the opportunity gap, so they can prepare all students for college, careers, and life." (www.merleburl.com)
On Friday, May 22, the Western DuPage Chamber of Commerce in partnership with the West Chicago Community Center delivered 50 masks to the West Chicago Police Department through its joint fund raising initiative "Here for You." Also on this day, Wayne Lofton of the West Chicago Community Center Board of Directors presented the Warrenville Fire Protection District with meals from Hawthorne's Backyard Bar & Grill for the entire Department.
The Western DuPage Chamber of Commerce and West Chicago Community Center joined forces to support local Front-line workers including Nurses, Doctors, Hospital Support Staff, Fire Departments, Police Departments, and Caregivers of all kinds assisting during the COVID-19 Pandemic.The primary service area is Warrenville, Winfield and West Chicago for first responders. One-hundred percent of funds raised are used to purchase meals, groceries and gift cards from local restaurants, caterers and grocery stores. Meals are delivered to Care facilities, hospitals and first-responder facilities while following CDC guidelines when practical and gift cards for evening shifts or those unable to schedule mealtime. Persons interested in donating can find the information at https://www.gofundme.com/f/7jtrd-a-cause-i-care-about-needs…
GardenWorks Project exceeded their $5,000 fundraising goal.
My email address is merleburl@earthlink.net.