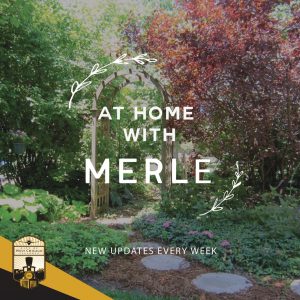 Sunday was such a lovely day. I took the time to tour the gardens at Kruse House Museum. The West Chicago Garden Club does such a wonderful job of maintaining them. So many of the spring flowers are blooming, some of which I had in the backyard of my house on Arbor Avenue. My favorites are the Virginia Bluebells with their blooms creating a sea of blue. The tulip blooms seem larger than usual. Again I thought how fortunate we are to have the garden club, which also contributes to the community in other ways.
The Garden Club recently donated a $2,000 check to the West Chicago Park District for the purpose of fulfilling the mission of turning Reed-Keppler Park into a Level 2 Arboretum. While the arboretum has accreditation status, Reed-Keppler is 13 tree species away from receiving its own accreditation status. Persons can take a stroll of to the District parks by using the interactive virtual tree application, www.wego-parks.org/parks. Here persons can scroll around and zoom in to see all the different tree varieties and click on specific trees for details. (www.merleburl.com)
AROUND AND ABOUT
The League of Women Voters of Wheaton partners with the Wheaton Public Library for its Livingroom Conversation—virtually. The meeting is at 7:00 p.m. Monday, May 4, 2020. The second one is scheduled for 2:00 p.m. Friday, May 8. The topic is "The 2020 Election: Concerns and Aspirations." Items to be discussed include identifying trustworthy sources of information, the role of outside influences on the political process and the safety of the voting systems. To "attend" email Bari Ericson at ce@wheatonlibrary.org for more information. Enter your email address for instructions and connection details. Registration ends 15 minutes before the start time of the program.
The goal of Livingroom Conversations is to bring local citizens together to discuss topics of mutual interest from multiple perspectives. League of Women Voters of Wheaton includes West Chicago, Warrenville, Winfield, Wheaton and Carol Stream. The League of Women Voters is a non-partisan organization that does not support or oppose any political party or candidate, but whose purpose is to promote political responsibility through informed and active participation of citizens in government.(www.merleburl.com)
The First Division Museum at Cantigny Park had a full day of activities planned for the 75th Anniversary of V-E Day, May 8, 2020. The COVID-19 pandemic is not preventing the celebration, but now the party to celebrate World War II veterans is going digital. To view the "Cheer for Victory" video and other points of interest visit FDMuseum.org.
For Mother's Day, families often dine at a restaurant for a special brunch. With the COVID-19 stay-at-home order, this cannot happen this year. Entree Kitchen, 28W276 Geneva Road, has a Mother's Day Brunch available for curb side pick up from 1:00 to 6:00 p.m. Friday, May 8, or from 9:00 a.m. to 2:30 p.m. Saturday. May 9, 2020. Orders must be made in advance.There are four entrees of six servings plus some yummy sides. To order, call (630) 6668-4450 or online at https://www.facebook.com/EntreeKitchenIL/. West Chicago resident Diane Beaulieu is the owner. (www.merleburl.com)
Hawthorne's Backyard Bar & Grill is offering a Mother's Day Brunch for curbside pick up between 10:00 a.m. and 2:00 p.m. Sunday, May 10, 2020. To see the menu, visit https://www.facebook.com/HawthornesBackyard/. Reservations are due by Thursday, May 7, and may be made by email to ou@hawthornesbackyard.com or follow instructions at the website https://www.hawthornesbackyard.com/copy-of-events. Other restaurants may be having Mother's Day specials, check their websites, Facebook pages or call. (www.merleburl.com)
GardenWorks Project has a Spring Seedling Presale. There is a large selection of vegetable seedlings available for drive-thru pick up from 9:00 a.m. to 1:00 p.m. Saturday, May 16, 2020, at the Resource Center, 103 West Washington Street. The cost for each seedling is $3. To order, visit http://www.gardenworksproject.org/shop.
West Chicago Lions Club and West Chicago Social Club sponsors a Blood Drive by Versiti Blood Center, formerly Heartland Blood Centers. It takes place from 10:00 a.m. to 2:30 p.m. Saturday, May 16, 2020, at West Chicago Social Club, 920 East Roosevelt Road. Donors must be in good health and feeling well, be at least 17 years of age and weigh 110 pounds or more. Appointments are preferred and can be made at https://donate.illinois.versiti.org/donor/schedules/drive_schedule/5584653. By setting an appointment in advance, this helps to control the number of people at the site at a given time. If several donors arrive at the same time, measures are in place to handle them on a one-on-one basis to limit social contact. Versiti is monitoring and abiding by putting safety guidelines in place, and working closely with all blood drive hosts to ensure donor safety. Lions Club newest incoming member Michael Libery, owner of the WC Social Club, "donated the space and time to accomplish this important mission," said club president Dan Czuba.
In years past, the City of West Chicago had a Rain Barrel Program, where persons could order a rain barrel and pick it up at the City's Paper shredding event scheduled for June 6, 2020. However due to the COVID-19 pandemic, the event is cancelled. The City linked up with the DuPage County program where prices of the rain barrels include home delivery. To order rain barrels, visit http://upcycle-products.com/static.asp?path=4905.
Gallery 200 continues to shelter in place through the month of May to keep everyone healthy, but brings the work of the artists to the public through Gallery 200 Virtual Artist Market. It features artwork of Gallery 200 artists that are available for purchase, https://www.facebook.com/Gallery200/. After persons select artwork they want to purchase, they send a private message through Facebook or email GalleryTwoHundred@gmail.com. Then Gallery 200 sends an invoice to pay by credit card and arrange contact-less delivery.
It is time to get counted—in the 2020 Census. The official date was Wednesday, April 1. Households can do the census online, mail the paper questionnaires, if one was received, or call (844) 330-2020. The census form is available in English and 12 additional languages. Business, community leaders and local government use the census data to create jobs, ensure public safety preparedness and support community initiatives. Best of all, you can complete the census within the confines of your home, adhering to the COVID-19 stay-at-home order. The US Constitution mandates that everyone in the country is counted every 10 years. The reasons it is important that everyone be counted include redistricting, fair representation and the distribution of $675 billion in federal funds. The purpose of the census is to gather statistical information. Information on individuals is not shared or released. (www.merleburl.com)
To continue the support of those who first stepped forward to support the first responders, Western DuPage Chamber, along with West Chicago Community Center, have set up a GoFundMe site to collect donations for the front line workers in its communities of West Chicago, Winfield and Warrenville. One hundred percent of the funds will be used to purchase meals, groceries and gift cards from local restaurants, caterers and grocery stores. Meals will be delivered to care facilities, hospitals and first-responder facilities. To donate, visit https://www.gofundme.com/f/7jtrd-a-cause-i-care-about-needs-help?teamInvite=p5fXoAxwQAPWuuztr2dnDVOOYHYTACxjNBGCUjDLxccm0OD5DsLTK907o4axCldi&fbclid=IwAR2U3V4xlYLdOnvAyyAicSKIq9ffvEqYwaxLYMttS_VUoormKLuCbPTm3kI/. Dave Sabathne, Chamber CEO/President, and Lisa Marie Vogt, chamber Members Leader are the organizers of the fundraiser.
The Food Pantry at Wayne Township is seeing an increasing number of visitors and are in need of donations of non-perishable food and other items for its shelves. A Food Drive is held from 10:00 a.m. to noon every Tuesday. Items needed include canned vegetables, pasta sauce, rice, peanut butter, toilet. paper, shampoo and dish soap. To leave a donation, drop the box by the garage door, 27W031 North Avenue. Volunteers and staff assist when persons come to drive-thru to pick up food Saturdays. The pantry served more than 400 people Saturday, May 2, 2020. (www.merleburl.com)
With the modifications to the COVID-19 stay-at-home order, Farmers Markets have been deemed an essential business and may operate under an executive order from Gov. J.B. Pritzker. Persons should check websites or Facebook pages of Farmers Markets to verify if open, days, hours and regulations.
The DuPage County Health Department developed a dashboard to provide information on the total number of people, in DuPage County, who have tested positive for COVID-19. In addition, the dashboard includes a map which shows the distribution of reported cases by municipality and is updated at 4:00 p.m. daily. DuPage County's "COVID-19 Dashboard" is a one-stop-shop for all the information it offers including a town-by-town breakdown of cases. As of 4:00 p.m. Monday, May 4, 2020, there are 253 cases in West Chicago with the majority of the persons age 60 and under. Even with the modifications to the COVID-19 stay-at-home orders, it still is important to follow the social distancing and washing hands advice. (www.merleburl.com)
Support our local restaurants by ordering for delivery, pick up and curbside service. Check their websites and/or Facebooks, or call for menus and services offered.
With days getting longer, Augustino's Rock and Roll Deli & Grill, 200 East North Avenue has extended its hours from 10:00 a.m. to 8:00 p.m. daily. It sometimes can be an adventure picking up your order as servers sometimes are wearing different guises. (www.merleburl.com)
Bunker's Bar & Grill, 216 Main Street, now is offering Fish Fry on Fridays. (www.merleburl.com)
Kindred Coffee Roasters, 148 West Washington Street, recently changed its hours. Owners Ryan Hammer, Patrick and Sarah Harms said, "As numerous variables have shifted over the past month, and as they inevitably continue to shift, we feel like this will be a sustainable schedule for us to keep so we can continue giving y'all our very best. " (www.merleburl.com)
El Coco Loco, 205 Main Street, offers daily specials for its take out service. (www.merleburl.com)
Due to the COVID-19 pandemic, the West Chicago Park District Summer Program guide was not mailed to residents as information within the guide could be inaccurate or out of date. The virtual program guide launched Friday, May 1, 2020, on the park district website www.we-goparks.org and will be updated as information becomes available.
Sincere sympathy is expressed to the family of Sharon Lockert, who at the age of 82 passed away Saturday, May 2, 2020.
Paul and Zoeie Kreiner celebrated their 25th Wedding Anniversary April 25, 2020.
Victor Barrón, West Chicago Community High School graduate of 1995, is featured in the April 2020 edition of "Engage," plus his photograph is on the cover page.
Moving to the United States when he was 14 and speaking no English, Barrón, going through various phases in his education and life, is now a Certified Surgical First Assistant, a Certified Surgical Technologist and Coordinator of the daVinci® Surgical System at Delnor Hospital.
After high school graduation, he enrolled in the Hospitality and Tourism program at COD. Struggling academically, he dropped out. At the time he was employed as a surgical aide at Central DuPage Hospital, where his duties included assisting nurse and surgical staff in cleaning rooms and caring for patients. This job ultimately led to his current career. When working as an anesthesia technologist at Delnor Hospital in 1999, Barrón received encouragement from his colleagues and mentors to return to school.
He returned to COD, with the goal of improving his Grade Point Average and entering the Surgical Technology program. Although a new father and holding a full time job, he earned his associate's degree and has been employed at Delnor for 20 years.
Barrón has participated in a variety of mission trips. One included working with Mexican Medical Ministries and joining a group of 10 to 15 members who traveled several times a year to Palenque, Chiapas, whose goal was to perform 30 successful surgeries in a week. He still has another goal in life-to become a teacher. To read the story visit https://www.cod.edu/…/office_of_t…/engage/pdf/engagev3.1.pdf. (www.merleburl.com)
Emily Ayala, Lola Browning and Charles Cardenas, juniors at West Chicago Community High School, recently were selected by the College Board to participate in the College Board National Recognition Program. These students scored in the top 2.5% on the PSAT/NMSQT among high school junior test-takers in the region who identify as being African American, Hispanic American or Latinx. (www.merleburl.com)
West Chicago Police officers responded to a report of shots fired at 4:45 p.m.Thursday, April 21, 2020, on the 800 block of Kenwood Avenue. Officers spoke with witnesses who confirmed hearing the shooting and saw a white vehicle flee the area during that time. The incident is under investigation. Persons with information of the incident or the vehicle should call the Investigation Unit at (630) 293-2222.
Dr. Nelly E. Lee, who passed away at the age of 84 Tuesday, April 21, 2020, was known to many in West Chicago as she not only was a veterinarian, but a woman in that profession, not common when she started. "She had a love of animals that led her to the University of Illinois where she was the first woman in the veterinary medicine program. She joked about being a "token female" in the program." On Facebook, many persons had comments about her, which Sara Phalen, director/curator West Chicago City Museum, is compiling for a file. She also would like to have comments by others in the community. Persons can either email to sphalen@westchicago.org or mail to West Chicago City Museum, 132 Main St. West Chicago, IL 60185.
During the COVID-19 stay-at-home order, staff and families in Benjamin School District 25 participated in several activities to demonstrate solidarity, joy and kindness.
When walking or driving throughout the district persons viewed heart-themed door and window decor at many of the homes, plus one demonstrated the blossoming effect in a garden. Actually, one could say, the families became "heart hunters" as they counted hearts on walks. (www.merleburl.com)
Evergreen School teachers planned a parade. The first day scheduled, it rained, but, the teachers, planning ahead had advised families the rain date was Thursday, April 30. Blue skies and bright sunshine allowed the parade to proceed to the delight of the children. (www.merleburl.com)
Acts of kindness prevailed as district parent Bobbi-Greco-Zeman organized a two-week collection of non-perishable snacks for the Emergency Department at Central DuPage Hospital. The items collected include cookies, crackers, candy and other individually wrapped baked goods, soup to go, individual pudding or fruit cups and drinks. Delivery of items took place once each week. (www.merleburl.com)
In the Friday, May 1, 2020, issue of the "Daily Herald," there was an article regarding The Cascade Drive-in opening again. The owner Jeff Kohlberg stated he was talking to the new owners of the property on North Avenue and Prince Crossing Road E. The property was purchased by East North Avenue LLC in June 2019 according to the Herald article. To date no agreement has been signed. Kohlberg also stated that if one was signed, he did not know how long it would take before the theater could be opened. Much of the Cascade's equipment was sold after it closed in March 2019. The equipment included the newly purchased digital projection and audio systems. He also stated that only one company makes in-car speakers. Currently Kohlberg is getting estimates for the re-outfitting and refurbishing the site.
Wheaton Academy students Rachel Cobb, Wes Kersey, Chas Lewchanyn and Kenna Tolman won a Crystal Pillar Award for their basketball livestream broadcast. The Crystal Pillar recognizes students for outstanding achievement in video production and is awarded by the National Academy of Television Arts and Sciences (NATAS), the same group responsible for Emmy awards and nominations. (www.merleburl.com)
My email address is merlburl@earthlink.net.