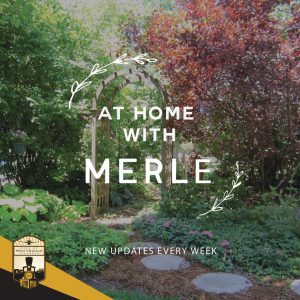 Each time we have to change the clock, whether falling behind or springing ahead, my system goes awry for several weeks. I seem to find I feel lethargic. Then there is the problem of changing the clocks to the correct time. Most do it automatically, but the ones that do not tend to be trickier. But this too shall pass, as does time. For some reason, time seems to be on fast speed this year, even more so than usual. We already are discussing Thanksgiving plans. We need to slow down and enjoy the daylight hours while we still can. Happy Halloween!
AROUND AND ABOUT
West Chicago Public Library District, 118 West Washington Street, once again offers Food for Fines from Thursday, November 1, through Wednesday, November 21, 2018. During this time period the Library accepts donations of non-perishable food in payment for fines. One item equals one dollar in forgiven fines, up to a maximum of $10 per card. This is not applicable to charges for lost or damaged materials or collection agency fees. Patrons not owing fines also may contribute to the food drive. The proceeds benefit the Neighborhood Food Pantries site at Real Life Church campus, 525 North Neltnor Boulevard. Call Circulation Services at (630) 231-1552, extension 2.
WeGo Drama of West Chicago Community High School presents the suspenseful play, "Doctor Jekyll and Mr. Hyde," by Robert Louis Stevenson. Performances are at 7:00 p.m. Thursday, Friday and Saturday, November 1, 2 and 3, 2018, in Weyrauch Auditorium, 326 Joliet Street. The ticket price is $8 for adults and $5 for students. Tickets are available at wegotheatre.com or at the door.
The play is a new adaption by the mystery writer Jeffrey Hatcher. As one man wrestles with his battle between good and evil, one never knows what is in store when the beast is unleashed. Simply, all human beings have a darker side. Doctor Jekyll represents the idea of how the dangers of individual drives and passions blind individuals. The play gives a different take on the WeGo Drama's season, "Find Your Passion."
Members of the cast and crew are Philip Calabrese, Abby Carr, Meg Gee, Maggie Hancock, Samuel Incrocci, Kathryn Wenberg, Gerardo Avila, Grecia Bahena, Nathan Bradley, Emily Carroso, Ryan Castiglia, Delaney Flynn, Javier Garcia, Autum Hosticka, Josie Kotke, and Vincent Lamantia.
Others are Noemi Lara, Evy McLean, Audrey Miller, Rudy Muñoz, Belinda Perez, Jeri Rethford, Leah Wheatley, Brooklyn Worth, Justin Blackburn, David Brown, Ava Fini, Mikail Herrera, Sarah Hurley, Elizabeth Ryan, Neve Ryan and Cassi Villa.
Mark Begovich is the director. Scenic design is by Chris Jensen. Costume Design is by Clare McKellaston. Hair and Make-up is by Jamie Elza. (www.merleburl.com)
West Chicago City Museum, 132 Main Street, holds Late Night at the Museum from 6:00 to 8:00 p.m. Friday, November 2, 2018. In collaboration with the City of West Chicago and the West Chicago Public Library, the Museum is hosting a community "ofrenda," Day of the Dead altar. Community members can contribute a picture of a loved one by dropping it off at the Museum or emailing it to wegohistory@gmail.com. Also persons have the opportunity to make a flower for the altar.
"Grand Finale" is the exhibit for the month of November at Gallery 200, 103 West Washington Street. On display is the artwork of Britta Renwick and her oldest son, Sean. It showcases the work that they have done in the last 18 years, and how they have grown. Since he now is attending college, this most likely is the last family show for some time. It features a large variety of art, which includes photography, 3D canvas work, graphite, watercolor, cork art and jewelry. There is one piece of art that they created together. The artists' reception is from 6:00 to 9:00 p.m. Friday, November 2, 2018. (www.merleburl.com)
During the Senior Leaf Raking project of the City, various youth groups, organizations and individuals volunteer to rake the yards of senior citizens. The event takes place Saturday, November 3, 2018. Last year, the volunteers raked the yards of 30 senior citizens. Volunteers meet at 7:00 a.m. at Fox Community Center, 306 Main Street, and return at 11:00 a.m. for pizza. Volunteers supply their own rakes and gloves. Individuals or groups wanting to volunteer can call Police Officer Michael Rosenwinkel at (630) 293-2751 or email mrosenwinkel@westchicago.org. (www.merleburl.com)
Through SCARCE, West Chicago Environmental Commission and United Methodist Church of West Chicago co-host a pumpkin composting drop off from 9:00 a.m. to 1:00 p.m. Saturday, November 3, 2018, at the Church, 643 East Washington Street. The dumpster is located in the northeast corner of the parking lot. Last year, the collection of pumpkins almost weighed a ton. The pumpkins then are delivered to Willow Ranch Composting Facility in Romeoville. Composting pumpkins keeps waste out of the landfills, reduces greenhouse gas emissions and creates a natural fertilizer for soils. (www.merleburl.com)
United Methodist Women of First United Methodist Church of West Chicago host their annual Holiday Luncheon and Gift Bazaar Saturday, November 3, 2018, at the Church, 643 East Washington Street. The bazaar is from 10:00 a.m. to 2:00 p.m. Sale items include handmade gifts and ornaments, gift baskets, baked goods, white elephant goodies, plus some items sold by small business vendors. Luncheon is served from 11:00 a.m. to 1:00 p.m. The menu is hot roast beef sandwiches, a large variety of salads and many delicious desserts. The price is $9 for adults and $4 for children ages 10 and under. This is a fundraiser for local, national and world relief programs. For further information, call the Church office at (630) 231-3344. (www.merleburl.com)
It is time to fall behind. Daylight Savings Time ends at 2:00 a.m. Sunday, November 4, 2018. Remember to set your clocks back one hour.
The last brush pickup for 2018 begins Monday, November 5, 2018.
Wayne/Winfield Area Youth/Family Services offers hour-long computer classes for senior citizens, 27W031 North Avenue. Not only do seniors learn basic skills, but also have the opportunity to socialize. The fee is $2. Reservations are required and may be made by calling (630) 231-7166. Beginner classes are at 1:00 p.m. Tuesdays. "Texting on Smart Phones" class is at 4:00 p.m. Monday, November 5, 2018.
Boy Scout Troop 33 is selling wreaths. Sales end Monday, November 5, 2018. Persons interested in purchasing wreaths, roping and other greens, can call Steve Usedom at (630) 562-2212.
In the twelfth annual Student Frosty Fest Essay Contest, the theme revolves around the song "Frosty the Snowman." Age categories are first and second grade, third and fourth grade, and fifth and sixth grade. The essay prompt for children in first through fourth grade is "In the song, we sing of Frosty leaving the winter of 2018. Children are asked to write about how Frosty comes back to greet children in a unique way."  For fifth and sixth graders, the essay prompt is "update the lyrics to the 1969 song to better represent Frosty in present day and/or West Chicago." Essays should be 500 words or less. Judging the essays are staff from West Chicago Public Library District. Winners ride in the Mayor's carriage during the Frosty Fest procession and help light the official tree Saturday, December 1, 2018. Entries are due by 4:30 p.m. Wednesday, November 7, at West Chicago City Hall, Attn.: Frosty Fest Essay Contest, 475 Main Street, West Chicago, IL 60185.
The West Chicago Park District's monthly social for senior citizens is at noon, Thursday, November 8, 2018, at Wood Glen Senior Apartments, 199 North Avenue. The Park District supplies the Thanksgiving feast of turkey, mashed potatoes, stuffing and gravy. Attendees bring a favorite holiday dessert to share. The charge is $11 for residents and $13 for non-residents. Reservations are needed by Friday, November 2, 2018 and can be made in person at the ARC, 201 West National Street, or online at www.we-goparks.org.
Gallery Theater, 129 Main Street, presents "The Last Romance" by Joe Di Pietro. Performance dates are at 7:30 Fridays and Saturdays, November 9, 10, 16 and 17, and at 3:00 p.m. Sundays, November 11 and 18, 2018. The ticket price is $15 and $14 for senior citizens. To order tickets, call (630) 234-5919, email GalleryTickets@gmail.com or on line www.gallerytheaterstudio.com.
Cast members are Gary Murphy, Cheryl Rice and Arlene Amone Bibbs. The director is Janet Gilleland.
Ralph is a lonely widower, who unexpectedly has a second chance at love. He attempts to woo the elegant, but distant Carol. Defying Carol's reticence, and his lonely sister's jealousy, Ralph embarks on the trip of a lifetime and regains a happiness seemed all but lost.
Trinity Lutheran Church, 338 George Street, hosts its Annual Christmas Sale and Luncheon from 9:00 a.m. to 2:00 p.m. Saturday, November 10, 2018. The luncheon is from 11:00 a.m. to 1:00 p.m. The sale includes Christmas items, baked goods, handicrafts used treasures, silent auction and outside vendors. The cost for the luncheon is $7 and $3 for children age 10 and under. The menu is Sloppy Joes, hot dogs, salads, chips, dessert and beverage.
The Friends of the West Chicago City Museum and the West Chicago Historical Society host a speakeasy event at 5:00 p.m. Saturday, November 10, 2018. The time of prohibition comes to life with Ellie Carsons portrayal of Carrie Nation—the Famous and Original Barroom Smasher. The ticket price is $20 or $35 for two, and includes food. There is a cash bar. The location is revealed when persons make their reservation at the Museum, 132 Main Street, or at wegohistory@gamail.com. Museum hours are from 10:00 a.m. to 6:00 p.m. Thursdays, 10:00 a.m. to 2:00 p.m. Fridays and Saturdays.
The Community Veterans Days Service is at 10:30 a.m. Sunday, November 11, 2018, at Veterans of Foreign Wars Post 6791, 431 North Neltnor Boulevard. West Chicago Mayor Ruben Pineda gives the patriotic message. Included in the program is the 21-gun salute by members of the American Legion Post 300 and the VFW and the playing of "Taps" by two students from West Chicago Community High School. A light luncheon is served after the ceremony.
West Chicago Park District has a Rules of the Road class at 1:30 p.m. Tuesday, November 13, 2018, at the ARC, 201 West National Street. An instructor from the Secretary of State's office teaches the class. There is no charge, but reservations are required and can be made in person at the ARC or on line at www.we-goparks.org.
West Chicago City Museum Historiography program is a non-fiction book reading group. The discussion group meets at 1:00 p.m., Thursday, November 15, 2018, at the Museum, 132 Main Street. Guests can bring a sack lunch; dessert and drinks are provided.
The book under discussion is "Sharp: The Women Who Made An Art of Having An Opinion" by Michelle Dean.  Her book tells about ten women, who are from different backgrounds and had vastly divergent political and artistic opinions. The women are Dorothy Parker, Rebecca West, Hannah Arendt, Mary McCarthy, Susan Sontag, Pauline Kael, Joan Didion, Nora Ephron, Renata Adler and Janet Malcolm and each of them "made a significant contribution to the cultural and intellectual history of America" according to the book review of Goodreads. Dean explains their similarity with the fact that they "had the ability to cut to the quick with precision and wit." Sharp is a Canadian journalist and critic, who currently lives and works in the United States. This is her first book.
Copies of the book are available at the Museum and West Chicago Public Library District, 118 West Washington Street. Call the museum at (630) 231-3376 for further information. (www.merleburl.com)
Registration for the 2018 Frosty Fest 5K Run/Walk is now open online at https://raceroster.com/events/2018/20316/frosty-5k-and-kids-fun-run. Presented by the City of West Chicago and Healthy West Chicago, the event takes place Saturday, December 1, 2018, starting in Turner Court. Packet pick-up and registration is at 7:30 p.m. and the race begins at 8:30 a.m. The free Kids Fun Walk, a 200-yard dash down Turner Court for children age 10 and under, begins at approximately 9:30 a.m. Age groups are 10 and under, 11 to 14, 15 to 19, 20 to 29, 30 to 39, 40 to 49, 50 to 59, 60 to 69 and 70 and over. The top three overall male and female participants receive awards, plus the top three males and females in each age category receive awards. The fee is $25 for residents, $30 for non-residents; $5 for student residents and $10 for student non-residents. There is a $2 online procession fee. Registration deadline is Friday, November 30. To receive a Frosty t-shirt in a guaranteed size, participants should register by Wednesday, November 14, 2018. Kids Fun Run participants receive a finisher's ribbon. For further information, call Special Events Coordinator Bethany Bayci at (630) 293-2200, extension 176 or email bbayci@westchicago.org.
At the West Chicago Sister Cities Oktoberfest, former West Chicago resident Len Mahony won the 60/40 raffle. He donated back to the organization.
More than 400 persons attended the West Chicago Park District Boo Bash Saturday, October 20, 2018. They enjoyed the Smarty Pants Big Balloon Show, the increased number of fluorescent rooms and fitness inflatables. The only activity cancelled was the hayride, due to the weather, a windy and blustery day, was the hayride. Lily Medina, park district Communications and Marketing Manager, made a video recap of the event, which can be viewed at https://www.youtube.com/watch?v=6pwaNJiRo6E&fbclid=IwAR1_py1hPZnR-o6XFy2kAndl9LoxLrzundR0xLG8L52aE2DMPho1Qkfy-Yc. (www.merleburl.com)
Boy Scout Troop 33 member Ben Bugno, age 17, received his Eagle Scout rank at the Eagle Scout Court of Honor Sunday, October 21, 2018, held at Prairie Landing Golf Course. Eagle Scout is the highest rank attainable. Requirements include earning at least 21 merit badges and leading an extensive service project
His Eagle Project was the rebuilding of the steps leading to the Main Picnic Pavilion at Reed-Keppler Park. This involved 240 community service hours, with Bungo serving as the project leader for volunteers, Scouts, friends, and adults and community service members.
He also competed 138 of 139 Merit Badges. He is working on the final badge, for which he needs to learn and sound 15 bugle calls. "Once completed, Ben will be one of only less than one percent of all Boy Scouts since 1910 to have earned every available merit badge," explained troop leader Steve Usedom. (www.merleburl.com)
Sixty-one students from West Chicago Community High School District 94 were inducted into the National Honor Society during a ceremony held Wednesday, October 17, 2018. The NHS sponsor is Humanities teacher Nick Caltagirone.
Inductees include Paige Arendt, Nora Bell, Eleanor Rzeszut, Heather Truong, Ariana Alcantar, Farzaan Aleem, Oscar Almonte, Eduardo Bahena-Avila, Emily Ballines, Jan Benedict Baptista, Olivia Bartler, Ruth Bovey, Matthew Brotnow and Sarah Crowe.
Others are Darline Cuautle, Dominic DeConcilis, Estephany Delgado, Ximena Duran, David Fatheree, Anna Fortelka, Brian Garcia, Norma Garcia, Zoe Genabe, Brisa Gomez, Melissa Grimaldo, Marianne Hernandez, Moncerat Hernandez-Granados, Joseph Leeba and Shalin Kadakia.
Also inducted were Aaron Kus, Noemi Lara, Shaye Lauro, Eli Manspeaker, Liliana Marquez, Thian Nei, Manav Patel, Joana Perez, Valeria Perez, Vianca Perez, Mathieu Plumlee, Grace Quiroz, Alec Renwick, Rebecca Rethford and Kaylee Rojas.
Other inductees are Dayanne Romero, Odeth Rubio, Kevin Salinas, Madeleine Shwatal, Connor Slattery, Lilly Smith, Silvana Tabares, Michael Tuskey, Joseph Valliquette, Jocelyn Velazquez, Eriberto Zarco, Olivia Locascio, Nicole Bute, Madelyn Goodale, Amanda Haffner, Andrea Tipton and Clare Weber.
The National Honor Society is an organization that honors high school students for their academic excellence, character, and service to their school. (www.merleburl.com)
The autumn-like weather provided the perfect setting for the 29th Annual Tales Tombstones Tell, presented by the West Chicago City Museum, Friday, October 5, 2018, at Oakwood Cemetery. One hundred ninety persons attended, with 70 coming for the first time.
Twenty-two students are enrolled in the new class, Introduction to Education, offered at West Chicago Community High School. These students are preparing for college and a future career as a teacher. In addition to earning Dual Credit at the College of DuPage and saving themselves hundreds of dollars in future tuition, students are receiving a first-hand look of what it takes to be a teacher on a day-to-day basis.
The students are required to complete 20 hours of observation in a local school. They are meeting this requirement at the schools in West Chicago Elementary School District 33, Benjamin School District 25 and Winfield District 34. During the observation hours, students assist classroom teachers in various ways, such as tutoring students individually, assisting with lesson development and assessing students.                                  Marc Wolfe, division head of Career & Technical Education, said students enrolled in the class are not only gaining a better understanding of the demands of teaching, but also recognizing the multiple skills and abilities it takes to be an effective classroom teacher. He added, "Most cite the relationships they are already building with students as a rewarding result of the observations and a reinforcement of their desire to enter the field of education. Many of these students hope to return to the West Chicago area to teach in our local schools."
At the National Recreation and Parks Association annual conference, West Chicago Park District received the national design award from Game Time. This was for the design and development of Toucan's Hideaway in Reed-Keppler Park. Park district executive director Gary Major said, "This was one of three awards selected for recognition to agencies for outstanding outcomes, and this was the final award given."
Tequila Roadhouse, 920 Roosevelt Road, recently opened. Hours are from 4:00 a.m. to 2:00 p.m. Thursdays through Saturdays.
Western DuPage Chamber of Commerce had a ribbon cutting Thursday, October 18, 2018, at Christian Brothers Automotive, 1650 North Neltnor Boulevard. The owners are Boris and Jill Gunjevic. Established in 1982, the faith-based automotive repair service company has 189 locations in 23 states and this is the first one in Illinois. The company approaches auto repair work with transparency, integrity, and compassion. CBA gives discounts to senior citizens, veterans, active military personnel and pastors, plus provides free shuttle service.
A month after opening its doors here, the Gunjevic's participated in the company's National Service Day, in which a free oil change is provided to those in need such as single mothers, single fathers and widows. In addition to this, some received extra service to their car; there was food, and entertainment for children and adults. Part of the day's activities can be viewed at https://youtu.be/Pq89gJ-W3dM.
Boris explained their decision to locate in West Chicago. Upon choosing to open a CBA franchise, we decided to come back to Illinois, where both of our families were living. "We felt West Chicago was a great market, with a diverse population and this location has good, high traffic."
He added, "We wanted the building to be clean and nice. A place like home. The pristine white woodwork portrays the cleanliness. Jill said she wanted the floors in the waiting area to be clean. "I wanted parents to know the floor was clean for their children to sit and play." The work-space area also displays a clean aura. "We have an industrial cleaner for the concrete floors that does a fantastic job."  The goal is to provide a great experience to our customers in need of car service."
Boris has a degree in Automotive Technology from Southern Illinois University in Carbondale. For almost 20 years, he was employed as a corporate field manager in the automotive business. Jill graduated from Bradley University in Peoria with degrees in Psychology and Forsenic Science. Her employment career involved working for the Illinois State police and then a not-for-profit organization. They are the parents of two children.  (www.merleburl.com)
My email address is merleburl@earthlink.net.