This year the first day of fall is Wednesday, September 22, 2021. This marks the turning point when darkness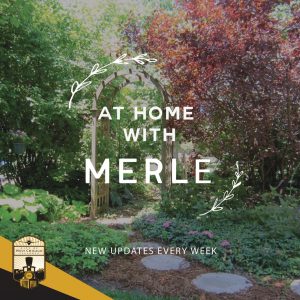 begins to win over daylight. The daylight hours shorten. The change of seasons inches its way in. The leaves start to change colors, ever so slightly at first, and then burst into vibrant hues of orange, red and yellow. As they drop to the ground and become dried and brown, the sounds of fall are evident as we walk through them. The flowers of the seasons change, the annuals start to die and the perennials start to fade away, keeping the roots warm for their arrival again in spring and summer. Fall decor of mums, pumpkins, gourds and scarecrows appear. Fall fests and Octoberfests occur, tantalizing appetites with the foods of fall, apple cider donuts, pumpkin spiced beverages and more.  It is a time of change and one of my favorite seasons. Take time to enjoy the changing of the seasons as you walk or drive through West Chicago. (www.merleburl.com)
AROUND AND ABOUT
State Senator Karina Villa had a Professional Women's Clothing drive, receiving donations of clothing from various sources. Persons can receive up to 10 free items of professional women's clothing from 4:00 to 6:00 p.m. Wednesday, September 15, 2021, at St Andrew Lutheran Church, 155 North Prince Crossing Road. (www.merleburl.com)
The Catholic Daughters Court West Chicago hold a garage sale form 9:00 a.m. to 3:00 p.m. Thursday and Friday, September 16 and 17, 2021, at 439 Fremont Street. (www.merleburl.com)
As part of its Fear in the Forest series, the West Chicago Park District presents a free horror film at 7:30 p.m.  Friday, September 17, 2021, at the Shell in Reed-Keppler Park, 129 West National Street. It is for adults only. (www.merleburl.com)
Through Mexican Cultural Center DuPage, an Eduardo Robeldo exhibit is on display Thursday, September 16, through Thursday, September 30, 2021, at Gallery 200, 103 West Washington Street. Gallery hours are from 2:00 to 6:00 p.m. Thursdays and Fridays and from 10:00 a.m. to 4:00 p.m. Saturdays. Robeldo is based out of Mexico City and creates mythic images utilizing the stories of past and present Mexico. These include Calaveras, animals and humans. (www.merleburl.com)
The Viva Mexican Festival and Parade Committee of the Mexican Cultural Center DuPage cancelled the Saturday and Sunday, September 18 and 19, 2021, Mexican Independence Day event. "Given the current uncertainty surrounding COVID-19 variants and the rapid growth of interest and participation in our parade and festival, this decision was made in the interest of public safety, as well as concerns surrounding the quality of the event."
WeGo Community Clean Up Day is at 10:00 a.m. Saturday, September 18, 2021. A kick-off gathering is at 10:00 a.m. 479 West Forest. Family, friends and neighbors participate in the event by picking up litter anytime anywhere throughout the community. Suggested gear needed is just a plastic bag and plastic or work gloves. (www.merleburl.com)
Gallery 200 artist Marge Hall and West Chicago resident Laurie Pollpeter Eskenazi are participants  in the 36th annual juried Riverwalk Fine Art Fair from 10:00 a.m. to 5:00 p.m. Saturday and Sunday, September 18 and 19, 2021. Hall is in booth 63 with her Acrylic/oil paintings. Eskenazi is in booth 92 with her ceramics. The fair is presented by the Naperville Art League.
Gallery 200 artist Marita Valdizan is a participant in the Romeoville Founders Day art show and sale from 11:00 a.m. to 6:00 p.m. Saturday, September 18, 2021, at Deer Crossing Park Parking Lot, 1050 W. Romeo Road in Romeoville. She creates with wire crochet art, mixed media, wearable art and jewelry. (www.merleburl.com)
The West Chicago Wildcats 12U baseball club team is having a fundraiser from 4:00 to 8:00 p.m. Saturday, September 18, 2021, at Chipotle, 2119 West Roosevelt Road in Wheaton. When ordering meal, persons just need to mention the West Chicago Wildcats fundraiser and a percentage of the amount is donated to the team; no coupon is necessary. The team is representing West Chicago at Cooperstown Dream Park, the funds raised go toward the expenses. (www.merleburl.com)
Virtual Chair Yoga is the West Chicago Public Library program at 3:00 p.m. Monday, September 20, 2021. Susan from Dancing Cranes demonstrates the benefits of yoga without getting down on the floor. In an hour of Chair Yoga, persons breathe more deeply; stretch, strengthen and move their body; relieve stress and relax. To register, visit wcpld.info (www.merleburl.com)
College of DuPage offers free English and Citizenship classes at West Chicago Community High School, 326 Joliet Street. Testing for English classes is at 6:30 p.m. Monday, September 20, and Wednesday, September 22. Classes meet from 6:30 to 9:00 p.m. Mondays and Wednesdays. Classes start Monday, September 27. Testing for Citizenship classes is at 6:30 p.m. Tuesday, September 21 and Thursday, September 23. Classes are from 5:30 to 9:00 p.m. Tuesdays and Thursdays; Classes start Tuesday, September 28. For further information, call (630) 942-3697 or email ela@cod.edu/cod.edu/el.
The Gettin' Crafty program, "Book Poetry Collage," is at 7:00 p.m. Thursday, September 23, 2021, via Zoom. Persons "disassemble" book pages and ephemera.  Then these are reassembled into one's work of art and poem. Then participants paint it in their own paint, fabric, stamps or other art supplies. Register at wcpld.info, under calendar, to reserve the kit bag. Participants receive a link to register for the Zoom meeting a week before the program. (merleburl.com)
Winfield Township holds its annual Recycling Extravaganza from 9:00 a.m. to noon Saturday, September 25, 2021, at the Township Road District Facility, 30W575 Roosevelt Road. Included again is the collection of non-perishable food items for Neighborhood Food Pantries located in West Chicago. There is a $15 cash or credit card only cost per car for electronic devices.  Included among electronic items are computers, televisions, telephones and keyboards. Recycling for old latex paint is by Epaint Recycling Service, who accepts cash or credit card. The charges for latex paints are .50 cents for a one-pint can, $1 for a one-quart can, $4 for a one-gallon can and $10 for a five-gallon pail. Glad Can Recycling provides for the disposal of spray paint at the cost of $1 per can. PROSHRED Security provides on-site shredding of confidential paper documents. There is a limit of four banker boxes. DuPage County provided partial funding for this service. Among the acceptable miscellaneous items are cell phones, old flags, eye glasses, fire extinguishers, office furniture, clothing and musical instruments. Scrap metal items include gutters, metal hangers, metal lawn furniture, metal shelving, metal wheelbarrows and radiators. Items not accepted include hazardous waste, explosives, items containing mercury, air conditioners, batteries, dehumidifiers, fluorescent bulbs, motor oil, refrigerators, tires and smoke detectors. (www.merleburl.com)
We Grow Dreams Greenhouse & Garden Center, 1055 West Washington Street, hosts its Annual Fall Open House from 9:00 to 3:00 p.m. Saturday, September 25, 2021. There is a large variety of fall decorations, which include pumpkins, gourds, corn stalks, hay bales, fall arrangements, cabbage, kale, and mums in 15 colors. Brats and hot dogs are served fresh off the grill, plus apple cider donuts, apple pies and caramel apples and beverages. City Bee Savers sells honey. Master Gardeners have a "Help Booth" to answer gardening questions.
The mission of the greenhouse is to provide people with disabilities the opportunity to lead fulfilling lives and to train and work in a supportive, safe and caring environment while producing and providing products and services to the community. In this pursuit, they honor the concepts of human dignity, respect, hard work, fellowship and friendship. (www.merleburl.com)
West Chicago Park District has Paramount Theater season program for adults. There are four musical productions. The first one is "Kinky Boots." The time frame is 11:00 a.m. to 4:30 p.m. Wednesday, September 29, 2021. Persons should be at the ARC Center, 201 West National Street, by 10:45 a.m. The $70 charge includes the bus ride, lunch and the show.  Trip is non-refundable and non-transferable unless there is a waiting list. At this time, the Paramount Theater requires photo ID, vaccination card and mask wearing. Lunch menu includes Greek Salad, Rolls and Butter, Lemon Oregano Chicken, Vesuvio Potatoes, Green Beans and Baklava, plus a non-alcoholic beverage. A cash bar is available.
"Kinky Boots" is a flashy, sassy, sexy story of big heels invading a small town. Charlie Price is a reluctant shoe maker. Lola is a fiery drag queen. These two could not be any more different, but when they find common ground in shoes, they see a whole new world of possibilities open up to them that will turn their small town upside down, and just might save Charlie's failing shoe factory. As a side note, my son, his wife and I saw it Saturday, August 28. It was such a fun show, with wonderful music and dancing and lovely costumes. We and other members of the audience left with smiles. It is receiving rave reviews. To make a reservation, visit https://www.we-goparks.org/adult-programs. (www.merleburl.com)
The West Chicago Police Department Explores are having a Scavenger Hunt at 2:30 p.m. Saturday, October 3, 2021, starting at the Police Station, 325 Spencer Street. Families/groups travel by car around West Chicago solving clues for a chance to win prizes. Members of Explores pass out waivers and rules, and answer questions prior to the start of the race. The event is limited to the first 15 groups to sign up By Wednesday, September 29, 2021. To register, call Officer Robyn Nielsen at (630) 293-2222 or email RNielsen@westchicago.org. Participants must follow all COVID-19 protocols, including wearing masks when talking to others and socially distancing from those not in their groups. (www.merleburl.com)
Hawthorne's Backyard Bar & Grill, 1200 West Hawthorne Lane, hosts the Charity Kent Kopinski Golf Outing Monday, October 4, 2021, at Arrowhead Golf Club, 26W151 Butterfield Road in Wheaton. It is a 9:00 a.m. Shotgun start. The four-man scramble price is $125 per person. The price includes golf, car, green fees, driving range, food at the course, pig roast at Hawthorne's. There are prizes and raffles. Register with the bartender or manager. Proceeds benefit the Kent Kopinski Caddy Scholarship Fund. (www.merleburl.com)
Girls of Today Leaders of Tomorrow starts its third year of mentorship program. To join, girls must be 8 to 14 years of age. The mission of the not-for-profit organization is to inspire and empower young women to find value within themselves and to achieve the best direction of their lives.
The vision is to have a society of young women, who are confident, independent, and able to motive future generations. For further information, email infor@girlstoleaders.org and/or visit https://www.facebook.com/GirlsTodayLeadersTomorrow/. (www.merleburl.com)
West Chicago Elementary School District 33 offers a program for families children under the age of three. The Birth to 3 Program helps parents maximize this critical period of learning for their children. It focuses on parent-child interactions and the parent-child relationships, parenting topics such as behavior, potty-training, and sleep, and family well-being and provides connections to resources. Families who are expecting a baby or who have children under age three may apply. Developmental screenings, vision screenings, and hearing screenings are available for any children in the community beginning at three months of age. The program provides services both in-person and virtual via phone or video calls, depending on local guidance. For more information visit the Birth to Three webpage, https://www.wego33.org/domain/181 or call (630) 473-0778.
CAPE is seeking artists for instructional, planning and professional development for the fall-spring school year 2021-2022 at West Chicago Elementary School District 33. This is a paid position. The schedule is from 3:30 to 5:30 p.m./4:00 to 6:00 p.m. Monday through Thursday. Persons have the option to work two or four days a week. The artist and the teacher co-plan and co-teach arts integrated curriculum for kindergarten through fifth/sixth through eighth grade. For further information email hannah@xapechicago.org. Chicago Arts Partnerships in Education engages students, inspires teachers, and demonstrates impact by weaving the arts into Chicago area classrooms. (www.merleburl.com)
Support our local businesses. Planet Fitness, 1851 North Neltnor Boulevard, is now open.
A COVID-19 vaccination clinic is open from 2:30 to 6:00 p.m. Tuesdays at St. Andrew Lutheran Church, 155 North Prince Crossing Road. The clinic is for persons age 18 and older. To make an appointment, call the church office at (630) 231-3787 or email office@standrewlutheran.net.
A COVID-19 testing site is open from 8:30 a.m. to 12:30 p.m. Tuesdays and Thursdays in a VNA Health Care Mobile at St. Andrew Lutheran Church, 155 North Prince Crossing Road. There is no charge. Appointments are required and may be made at (630) 892-4355 or (847) 717-6455
The DuPage County Health Department developed a dashboard to provide information on the total number of people, in DuPage County, who have tested positive for COVID-19. In addition, the dashboard includes a map which shows the distribution of reported cases by municipality and is updated at 4:00 p.m. daily. DuPage County's "COVID-19 Dashboard" is a one-stop-shop for all the information it offers including a town-by-town breakdown of cases. As of Monday, September 13, 2021, there were 4,998 cases and 53 deaths; this is the number from the beginning of track recording.
To keep residents aware of community COVID-19 updates, the City has posted West Chicago's COVID-19 COMMUNICATIONS CENTER on its website, www.westchicago.org. It is located on the upper left-hand side in red. Clicking on this, residents can see the latest information.
Sincere sympathy is extended to the family of Paul J. Pennella, who at the age of 66 passed away Sunday, September 5, 2021.
At the Wednesday, September 8, 2021, sooner game, West Chicago Community High School won against Glenbard South with a score of 6-1.
At the Thursday, September 2, 2021, West Chicago Elementary School District 33 Board of Education meeting, staff and students form Turner School presented a program on its new Soccer Club, in which 75 students signed up to participate. The club for students in second through fifth grades meets after school on Tuesdays in conjunction with Chicago Eagles, a not-for-profit club serving the youth of West Chicago. The Eagles' focus is developing not just soccer skills, but also character. Students have the opportunity to be trained by experienced coaches/players and are taught lessons that coincide with the "PAWS Character Matrix" that has been introduced to Turner students. During each "practice", coaches from the Eagles share a character development lesson. In addition, students learn about opportunities to join recreational teams with the Eagles and future club teams with the Eagles to experience competitive league soccer. PAWS means Pride, Attitude, Wise choices and Safety. (www.merleburl.com)
Wednesday, September 8, 2021, West Chicago Police officers responded to the 500 block of Lyman Street for a delayed report of a domestic disturbance. Officers learned that approximately an hour prior a juvenile involved in the disturbance had fled the scene on foot, possibly armed with a weapon. Leman Middle School was notified of the situation, prompting a response constant with their protocols. Additionally, based on the juvenile's connection to an educational facility in Bartlett, law enforcement officials in that jurisdiction were notified of the situation. After an extensive search, the suspect was located and is currently in custody.
West Chicago resident Becky Hall was the first to turn in a Quilters Tree quilt. She won a prize of fat quarters, which is 3-3/4 yards of fabric, and a fun book. The blocks in her quilt are from nine shops in eight states. Persons visited participating quilt shops during the summer and asked for the QTrek pattern for a block in a Pop of Color quilt. Each participating shop offered one pattern at no charge to customers who visited the store during the event, which started June 21, 2021. (www.merleburl.com)
WeGo Together for Kids hosted its 6th annual back to school event Wednesday, August 19, 2021, where 771 West Chicago Elementary School District 33 students received backpacks filled with school supplies through the many donations. The goal of 600 was surpassed. When the annual event started in 2016, 60 students received backpacks. (merleburl.com)
In honor of the 20th Anniversary of 9/11, Augustino's Rock and Roll Deli & Grill, donated a percentage of its weekend sales to the One Hundred Club of DuPage County.
In chapel Friday, September 10, 2021, at Wheaton Academy, students heard WA Special Studied Department Head Nate Learn and WA  Business and Innovation Director Phil Strzalka and his wife Sally share the memories of 9/11-20 years ago. On Saturday, September11, the Academy commemorated the 20th Anniversary of 9/11 on its Facebook page, Todd Beamer, a 1987 graduate of WA  and the many other brave men and women of that day.
Beamer was a passenger on United Flight 93 when four hijackers on their flight took over the cockpit and cabin. Passengers and flight attendants huddling in the rear of the plane used in-flight phones to contact loved ones and officials on the ground. For thirteen minutes the line stayed open. Jefferson overheard Todd and fellow passengers planning to "jump on" the hijackers. They understood their plane was probably going to be used, like the other three, to carry out another attack, and they wanted to prevent that. The last words she heard Todd say were, "Are you guys ready? Let's roll."
The passengers rushed the cockpit area. Though it is not known if they broke through, what is certain is that the plane did not reach its planned destination. It crashed instead in a deserted field near Shanksville, Pennsylvania. All on board died, but no one else was injured or killed. The hijackers' plan to create another tragedy had been defeated. (www.merleburl.com)
At the Friday, September 10, 2021, football games West Chicago Community High School lost to Larkin High School with a score of 48-0; Wheaton Academy won against Aurora Central Catholic High School with a score of 51-7.
It was a close game, but the West Chicago Police officers and firefighters lost the baseball game to the St. Charles police officers and firefighters at the Battle of the Badges held Sunday, September 19, 2021. The score was 17-16. The event raised money for the Illinois Law Enforcement Torch Run for Special Olympics. (www.merleburl.com)
At the Tuesday, September 7, 2021, meeting, City Council approved the contract for the 2021 Contractual Street Striping Program in the amount of $100,000 to Precision Pavement Marking of Pinegree Grove, Per the Items summary, "The program consists of pavement markings removal and installation of thermoplastic pavement markings. The focus this year is on Hawthorne Lane, Smith Road, Powis Road, Arbor Avenue, Fremont Street, Main Street, Conde Street, Spencer Street, Kenwood Avenue, Wood Street and Wilson Avenue."
Also at the meeting there was discussion of moving City Council meetings to a larger venue to meet in person rather than Zoom. A motion was made to continue holding meetings via Zoom and passed with a 13-2 vote.
When COVID-19 pandemic started, the PADS program at First United Methodist Church of West Chicago stopped.  The participation of the church did not stop. The members delivered meals once a month to the hotel is Naperville. PADS DuPage rented rooms at hotels to house the homeless. Brian Hendricks, organizer of the PADS program at the church explained, "The Methodist Church planned to reopen its PADS facility this October, but due to the rise of the delta variant, it was determined this was not a good idea. Now the plan is to keep the guests in the hotels until April 1 as long as they can secure sufficient funding. We will continue to deliver meals."
Through the rental of hotel rooms, DuPage PADS was able to temporarily house more than 430 people, which included 130 children. The organization wants to purchase the Red Roof Inn in Downers Grove and convert into rooms for the homeless. Having shelter in the hotel rooms allowed the homeless the opportunity to take advantage of the services PADS offers from employment support to life skills coaching with the goal of helping them become self-sufficient. This came about because the homeless were not spending the days goring from one PADS site to another. PADS DuPage is seeking ways to raise funds for the hotel purchase.
My email address is merleburl@earthlink.net.