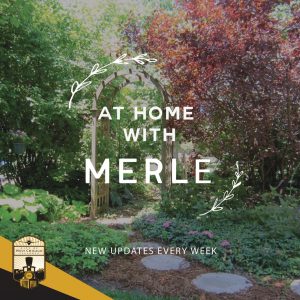 Fall is officially here. Already the trees are starting to change color. The morning temperature is brisk. It is getting dark earlier. Apples definitely are in season. Everything is in a flux of change with each day bringing forth new colors. Take the time to enjoy this season, a favorite of mine.
AROUND AND ABOUT
The League of Women Voters of Wheaton holds a drive-thru registration from 11:00 a.m. to 3:00 p.m. Wednesday, September 23, 2020, in the parking lot of the West Chicago Public Library, 118 West Washington Street. Members help persons register to vote, request a Vote-By-Mail ballet and provide information about voting in the Tuesday, November 3, 2020, General Election. Persons should bring their own tablet or smartphone. There will be tablets with Wi-fi available for persons without their own device. These are sanitized after each use. To register to vote, persons must bring two forms of identification, one with their current address. Masks are required. Hand sanitizer is provided. (merleburl.com)
Friends of the West Chicago City Museum Facebook in collaboration with Mexican Cultural Center DuPage recognizes Hispanic Heritage Month with history and photographs. Mexican immigrants first came to West Chicago in the 1910s with other immigrants from around the world to work on the railroads and live in the boxcar camps that were located on the west side of West Chicago, off of Grand Lake Blvd. The number of Mexican workers grew throughout the 1920s and by the 1930 Census almost all workers in the boxcar camps were Mexican or Mexican America. Like the Irish immigrants that came to work on the railroads in West Chicago in the mid1800s, many Mexican immigrants were attracted to this area due to the railroad industry jobs. Check the Facebook page www.facebook.comFriendsoftheWestChicagoCityMuseum/ each work for new photos and history. These also can be seen on the Facebook page of Mexican Culture Center DuPage www.facebook.com/MexicanCulturalCenterDuPage/. (merleburl.com)
West Chicago Park District offers a High School Membership through December 31, 2020, at the ARC Center, 201 West National Street. The cost is $45 and includes unlimited access to the fitness center, use of locker room and showers, use of indoor track and free Open Gym. This is open to all high school students, not limited to any particular school. To register, visit we-go parks.org. (merleburl.com)
Healthy West Chicago 5K race t-shirts are here. Race participants can pick up their race bag from 2:00 to 6:00 p.m. Thursdays or from 10:00 a.m. to 2:00 p.m. Saturdays now through October 10, 2020, at Gallery 200, 103 West Washington Street. Fifty persons participated in the 5K. (merleburl.com)
The West Chicago Public Library presents "UFO Case Files: Illinois" at 7:00 p.m. Thursday, September 24, 2020, via Zoom. Sam Maranto of the Illinois Mutual UFO Network presents the program, which gives a glimpse into the rich history of well-documented UFO sightings in Illinois. To register, visit
https://us02web.zoom.us/meeting/register/tZUocOCgqTMoGNYOnLWJQPzJj12E901qqHHW .After registration, persons receive a confirmation email containing information about joining the meeting.
The League of Women Voters of Illinois are having a virtual 100th Anniversary/POWER THE VOTE program at noon Friday, September 24, 2020, which is also its only fundraiser of the year. Keynote speaker is Illinois Lt. Governor Juliana Stratton. Panelists are Jen Dean, Deputy Director of Chicago Votes; Martina Hone, Chief Equity officer of YWCA Chicago; and Jennifer Taff, Associate Director of DuPage Habitat for Humanity. The ticket cost is a $25. An event link will be sent on the morning of September 24 and the event will remain available for ticket holders who are unable to join at noon. For more information and to make a donation, visit https://igfn.us/vf/JoinLWVIL/BarbaraLaimins.
Winfield Township holds its Recycling Extravaganza from 9:00 a.m. to noon Saturday, September 26, 2020, at the Township Road District Facility, 30W575 Roosevelt Road. Included again is the collection of non-perishable food items for Neighborhood Food Pantries located in West Chicago. There is a $10 cash only cost per car for electronic devices. Recycling for old latex paint is by Epaint Recycling Service, who accepts cash or credit card. The charges for latex paints are $1 for a one-quart can, $3 for a one-gallon can and $10 for a five-gallon pail. Glad Can Recycling provides for the disposal of spray paint at the cost of $1 per can. PROSHRED Security provides on-site shredding of confidential paper documents. There is a limit of four banker boxes. DuPage County provided partial funding for this service. Among the acceptable miscellaneous items are cell phones, old flags, eye glasses, fire extinguishers, office furniture, clothing and musical instruments. Included among electronic items are computers, televisions, telephones and keyboards. Scrap metal items include gutters, metal hangers, metal lawn furniture, metal shelving, metal wheelbarrows and radiators. (merleburl.com)
Wayne Township, 27W031 North Avenue, has a Drive-thru Flu Shot event for senior citizens from 11:30 a.m. to 1:00 p.m. Tuesday, September 29, 2020. Participants need to wear a short sleeved top and have their Medicare card number available.
The City of West Chicago and West Chicago Public Library hold a Pumpkin Decorating Contest open only to residents of West Chicago for Halloween Festivities this year. Contest categories are 7 and under, 8 through 12, 13 through 17, and adult/family. Winners in each category receive a $25 gift certificate to a local business. Pumpkin registration deadline is Wednesday, September 30, 2020, at https://form.jotform.com/202375137393153. Since there only are a limited number of pumpkins available, individuals may decorate their own. Persons must be able to pick up their pumpkins and goodie bags between 11:00 a.m. and 3:00 p.m. No pumpkin carving is allowed. Photographs with the name, age of entrant and title of pumpkin are due no later than Wednesday, October 21, and uploaded to https://form.jotform.com/202394114465149. Public voting takes place the week of October 26. Winners are announced the week of November 2.
Full information is available at West Chicago Halloween Festivities. Questions may be directed to Nicolette at special events@westchicago.org. (www.merleburl.com)
With only eight days left to respond, it is not too late to help make a difference in our community for the next 10 years. Our community needs your response. Field Data collection is scheduled to conclude by Wednesday, September 30. 2020 Respond online now at https://go.usa.gov/xGBEv. US Census Bureau workers now are going door-to-door to count people who have not responded to earlier communication attempts. All census takers have government ID badges with their photographs, US Department of Commerce watermarks and expiration dates. If no one is at home when a census worker visits, the employee will leave a notice with information about responding on line at 2020census.gov or by phone at (844) 330-2020. The US Constitution mandates that everyone in the country is counted every 10 years. (merleburl.com)
During the month of September, the City of West Chicago sponsors a "Distance Socially, Eat Locally" Campaign. Part of the event includes 10 gift card give-aways valued at $25 each. To enter for a chance to win and help support local restaurants, persons need only to "like" and follow the City of West Chicago Facebook page. Some of the restaurants are Augustino's Rock & Roll Deli & Grill, The Bunker, Biscuits and Gravy, Bobo Coffee, or Dragon II To participate persons like and follow the City Facebook page, www.facebook.com/CityofWestChicago/, to see when the giveaways go up to discover if they want to enter that given giveaway. Each one is a different restaurant.
Also, there is a Bingo game, in which there is the chance to win one of three $100 gift cards to a downtown restaurant. The Bingo card is on the City's Facebook page. The rules are to complete five squares in a row, horizontal, vertical or diagonal, with purchases made at a local West Chicago restaurant, and marking the square when completed. When applicable, participants take a photo. The completed card and supporting proof is sent by email to specialevents@westchicago.org or put in an envelope stating Special Events Bingo and put in the drop box at City Hall, 475 Main Street. Participants completing the entire card receive an extra five entries in the drawing. The deadline is Thursday, October 1. For more information, email specialevents@westchicago.org.
Healthy West Chicago once again partners with the National Forum for Heart Disease and Stroke Prevention for the 2020 Move with Mayor Challenge in August and September. Due to COVID-19, the format is different this year. Made possible with a donation from Jacobs Engineering Group in West Chicago, the MWTM Walking Challenge makes it possible for persons to participate in the activities. Using the activation code, "movechicago17," persons can download it from the App Store on their personal device. Users then may pair the app with their choice of activity trackers such as Fitbit, Gamin, Apple Watch or those built into their Smart devices. The app collects data on personal steps logged, distances walked and ranking among the participants. For the list of planned activities, visit www.healthywestchicago.org/move-with-the-mayor.
West Chicago Public Library has a Fall Leaves painting class at 6 p.m. Wednesday, September 30, 2020, via You Tube. Teaching the class is art teacher Christine Thornton. Participant practice drawing a few different types of leaves. Then Thornton teaches some fun, easy watercolor painting techniques. Attendees use their own painting supplies or colored pencils. The class includes the instructional video and the opportunity to connect with the teacher and classmates. After registering at inyurl.com/y3bns34x, individuals receive a unique link to a YouTube video, which is available for seven days. (merleburl.com)
The West Chicago Cultural Arts Commission launches its second round of Haiku poetry to bring inspiration to West Chicago neighborhoods this fall. Poets and community members can submit their own positive haiku in a language of their choosing at https://form.jotform.com/202615468692159.
All poems must follow the standard 5-7-5 Haiku format. Persons can submit up to three haiku. The deadline is Thursday, October 1, 2020. The selected haiku are printed on double-sided yard signs and placed in public places and local neighborhoods. Both residents and businesses have the opportunity to pre-register for consideration to publicly have a poem on their property at https://form.jotform.com/202616480685156. After the selection of the sites, a simple map will be on the City's website, www.westchicago.org and persons can view the signs while walking or driving through the community. The current haiku signs remain in place through the end of October.
The 31st "Tales Tombstones Tell" is virtual this year at 6:30 p.m. Friday, October 2, 2020, due to COVID-19 pandemic. The video will be available to watch on Friends of West Chicago Facebook Page and website. For those not on Facebook, email wegohistory@gmail.com. The tales highlight eight West Chicago women to commemorate this historic year, the 100th Anniversary of the 19th Amendment which gave women the right to vote. One woman is Grace Gerbig Schommer. Her family moved to West Chicago in the 1920s. She was employed as a telephone operator until she married Otto Schommer, a builder. Grace died in 1988 and is buried in Calvary Cemetery on Washington Street, just east of Route 59.
Hawthorne's Backyard Bar & Grill, hosts its annual Golf Outing Saturday, October 3, 2020, at Klein Creek Golf Course, 1N333 Pleasant Hill Road in Winfield. It begins at 8:30 a.m. with a shotgun start, a four-man scramble. The cost is $100 per person and includes golf, cart and food at the course, followed by a Pig Roast at Hawthorne's, 1200 West Hawthorne Lane. There are prizes and raffles. The winning team receives trophies, and their names are engraved on the Annual Outing plaque. Register at the restaurant and talk to the manager or the bartender.
The 19th District Veterans of Foreign Wars holds a Steak Fry, a fundraiser to benefit veterans and scholarship programs from 4:00 to 8:00 p.m. Saturday, October 3, 2020, at Veterans of Foreign Wars Post 6791, 431 North Neltnor Boulevard. The charge is $20 and includes the meal of steak, pork chop, or cod, baked potato, salad, and green beans. There is a bake sale to satisfy the sweet tooth, and music. Also, there are basket and meat raffles, plus a 50/50 raffle. Persons do not need to be present to win. Weather permitting, outside seating is available. To place take-out orders call (630) 231-9823; leave a voice mail if no one answers. For further information, call Terry Adams at (630) 546-1647 or email anttbear@aol.com. The District is the one of which Post 6791 belongs. (merleburl.com)
League of Women Voters of Wheaton is having a Virtual Run/Walk to the Polls 5K Friday through Sunday, October 9 to 11, 2020. The registration fee of $35 includes a commemorative shirt and donation to the LWV of Wheaton. The first 75 registrants receive a coupon for Dick Pond Athletics. To register, visit https://runsignup.com/Race/IL/Wheaton/LWVWRuntothePollsVirtual5k. Participants select their preferred race route and results are self-timed. Runners may also complete their distance on a treadmill. Upon completion of the 5K, entrants submit their time online.
Five entries will be randomly selected from all the submitted times to win a prize act that included an exclusive VOTE face mask and a $20 off coupon from the Naperville Running Club. To help the LWV spread the word of Getting out the vote, participants can post their finisher certificate and a social media using #LWVRuntothePolls! (www.merleburl.com)
GardenWorks Project is hosting a campaign to raise awareness of hunger in Chicagoland. "Harvest Against Hunger: Nourishing Our Community" evolves a three-part mini-video series that goes behind the scenes of three local farms, Mighty Greens Farms in Elgin, Nichols Farm in Marengo and Stojans Vegetables in Maple Park. The videos relate the history, products and the meaning of community to them. The GardenWorks Project fundraiser is a private live Question and Answer session with the owners of the three farms at 4:00 p.m. Sunday, October 4, 2020. The ticket cost of $50 includes exclusive access to the three partner farms, a locally-sourced seasonal Community Sourced Agriculture box and recipes for pick up on Saturday, October 3, and automatic consideration for one of the two raffle prizes. For information and to purchase tickets, visit www.gardenworksproject.org.
Through Healthy West Chicago, Yoga on the Lawn takes place at 6:00 p.m. Tuesdays, October 6, and October 13, 2020, on the lawn at West Chicago Public Library, 118 West Washington Street. Certified Yoga instructor Tracy Leach teaches some simple breath to movement postures and breathing exercises to gently connect body and mind. Participants need to bring a mat and water bottle. No reservations are necessary. For further information email Cary Smitherman at carlys@healthywestchicago.org or call (630) 230-6370.
The painting by Maggie Capettini received Best of Show in "Voices of the Midwest" exhibit in the Kavanagh Gallery at Fine Line Creative Arts Center, 37W570 Bolcum Road in St. Charles. The exhibit is on display through Sunday, October 10, 2020. She painted "Snow at the Courthouse" April 12, 2019, at the Kane County Courthouse in Geneva. Capettini said, "The snow was a surprise on that day." (merleburl.com)
American Legion Post 300, 123 Main Street, has dinner specials Wednesdays and Fridays, plus the Friday Fish Fry. To view the specials for the week, view www.facebook.com/alpost300/.
The Fall Festival continues through the end of October at Sonny Acres, 29W310 North Avenue. In addition to the Farm Fresh Store and Our Kitchen restaurant, other attractions include Jumping Pillow, Kiddie Koral, Sonny Express Train, Day Hayride and Self Petting Zoo from 10:00 a.m. to 6:00 p.m. Tuesdays through Thursdays and from 10:00 a.m. to 8:00 p.m. Friday and Sunday. Amusement Stand and amusement rides are open from 1:00 to 6:00 p.m. Wednesday and Thursday and from 10:00 a.m. to 8:00 p.m. Friday through Sunday. The business is closed on Mondays. (merleburl.com)
The consolidated election for officials in the City of West Chicago, West Chicago Public Library District, West Chicago Elementary School District 33, Community High School District 94, and Benjamin School District 25 takes place Tuesday, April 6, 2021.The candidate election packets now are available at the respective taxing body locations. Due to COVID-19, times and days for packet pick up are not the same this year. As in the past, school board candidates must either pick up packets at the DuPage County Election Commission, 421 North County Farm Road in Wheaton, or go the commission website http://www.dupageco.org/election to obtain the forms. Candidate filing begins December 14 and ends December 21.
City of West Chicago positions open are Mayor, City Clerk and seven Aldermen. City Hall is open limited hours. Packets are available from 9:00 a.m. to noon Tuesday, Wednesday and Thursday at City Hall, 475 Main Street. For persons unable to come to City Hal during those hours, they can call City Clerk Nancy Smith at (630) 293-9250 to set up an appointment.
In the West Chicago Public Library District, there are four four-year positions open for the Board of Trustees. At this time the library is closed, and only offers curbside service. This is the NEW information for candidate packet pick up. Hard copies are available for pickup via curbside service and the packets will be made available online for download.
West Chicago Park District has two six-year terms and one two-year unexpired term open for the Board of Commissioners. However, the Park District has a referendum to reduce the size of the board from seven commissioners to 5 commissioners on the ballot in the November 3 election. If it passes, then there is only one six-year term open. Packets are available from 8:30 a.m.to 4:30 p.m. Monday through Friday at the ARC Center, 201 West National Street. Direct requests for digital packets to Melissa L. Medeiros, mmedeiros@we-goparks.org.
In West Chicago Elementary School District 33, there are three four-year seats and one two-year unexpired term open for the Board of Education.
In Community High School District 94, there are four four-year positions and one two-year unexpired position open for the Board of Education.
In Benjamin School District 25, there are four six-year terms open.
There also are opening in U-46 and St. Charles Community Unit School District 303. Packets for 303 are available through the Kane County Clerk's office. For information, call (630) 232-5990.
Winfield Township Road District, 30W575 Roosevelt Road, has a collection site for used vegetable cooking oil; animal fat is not accepted. The hours are from 7:00 a.m. to noon Mondays, except holidays. Person need to use plastic containers.
The DuPage County Health Department developed a dashboard to provide information on the total number of people, in DuPage County, who have tested positive for COVID-19. In addition, the dashboard includes a map which shows the distribution of reported cases by municipality and is updated at 4:00 p.m. daily. DuPage County's "COVID-19 Dashboard" is a one-stop-shop for all the information it offers including a town-by-town breakdown of cases. As of 4:00 p.m. Monday, September 21, 2020, there were 1,126 cases. It is important to remember to follow the social distancing order, wear masks and wash hands. (merleburl.com)
As the importance of wearing masks during the COVID-19 pandemic is stressed,, so must the proper disposal. The masks and gloves are disposed of in regular garbage; they are not recyclables. Also a gentle reminder, syringes are not recyclable, they go in regular garbage.
To keep residents aware of community COVID-19 updates, the City has posted West Chicago's COVID-19 COMMUNICATIONS CENTER on its website, www.westchicago.org. It is located on the upper left-hand side in red. Clicking on this, residents can see the latest information.
Sincere sympathy is extended to the family of William "Bill" Charles Micel, who passed away Thursday, September 17, 2020.
Kendall Farm, a senior at West Chicago Community High School, is a two-time state qualifier in golf, and is undefeated this year. David Pater, Athletic Director said, "She may not get the chance to play at State due to COVID-19. (merleburl.com)
Barb and Rand Toney celebrated their 45th Wedding Anniversary Monday, September 21, 2020.
Wheaton Academy partners with Kids Alive to care for vulnerable children in the Dominican Republic and in Haiti. This year, a team of students used 3D printers to make face shields for local medical providers and for staff at Kids Alive. Although the Kids Alive staff is teaching remotely, as required by the government, these face shields are in use for parent meetings and home visits in the barrios. Staff distributing much needed food supplies to families are also using the shields. (merleburl.com)
The winner of the People's Choice Award in the 2019 Community Banner contest was Emese Thoth, Registrar at West Chicago City Museum. Her banner was titled "The Journey," an image of riding her horse Aiden, where she feels most at home. The theme this year was "Home."
At the Tuesday, September 15, 2020, meeting, Community High School District 94 Board of Education approved a contract addendum with Illinois Central Bus, which pays the company 40 percent less than if it were providing full transportation services. At this time, the business is providing transportation for athletics only.
Also approved was a contract addendum with Quest Food Services for a per-meal fee charged to the District for students during remote learning. Board member Gary Saake said, "Unlike this spring, we will be using our staff to deliver lunches instead of Illinois Central. Quest will provide some delivery service also."
Parking fees for the 2020-21 school year were waived due to the uncertain mix of remote, hybrid and in-person classes this year and "in recognition that some students that would normally take the bus may be uncomfortable doing so in light of COVID if/when in-person classes begin."
My email address is merleburl@earthlink.net.