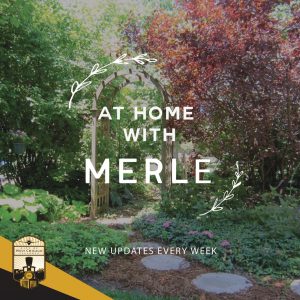 We have not even reached the first day of Fall and the temperatures, especially at night, are getting cooler. Knowing my indoor plants do not like to get too cool, I had to bring them inside. They always look so healthy from soaking in the sun's rays and summer humidity. I bought one yellow mum to bring forth some brightness from the times of rain, which we really need. I am certain we will have warm weather, tut, hopefully, no temperatures in the 90s. We have some gorgeous days coming as the leaves start to turn to the brilliant colors.
AROUND AND ABOUT
Since the beginning of the pandemic, the West Chicago Park District has diligently worked to provide programs and services to the best of its abilities, while adhering to state and local health mandates. In light of the prolonged and significant health threat, along with an increasing number of COVID-19 cases in the city; changes must be made to remain proactive, fiscally responsible, and maintain the health, safety, and well-being of our patrons, staff, and families as our priority.
Temporary modifications to Park District programs and facilities started Tuesday, September 8, 2020, and remain in effect until further notice. ARC Center is open from 7:00 a.m. to 8:00 p.m. Mondays through Thursdays, 7:00 to 4:30 p.m. Fridays, 8:00 a.m. to noon Saturdays, and closed Sundays. Free, open play is from 9:00 a.m. to 11:30 a.m. Saturdays at Toucan's Hide Away. The Treehouse services and playground are closed. All large special events are cancelled. There are limited rentals.
Food distribution for District 33 students takes place from 10:00 to noon Wednesdays and Fridays at Currier School, 800 Gary's Mill Road, and Wegner School, 1180 Marcella Lane, and from 10:00 a.m. to noon and 4:00 to 6:00 p.m. Wednesdays and Fridays at Leman Middle School, 238 East Hazel Street.
There is a change in the school board member application deadline, it is extended to Friday, September 11, 2020. With the resignation of Lauren Scanlan, there is a vacancy on Community High School District 94 Board of Education. The person selected serves on the board until April 2021, when the remaining two years of the term April 2023 will be filled by election. Scanlan is moving out of the district as she accepted a position of Assistant Principal with Troy District 30C in the Plainfield area. Send applications to the attention of the Board President via email to cglunt@d94.org or by mail to 326 Joliet Street, West Chicago IL 60185.
Applications should include a cover letter of not more than one page indicating one's interest for serving on the board and what one considerers the strengths and challenges of the district; a resume outlining professional, educational and personal qualifications, plus any school related involvement, if applicable; a list of three personal and/or professional references, with contact information; and contact information including home address, telephone number, and email address. Applications are subject to disclosure under the Illinois Freedom of Information Act. The successful applicant must file a Statement of Economic Interests with the DuPage County Clerk following the appointment.
Applicants must be a United States citizen, be at least 18 years old, be a resident of Illinois and District 94 for at least one year, be a registered voter, not be a child sex offender, not hold another incompatible public office, not have a prohibited interest in any contract with the district and not be a school trustee.
Saturday, September 12, 2020, is the day the West Chicago Historical Society normally would hold its annual Ice Cream Social and Silent Auction. Due to COVID-19, this is not possible this year. However, the expenses and upkeep for the 103-year old Kruse House Museum continue. The West Chicago Historical Society oversees the care of the Kruse House Museum, a 1917 four-square home depicting the Fred Kruse family. The 501(3)c organization is a separate entity from the West Chicago City Museum, and receives no funding from it or the City. Thus the Society is "hosting" a non event fundraiser and requesting a $5 donation or more. To make a donation, mail it to West Chicago Historical Society, P. O. Box 246, West Chicago, IL 60186-0246 or donate on the Society's website, www.krusehousemuseum.org. As a side note,The Society is fortunate to have the West Chicago Garden Club maintain the gardens and Chuck Strayve to provide the lawn care. (merleburl.com)
The League of Women Voters of Wheaton partners with the Wheaton Public Library for its Livingroom Conversation—virtually. It takes place at 7:00 p.m. Monday, September 14, 2020. The topic is "Considering Constitutional Change." The discussion focuses on these questions, Should the Electoral College be abolished? Should we impose term limits on Congress and the Supreme Court? After 250 years, should our Founding Fathers' decisions be revisited? To "attend," email Bari Ericson at ce@wheatonlibrary.org for more information. Enter your email address for instructions and connection details. Registration ends 15 minutes before the start time of the program. The goal of Livingroom Conversations is to bring local citizens together to discuss topics of mutual interest from multiple perspectives.
League of Women Voters of Wheaton includes West Chicago, Warrenville, Winfield, Wheaton and Carol Stream. The League of Women Voters is a non-partisan organization that does not support or oppose any political party or candidate, but whose purpose is to promote political responsibility through informed and active participation of citizens in government.
The West Chicago Public Library hosts Voting 101 presented by the League of Women Voters of Wheaton at 6:30 p.m. Tuesday, September 15, 2020, via Zoom. The program in Spanish is at 7:30 p.m. The session covers registering to vote, checking your voter registration, finding your polling place, using the Illinois Voter Guide, and keeping track of important dates for the election. Register at wcpld.info, under calendar. (merleburl.com)
West Chicago Public Library has a two-hour Microsoft Excel class at 6:00 p.m. Wednesday, September 16, 2020, via Zoom. Librarian Austin Hall is the instructor for this intermediate lesson. Register at wcpld.info, under calendar. (merleburl.com)
West Chicago City Museum and Warrenville Historical Society present the Historiography program, a non-fiction book reading group, at 1:00 p.m. Thursday, September 17, 2020, via Zoom. The book to be discussed is "The Splendid and the Vile: A Saga of Churchill, Family, and Defiance During the Blitz" by Erik Larson. To get a copy of the book or for further information, visit Friends of West Chicago City Museum website, wegohistory.com or call (630) 231-3376.
The Good Books review stated, "On Winston Churchill's first day as prime minister, Adolf Hitler invaded Holland and Belgium. Poland and Czechoslovakia had already fallen, and the Dunkirk evacuation was just two weeks away. For the next twelve months, Hitler would wage a relentless bombing campaign, killing 45,000 Britons. It was up to Churchill to hold his country together and persuade President Franklin Roosevelt that Britain was a worthy ally—and willing to fight to the end."
Larson tells not only the story of political brinkmanship, but also an intimate domestic drama. The scenes include Chequers, his prime ministerial country hotel Ditchley, his wartime retreat where he and his entourage go when the bombing is the highest and 10 Downing Street in London. Larson uses diaries, original archives and once-secret intelligence reports.
Larson is an American journalist and author of nonfiction books, including bestsellers. One is "The Devil in the White City," which is about the 1893 World's Columbian Exposition in Chicago and a series of murder by H. H. Holmes around the time of the Fair. He studied Russian at the University of Pennsylvania, graduating summa cum laude in 1976. A year later, he attended Columbia University of Graduate School of Journalism, graduating in 1978. Larson taught non-fiction writing at San Francisco State University, the John Hopkins Writing Seminars and the University of Oregon, plus has been a speaker at many events in the United States. (merleburl.com)
In partnership with Cantigny Park, the League of Women Voters of Wheaton hosts a Civics Awareness program at 7:00 p.m. Thursday, September 17, 2020, via Zoom. Dr. Carolyn J. Lukensmeyer presents the program, "Building Trust – How we can learn to restore trust with others." She discusses ways to rebuild trust in personal and civic relationships at a time when people are distrustful of the government, of media, and each other. Lukensmeyer is Director Emerita of the National Institute for Civil Discourse and America Speaks. She has spent a career in public service and has extensive background in the workings of government and how Americans can interact and make an impact within the political structure. To make a reservation visit my.lwv.org/illinois/wheaton/calendar/civic-awareness. A Zoom link to access the presentation is sent two days prior to the event.
League of Women Voters of Wheaton includes West Chicago, Warrenville, Winfield, Wheaton and Carol Stream. The League of Women Voters is a non-partisan organization that does not support or oppose any political party or candidate, but whose purpose is to promote political responsibility through informed and active participation of citizens in government. (merleburl.com)
We Grow Greenhouse and Garden Center, 1055 West Washington Street, is ready for fall with more than 40 colors of mums, many varieties of decorative cabbage and flowering fall annuals. The gift shop has hand crafted fall items, plus glass gift items and jewelry made by the Community School District 200 Transition Team. Arriving around mid September in time for the Annual Fall Fest Saturday, September 19, 2020, are pumkins, gourds, cross stalks and hay bales. Fall business hours are 9:00 a.m. to 5:00 p.m. Monday through Friday, 9:00 a.m. to 4:00 p.m. Saturday, and 10:00 a.m. to 3:00 p.m. Sunday.
The greenhouse mission is to provide people with disabilities the opportunity to lead fulfilling lives and to train and work in a supportive, safe and caring environment while producing and providing products and services to the community. In this pursuit, we honor the concepts of human dignity, respect, hard work, fellowship and friendship. (www.merleburl.com)
A coalition of 10 LWV chapters, which includes League of Women Voters of Wheaton, host an Illinois 6th Congressional District Virtual Candidate Forum, live via Zoom Webinar at 7:00 p.m. Wednesday, September 21, 2020. Constituents hear directly from all candidates on the ballot. The candidates are US Representative Sean Casten, Democratic Party; Jeanne Ives, Republican Party; and Bill Redpath, Libertarian Party. The moderator is  Jan Dorner. The goal of this non-partisan candidate forum is for voters to gain an understanding of the candidates' views and relevant candidate information.To register, visit my.lwv.org/illinois/wheaton/calendar/meet-greet. Capacity is limited. The event will be recorded and available for later viewing.
Candidate forums are run by trained, non-partisan moderators. Equal time is given to all candidates to answer each question. The candidates have two minutes to present an opening statement, in turn, alphabetically. Questions are vetted in advance by the League for appropriateness and relevance from those solicited from League members as well as community members and non-partisan groups. The moderator asks questions in rotation so that each candidate has the opportunity to be the first to answer. Candidates have an equal and predetermined amount of time to answer each question. After the questions are completed, each candidate has two minutes to provide a closing statement, in turn, alphabetically.
During the month of September, the City of West Chicago sponsors a "Distance Socially, Eat Locally" Campaign. Part of the event includes 10 gift card give aways valued at $25 each. To enter for a chance to win and help support local restaurants, persons need only to "like" and follow the City of West Chicago Facebook page. Some of the restaurants are Augustino's Rock & Roll Deli & Grill, The Bunker, Biscuits and Gravy, Bobo Coffee, or Dragon II To participate persons like and follow the City Facebook page, www.facebook.com/CityofWestChicago/, to see when the giveaways go up to discover if they want to enter that given giveaway. Each one is a different restaurant.
Also there is Bingo game, in which there is the chance to win one of three $100 gift cards to a downtown restaurant.The bingo card is on the City's Facebook page. The rules are to complete five squares in a row, horizontal, vertical or diagonal, with purchases made at a local West Chicago restaurant, and marking the square when completed. When applicable, participants take a photo. The completed card and supporting proof is sent by email to specialevents@westchicago.org or put in an envelope stating Special Events Bingo and put in the drop box at City Hall, 475 Main Street. Participants completing the entire card receive an extra five entries in the drawing.The deadline is Thursday, October 1. For more information, email specialevents@westchicago.org. (merleburl.com)
Healthy West Chicago once again partners with the National Forum for Heart Disease and Stroke Prevention for the 2020 Move with Mayor Challenge in August and September. Due to COVID-19, the format is different this year. Made possible with a donation from Jacobs Engineering Group in West Chicago, the MWTM Walking Challenge makes it possible for persons to participate in the activities. Using the activation code, "moviechicago17," persons can download it from the App Store on their personal device. Users then may pair the app with their choice of activity trackers such as Fitbit, Gamin, Apple Watch or those built into their Smart devices. The app collects data on personal steps logged, distances walked and ranking among the participants. For the list of planned activities, visit www.healthywestchicago.org/move-with-the-mayor.
The Photo Contest is a segment of the Move With the Mayor event. Persons submitting a selfie, picture or video of themselves or family being physically active are entered into a drawing for a $25 gift card to Dick Pond Athletics, Inc. The City and HWC will share them individually on their websites or social media accounts and feature them collectively in a slideshow at the conclusion of the challenge.
Mayor Ruben Pineda is in a friendly walking competition with Bartlett, Glen Ellyn, Glendale Heights and Hanover Park. Residents can participate by tracking on the City Team through the MWTM walking challenge app. To join, visit hekahealth.com/westchicago, download the app, complete the in-app registration and then pair with activity device. Participants document progress on social media Move With the Mayor. For ways to earn extra bonus steps each week, visit www.healthywestchicago.org/new-events. For further information, email info@hekahealth.org. (merleburl.com)
Hawthorne's Backyard Bar & Grill, hosts its annual Golf Outing Saturday, October 3, 2020, at Klein Creek Golf Course, 1N333 Pleasant Hill Road in Winfield. It begins at 8:30 a.m. with a shotgun start, a four man scramble. The cost is $199 per person and includes golf, cart and food at the course, followed by a Pig Roast at Hawthorne's, 1200 West Hawthorne Lane.There are prizes and raffles. The winning team receives trophies and their names are engraved on the Annual Outing plaque. Register at the restaurant and talk to the manager or the bartender.
DuPage County District 6 Board Member Sheila Rutledge and Wayne Township Food Pantry sponsor a Diaper Drive for disposable and cloth diapers for adults and infants. Formula and wipes also are needed. The two nearby drop off locations are inside the restaurant entrance at Hawthorne's Backyard Bar & Grill, 1200 West Hawthorne Lane; and Wayne Township, 27W031 North Avenue.
At this time 72.9 percent of the households in West Chicago have self responded in the 2020 census. The reasons it is important that everyone be counted include redistricting, fair representation and the distribution of $675 billion in federal funds. The purpose of the census is to gather statistical information. Information on individuals is not shared or released. Households can do the census online, mail the paper questionnaires, if one was received, or call. US Census Bureau workers now are going door-to-door to count people who have not responded to earlier communication attempts. Field Data collection is scheduled to conclude by Wednesday, September 30, only 21 days. All census takers have government ID badges with their photographs, US Department of Commerce watermarks and expiration dates. If no one is at home when a census worker visits, the employee will leave a notice with information about responding on line at 2020census.gov or by phone at (844) 330-2020. Also accepted are responses by mail. The US Constitution mandates that everyone in the country is counted every 10 years. (merleburl.com)
The DuPage County Health Department developed a dashboard to provide information on the total number of people, in DuPage County, who have tested positive for COVID-19. In addition, the dashboard includes a map which shows the distribution of reported cases by municipality and is updated at 4:00 p.m. daily. DuPage County's "COVID-19 Dashboard" is a one-stop-shop for all the information it offers including a town-by-town breakdown of cases. As of 4:00 p.m. Monday, September 7, 2020, there were 1,062 cases. It is important to remember to follow the social distancing order, wear masks and wash hands. (merleburl.com)
To keep residents aware of community COVID-19 updates, the City has posted West Chicago's COVID-19 COMMUNICATIONS CENTER on its website, www.westchicago.org. Also included are the weekly updated messages from Mayor Ruben Pineda. It is located on the upper left-hand side in red. Clicking on this, residents can see the latest information.
Sincere sympathy is extended to the family of Helen S. Mastus, who at the age of 105 passed away Sunday, August 30, 2020.
Deepest sympathy is expressed to the family of Lidia Barajas, who at the age of 88 passed away Friday, September 4, 2020.
Duane Ferguson celebrated his 90th birthday, Tuesday, September 1, 2020.
Persons in at least 500 cars participated in the Wayne Township annual Reuse, Recycle and Shred Event Saturday, August 15, 2020. Collected items included cell phones, eyeglasses, ink jet and laserjet cartridges, tattered American flags, 40 car batteries, 3,410 textiles such as towels, linens, clothing, belts and shoes, and 10,780 pounds of personal documents for shredding. Also there was metal, computer and microwaves disposal for a cost, no totals for this at this time.
Jessica Seletzky, former West Chicago resident and 1999 graduate of West Chicago Community High School, is an adjunct professor at Wheaton College. She is a photographer and videographer and is the owner of Love a n.v d Legacy films. Her parents are Debi and Joel Inch.
At 4:06 a.m. Sunday, August 30, 2020, the West Chicago Fire Protection District received a Special Duty Call to assist the West Chicago Police Department at Fabyan Parkway and Roosevelt Road. The request was for Drone 6 and Canine 6 "Thor" to assist the police tracking an "unstable individual" that fled from a vehicle police had on a traffic stop. The Drone 6 flown by Firefighter/Paramedic Erik Ronge  was on scene shortly after the request was made. Firefighter/Paramedic Todd Baseggio and Thor were on the scene within 40 minutes.
Drone 6 was able to survey the area and do a quick visual. K9 Thor tracked for over a mile to a broken fence with a roadway on the other side. The police believe that the individual was picked up at that point by another automobile, as the dog indicated the track had ended. The entire time Thor was on his track, Erik was
able to keep track of him from the eye in the sky Drone 6. This incident ended at 6:30 a.m., when the Police called off the search. Deputy Fire Chief Tim Leidig said, "This deployment was a huge success to confirm the individual was not lost in the field or in any sort of danger." (merleburl.com)
School "doors" are open and students are at home, sitting at their desks or designated place ready to start e-learning. As a side note, some students are not at their desks because they do not have them, there is a shortage and desks are on back order. In West Chicago Elementary School District 33, e learning is referred to as on line learning academy. Also starting out the 2020/21 school year are new teachers and staff members.
Kristina Davis is the Superintendent. New to the district are Kimberly Hanson as Director of Social Services and Sherri Massa as the Student Services Coordinator. Lauren Dixon and Lauren Lannert are the district-wide Language Arts teachers. The district-wide Lead Tech teachers are Dara Kappel, Natalie Rinaldi and Dana Weber.
Sandra Warner is principal of Early Learning Center. The new assistant principal is Brenda Vishanoff. Illiana Ochoa is the new social worker. The new learning behavioral specialist is Kristin Vallaro.
Mark Truckenbrod is the principal at Currier School. The new GATE teacher is Connor Peterson. Jennifer Szwaya is the new instructional coach. The new math interventionist is Kristin Zimbelmann. Gloria Azpera Campos is the new Dual Language teacher.
Mary Kassi is the new principal at Gary School. Arlene Vargas is the new assistant principal. New dual language teachers are Rosmeri Ayala, Amy Godoy, Heidi Ortiz and Marilyyn Zable. Elizabeth Foulkes is the new social emotional learning teacher.
Jacqueline Campos is the principal at Indian Knoll School. The new assistant principal is Zachery Minelli. The new psychologist is Colleen Dewatt. The new social workers are Catherine Guerrero and Christine Nelson. Baiely Zydek is the new learning behavior spcialist. Stacy Huerata and Carlos Vazquez are the new dual language teachers. The new GATE teacher is Jenna Turner.
Lisette Jacobson is the principal at Pioneer School. The new learning behavior specialists are Nancy Vivaldo and Erin Bozue. The new instructional coach is Lebia Chatman. Savanna Gottschalk and Angelica Villafuerte are the new Gen Ed teachers. The new speech language pathologist is Alexis Long. The new math interventionist is Ilona Truckenbrod. The new social worker is Frank Pisano. Kimberly Vazquez is the new dual language teacher.
Maurice McDavid is the new principal at Turner School. The new assistant principal is Katie Kaczanko. Keith Lavin and Ariana Moschini are the new learning behavioral specialists. The new dual language teacher is Lisa Huerta. Natasha Allred is the new GATE teacher. The new math interventionist is Amy Matz. Kaitlyn O'Kane is the new instructional coach. Kim Rivera is the new social emotional learning teacher.
Karen Apostoli is the principal at Wegner School. Stephanie Lithgow is the new instructional coach. The new dual language teachers are Lizet Sibaja and Jasmin Gutzman-Pineda. The new Gen Ed teachers are Gianna Hansen and Janie Wilson.
Lea DeLuca is the principal at Leman Middle School. The new assistant principal is Anthony Hugelier. Gianna Pigoni is the new dean of students. Angela Beckefeld, Wendy DeGeorge, Lisa Knight, Ashtyn Lee, Colin McCarthy and Megan Miller are the new learning behavior specialists. The new music teacher is Jeana Brown. Rebecca Camargo Diaz is the new social studies dual language teacher. The new social workers are Ana Diaz and Jessica Tynan. The new English language arts dual language teachers are Amy Hurt, Emily Lagattolla and Carla Ramirez. The new language arts teachers are Carolyn Lekousis and Rosa Rivera. Ruben Nino is the new Spanish foreign teacher. The new psychologist is Cathleen Paullin. Carolyn Reddick and Penne Wood are the new math teachers. Latinos in Action teacher is Jovany Zuniga.
Another side note. The West Chicago Lions Club normally hosts a New Teachers's Luncheon, but due to COVID-19, were unable to do so this year. The teachers are able to learn about West Chicago and the Lions Club, plus receive a goody bag filled with coupons and other items from members of the Western DuPage Chamber of Commerce. It is one of my favorite events as it is enjoyable to chat and laugh with the educators. Lions Club members and I missed the opportunity to do so this year.
My email address is merleburl@earthlink.net.