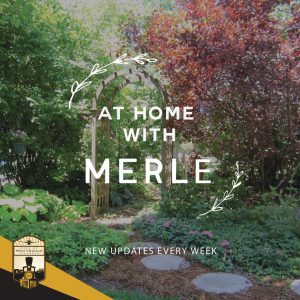 During halftime at the basketball game between West Chicago Community High School and Glenbard East Friday, February 16, 2018, Steve Bennier, Commander of Veterans of Foreign Wars Post 6791, presented the annual Randall Jacob Football Medal and Trophy to Jahleel Humphrey, a senior at the High School. At the end of each football season, the coaches and team members nominate the team player who best personifies the positive qualities that Jacob consistently displayed—athletics, academics and leadership.
Head football coach Ted Monken said, "Jahleel is a leader for our team and a role model for every player in the program. He is confident but yet humble.  Jahleel's work in the weight room was an incredible transformation and showed how much one person can accomplish when they are truly dedicated. His work ethic on the field made him a real difference maker on Friday nights, the type of player other teams had to game plan to stop. But most importantly Jahleel did all of this while keeping the same standard in the classroom. He really has his priorities straight. I cannot think of any other player more deserving or more fitting of the Randall Jacob Award than Jahleel Humphrey."
Sponsored by VFW Post 6791, the award has been in existence since 1976. The trophy, with the names of recipients inscribed on the nameplate, is permanently on display at the High School. Jacob was a 1964 graduate of West Chicago Community High School, where he was class president, participated in a variety of school groups and organizations and lettered four times in football and three times in track.  In 1967, he was killed in action during the Vietnam War.  (www.merleburl.com)
AROUND AND ABOUT
Western DuPage Chamber of Commerce is planning a nine-day trip to China, which is open to members and non-members. The free informational meeting is at 5:30 p.m. Thursday, February 22, 2018, at the Chamber office, 306 Main Street. The trip is scheduled from Saturday, September 22, through Sunday, September 30 with a cost of $2,399. This includes roundtrip international and Chinese domestic airfare, four and five-star hotel accommodations, three meals each day, deluxe bus tours and entrance fees for attractions. To make a reservation for the orientation meeting, call the Chamber office at (630) 231-3003. (www.merleburl.com)
West Chicago Garden Club meeting is Thursday, February 22, 2018, at Faith Community Church, 910 Main Street. Social time is at 6:45 p.m., short business meeting at 7:00 p.m. followed by the program, "A Native Garden for Four Seasons," at 7:15 p.m.
The speaker is Cindy Anderson. She guides participants through choosing plants for a four-season garden, some tips on sources and a primer on design principles. In the presentation, Anderson discusses how to think about what "native" means to the individual gardener, why using natives is important, some examples of gardens that feature native plants and a collection of native plants suitable for gardens here in northern Illinois.
Anderson is a Master Gardener and volunteer at plant information at the Chicago Botanic Garden. She earned a master's degree in landscape architecture and is working on a PhD in Architecture. She also teaches architecture and design courses at University of Wisconsin-Milwaukee.
Coffee with the Mayor is from 9:00 to 11:00 a.m. Saturday, February 24, 2018, at City Hall, 475 Main Street.
Maggie Capettini, Gallery 200 member and West Chicago City Museum Education Director, teaches a workshop, "Color Theory" at 1:00 p.m. Saturday, February 24,  2018, at LaGrange Art League Gallery, 122 Calendar Avenue. The class is geared for youths ages 11 through 17. The cost is $35. To make a reservation, call (630) 352-3101. Also s a member of the Near West Art Collective, she has several paintings in the exhibit, "Outside In," from Wednesday, February 28, through Friday, April 20, 2018, at the Mayslake Peabody Estate, 1717 31st Street in Oakbrook.  The artists' reception is at 6:30 p.m. Thursday, March 22.
We Grow Dreams Greenhouse and Garden Center hosts its 13th Annual Bowl-A-Thon from 1:00 to 5:00 p.m. Sunday, February 25, 2018, at Wheaton Bowl 243 2031 North Gary Avenue. Persons bowl three games; there are prizes for various levels of achievement. Additionally, there is food, raffles and auction items. First prize raffle is two round-trip or four one-way Southwest Airlines tickets to anywhere in the continental United States. Second prize is a 50-inch VIZIO Ultra HD Home Theater Display. Third prize is Apple Watch Series 3. Ticket price is $10, six for $50. Silent auction items include sports collectibles, dining certificates and gift baskets.
For further information, to register for the Bowl-A-Thon, purchase raffle tickets or make a donation, persons may drop by the greenhouse, 1055 West Washington Street, call (630) 293-0100, or visit the website www.wegrowdreams.org. The green house provides job training and employment opportunities for persons with disabilities. (www.merleburl.com)
West Chicago Park District hosts a two-hour Rules of the Road program at 1:30 p.m. Tuesday, February 27, 2018, at the ARC, 201 West National Street. An instructor from the Secretary of State's office teaches the course. Reservations can be made in person at the ARC or online at www.we-goparks.org.
Wayne/Winfield Area Youth/Family Services offers hour-long computer classes for senior citizens at Wayne Township, 27W031 North Avenue. Not only do seniors learn basic skills, but also have the opportunity to socialize. The fee is $2. Reservations are required and may be made by calling (630) 231-7166. Beginner classes are at 1:00 p.m. Tuesdays.  "Texting on Smart Phones" class is at 3:00 p.m. Tuesday, February 27, 2018.
Dance with Janet, a line dancing class, is from 7:00 to 10:00 p.m. Tuesday, February 27, 2018, at American Legion Post 300, 123 Main Street.  The charge is $7 per person. The teacher is Janet Kruse, former instructor at Cadillac Ranch.
Prairie Landing Golf Course, 2235 Longest Drive, is the site for Life Line Screenings Thursday, February 28, 2018. Screenings offered for the price of $149 are Carotid Artery Plaque, Heart Rhythm, Abdominal Aortic, Peripheral Arterial Disease and Osteoporosis Risk Assessment. To register, call (888) 653-6434.
West Chicago Public Library District hosts "Movie Trivia Night" at 6:30 p.m. Wednesday, February 28, 2018, in the main meeting room, 118 West Washington Street. Patrons compete for the title of Movie Trivia Champion. Librarian Austin Hall, asks questions that revolve around films, particularly, Oscar winners. To make a reservation, call adult services department at (630) 231-1552, extension 4.
West Chicago Public Library District in partnership with the City of West Chicago hosts a Small Business Series. Score: General Business Discussion Round Table is at 6:30 p.m. Wednesday, February 28, 2018, in the small conference room, 118 West Washington Street. Score mentor George Safford, a West Chicago resident, is the moderator. It is geared for those starting a new business or owners of existing small businesses. To make a reservation, call the adult services department at (630) 231-1552, extension 4.
The deadline for signing up for West Chicago Park District baseball/softball leagues and T-Ball is quickly approaching, Thursday, March 1, 2018. (www.merleburl.com)
The sixth annual "Art is the Heart of the City" is the exhibit for the month of March at Gallery 200, 103 West Washington Street. In the display is the artwork of students in grades first through eighth at West Chicago Elementary School District 33 schools. There is a variety of both two-dimensional and three-dimensional media, representing a broad spectrum of styles and artistic periods/genres. District 33 art teachers chose the theme to emphasize the value of participation in art for all children. Art activities stimulate creativity, imagination, perception and selectivity. The artists' reception is from 4:30 to 6:00 p.m. Thursday, March 1, 2018. Students and teachers are on hand to discuss the value of art education in public schools and their artwork.
Art teachers are Linda Rooney and Kelsey Mangler from Leman Middle School, Jacqui Khatib from Currier School, Katie Yankowski from Gary School, Kirsten Snodgrass from Indian Knoll School, Christine Cintula from Pioneer School, Megan Czervionke from Turner School and Lisa Miller from Wegner School.
Wheaton Academy Theater presents "Joseph and the Amazing Technicolor Dreamcoat." Performances are at 7:00 p.m. Fridays and Saturdays, March 2 and 3, 9 and 10, and Thursday, March 8, 2018, in the Fine Arts Center 900 North Prince Crossing Road. The ticket price is $15 for adults, $12 for students and children age 9 and under. Seating is reserved. Tickets go on sale Thursday, February 22, 2018 and may be purchased online at www.wheatonacademy.org.
West Chicago Lions Club hosts its 43rd annual Spring Pancake Breakfast from 8:00 a.m. to noon, Sunday, March 4, 2018, in the cafetorium at West Chicago Community High School, 326 Joliet Street. Breakfast menu is pancakes, sausage, and beverage. Providing entertainment are the Mariachi los Rayos de Leman Middle School and the Ballet Folklorico of Leman Middle School. Ticket price is $6 for adults, $5 for senior citizens and $4 for children ages 12 and under; this includes the chance to win a door prize. There also is a 60/40 raffle. This event is a perfect time to visit with friends, neighbors and family. Proceeds benefit the many programs and services the club provides the community.
The Winter Band Concert of West Chicago Community High School is at 7:00 p.m. Tuesday, March 6, 2018, in Weyrauch Auditorium, 326 Joliet Street. James Wallace is the Director.
The Winter Orchestra Concert of West Chicago Community High School is at 7:00 p.m. Wednesday, March 7, 2018, in Weyrauch Auditorium, 326 Joliet Street. Alexandra Wojciechowski is the director.
The West Chicago Park District monthly social gathering for senior citizens is at noon Thursday, March 8, 2018, at the ARC, 201 West National Street. To celebrate St. Patrick's Day, the district supplies the Irish meal of corn beef, cabbage, red potatoes, carrots, bread and dessert. The charge is $11 for residents and $13 for non-residents. Reservations can be made in person at the ARC or on line at www.we-goparks.org.
West Chicago Community High School seeks nominations for the 2018 Distinguished Alumni Award. The purpose of the program is to recognize West Chicago Community High School graduates whose accomplishments serve as an inspiration for current students to dream and achieve.
Nomination deadline is Tuesday, May 1, 2018. The nominee must be a graduate of the high school for at least 10 years prior to the nomination, be distinguished by accomplishments in academics, the arts, athletics, business, community service, the environment, human rights, justice, medicine, research or science that reflect outstanding ability and dedication which contributes to the betterment of the community. Also the nominee must be available by telephone, email or in-person interview by the selection committee, willing to participate in the Distinguished Alumni Award Ceremony, willing to submit a photograph and available to interact with WCCHS students in a forum, seminar or assembly.
To submit a nomination, visit www.d94.org/distinguishedalumni. For further information call Sherry Bowne at (630) 890-9716.
Blooming Fest is from 9:00 a.m. to 3:00 p.m. Saturday, May 19, 2018, in historic downtown. The event includes the West Chicago Garden Club's plant sale, craft sale, car show, art exhibit, children's activities, music and food. Vendor registration packets are available on the City's website, www.westchicago.org. The deadline is Thursday, April 19.
Sincere sympathy is extended to the family of Corina Del Rio, who at the age of 53 passed away Wednesday, February 14, 2018.
Persons attending the West Chicago Park District monthly social for senior citizens, "ARC Chili Cook-Off," Thursday, February 8, 2018, tasted and voted on each of the chili prepared by staff members of the Park District. Winning the title of Chili Queen of West Chicago was Marketing & Communications Manager, Lily Medina, who made White Bean Chili. Other participants were Jesse Felix, Superintendent of Projects & Outreach, who cooked Honey Ale Chili, and Mary Lester, Recreation Coordinator, who made Red Chili.
West Chicago resident Phil Weibler won First Place in the 2017 John E. Gruber Creative Awards program of the Center for Railroad Photography & Art. His photograph of the Chicago & North Western Terminal, Chicago, 1955 was in the category of  "Visions from the Past," which featured work made prior to the creation of Amtrak in 1971. The other category was "By the Light of Night," which showcased recent innovations in night photography. More than 100 photographers from nearly 30 states and 11 different countries submitted work for the two categories. For more information on the awards, visit www.railphoto-art.org/awards/2017-awards.
The Center for Railroad Photography & Art, was founded in 1977 with the commission to tell railroad stories through imagery with the interpreting the past creatively, connecting it to the present while looking to the future. It achieves its mission through exhibitions, conferences and publications "with the commitment to collect, preserve and make available the imagery that portrays the nearly 100-year history of railroads," according to information on the website. "While based in Madison, Wisconsin, the Center does not maintain a museum space or large facilities, but instead collaborates on its many projects with individuals and institutions ranging from museums and universities to libraries and historical societies. This approach allows the Center to focus on railroad imagery and the profound and moving stories it can tell." (www.merleburl.com)
Benjamin Middle School Band recently participated at the District IX Solo & Ensemble Fest. This was the first time Benjamin School District 25 participated.
Buck's Services, Inc. participated in the Joliet Diocese Principal's Winter Seminar. The company has served the schools and parishes in the diocese for 30 years. The company celebrates its 30th Anniversary this year.
Former resident Ken Tinnes celebrated his 95th birthday Friday, February 16, 2018.
At the Thursday, February 16, 2018, meeting, the Board of Education of West Chicago Elementary School District 33 approved Suzanne Nissan as the new Director of Student Services for the 2018-2019 school year. She replaces Toni Galen.
She has a Bachelors of Science degree from Eastern Illinois University and a Master of Educational Leadership from Aurora University. Nissan did her coursework for her Directorship of Special Education at the University of St. Francis in Joliet. During her career in education, she served as a Resource Teacher, Instructional Teacher, College Instructor, Special Education Coordinator, Assistant Director of Student Services, Assistant Director of Special Education and a Director of Student Services. She has received awards for her performance working in the field of special education/student services. Her proudest achievement includes the development and implementation of the supported service delivery model which has afforded students with special needs to be included in the general education classroom with their peers to the greatest extent possible to meet their needs. (www.merleburl.com)
At the Monday, February 19, 2018, meeting, City Council approved the appointment of Bradley Henkin to the Planning Commission/Zoning Board of Appeals for an unexpired term ending April 30, 2019.
My email address is merleburl@earthlink.net.